Snuggledown Side Sleeper Pillow Review
You need to choose a pillow and a mattress according to your sleep position. Snuggledown, a company that was born in Norway more than 100 years ago and is now a British sleep manufacturer, has launched a product line called "Specialist Pillows". They made a total of 5 pillows for different sleep positions. We tested the Snuggledown Side Sleeper pillow for you.
Who is Snuggledown Side Sleeper pillow for?
We won't reinvent the wheel if we say the Snuggledown Side Sleeper pillow is perfect pillow for side sleepers. It is so obvious and you are probably reading this review exactly because you are in the market for such pillow. 
It has perfect loft, firmness and support for people who are sleeping on their side. Fetal position is by far most common sleep position. Nevertheless side sleepers are not the only type of customers for whom this pillow will be comfortable. We believe that at least 70% of back sleepers will also be able to use it. It has most of the required features that an average back sleeper needs.
That's not all. We want to mention hot sleepers as well. Snuggledown Side Sleeper pillow is a cooling and breathable pillow. Hollowfibre filling is well-known for breathability because the structure is such that it does not interfere with airflow. Cotton cover is also breathable and cooling, these are the natural characteristics of cotton.
Add a header to begin generating the table of contents
Features you should know about Snuggledown Side Sleeper pillow
We have singled out the most important features of the Snuggledown Side Sleeper pillow. In this part of the review we will talk in more detail about the cover, filling and other features that define this product. This will help you understand whether this is the right pillow for you.
Thread count is a term you will always come across when buying sheets. Also thread count is important for pillow cover if it is made of cotton, bamboo, silk, satin and similar materials.
And what exactly does thread count suggest to us? To simplify things, thread count suggests how tightly woven a fabric is.
It is considered that the higher the thread count, the better the quality. A larger number of threads woven into one inch of fabric is important for sheets in the first place, but if that number is too high then it is probably some trick of the manufacturer. 230 thread count cotton used for cover indicates softness and durability.
You've probably heard of microfiber. Have you ever used hollowfibre? Although both are synthetic materials that share many traits, they are certainly not the same. Their structure is almost completely different. While microfibre is a tightly woven fabric, hollowfibre is much more breathable, hence the name.
Hollowfibre is lightweight and is a better material for summer, while many prefer microfiber in winter. Both materials are durable, affordable, hypoallergenic and easy to maintain. Also hollowfibre and microfibre are vegan-friendly alternative for down and feather. Hollowfibre in this particular pillow seems fine, we didn't find any red flags.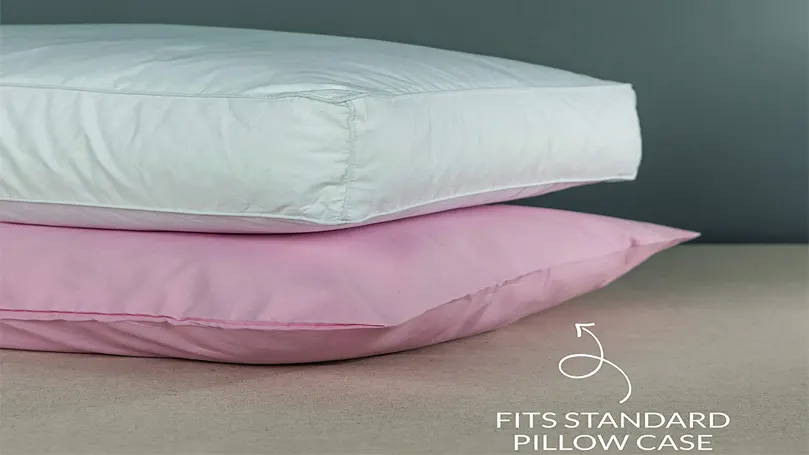 As for allergy sufferers, it is safe product for them because the materials are hypoallergenic and the pillow is machine washable. We have already mentioned that hollowfibre is non-allergic, and the same goes for cotton. While this is not a Better Cotton Initiative (BCI), it is certainly that you don't have to worry about reliability of cotton source.
Since it is fully machine washable, you will easily destroy dust mites and other allergens. Wash it every 7 to 10 days, or every few weeks if you use pillowcase.
Washing machine/dryer friendly
We prefer when the cover is removable, but that won't be a problem in this case because Snuggledown Side Sleeper pillow is fully machine washable. All you have to do is put it in the washing machine and wash it at 40 degrees C. Use mild detergents, both to prolong the service life of the pillow and to help preserve the environment.
The pillow is dryer friendly so you can get it back in use within a few hours. Even if you wash it in the afternoon, it will be ready in time for that evening. We recommend a low heat setting because hollowfibre does not tolerate high heat.
Review of Snuggledown Side Sleeper pillow
If you are a side sleeper looking for firm support Snuggledown Side Sleeper pillow is the perfect solution. Deep filled with hollowfibre provides top level comfort without compromising support. It helps with back and neck pain because it keeps them aligned and then in the morning you will not feel pain and stiffness. Encased in non-removable cotton cover, it will give you a great night's sleep. Breathability is great, you won't sweat even during the summer.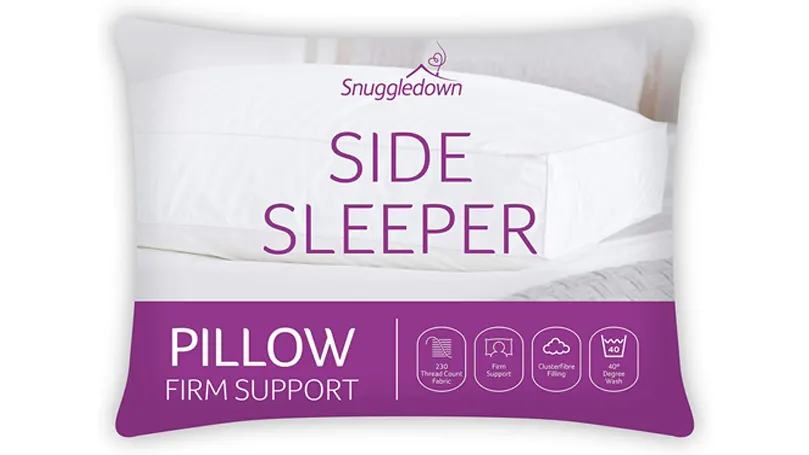 Although Snuggledown has a pillow from this product line made for back sleepers, we believe that this one can also be used by many back sleepers. Pillow does not contain materials that are known allergens. It is fully machine washable at 40 degrees C.
Fill: Hollowfibre
Material: Cotton (230 TC)
Loft: 0.01 cm
Removable cover: No 
Size: 64cm x 38 cm
Weight: 800 g
Warranty: No
Trial: No
Care instructions: Machine washable at 40°C.
What we like about Snuggledown Side Sleeper pillow
Perfectly comfortable for side sleepers because it offers firm support and the necessary softness at the same time
Cotton cover is tender and pleasurable for every type of skin
Both cotton cover and 100% polyester filling are hypoallergenic.
What we didn't like about Snuggledown Side Sleeper pillow
Shape and firmness are not suitable for front sleepers
The cover is not removable, but since the pillow is fully machine washable and tumble drier friendly then it is only a minor disadvantage
Available in only one size – 64cm x 38cm, that will certainly not be perfect for every customer.
The common problems with Snuggledown Side Sleeper pillow & how to solve them
We couldn't find any common problems with Snuggledown Side Sleeper pillow when side sleepers are using it. Certainly loft and firmness are not suitable for front sleeping, but the pillow is not intended for that sleeping position. Non-removable cover cannot be mentioned as a problem because the pillow is fully machine washable plus you can use pillowcase.
What makes this product better than some other similar ones?
It is tailored to a particular sleep position and that is what primarily makes Snuggledown pillow better than some other similar ones. While most manufacturers try to make a pillow suitable for all sleep positions, and in the end pillow is completely comfortable for any, Snuggledown focuses on side sleepers and they succeeded in their intention. They made a very good product that side sleepers will be happy with. The Snuggledown Side Sleeper pillow is very affordable so the price-to-quality ratio is significantly above average. Support is better than expected, since pillows with hollowfibre filling are usually not as supportive as this one.
How did we test the product?
Only one size is available, so when buying a pillow the only thing you need to decide is what type of delivery you want. Since it costs less than 40 GBP, then standard delivery is not free either. The standard delivery price is from £ 3.50 and depends on your location. The product will arrive in 3 to 5 working days, if your address is somewhere in the UK Mainland. If you order before noon, the pillow will be sent to you that day. If you don't want to wait, you can opt for express delivery which costs £ 5.95. You will sleep on your new pillow within 2 days. You get one pillow, while you can opt for 2 pack and 4 pack too.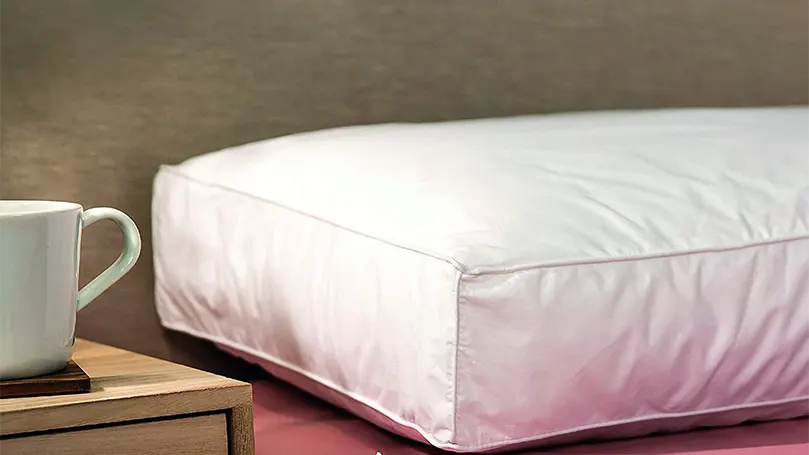 When the pillow arrived, we first checked the level of workmanship and then washed it following the instructions. We dried it in a tumble drier and it was ready to use. First impressions were positive so it was time to move on to the overnight test.
It was tested by back and side sleepers from our test team. Stomach sleeper tried it one night just to be 100% sure it wasn't for front sleeping. After two weeks of testing, our testers were ready to share all their impressions of the Snuggledown Side Sleeper pillow with you.
Overall impressions of the product after the testing
We've experienced practically everything we expected from this pillow. It is certainly not a revolutionary sleep product, but it does not diminish its quality. It is comfortable, offers neck and shoulder support, breathability is at a high level. It is easy to maintain. 
We also got the impression that it is very durable and that signs of wear and tear won't appear even after a large number of machine washes. Of course, we cannot guarantee that because we have not used it for several years. It has not been present on the market for a very long time, so customers' experiences are limited too.
After testing the product we are not sure why Snuggledown decided to put "firm support" in the name. The reason may be that it is quite firm for hollowfibre pillow which is intended for side sleepers. But again, "firm support" can be misleading, so it's not clear to us why they insisted on it. We would not label it as firm pillow.
FAQs about your Snuggledown Side Sleeper pillow
To summerize Snuggledown Side Sleeper pillow review by The Sleep Advisors, we answered some of the frequently asked questions about this product.
Does Snuggledown Side Sleeper pillow come with a removable cover?
No, cotton cover is not removable, so you have to buy pillowcase if you don't want to wash whole pillow every time.
Is Snuggledown Side Sleeper pillow good for people with back/shoulder pain?
In general, it is great pillow for people with back and shoulder pain since it is supportive and comfortable, but that depends on your sleeping position too.
Is Snuggledown Side Sleeper pillow good for people who have allergy problems?
Yes, we strongly suggest allergy sufferers to buy Snuggledown Side Sleeper pillow.
How long do Slumberdown Climate Control pillows last on average?
It's hard to say, but we'd say you can rest assured these will last you at least three or four