Snuggledown Hollowfibre Duvet Review
Many benefits of sleeping in a colder room are known, such as easier falling asleep, uninterrupted sleep and improved melatonin production. Also, people generally suffer less from insomnia during the winter than during the summer. But to be able to experience the benefits of sleeping in a colder environment, it is essential that you have a duvet that will keep you warm and make you comfortable. The Snuggledown Hollowfibre duvet looks just like one such duvet, so we tested it for you and here is our
Who is Snuggledown Hollowfibre duvet for?
Snuggledown Hollowfibre duvet is for all those who live in places where there is a real winter. If you live somewhere where it's never truly cold, chances are this duvet will be too hot for you, unless you're a cold sleeper.
In that case, it can even be suitable for autumn. If you have central heating and plan to use this duvet, we advise you to reduce the heating in the bedroom. Anyway, it is healthier to sleep in a colder room.
It is for allergy sufferers too, since it is hypoallergenic and machine washable.
What do we use this product for?
We use the Snuggledown Hollowfibre duvet, like any other winter duvet, to keep us warm and comfortable during the long winter nights. We also use it to sleep in an allergen-free environment because it is very dangerous to be exposed to allergens in your sleep, even if you have no history of allergic reactions.
We use it to keep us warm throughout the night.
We use it because it is fluffy and cozy.
We use it to sleep in fresh and clean sleep environment.
Is Snuggledown Hollowfibre duvet available in different versions?
Actually, this is not the only version of this duvet. In addition to the classic hollowfibre version that is in the spotlight of our review, there are four more available versions in this product range that we will also say a word or two about. They all have the same TOG rating – 13.5.
Snuggledown Freshwash Anti-Allergy duvet
Although the Classic Hollowfibre version is also hypoallergenic, the manufacturer has gone a step further with this duvet. Filling is treated in a special way to help reduce the build-up of dust mites and bacteria. It is tested and approved by leading Allergy UK experts.
Snuggledown Goose Feather & Down duvet
If you want natural instead of polyester filling, Snuggledown offers you the option to choose a blend of 85% goose feather and 15% goose down. This blend is very warm and you will not be cold in any period of winter. It has an internal box construction, so that the filling always stays in the right place, without any cold spots.
Snuggledown Hungarian Goose Down duvet
Unlike the previous version of the duvet, where most of the filling is made up of goose feather, this version delivers a blend where the proportions are reversed. Here is a blend of 80 percent goose down and 20 percent small goose feather and that is why this by far the most expensive of all versions since down is a premium material. It has the same internal box construction, it is very warm and lightweight.
Snuggledown Ultimate Luxury duvet
The Ultimate Luxury duvet is filled with synthetic material, but unlike our reviewee which is filled with hollowfibre, this one is filled with microfibre. The differences between hollowfibre and microfibre are not major, and this duvet is designed to trap air. Another difference is the cover made of jaquard soft cotton fabric.
Features you should know about Snuggledown Hollowfibre duvet
And now that you know all the versions on the market, it's time to take a closer look at our main star – the Snuggledown Hollowfibre duvet. In this part of our review, learn more about the most important features.
We have already mentioned the TOG rating, but there is a possibility that you do not know what it is, so we will explain it to you. TOG stands for "Thermal Overall Grade", more precisely it is a unit of measurement used to calculate the thermal insulation that some sleep product or piece of clothing has.
Summer duvets have a rating between 2 and 5, all-season duvets between 5 and 11, while those over 11 are considered winter duvets. These ranges are not clearly set, but each manufacturer uses them according to their own opinion. All in all, the Snuggledown Hollowfibre duvet is a true winter duvet as it has a 13.5 TOG rating and 15 is the maximum on the UK market.
This duvet is filled with classic hollowfibre, which is one of the most popular filling materials for duvets for many reasons. Hollowfibre is a synthetic material, which is hypoallergenic, breathable and durable. Breathable is thanks to what fibers look like. Duvets that are filled with hollowfibre usually last a very long time and are affordable so they are considered to be best buy.
Outer 100% polyester cover
Although the duvet generally looks clean to you, if you put it under a microscope, you would see that it accumulates a large amount of various dirt, dead skin cells, skin oils and much more. So to avoid using duvet cover if you do not want to, the manufacturer has made an effort to make life easier for you by making a fully machine washable duvet.
You can wash this duvet at 40 degrees Celsius and then tumble dry it at low heat. Be sure to use low heat setting so as not to damage the hollowfibre filling.
The cover of the 2800 Pocket Luxury is not removable or machine-washable. However, it is hand-stitched and quilted. A cover this high-quality can be often found on much more expensive mattresses, but with Silentnght 2800 – you get all that at a much more reasonable price.
Since the cover is not removable, you should feel free to cover it up with a waterproof mattress protector. That way, you won't have to worry about any spills or cosmetic damage that could ruin your mattress, or even worse – void the five-year warranty.
Review of Snuggledown Hollowfibre duvet
Snuggledown Hollowfibre duvet is a true example of a soft and cosy duvet for winter time. It has a 13.5 TOG rating, which means that it is very warm and that it is exclusively suitable for winter. Unless you are a cold sleeper, then you may need it during the cold autumn days as well. It is filled with hollowfibre, and is heavier than the average hollowfibre duvet.
Hollowfibre, as well as polyester cover, are 100% hypoallergenic, and the duvet is also washable at 40 degrees C. This means it is an ideal choice for people who have allergies. This is not the only duvet from this collection, you can find other models, some of them have natural filling.
TOG rating: 13.5
Washable: Yes, fully
Hypoallergenic: Yes
Filling: Hollowfibre
Cover: Polyester.
Machine washable
Hypoallergenic
Cosy.
Cover is not removable
Only for winter
No warranty.
What we like about Snuggledown Hollowfibre duvet
Snuggledown Hollowfibre duvet will keep you warm even when the nights are coldest
It is very comfortable because it is neither too soft nor too heavy
It is hypoallergenic and machine washable.
What we didn't like about Snuggledown Hollowfibre duvet
You will have to wash it completely every time, because the polyester cover is not removable
You'll have to have another duvet, since it's way too hot for all seasons except winter
We couldn't find any info about warranty, so we guess there is no warranty at all.
What makes this product better than some other similar ones?
Unlike some duvets that are classified as winter duvets but not warm enough, Snuggledown Hollowfibre duvet is a really warm and great choice for winter. Also, it is very comfortable, so your night's sleep will be great thanks to this duvet. It is hypoallergenic and machine washable, which are very important characteristics for duvets. It should also be mentioned that it is affordable, so buying it will not be a major expense.
How did we test the product?
When ordering a Snuggledown Hollowfibre duvet with the option to change the version, you should also choose the size, as well as whether you want a pack that includes two pillows with the duvet. You can also choose between free delivery and fastest delivery.
Before we start testing the duvet, we always wash it first. It is also a maintenance test, and so we guarantee ourselves a completely clean duvet. When we unpacked it, we checked for visible damage, which you should do, so that you can immediately alert the company in case there is any problem.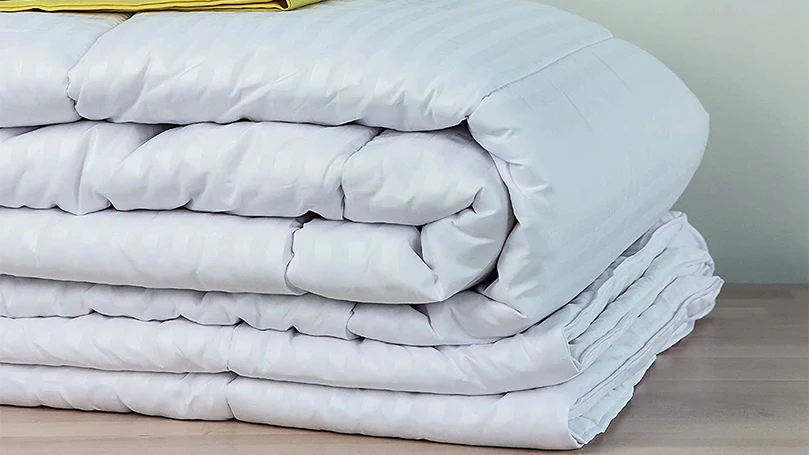 which you should do, so that you can immediately alert the company in case there is any problem.
When we tumbled dry our duvet, the most important tests followed. Since it has a 13.5 TOG rating, we conducted the testing in a room where central heating was set to a minimum, as there is no point in using this duvet in a well-heated room. The Snuggledown Hollowfibre duvet gave us everything we expect from a winter duvet. We weren't cold at any point, but not too hot either, because breathability is good. It is very comfortable and you will not want to get up once you tuck in.
FAQs about your Snuggledown Hollowfibre duvet
If we failed to inform you about some feature of the Snuggledown Hollowfibre duvet, we will do our best to correct this mistake in our FAQ section and thus complete this review.
Is Snuggledown Hollowfibre duvet suitable for the winter?
Yes, it is great for winter months since it is very warm, which is to be expected from the duvet that has 13.5 TOG rating.
How do I wash my Snuggledown Hollowfibre duvet?
You can wash it in the washing machine at 40 degrees C, since it is fully washable and it is tumble dryer friendly too.
What materials were used in making Snuggledown Hollowfibre duvet?
Snuggledown Hollowfibre duvet is 100% made of synthetic materials because it is filled with hollowfibre and the cover is polyester. Other models are made of Scandinavian duck feather and down and Hungarian down.