Best Camping Mattress For Couples Who Enjoy Outdoor Adventures
Why would you sacrifice night's sleep when you go camping when there is a great solution? Let's find out together more about best camping mattresses for couples who enjoy outdoor adventures.
We live in a fast-paced world. While this has certain advantages, it is sometimes very exhausting. We often can't wait for the weekend to come so we can get out of town and spend quality time outdoors. It is very relaxing and healthy. 
Getting fresh air and vitamin D after spending most of time in the office and apartment have to be our priority.
If your partner has the same interests, then camping is probably your favourite activity and hobby. 
Camping can be a very romantic experience too, that strengthens your relationship. But if you are uncomfortable while camping in your sleeping bags and can't sleep because of that, then the situation changes drastically. 
If you create a sleep debt during the weekend when you should be resting, the next work week are going to be grueling. How to avoid poor night's sleep and still go camping? The advice of experienced campers is to buy a camping mattress for couples.
Add a header to begin generating the table of contents
Experience has shown us that it is impossible to single out just one product as the absolute best. That's why we always divide the winners by categories. Each of these products are great, just one is better than the other in a particular category. After reading this part of our guide we believe you will have a clear picture of which camping mattress you want.
IMAGE
PRODUCT
DETAILS

KEY FEATURES:

Size:

187 cm x 99 cm

Thickness:

53 cm

Weight:

4.6 kg

Maximum load:

120 kg

Inflating pump included:

Yes

Dimensions when packed:

/

View Latest Price

KEY FEATURES:

Size:

189 cm x 65 cm

Thickness:

17 cm

Weight:

1.3 kg

Maximum load:

/

Inflating pump included:

No

Dimensions when packed:

/

View Latest Price

KEY FEATURES:

Size:

191 cm x 57 cm

Thickness:

10 cm

Weight:

750 g

Maximum load:

/

Inflating pump included:

No

Dimensions when packed:

/

View Latest Price

KEY FEATURES:

Size:

187 cm x 56 cm

Thickness:

5.5 cm

Weight:

700 g

Maximum load:

/

Inflating pump included:

No

Dimensions when packed:

10 cm x 28 cm

View Latest Price

KEY FEATURES:

Size:

190 cm x 60 cm

Thickness:

4 cm

Weight:

1.5 kg

Maximum load:

/

Inflating pump included:

No

Dimensions when packed:

34 cm x 17.5 cm x 17.5 cm

View Latest Price

KEY FEATURES:

Size:

Single, Double, Raised double

Thickness:

22 cm/ 47 cm

Weight:

1.3 kg, 2.8 kg, 4.6 kg

Maximum load:

148 kg/ 295 kg

Inflating pump included:

No

Dimensions when packed:

/

View Latest Price

BEST WITH PILLOW INCLUDED

BEST WITH PILLOW INCLUDED

KEY FEATURES:

Size:

200 cm x 58 cm

Thickness:

6 cm

Weight:

640 g

Maximum load:

/

Inflating pump included:

No

Dimensions when packed:

22.5 cm x 9 cm

View Latest Price
1. BEST OVERALL: ActiveEra Camping Bed
You will not want to return to your bed after sleeping on ActiveEra Camping Bed for a few nights.
This premium camping mattress has a built-in electric pump. Within 90 seconds you will have the air mattress ready to use. Cord storage is very useful feature, as well as manual valve. We singled out ActiveEra Camping Bed as BEST OVERALL primarily because of how comfortable it is. 
It has a specific structure consisting of 21 air-coils for perfect comfort and support. Integrated pillow helps with spinal alignment. This mattress is thick, so anyone who weighs less than 120 kg can sleep on it. It is made of puncture-resistant material and it is waterproof so you will be able to use it for years. ActiveEra Camping Bed can be a great addition to guest room, not only for outdoor use.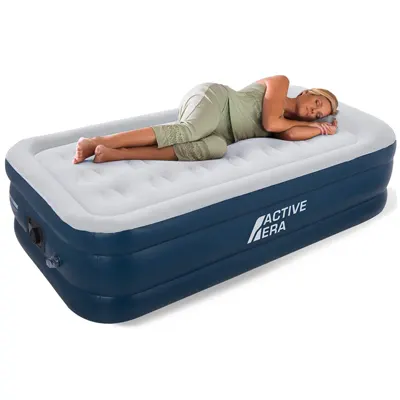 2. BEST VALUE: Coleman Comfort Airbed
Get a great tent mattress for the fraction of the price at which other models are offered.
Although this is a compact single size inflatable bed for tents, caravans or for guests at home, you can buy two that will fit in the tent and still be cheaper than some other larger mattress. So we thought it is appropriate to give it the BEST VALUE award. Coleman Comfort Airbed is comfortable and very durable. 
Strong PVC is thick and resistant to punctures. Pump must be purchased separately. You can easily inflate it. Open the valve, insert the pump then seal the valve and when you inflate it then close the valve. It has a double lock to keep the air from escaping before you close the valve.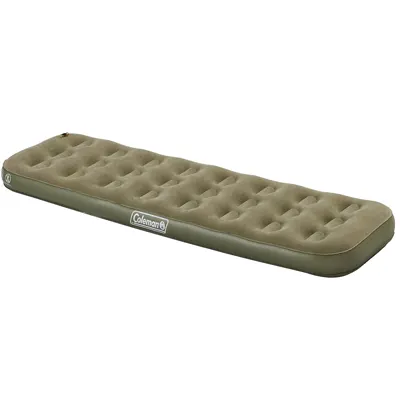 3. BEST SLEEPING PAD: Trekology UL80
Compact, premium quality and robust are just some of the attributes we can use for the Trekology UL80.
This inflating camping sleeping pad has a revolutionary design. You will notice a curvature that is perfectly adapted to the shape of the body. It keeps you 10 cm from the ground, and due to the shape you can't slip off it. Trekology UL80 is comfortable and supportive so you will wake up completely rested, ready to continue your outdoor adventure. 
The air valve is made so that you can inflate the pad both by mouth and with electronic pump which you have to buy separately. It's even easier to deflate it, you just need to open the large air valve. When you pack it, Trekology UL80 is so small and lightweight that you'll forget you have it in your luggage. We consider it heavy-duty since it is made of 40D nylon.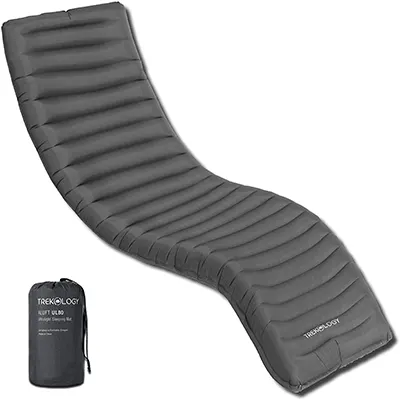 4. BEST FOR QUICK INFLATING: Hikenature Ultralight Sleeping Mat
Hikenature Ultralight Sleeping Mat will be ready to use in less than a minute.
Whether you are a stomach, side or back sleeper, you will find the ergonomic design of the Hikenature Ultralight Sleeping Mat comfortable. It features a patented valve thanks to which you only need 10-15 full breaths to inflate it, and you will deflate it in a few seconds too. 
Made of 20D nylon material with thickened TPU layer under the surface, you can be sure it is durable and waterproof. Our recommendation is to choose a model with pillow, because pillow is very comfortable and supports your head and neck. It is quite affordable, even when you opt for model with pillow. Choose one of three unisex colours.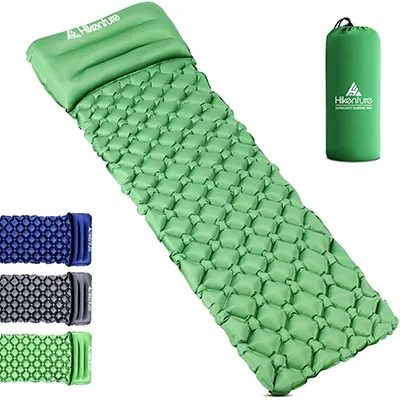 5. BEST LIGHTWEIGHT: Clostnature Insulated Mattress Pad
It grows with your child!
Back-to-back products from Hatch, only this time we're looking at a product for your little ones.
Once again we're looking at an all-around sleep assistant, rather than just a white noise machine. This one is pretty much on par with the previous one, with the main difference being the style and size and the app you kind of have to use if you want to make the most out of this device. 
Hust like you'd expect – everything can be customized via an app, but not as much with the touch controls on the device itself.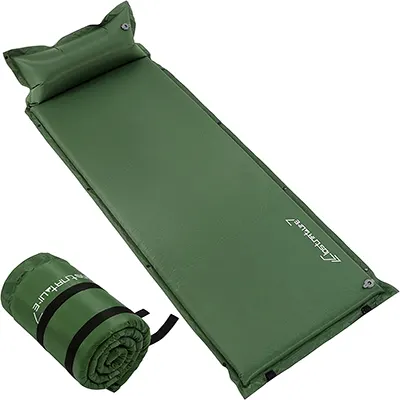 6. MOST COMFORTABLE: Coleman Inflatable Airbed
Most comfortable mattress for couples we've tested.
Do you prefer single height or double height? You can choose exactly what you want. Single height is 22 cm and double height 47 cm so the difference is significant. Coleman Inflatable Airbed is very firm and supportive because of the 40 air-coils it provides, but that does not impair comfort. 
Not even for one level. You and your partner will enjoy an invigorating sleep wherever you are. It is especially suitable for tents and caravans, but you can also install it in the guest room. Supports up to 295 kg, which is a really huge load. Double lock valve guarantees fast and simple inflation and deflation.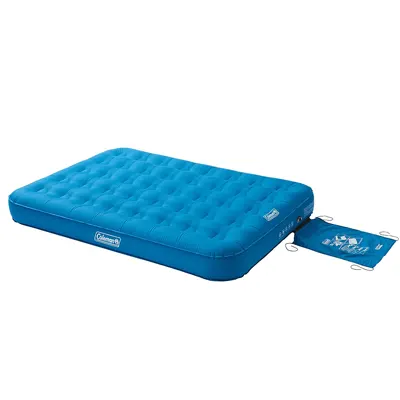 7. BEST WITH PILLOW INCLUDED: Geediar Inflatable Sleeping Mat
Don't compromise your neck and spine even during camping trip.
Geediar Inflatable Sleeping Mat is one of the few camping mattresses / mats that are double-sided. Both sides are made of TPU nylon but the blue side has an elastic cloth covering. Why is that important? Elastic cloth covering makes the movements completely inaudible, and this is very important for light sleepers, since it can be quite noisy in the tent even without tossing and turning of your restless partner. 
Pillow is perfectly comfortable and it is embedded which means it won't move. When you roll it up, you can carry it in your hand and it weighs only 640 grams. It does not require a pump and it is waterproof. It is even suitable for car camping when you need just sleeping bag.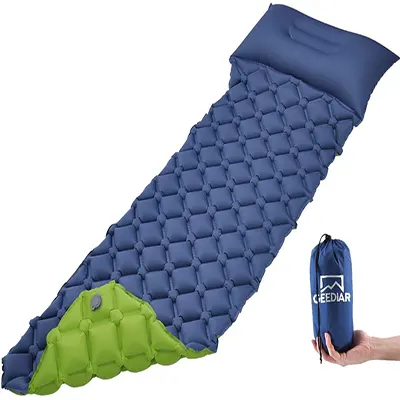 Before you buy a camping mattress for couples
Finding a suitable mattress for couples can be a tricky business, whether you are looking for a mattress for the bedroom or for camping. Each person has different preferences, and there is a good chance that you and your partner are not compatible when it comes to sleep positions.
For example, if you are a stomach sleeper and your partner is side sleeper, you need completely different features. So you can't expect every mattress we've selected to be equally comfortable. It is up to you to analyze the characteristics and make the right choice according to the information we provide. If you or your partner are allergy sufferer, hot sleeper or light sleeper it also affects the choice of mattress. We gave our best to mention all the relevant features to make your purchase easier.
Features to look for in camping mattress for couples
Once you buy a bedroom mattress, you probably won't move it off the bed except to flip and rotate it, until you buy a new one, in 5 or 10 years. On the other hand, you will move your best camping bed every time you go camping. That's why some features like weight and package are especially important. Following are the features to look for when buying a camping mattress for couples.
Air mattress vs foam pad vs sleeping mat
There is not just one type of camping mattress. It is a term used by manufacturers and retailers to place air mattresses, foam pads, and sleeping mats in the same category. Air mattress is the most common choice for couples and it is a mattress filled with air. It is often called air bed, but air bed is mattress for bedroom actually. You can inflate it using pump or blow air in it. The air mattress is lightweight and that is the main reason why it is so popular.
Foam pads are convenient because all you have to do is unroll them and they are ready to use. However they are usually very thin and not perfectly comfortable, especially if the ground beneath you is uneven. Sleeping mat is the most comfortable type of camping mattress. Open-cell foam makes the core of sleeping mat. Open-cell foam is self-inflating. The downside of sleeping mat is that it is heavier and bulkier.
Size/dimensions and weight
Dimensions and weight are so important for camping mattress. It must be functional or it loses its basic purpose. Since you are looking for a camping mattress for couples, single size does not suit you. You also need to buy one that has a maximum load that can carry you two. However, don't ask for it to be the same size as the bedroom mattress. It has to be smaller so it can fit in the tent.
Also check the dimensions when packed, as there are camping mattresses that are quite large when inflated and small when packed. This is an ideal option. Another important characteristic is weight. You don't want to have a burden in your backpack.
It depends on the package how easy it will be for you to transport it from one place to another. It is not the same if you plan to use it occasionally in the guest bedroom and have a cottage on the lake, where it will be installed all the time, or if you are someone who changes the camping site every week. Most camping mattresses come with an original storage bag where you can store them when not in use.
A camping mattress is more durable than a classic mattress, but its service life is usually shorter. How is it possible? It is durable when we talk about physical damage, but it usually lasts between 5 and 7 years. How long it will last, of course, depends on the frequency of use. If you use it three times a year, even one of the affordable camping mattresses will last over 10 years. Since it is made of durable material and the construction is specific, if you are careful, the probability that you will significantly damage it is small.
Don't expect it to be as comfortable as, for example, your 5-layer hybrid mattress. But that also doesn't mean camping mattresses are uncomfortable. Many of them are very comfortable, especially after a long day of hiking. If you want to make it even more comfortable, you can consider a mattress topper. But in most cases, it alone will be cosy enough.
There are so many different inflating methods. Let's start with self-inflating ones. As the name suggests, all you have to do is unpack them and they will inflate themselves due to the inner construction.
Models that inflate by mouth are also popular because you don't have to buy a pump, although this can be challenging for those with lower lung capacity. The most convenient method is the pump. There are electric pumps that you need to plug into an electrical source, so we recommend those pumps that are battery-powered. Pumps also differ whether they are internal or external.
Tips for buying and using camping mattress for couples
Since you are not buying a mattress just for yourself, the most important thing is to consult with your partner. Talk about what you want to get from the mattress for camping other than the most obvious things. It would be best if you have similar requirements related to firmness, but even if that is not the case you can still find a product that will be good for both of you.
Once you buy it, use it carefully. Although such mattresses are significantly more resistant to damage than classic mattresses, they are not indestructible. So always check the ground before you put the mattress in place. Maybe there is a thorn or something else that can damage the mattress or cause poor night's sleep.
Don't forget to compare the dimensions of the tent and the mattress
Find a model which has such characteristics that both partners can sleep fine
If the mattress does not come with an inflating pump, it means that you will have to buy it separately, so include that cost as well.
The advantages of owning camping mattress for couples
Camping mattress for couples has all the same advantages as the mattress you sleep on at home, but also many other advantages. Certainly the most evident advantage is good night's sleep. This type of mattress will help you make camping comfortable as if you paid a few thousand pounds for a resort and not went to the woods. Then you will be able to fully recharge your batteries during camping. You will return to the city rested and refreshed, ready for all the obligations that await you.
A camping mattress is there to separate you from damp earth, beetles and earthworms. If you tried to lie down directly on the ground, you would quickly realize how uncomfortable it is and you probably wouldn't be able to fall asleep. Intercourse with your partner can be especially memorable and romantic under the starry sky, but it will only be possible if you buy a camping mattress for couples.
Restful night's sleep even when you're away from your bed
Most camping mattresses are waterproof so you will definitely stay dry
It is adapted for transport so that when you pack it, it will be so small that it can fit in a backpack.
FAQs about your camping mattress for couples
If any of your questions are left unanswered, don't worry. We left answers to FAQs about your new camping mattress for the end of the guide.
How thick a camping mattress for couples should be?
There is no universal answer to this question, the material from which the mattress is made plays a more important role than thickness.
What's better: air mattresses, camping beds or sleeping mats?
Each of these types of camping mattresses for couples has its advantages and disadvantages, and you will decide which one is most suitable for your needs.
Are foam mattresses good for camping?
Foam mattresses can be quite good for camping since they are comfortable, supportive, durable and pressure relieving.
How can I make my camping mattress more comfortable?
You can make it more comfortable by placing cushion under it and adding additional pillows.
Do camping mattresses for couples come with a pump?
Some of them come with a pump, and some not, you have to check that before buying. There are even models that don't need pump.
How to inflate a camping mattress properly?
You should follow manufacturer's instructions, whether you are inflating it by pump or by mouth.
How to check if a camping mattress is broken?
If it is punctured, you will easily notice that as well as all other signs of damage because it will not be usable in such condition. A self inflating mattress, for example, won't hold air you will notice the place where air escapes out.