Best Pillow for Side Sleepers in the UK – Our 5 Picks
Dear side sleepers – we sympathize with you! We know the struggle of sleeping on one side, waking up with a sore neck and a numb arm. The struggle is real. And some of us know that from first-hand experience, pun intended. But, it's just the way it is – you fall asleep the way your body wants to. Luckily, we know some ways you can improve your quality of sleep – and it all begins with a pillow.
The right pillow can make a world of difference when you're sleeping on one side. You need a pillow which is soft and conforming but at the same time supportive of your very own sleeping position. We have created a list of some of the best pillows for side sleepers you can find online. Take a look and maybe you'll finally find the perfect pillow to support you through the night.
Recommended reading: Best pillows UK
Top 5 Pillows for Side Sleepers
IMAGE
PRODUCT
DETAILS

Size:

60 x 12 x 40 cm

Weight:

1.5 kg

Materials: Cover: 60% polyester, 40% bamboo fibre Filling: 3rd generation memory foam

View Latest Price

Size:

26 x 18 x 5 inches

Weight:

1.76 pounds

Materials: Cover: 100% cotton, polyester fabric lining, Filling: polyester microfiber

View Latest Price

Size:

74 x 50 x 14 cm

Weight:

2.8 Kg

Materials: Cover: 98% polyester, 2% elastane Filling: tempur es (extra soft) material

View Latest Price

Size:

74 × 48 cm

Weight:

1 Kg

Materials:

100% Polyester with 4cm geltex foam insert

View Latest Price

Size:

56 x 41.5 x 12 cm

Weight:

1.2 Kg

Materials: Cover: 65% polyester (PCM) / 35% viscose Filling: 100% viscose foam (BASF)

View Latest Price
Panda Memory Foam Bamboo Pillow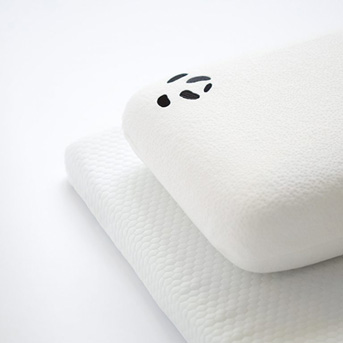 The Panda Bamboo Pillow is a durable and highly breathable. This pillow is well designed to support the neck in any sleeping position, especially on the side. Side sleepers will enjoy this pillow the most because it has optimal support and breathability. The memory foam conforms to your body shape and heat while the bamboo cover makes sure the pillow stays fresh and doesn't retain moisture or bacteria. Due to this luxurious pillow's height of 12cm and a unique design that compliments all sleeping positions, we believe that the Panda Bamboo Pillow is suitable for everyone, regardless of age, shoulder width or sleeping position preferences. This pillow is designed to complement and accommodate to different anatomies. Panda Bamboo Pillow [
check out our full review
] is highly adaptable to various shoulder widths and responds well upon pressure.
Upsides
Medium firmness for optimal spine and neck support
Hypoallergenic materials, easy to maintain cover and natural materials
30-nights trial period, 10-year guarantee, free shipping and returns
Downsides
Can be prone to retaining some heat but not too much
The smell of the pillow might not be likeable to some – but it dissipates after a while
Some might think the pillow is too small for its price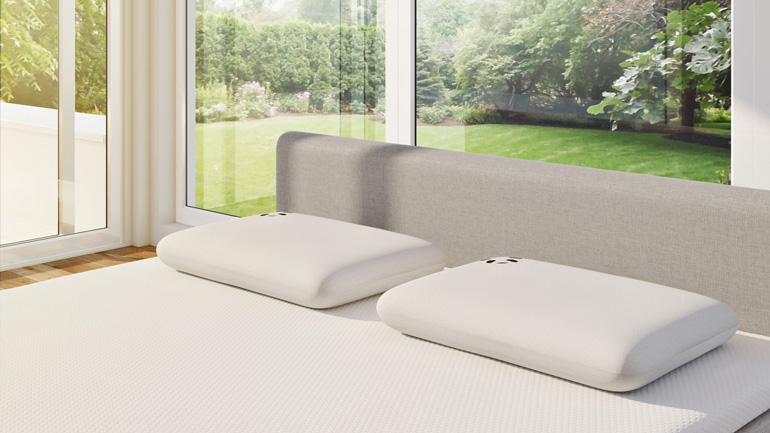 Additional info
Size: 60 x 12 x 40 cm
Weight: 1.5 Kg
Materials: Cover:- 60% polyester, 40% bamboo fibre Filling:- 3rd generation memory foam
Casper Pillow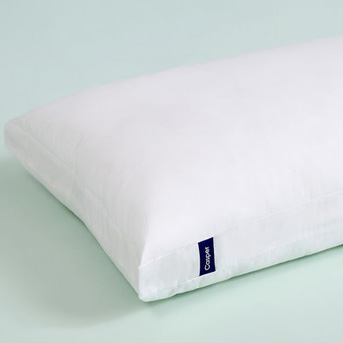 Side sleepers usually take two regular pillows and stack them on one another. Well, there's no need to do that anymore. The Casper company brings you an innovative pillow-in-pillow design that allows you to have the double comfort and the double support, all from the one pillow. Casper pillow is a combination of stable support, softness, comfort and a cooling effect. Casper pillow is made to provide both adequate neck support and a cloudy, tender softness. With this pillow, you don't have to choose between healthy head-neck-spine alignment and enjoyment. The pillow-in-pillow unique design allows you to have both.
Read our full review of Casper pillow here!
Upsides
This pillow definitely offers optimal support and neck and spine alignment
It's very breathable and suitable for people with allergies
Easy maintenance and fluffing – this pillow will last you a long time
Downsides
Price is higher than average (but in our opinion not detrimental)
Some users may not get the appeal of its complicated design
Lastly, not everyone can enjoy a softer memory foam pillow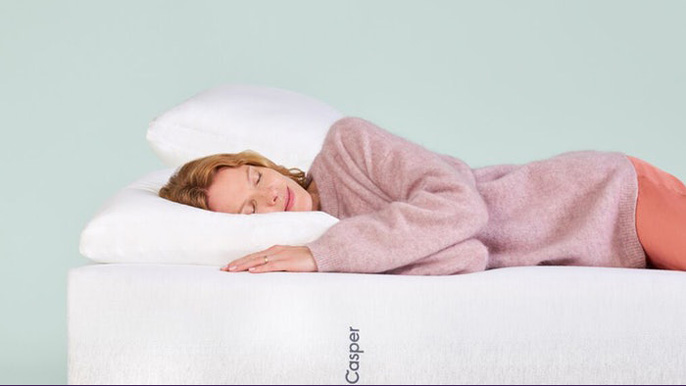 Additional info
| | | |
| --- | --- | --- |
| Size | Dimensions | Package Weight |
| Standard | 18" x 26" with a 2" gusset | 5 pounds |
| Super King | 18" x 34" with a 2" gusset | 6.15 pounds |
Tempur Comfort Pillow Cloud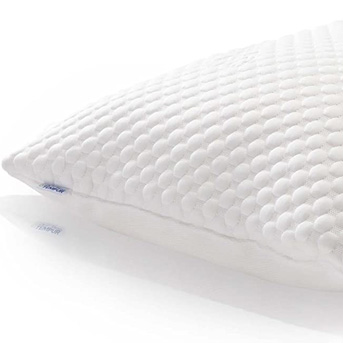 Finally, we haven't forgotten about a softer option for all side sleepers, so we arrived at Tempur Cloud Pillow. The pillow is soft and supportive and filled with Tempur ES (Extra Soft) Material which makes it very special. We vouch for Tempur as one of the best memory foam manufacturers as they really take extra special care when producing it. They have all kinds of memory foam products and have dedicated to creating various foam densities and firmness. So, let's take a look at this pillow shall we?
Upsides
Extremely comfortable and soft pillow (needs regular fluffing)
Gentle removable dual sided cover, easy to wash and dry
3-year guarantee and free shipping & delivery across UK
Downsides
A little more expensive than the average memory foam pillow
Some users might find the pillow to be too soft and not supportive enough
A tight fit in a regular pillowcase, might need to buy a custom one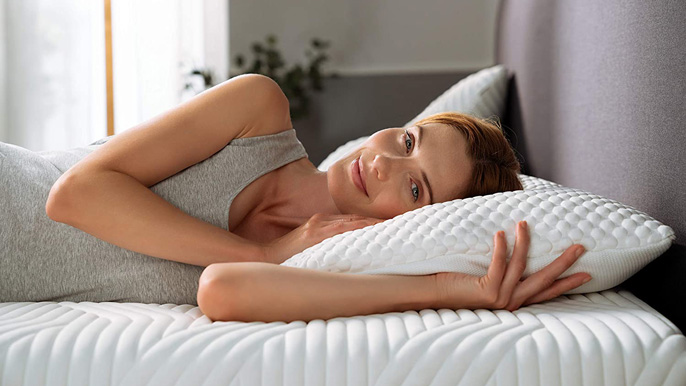 Additional info
Size: 74 x 50 x 14 cm
Weight: 2.8 Kg
Materials: Cover:- Cover: 98% polyester, 2% elastane – Filling:- Tempur ES (Extra Soft) Material
Maintenance: Wipe-clean only
Price: £99.00 – free shipping and delivery in the UK
Silentnight Geltex Pillow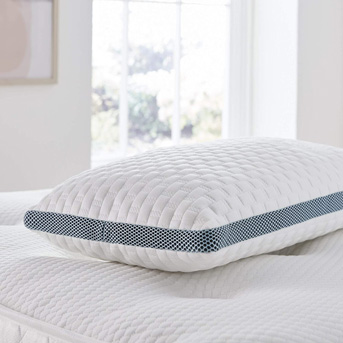 If you're looking for extra support, high breathability and a firm pillow, then Silentnight Geltex Pillow is the right pillow for you. All side sleepers will enjoy its design and luxury. Side sleepers often have neck problems because of the huge space between them and the sleeping surface. Many a times you will add an arm below the pillow for added support, but that is extremely uncomfortable. Let's see what else this pillow has to offer.
Upsides
The pillow is very breathable and hypoallergenic
The level of support is adequate for a pillow of that firmness
2 years guarantee and a reasonable price
Downsides
No trial period for the pillow specified
Some users might find the pillow to be too firm
Should you want to return the pillow, you can't have it used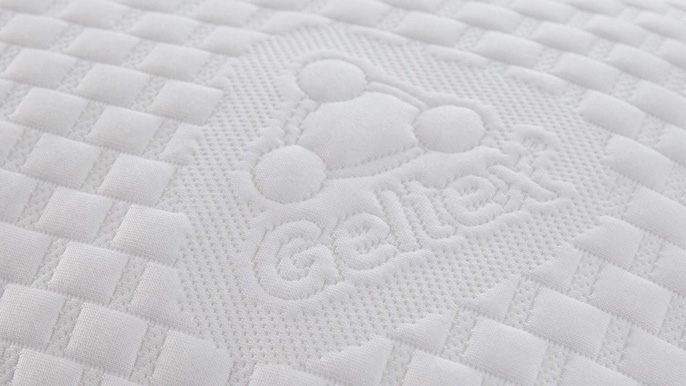 Additional info
Size: 48 x 78 cm
Materials: Cover:- 100% Cotton – Filling:- 100% Polyester Hollowfibre with Geltex Foam
Maintenance: Wipe-clean only
Sofi Side Sleeper Memory Foam Pillow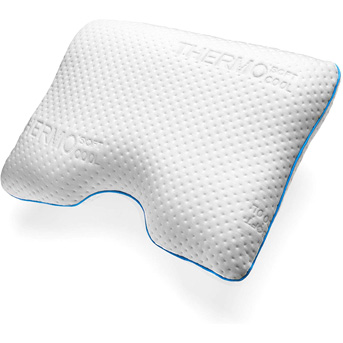 The Sofi Side Sleeper Memory Foam Pillow is especially designed for side sleepers. Its ergonomic design allows you to sleep in a natural side position which won't affect your blood circulation in your arm. It has enough space for your shoulder, and is of optimal height to support your head in the meantime.
Upsides
Orthopedic shape which helps with neck problems
Breathable cover made of 100% cotton, machine washable
The pillow has a good airflow design, won't overheat
Downsides
If you're a fan of soft pillows, this one might not be right for you
The company doesn't offer trial period or returns
The pillow is a little more pricey than a regular one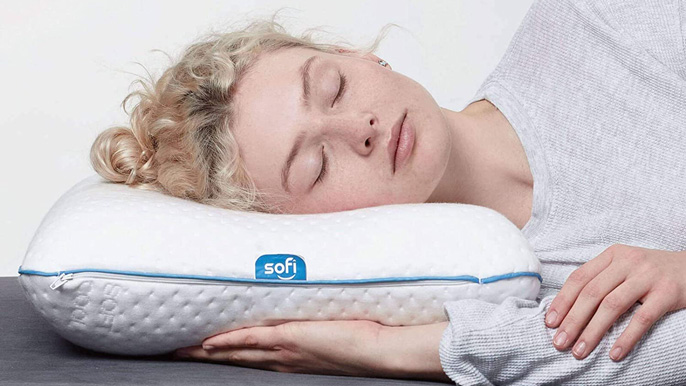 Additional info
Size: 56 x 41.5 x 12 cm
Weight: 1.2 Kg
Pillowcase: 65% polyester (PCM) / 35% viscose – Washable at 40°C
Conclusion
So – there you have it! The ultimate top 5 list of pillows that are best suitable for side sleepers. If you can't find your new pillow, then this was the place to make that important decision. We made sure to include various types of pillows as we know that not everyone has the same taste when it comes to comfort. Whether you like soft, medium or extra firm pillows – you can definitely find one in this list. Snooze away!