Best Pillow for Side Sleepers- Top 5 Picks for the UK in 2021
Dear side sleepers – we sympathize with you as finding the best pillow for side sleepers UK is not an easy task! We know the struggle of sleeping on one side, waking up with a sore neck and a numb arm. The struggle is real, especially when you are looking for the ideal pillow for your night's sleep. And some of us know that from first-hand experience, pun intended.
But, it's just the way it is – you fall asleep the way your body wants to. Luckily, we know some ways you can improve your quality of sleep – and it all begins with getting the most appropriate pillow. Memory foam pillow, hypoallergenic, support pillow, or an extra firm pillow – which one will suit the side sleepers? To find the best sleeping pillow that will treat your neck pain, you need to consider several things that we explained in this article. 
The right pillow for side sleeper UK can make a world of difference when you're sleeping on one side. You need an adjustable pillow which is soft and conforming but at the same time supportive of your very own sleeping position. We have created a list of some of the best picks for side sleepers, based on our professional research as well as on the customer's reviews.
Take a look at our buying guide for the best side sleeper pillow UK and make your pick to sleep better through the night with our top pillows and some of the best pillow brands! Check our short pillow reviews to get an idea of what each of side sleeper pillows UK has to offer.
Top 5 Pillows for Side Sleepers
IMAGE
PRODUCT
DETAILS

Size:

60 x 12 x 40 cm

Weight:

1.5 kg

Materials: Cover: 60% polyester, 40% bamboo fibre Filling: 3rd generation memory foam

View Latest Price

Size:

74 x 48 x 10 cm

Weight:

2.1 Kg

Materials: Cover: cotton Filling: goose feather & down

View Latest Price

Size:

74 x 15 x 48 cm

Weight:

1.2 Kg

Materials: Cover: cotton Filling: wool

View Latest Price

Size:

74 × 48 cm

Weight:

1 Kg

Materials:

100% Polyester with 4cm geltex foam insert

View Latest Price

Size:

70 x 42 x 22 cm

Weight:

1.66 Kg

Materials: Cover: no cover Filling: down alternative

View Latest Price
Panda Memory Foam Bamboo Pillow
Get rid of your body heat with this medium firm pillow that can alleviate your joint pain!
The Panda Bamboo Pillow is a durable and highly breathable memory foam pillow, to that point that is considered to be the best sleeper pillow for side sleeper UK. This memory foam pillow, infused with bamboo, is well designed to support the neck in any sleeping position, especially on the side, removing any neck pain. Side sleepers will enjoy this pillow the most because it has optimal support and breathability. The memory foam conforms to your body shape and heat while the bamboo cover makes sure the pillow stays fresh and doesn't retain moisture or bacteria.
Due to this luxurious pillow's height of 12cm and a unique design that compliments all sleeping positions, we believe that the Panda Bamboo Pillow is suitable for everyone, regardless of age, shoulder width or sleeping position preferences. This pillow is designed to complement and accommodate to different anatomies of a side sleeper and therefore it's great for the spinal alignment. Panda Bamboo Pillow [check out our full review] is highly adaptable pillow for side sleepers to various shoulder widths and responds well upon pressure so we can render it as a high-quality supportive pillow as well. It is considered to be one of the best memory foam pillow options that you can opt for.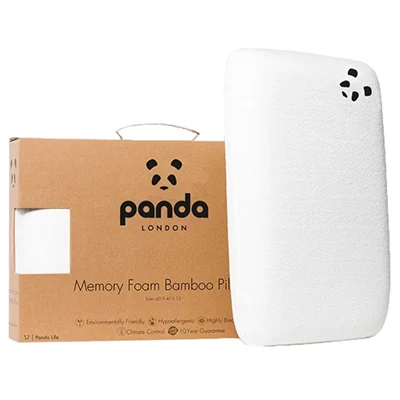 Medium firmness for optimal spine, head and neck support
High-quality memory foam pillow
Hypoallergenic pillow, easy to maintain cover and natural materials
One of the most supportive pillows
Machine washable cover
30-nights trial period, 10-year guarantee, free shipping and returns on pillows.
Can be prone to retaining some heat but not too much
The smell of the pillow might not be likeable to some – but it dissipates after a while
Some might think the pillow is too small for its price.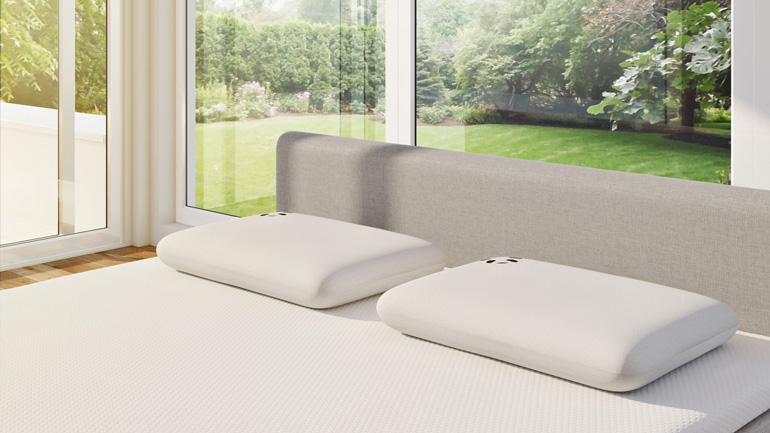 Additional info
Size: 60 x 12 x 40 cm
Weight: 1.5 Kg
Materials: Cover:- 60% polyester, 40% bamboo fibre; Filling:- 3rd generation memory foam.
Snuggledown Goose Feather & Down White Pillow
Best for sleepers who want a high quality down pillow with natural materials!
The Snuggledown Goose Feather & Down White Pillow is ideal for back and side sleepers as it provides the necessary support to keep the head in a proper position relative to the spine while sleeping in these positions. The head of back and side sleepers must be raised to achieve a spine alignment.
A blend of 85% Goose Feather and 15% Goose Down was used for filling, which guarantees you comfort, but also breahability. It is suitable even for hot sleepers. You also get a 230 thread count cotton cover for added comfort and softness, which is often what sleepers look for in their top pillow. You can wash this down pillow for side sleepers in the washing machine and use dryer afterwards.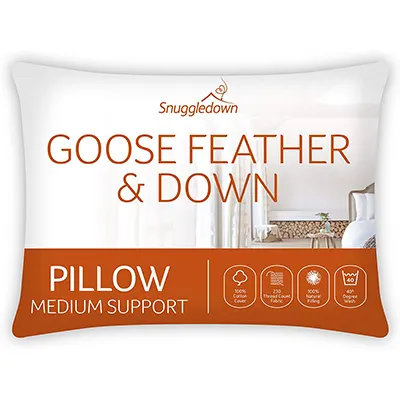 Suitable for side and back sleepers who want a perfect spinal alignment
230 thread count organic cotton cover
One of the best down pillows UK market has to offer
Machine washable.
May not be super comfortable for stomach sleepers
Not for sleepers who suffer from allergies or asthma related problems
It may be too soft for some sleepers.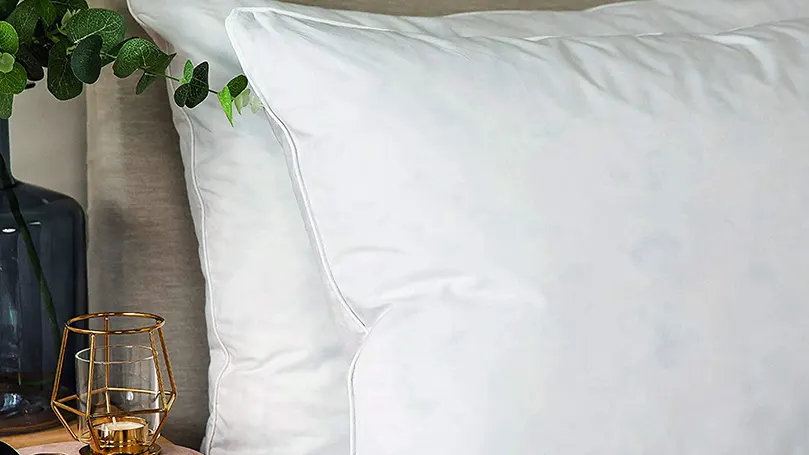 Additional info
Size: 74 x 48 x 10 cm
Weight: 2.1 Kg
Materials: Cover:- Cotton; Filling:- Goose Feather & Down
WoolRoom Natural British Wool Pillow
Made of organic wool, this pillow is great for front sleepers as well!
Don't think that the WoolRoom Natural British Wool pillow is not suitable for hot sleepers or summer because it is filled with organic wool. Wool is a natural material that regulates temperature and removes moisture away. The cover is made of breathable cotton, which will keep you cool, and the wool will transport moisture away, keeping you comfortable all the time.
Among all other side sleeper pillows UK we listed here, this pillow for side sleepers is suitable for all sleeping positions, because it gives medium support, although stomach sleepers will probably like it least. This pillow is hypoallergenic and considered to be one of the top pillows for side sleepers UK!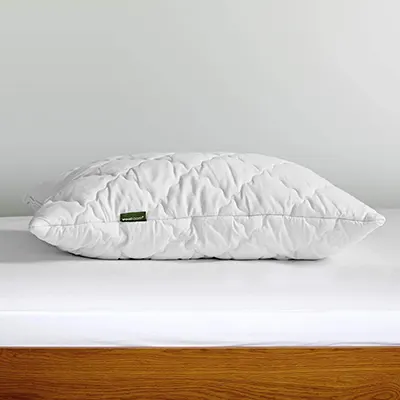 High quality wool filling
Machine washable cotton cover
Hypoallergenic
An adjustable pillow – suitable for back sleepers and spinal alignment
#1  down pillow for combination sleepers UK.
May not be suitable to stomach sleepers
Off-gassing during the first few weeks
Not that as durable as some other products in the same category.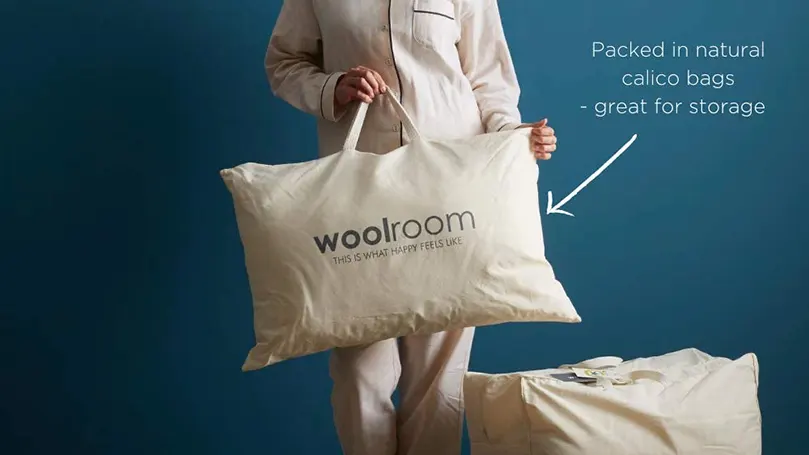 Additional info
Size: 74 x 15 x 48 cm
Weight: 1.2 Kg
Materials: Filling:- Wool; Cover: – Cotton
Maintenance: Wipe-clean only
Silentnight Geltex Pillow
The best adjustable pillow with soft cotton that will match your sleeping style and keep your spine alligned all the time!
If you're looking for extra support, high breathability and a firm pillow, then Silentnight Geltex Pillow is the ultimate side sleeper pillow for you!  It is one of the extra firm pillow that comes from one of the most recognized pillow brands. All side sleepers will enjoy its design and luxury. Side sleepers often have neck problems because of the huge space between them and the sleeping surface.
Therefore, this might be the top choice for side sleepers. Many times you will add an arm below the pillow for added support, but that is extremely uncomfortable. Let's see what else this pillow for side sleepers has to offer.
Here is our thorough review of Silentnight Geltex pillow so take a look.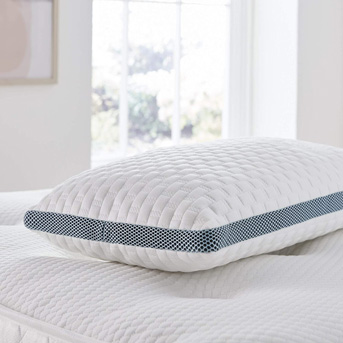 The pillow is very breathable and hypoallergenic
Machine washable cover
Extra high-quality memory foam
Good for neck and shoulders pain relief
The level of support is adequate for a pillow of that firmness
Extra firm pillow
2 years guarantee and a reasonable price.
No trial period time for the pillow is specified
Some users might find the pillow to be too firm
Should you want to return the pillow, you can't have it used.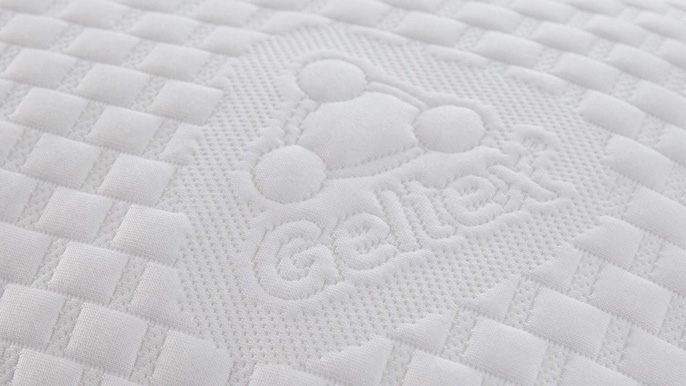 Additional info
Size: 48 x 78 cm
Materials: Cover:- 100% Cotton – Filling:- 100% Polyester Hollowfibre with Geltex Foam
Maintenance: Wipe-clean only
Ensures the different firmness levels and it's best for sleepers who want two pillows!
What sets the BedStory 2Pack Pillow apart, in addition to the fact that you get two shredded memory foam pillows at a very affordable price, is the ergonomic design that provides excellent support for your head and neck. It is therefore ideal for all those who feel pain in the neck and head region after waking up.
Filling is a down alternative, which means you will get the comfort of a down pillow, but since polyfiber is used instead of down, these two pillows are hypoallergenic and dust mite resistant. On top of this, these two pillows are machine washable.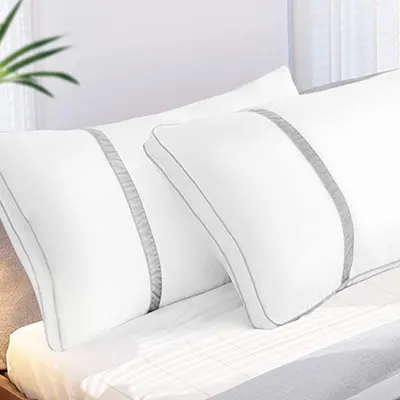 Affordable
Medium firm pillow
Good quality of memory foam
Machine washable
Hypoallergenic.
May be too bouncy
No machine washable cover
Not suitable to hot sleepers.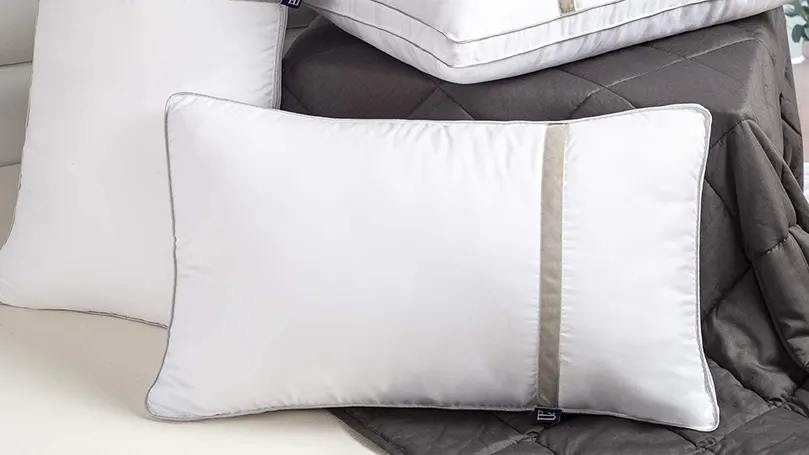 Additional info
Size: 70 x 42 x 22 cm
Weight: 1.66 Kg
Materials: Filling: – Down alternative; Cover: – No cover.
What are the benefits of a side sleeping?
For many years, side sleeping was a sleeping position that was considered less healthy than back sleeping. But various studies have shown that with the right choice of pillow and an adjustable mattress, which will give you support and appropriate height, side sleeping is an equally healthy sleeping position, even healthier for certain health problems. The first and most noticeable benefit of side sleeping is the reduction of snoring problems and sleep apnea, which can be alleviated using adjustable pillows or thicker pillows.
When you sleep on the side, your airways will always be open and this will allow undisturbed sleep for both you and the person sleeping in bed with you. Digestive tract problems and heartburn symptoms can be significantly alleviated if you sleep on your side, and sleeping on your left side is especially beneficial. Our bowels are not symmetrical and that is why doctors recommend sleeping on the left side. Also, with proper body alignment, you can reduce both joint and back pain. A side sleeping is best position for pregnant women too.
What to consider when buying the best pillow for side sleeping?
When buying the top pillow for side sleepers, you need to consider many factors before you are able to make the right decision which one is ideal for you. When buying the top pillow for side sleeper UK, some of the most important factors to consider are a machine washable cover/pillowcase, loft, support, shape and firmness. Each of these factors will have a significant impact on whether you will be able to sleep comfortably during the night.
Remember that not all side sleepers have the same personal preferences, so consider what you need. Also if you have pain in a particular place, then that is the first thing to address. Also your mattress and topper play big role beside the sleep pillows so bear in mind this when shopping for the best side sleeper pillow UK.
We place thickness of pillow, also commonly referred as loft, as the first factor to consider when buying the top pillow for side sleeper UK. The loft is even more important for side sleepers than it is, for example, for back sleepers. Side sleepers need high loft pillows, to have the necessary support for the neck and to avoid sinking. Side sleepers need a pillow at least 4 inches thick, because thinner than that probably won't suit them. If you are shopping online, look for high loft pillows, as such will also relieve pressure in your shoulders.
Thickness, along with the firmness level, which we will discuss in the following paragraphs, affect the support that the pillow will provide you. Side sleepers have to buy a pillow that will provide them with neck support because spine alignment has to be achieved. So the pillow must not allow the head to be raised or lowered, but must be in a neutral position. A high loft is necessary, as we have already said, as well as firmness, in order for support to be adequate. Therefore, some kind of an adjustable pillow is the best way to go with.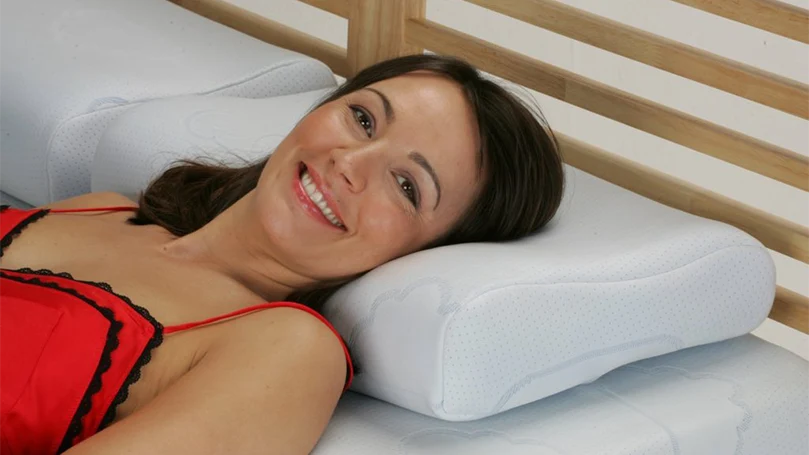 You will find different shapes of pillows on the UK market. People who sleep on their sides can certainly sleep comfortably on a standard-shaped pillow, but there are also pillows that have a shape specifically designed for side sleepers. In case the standard shape is not comfortable for you, then it is definitely advisable to consider an ergonomically designed pillow. Such pillows reduce the pressure on the neck, spine and shoulders, so they are ideal for all those who experience pain in that area.
Loft and firmness level are the most important features that people who sleep on side should pay attention to. The top pillow for side sleeper UK must not be too soft, because your head will sink and then it will be located under your spine, which is very bad for the neck, primarily. Therefore, you want comfortable pillows. Also, it should not be too firm, first because you will not be comfortable because pillow firmness could give you the feeling that you are sleeping on a rock. In addition, it will position your head too high. That is why side sleepers should choose medium-firm pillows, on a scale from 1 to 10, 6-7 is ideal for the best side sleeper pillow UK. The best memory foam pillow is not worth anything if the firmness doesn't suit you. 
You will often come across different materials when you are looking for the top pillow for side sleepers. These materials affect the firmness, loft, but also comfort and breathability, so not every material is equally suitable for hot sleepers and those who are not hot while sleeping and so on. You will be able to read more about the types of materials later.
A common mistake that all people make is not to pay attention to what kind of mattress they sleep on and to expect that the pillow will solve all their problems. Although the pillow is very important, because it directly supports our neck, if we sleep on an inappropriate or old mattress, no pillow will help you. It is essential that you have a mattress that contours to the shape of the body and provides pressure point relief. It should be medium-firm, just like a pillow.
If you think that your mattress is in good condition and you do not want to buy a new one, but you are still not completely satisfied with the support it gives you or some other feature, then consider buying a mattress topper. A quality topper can give you the feeling of sleeping on a new mattress, and it is much cheaper than a new mattress. 
What material should I consider for the best pillow for side sleepers UK?
Different pillow materials have different characteristics and that is why all of them are more or less used for making pillows. There are natural and synthetic materials, different in firmness, how they react to heat, breathability and other characteristics. Memory foam is the most commonly used synthetic material, while of the natural materials feathers, down, buckwheat and latex are used the most.
For side sleepers, all the mentioned materials can be suitable, so the choice will depend more on whether you want a cooling pillow, what kind of bounce rate you want and the like. Also, it should be noted that these are fill materials, and that cotton and other breathable materials that will not irritate the skin are mostly used for the cover. That is exactly what the most appropriate pillow for side sleepers UK should feel like!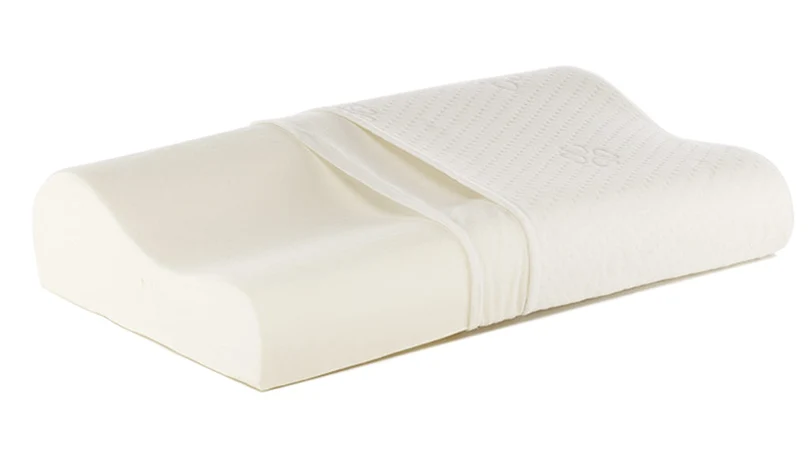 Memory foam is a material developed by NASA back in the '60s and at that time they certainly did not expect it to become the most used material for making mattresses, toppers and pillows. Memory foam is a material that the weight and warmth of our body shape so that it gives us both support and comfort. Memory foam is a great choice for all side sleepers due to the high loft as well as the support it will give us, which will lead to spine alignment. Memory foam tend to be hot, but there are various cooling variations, such as added cooling gel. Also, pillows filled with memory foam are one of the most popular pillow options and they are also considered to be softer pillows. 
Buckwheat pillows are filled with buckwheat hulls and can be a dream come true for all side sleepers because of the support they provide and because they provide the same support as on the first day and after a long time of use, even up to 10 years.
Buckwheat pillows have helped many to cure neck pain and are also very breathable. However, unlike it's the case with memory foam, many users will find buckwheat pillow way too hard, so we recommend that you try it before buying.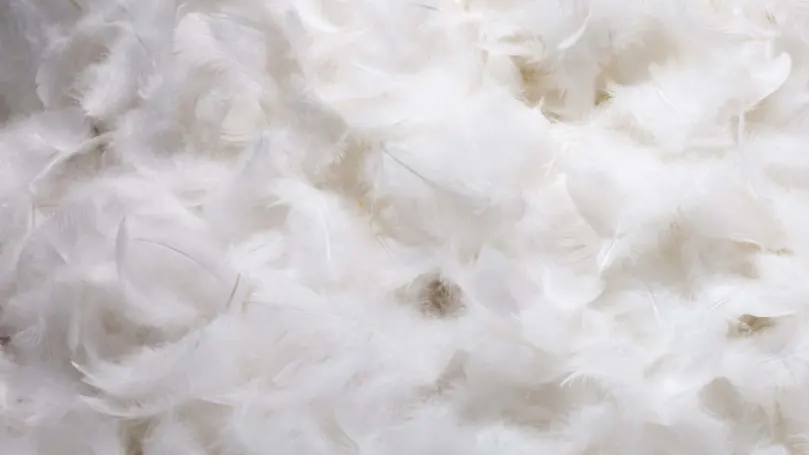 These pillows are comfortable and a good choice for all those who want natural filling. However, since they tend to become flat after some time, they can be unsuitable for side sleepers. There are certain pillows of this type that will be good for side sleepers, but be sure to check their loft and firmness level before buying. The advantage is that they are very cool and also durable if you refluff them regularly.
A big advantage of a latex pillow is that it is hypoallergenic. Latex pillow is a good pillow for side sleepers UK, because latex has relatively similar characteristics to memory foam. However, it is much more responsive, so people who doesn't like the feeling of sinking at all, won't go wrong if they buy this type of pillow. Support as well as cooling properties are great so if you need a head and neck support, you can't go wrong with the latex pillow.
Down is considered the most luxurious filling for pillows and is very comfortable. Down pillow is also lightweight. However, like feather pillows, down pillows can be unsuitable for side sleepers because they lack support. If you are buying a down pillow, buy a mix of feathers and down, for better support. Down pillow is an eco-friendly option, but it's not vegan-friendly and it's not hypoallergenic, so if you want to get down features, and you're vegan or allergic, choose down alternatives. Down alternative is a synthetic material of similar characteristics.
What is the ideal size of the best pillows for side sleepers?
You must avoid falling in trap of underestimating importance of choosing a proper pillow and its size as your head and neck should have enough space. Of course it is necessary to check the loft, firmness level, fill material and more, but if you do not choose the right size, all these other features will be less important. Even if you get the best memory foam pillows. Standard, queen and king are the most common sizes, but manufacturers are increasingly offering some non-standard sizes so that everyone can find exactly what they need. These, generally, come in 5 different sizes.
Standard size, as its name suggests, is the most common pillow size you will find on the market. Dimensions are 20W "x 26L" and because such models are very common, they are usually the cheapest. It is a size that will suit everyone who does not have any special requirements, which includes side sleepers, and all those who have a regular head and body size.
The Super Standard differs only slightly in dimensions from the standard size. It's a bit longer and the exact dimensions are 20W "x 28L" and it's rare on the market, so you'll probably have hard time finding one. It is ideal for all those who toss and turn a lot during the night, while for them the standard is usually a bit too small.
Queen is another size that you will easily find and it is the best-selling size after the standard. The Queen size pillow is 4 inches longer than the standard, which brings us to the dimensions of 20W "x 30L" and this gives you a significantly larger surface. We recommend it even more than Super Standard for all those who toss and turn and are on the hunt for their new top pillow.
King size is the third regular size and you won't have a problem finding pillows of that size. It is significantly larger than the standard, measures 20W "x 36L" and gives you a lot of space. If you too are tossing and turning, and you also like to watch TV while in bed or even the two of you lying on one pillow, then opt for king size. These are the biggest pillows side sleeper can get on the market, except the body pillow that are used mainly by pregnant women.
Body pillows are very long and are usually used by pregnant women. It is also the the first choice for all those who like to have the feeling that someone is hugging them while they sleep. It is completely different in size from other pillows, it is usually 48W "x 20L" but can be even wider, up to 55W. Still, some sleepers find this to be the first pick for side sleepers UK so they opt for it.
So – there you have it! The ultimate top 5 list of pillows for bed that are best suitable for side sleepers. If you couldn't pick any pillow out of the best picks you found earlier, then this was the place to make that important decision. We made sure to include various types of pillows as we know that not everyone has the same taste when it comes to comfort. Whether you like an adjustable pillow, soft, medium or extra firm pillows – you can definitely find one in this list. Snooze away with the top side sleeper pillow UK market has to offer!
FAQs about best pillows for side sleepers UK
As buying the top pillow for side sleepers is a very important purchase for you, then it is natural that you always have an additional question and that you are not 100% sure whether you have made the right decision. Don't worry though, we at The Sleep Advisors are here to answer some more frequently asked questions about best pillows for side sleepers.
What type of pillow is the best for side sleepers?
Best type of pillow is one that suits you and memory foam pillows are considered to offer the most benefits to side sleepers. The best pillow is the one that suits you best.
How thick should the best pillow for side sleepers be?
Having a right pillow thickness is crucial. You can have the best memory foam pillow for side sleepers UK but if it's thickness isn't right, it's worth nothing. The best pillow for side sleepers should be at least 4 inches (10cm) thick, to prevent neck from bending.
Which pillows do chiropractors recommend for side sleepers?
Chiropractors recommend either memory foam pillows or down/feather pillows to all side sleepers, especially those who suffer from the head and neck pain.
What type of pillow can I use for my neck pain?