Panda Memory Foam Pillow Review
Choosing a pillow is not a decision you should take lightly. It'll affect your sleep, your well-being, and many other aspects of life. Panda Memory Foam pillow promises to make that decision easier for you by providing you with support, comfort and quality – all rolled into one. Will it deliver on it its promise? Let's find out together.
Who is Panda Memory Foam pillow for?
With a semi-low profile, Panda Memory Foam pillow ought to be able to provide support and comfort for side, back, and stomach sleepers alike – at least in theory. In practice, it becomes quite obvious that side and back sleepers are the ones benefiting the most from this bamboo-encased memory foam pillow, mainly due to the supportive nature of this eco-friendly pillow.
With that being said, another group of sleepers came to mind when we talked about who is Panda Memory Foam pillow ideal for – sleepers with neck pain. Alleviating neck pain can be tricky, seeing how you might have to adjust your sleeping position, perhaps even change your mattress, but the first step is always changing your pillow.
Add a header to begin generating the table of contents
What do we use this product for?
Pillows have a pretty limited use case scenario – at least some of them do. Panda Memory Foam pillow, on the other hand, is used for alleviating neck, shoulder and head pain, promoting proper spinal alignment, getting a good night of refreshing, rejuvenating sleep, and more.
But let's not drag this along. Here's what we can use the Panda Memory Foam pillow for:
Use it to alleviate neck, shoulder and head pain
Use it to promote ideal spinal alignment and proper posture
Use it to keep dust mites and other household allergens at bay
Use it to keep cool and dry during the night.
Does Panda Memory Foam Bamboo pillow come in different versions?
Panda is well-known as a customer-oriented company and so whoever is familiar with their offer will not be surprised that Panda has several more versions of the famous Memory Foam Bamboo pillow. The other two versions of the pillow are adapted for children, more precisely for babies and kids who are several years old.
Kids Memory Foam Bamboo Pillow
It is very important that your child gets a comfortable and supportive pillow in early childhood. If he or she sleeps on a pillow that cannot provide everything he needs, it will affect the quality of sleep. But it can also affect development, because improper sleep position leads to problems with the neck and spine. Like the Panda Memory Foam Bamboo pillow for adults, this model for kids is made of 3rd generation memory foam that is highly supportive, while not compromising comfort.
 This product is 100% safe, as it is naturally antibacterial and hypoallergenic. It is made of ethically sourced from organic bamboo. Kids Memory Foam Bamboo pillow is so durable we expect your child will use it until he or she outgrows it. Cover is removable and machine washable for easy care.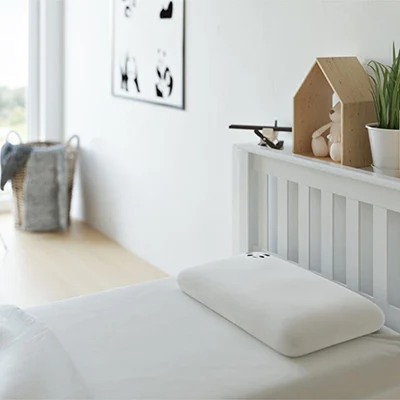 Dimensions: 53 x 38 x 10 cm

Weight: 1.4 kg

Trial: 30-night

Warranty: 10-year.
Support

Breathability

Antibacterial
Baby Memory Foam Bamboo Pillow
Pillows are not safe for newborns and regular pillows are also not recommended for children under the age of two. But Baby Memory Foam Bamboo pillow is made to be completely safe for babies from 12 months. It even has baby-friendly zip. The special contour-curve design is great for the prevention of flat head syndrome. The pillow has a low loft to keep the baby's neck in the correct position. Like all other Panda's products, it is very durable and easy to maintain, and also hypoallergenic and eco-friendly. 
It is highly breathable, which is very important because of the temperature control that is not yet fully developed in babies. It comes with a 10-year warranty, so you should save it for your next child or give it to someone, because durability is at the highest level.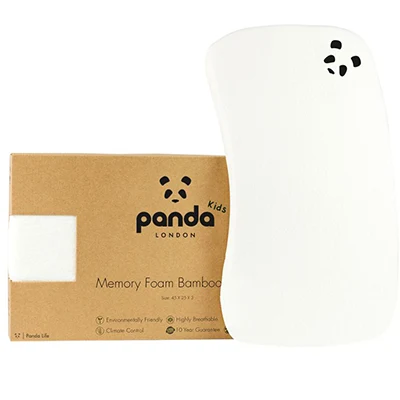 Dimensions: 53 x 38 x 10 cm

Weight: 1.4 kg

Trial: 30-night

Warranty: 10-year.
Safe

Flat head syndrome prevention

Eco-friendly.
Dimensions: 53 x 38 x 6 cm

Weight: 1 kg

Trial: 30-night

Warranty: 10-year.
Features you should know about the Panda Memory Foam pillow
Now that we have gotten familiar with what can Panda Memory Foam pillow do for us, let's delve a little deeper and fully understand all the features that this supportive memory foam pillow brings to the table.
A sustainable bamboo material
One of the most often overlooked features of a pillow is its pillowcase. With Panda Memory Foam pillow, you won't ever feel the need to get your hands on a separate pillowcase. 
Panda's bamboo pillow cover is sumptuously soft and naturally breathable, all thanks to the sustainably sourced bamboo used to manufacture the pillowcase. As you probably know, bamboo's one of the world's most renewable resources – not to mention one of the world's greatest ones. It is naturally antibacterial and hostile to microorganisms, bacteria, parasites, bed bugs, dust mites, and other common household allergens. 
On top of it, the fine texture and soothing nature of bamboo fibre is ultra-gentle on your skin, allowing you to maintain a glowing complexion and squeaky clean skin.
The reason we said in the beginning that Panda Memory Foam pillow was designed for everyone was due to its medium-firm support profile. As soon as you rest your head on the Panda Memory Foam pillow, you will experience its soothing comfort, contouring, and just the right level of support, because just like with mattresses – you can't go wrong if you go medium-firm. 
As such, this pillow is best suited towards side and back sleepers, and even though some stomach sleepers might find it to be a bit tall and firm, a decent number of them will still be able to enjoy it. After all, the vast majority of stomach sleepers prefer some loft underneath their heads, and the fact that the pillow is quite big and huggable makes it a pretty good choice for them as well.
3rd generation memory foam
What made it possible for the Panda Memory Foam pillow to be this supportive is the 3rd generation memory foam technology Panda developed. 
After years of research and trial and error, Panda's memory foam pillow has finally been perfected with the latest and greatest in memory foam technology. This 3rd generation foam is uniquely supportive, which is one of the reasons why it is so comfortable for virtually every sleeping position.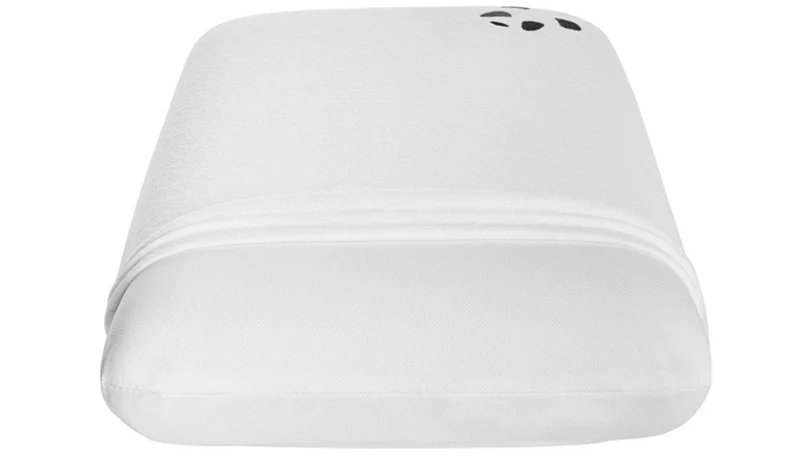 What also makes this foam great is its responsiveness and bounce. Most memory foam pillows sink and lose their shape after a while, which is not a problem for Panda Memory Foam pillow. 3rd generation foam is very responsive and will revert back to its natural shape in a matter of seconds, even after a full night of use.
Built-in mesh protector and breathable bamboo & polyester cover
To protect the pillow from dust, dirt, sweat and stains, Panda has encased their memory foam base inside of a mesh fabric pillow protector. Not many pillows come with it, and quite frankly, we're not quite certain why that is. A built-in mattress protector is sure to add on a few years to your pillow, so we really appreciate this feature, and we're sure you will, too. 
On the outside, we have a removable, machine-washable cover that's 40% bamboo (on the outside) and 60% polyester (on the inside). Essentially, think of this bamboo pillowcase as a two-layer pillowcase, with the polyester base being there for support and the outer bamboo fibre being there for comfort, smoothness, antibacterial properties, and so on.
At 12 cm, the Panda Memory Foam pillow is pretty much ideally thick. That's more than enough loft to properly support your neck and head when you're sleeping on the side or back. In both instances, the pillow's edges will support your neck and keep it in an adequate position while your head comfortably rests in the middle of the pillow.
On the other hand, 12 cm might be a bit too high for stomach sleepers, at least in theory. But as we all know, quite a few stomach sleepers hug their pillows, and if that's how you sleep – this one will be as comfortable as you'd want it to be.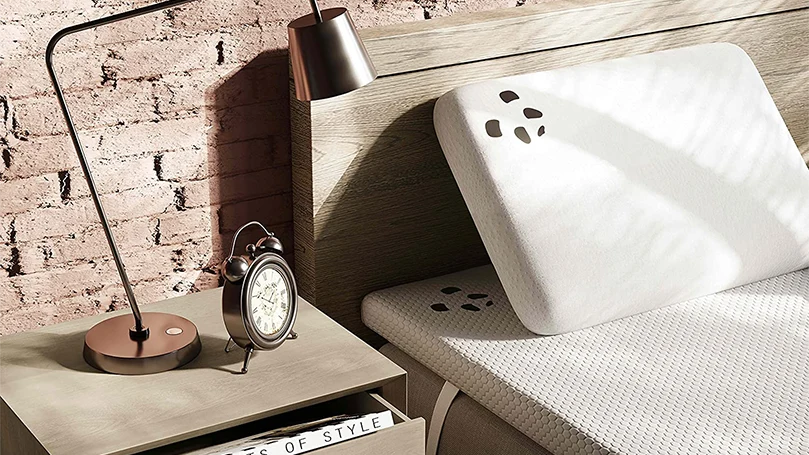 Maintenance at 40 degrees
Maintaining the Panda Memory Foam pillow is as easy as it gets. The bamboo/polyester pillowcase is easily removable and washable at 40 degrees Celsius. You could tumble dry it, but we'd suggest leaving it out to air dry. 
The memory foam core, alongside the built-in protector, is not machine-washable, and it shouldn't be soaked. If you need to clean it – wipe it with a damp cloth.
Panda is so confident in the quality of its product that it will offer you a 10-year warranty for this pillow. From what we've learned from our testing, you may just get to enjoy this pillow for a full decade before you need to replace it.
The foam is quite durable and long-lasting, and the fact that it's protected with a mesh pillow protector sure adds on a couple of years to the toll.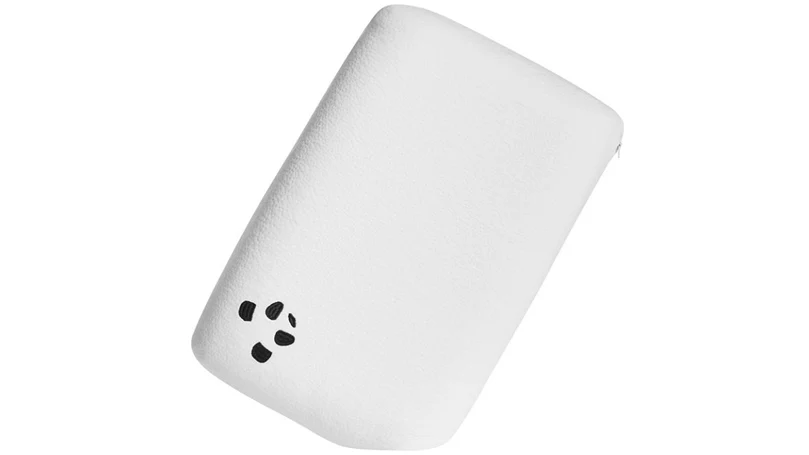 No matter how great the pillow – not everyone is going to like it. That is why Panda is offering you a 30-day money-back guarantee, so you can take your time and really test the pillow. 
A 30-night trial period gives you more than enough time to assess the pillow and figure out if it's working for you or not. If it isn't, you'll be able to return it for a full refund, and you won't even have to pay shipping costs – Panda will take care of it.
Package of recycled material
Another neat thing about the Panda Memory Foam Pillow, or any other Panda product for that matter, is that they're shipped in recycled and recyclable boxes.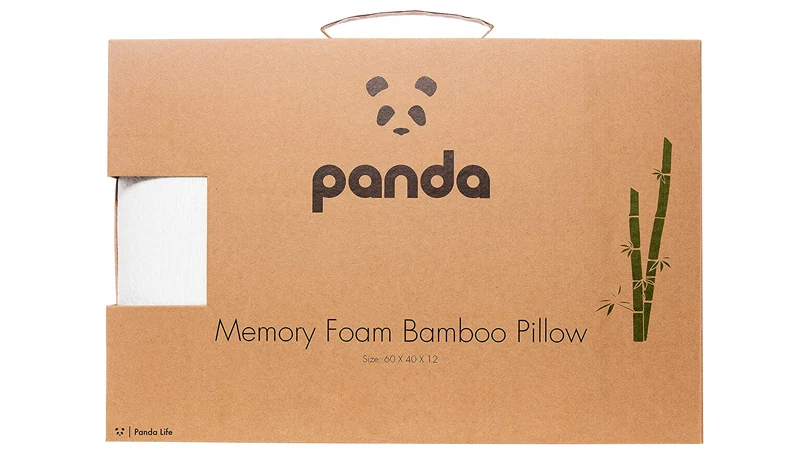 Panda strives to keep its environmental impact as low as possible, and shipping their products in eco-friendly packaging is one of the best ways to achieve that.
Review of Panda Memory Foam pillow
Now, for the event you've all been waiting for – Panda Memory Foam pillow review.  First of all, let's start with physical traits and design. This is a regular memory foam pillow with a single block of memory foam for a base.
The pillow is flat but downward-curved around the edges, unlike contour or cervical memory foam pillows that curve upwards. It's this design that makes the Panda Memory Foam pillow suitable for most sleepers. As for the pillowcase, it's nice and white, with a cute but subtle panda logo in the upper right corner. 
As for the performance of the pillow – it's great. There really isn't anything wrong with it. Everything that a pillow needs to do, Panda Memory Foam pillow does excellently. It is both comfortable and supportive, regardless of the position you sleep in. It doesn't cause headaches as some other memory foam pillows do, thanks to its design and medium-firmness. 
Additionally, unlike many other memory foam pillows, this one doesn't get hot during the night. The foam core does retain heat, but the bamboo pillowcase offsets it. Bamboo pillowcases are known for their thermoregulating properties, and the one found here is no exception. 
All in all, this is a great pillow, just about anyone would be able to enjoy. And, even if you don't happen to enjoy it – there's a month-long trial period to rely on and get your hard-earned money back.
Size: 60 x 40 12 cm
Weight: 1.5 kg
Materials: 3rd generation memory foam; bamboo fibre & polyester pillowcase
Very supportive and comfortable
Very durable and long-lasting
Perfect for side and back sleepers
Great design for proper neck and head support
10-year warranty and 30-night trial
Built-in protector
Removable, machine-washable bamboo pillowcase.
Some shoppers might find it a bit expensive
Some stomach sleepers might find it too tall.
What we like about Panda Memory Foam pillow
All-around pillow almost any sleeper would be able to use
It provides exceptional support and comfort 
It doesn't get hot like many other memory foam pillows
It comes with a 10-year warranty and a 30-night trial
Side and back sleepers will most likely find it ideal.
What we didn't like about Panda Memory Foam pillow
It is not the most affordable pillow on the UK market
Despite great design and comfort, some stomach sleepers might find it too tall.
What makes this product better than some other similar ones?
Panda bamboo memory foam is a luxury foam-based pillow that uses natural and hypoallergenic bamboo material to ensure the best possible sleep experience. Due to its structure, premium materials and high-quality craftmanship, this pillow is in top 3 pillows in the UK. Thanks to its structure and innovative materials and technology, it can become quickly a favorite pick by many sleepers (due to "versatile" structure that gives a good sleep to everyone). Therefore, it is one of the best all-around pillows ever made in the UK.
How did we test the product?
As is always the case, we begin our reviews by testing the product. But, to begin testing, we must first order the product. Ordering the Panda Memory Foam pillow was very easy. All we had to do was visit their website, place an order, and a few days later – the pillow was at our door. And oh, shipping and the delivery was free.
After the initial inspection of the pillow and the packaging, we've concluded that everything was in perfect order, so we proceeded to test the pillow. To test it, we've all spent several days and nights testing it. Each of our team members spent hours with the pillow, testing its comfort, support, responsiveness, durability, and more. After everyone was done with it, we sat down, discussed the findings and the results of our tests, until we finally came up with an objective verdict, based on which we wrote this review.
FAQs about your new Panda Memory Foam pillow
If you have any other questions about the Memory Foam Pillow from Panda – we got you covered. We've compiled a list of some of the top FAQs to help you get the most out of your pillow.
Is Panda memory foam bamboo pillow good for side sleepers?
Absolutely! Panda Memory Foam Bamboo pillow is more than good for side sleepers.
Should front sleepers use a Panda pillow?
It depends. Generally speaking, there are better pillows for front sleepers, but Panda Memory Foam pillow should do the trick, too.
Is Panda pillow good for back sleepers?
Yes. Panda Memory Foam pillow will provide back sleepers will all the necessary support and comfort.
How do I wash my Panda pillow?
All you need to do is remove the bamboo cover, put it in a washing machine and set the temperature to 40°C. That's it!
Does Panda pillow come in a box?
Yes. Panda pillow comes in a recycled and eco-friendly box.