Shopping for new quality products doesn't have to be just something useful that you do for yourself or for your loved ones. It can also be something positive that you do for your environment and the world around you. We believe that choosing eco-friendly products is always kind, generous and also a very smart choice.
Panda manufactures all their products and packaging using eco-friendly and renewable materials, which are much safer for you and the environment. So, having this in mind, we are glad to be reviewing this high-quality and eco-friendly product, the Panda Memory Foam Bamboo Pillow.
This pillow is made using hypoallergenic, eco-friendly materials that are suitable for all ages. Besides that, the design of the Panda Bamboo Pillow aims for perfect comfort and neck pain reduction. Also, this pillow offers temperature regulation. That allows this pillow to remain cool during the summer and warmer during the winter. Now, let's find out more about this product and about the company that makes it.
About Panda
Panda is oriented towards the production of luxurious and durable products that promote a healthy lifestyle and care for our environment. Panda manufactures their own products using bamboo viscose fabric. They bring this healthy, natural and eco-friendly material from the exotic forests of Southeast Asia, right to your bedroom. These bamboos are renewable and do not have any negative effects on the wildlife.
About Panda Bamboo Pillow
The Panda Bamboo Pillow is a durable and highly breathable. This pillow is well designed to support the neck in any sleeping position. Also, it has a temperature regulation feature. Actually, this pillow has a climate regulation feature. Now, how is that?
Well, Panda Bamboo Pillow remains cool during Summer months, and provides you with gentle warmth during the Winter. This means that the pillow "behaves" accordingly to the general temperature of your sleeping environment. Sounds pretty cool, right? But, what else does this pillow have to offer?
Panda Bamboo Pillow provides you with gentle, yet stable support, regardless of your sleeping position. Now, why is this such a positive thing when we know that some sleeping positions are not as healthy as others?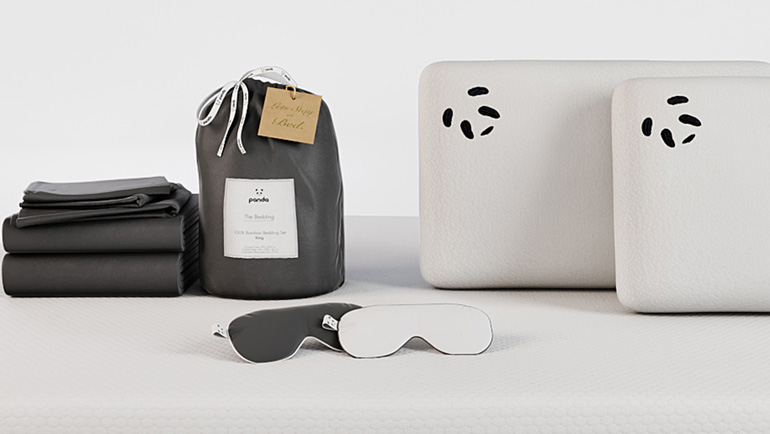 What about sleeping positions?
While it can sound quite useful that a certain pillow is designed only to promote healthy sleeping positions such as sleeping on the side or back, for some people this simply can't work. For instance, people who have snoring issues can't benefit from a pillow that specifically promotes only side sleeping. These people often need to sleep on their stomach in order to avoid developing more serious sleeping disorders, such as sleep apnea. Unfortunately, snoring and sleep apnea often go hand in hand. If you're a person who often has issues with snoring, check out our guide on how to stop snoring. The Panda Bamboo Pillow's design gives you the freedom to choose your sleeping position that is most comfortable and supportive for you, this is important and a positive thing for your health.
Materials
The material used for the manufacture of the Panda Pillow is bamboo. The material is hypoallergenic and thus suitable for young children, people with allergies or other respiratory issues, pregnant women and the elderly. Also, this material is highly durable, pleasant to touch and eco-friendly.
The Panda Memory Foam Bamboo Pillow also promotes a natural air flow which allows both the memory foam and bamboo cover to breathe. Memory foam is a heat sensitive material and is known for getting quite warm during the night due to lack of airflow. The combination from both the breathable memory foam and bamboo cover makes the Panda Bamboo Pillow a great solution for anyone getting overheated during the night.
Support
Due to this luxurious pillow's height of 12cm and a unique design that compliments all sleeping positions, we believe that the Panda Bamboo Pillow is suitable for everyone, regardless of age, shoulder width or sleeping position preferences. This pillow is designed to complement and accommodate to different anatomies. Panda Bamboo Pillow is highly adaptable to various shoulder widths and responds well upon pressure.
The pillow's ability to be responsive and flexible when exposed to various amounts of pressure is a key measure for the pillow's quality of support. So, Panda Bamboo Pillow certainly passes this test due to its smart design and responsive foam materials.
The Panda Pillow uses 3rd generation memory foam which is the most advanced form of its kind to date. Specifically, this 3rd generation memory foam pillow is able to properly align the neck and shoulders whilst relieving pressure points.
Recommended reading: Our 5 Best Bamboo Pillows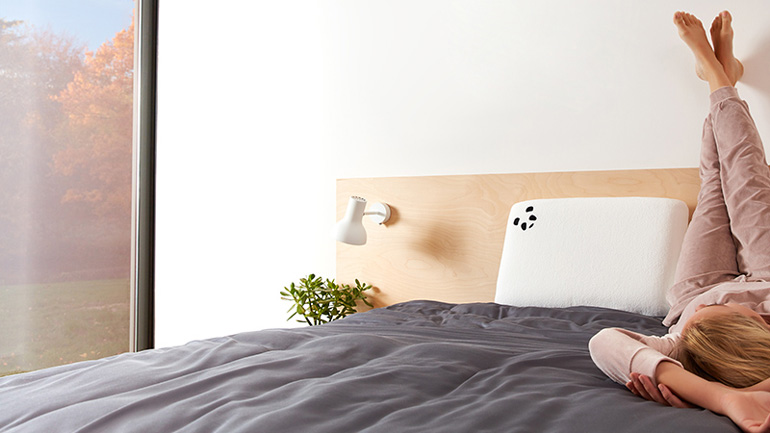 Comfort
The Panda Bamboo Pillow's shape, materials and temperature regulation feature offer high level of comfort. Foam pillows can be seriously comfy nighttime buddies, but this pillow has additional features in its modern design that make it suitable for individuals with very different sleeping preferences. Those who are not used to memory foam products might find the added neck and shoulder support quite strange. However, this is completely normal when changing to any type of new material. We always advise that you trial a new pillow, mattress or mattress topper for at least 2 weeks.
Breathability
The Panda Pillow's breathability rating is determined by comparing 3 key areas the pillow cover material, type of filling in this case memory foam and the overall design.
The pillow's design allows air to flow naturally, this is made possible by having a series of small "AirPockets" (as Panda calls them) surrounding the pillow.
Bamboo Viscose offers temperature regulation which significantly boosts the product's breathability.
Temperature regulation feature is important for pillows because it reduces and/or completely prevents accumulation of moisture and odours. We asked Panda directly regarding the "Climate Control", they explained to us that the bamboo fabric works much like the pores on our skin. During the winter the fabric tightens slightly (not affecting it's luxurious feeling), this limits the amount of air which passes through therefore retaining heat. The fabric does the opposite during the summer as the fabric expands allowing three times as much air to flow through naturally, keeping you cool.
To boost this awesome feature, even more, wash the Panda Bamboo Pillow's pillow cover more often, and air the product before first use. Bamboo fabrics age very well and become even softer overtime!
As a highly breathable and hypoallergenic product the Panda Bamboo Pillow can be used by individuals with various respiratory problems, elderly or young children. If you're interested in buying a pillow for your kids too, you can check out our Panda Kids Review. This product is suitable for those with allergies, sensitive immune system or pregnant women.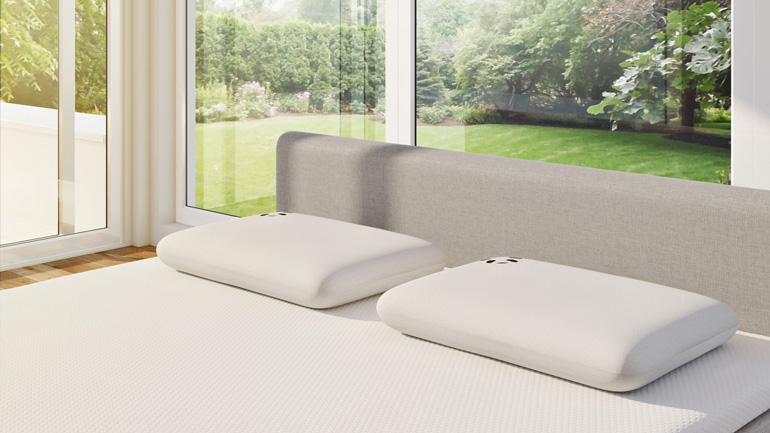 Smell
To pick up where we left off, it is advisable to air Panda Bamboo Pillow before use. Do this for prevention, because the chemical smell with foam pillows is no surprise. While this issue is not common for Panda Bamboo Pillow, it still is quite possible to occur. We're talking about memory foam after all, and all memory foam products have some kind of chemical smell.
If you experience the smell issue with this product, don't be discouraged by it. Even though chemical smell can accumulate inside the pillow's foam during the manufacturing process, this smell can "stick" there for long.
Smell, in general, is no more than a bunch of molecules, small particles that our senses pick up. The chemical smell that you feel with almost any foam pillow is simply a result of accumulated particles that disappear after the product is been aired. The more breathable the foam pillow is, the easier is to get rid of this smell. So, with Panda Bamboo Pillow you shouldn't worry about it. 
Durability
This is maybe one of the biggest qualities of the Panda Bamboo Pillow, besides its high comfortability and breathability. Due to its quality materials and intelligent design, this pillow can accompany your nighttime for years to come.
Price – quality ratio
When it comes to product reviews, this is a pretty important section. Luckily, with Panda Bamboo Pillow we are not facing a difficult task here. This product is worth the money due to its general quality, durability, long warranty period and the fact that is suitable for people with various needs, preferences, age, height or medical issues. The product is tested, safe for your health, eco-friendly and long-lasting. After all, the price of the product is reasonable and quite affordable.
| | |
| --- | --- |
| MATERIALS | Made of bamboo, hypoallergenic and highly breathable. |
| SMELL | The issue with the chemical smell is possible, but it's not frequent. |
| PRICE – QUALITY RATIO | Worth it |
Shopping details
Panda is so sure about the quality of their products they allow free trials. For mattress toppers, trial time is 30 days (for mattresses it's even 100 days). They say that 95% of people decide to buy their products. However, if you are in those 5%, you can count on Eve providing a full refund, without fees and hidden charges. Also, shipment is completely free of charge and the products come in ten days at most for UK based customers.
Trial period, warranty, shipping details, refunds
This product comes with a free delivery option for the UK. The trial period for this pillow is 30 nights and completely free of charge. The warranty period is a whooping 10 years. For any further questions that you may have about various shipping arrangements or refund policies, you can
contact My Panda Life
customer support.
| | | |
| --- | --- | --- |
| Size | Dimensions | Weight |
| One size | 60 x 12 x 40 cm | 1.5 kg |
Conclusion
To sum things up, Panda Bamboo Pillow is suitable for:
Those with Neck issues
People with allergies caused by dust mites
Sleepers suffering from Respiratory problems
Sleepers who change sleeping positions often
Elderly Sleepers
Young Sleepers.
This pillow may not be enjoyed by people who prefer too soft and big pillows. Also, since it's made out of memory foam, it can retain heat. However, due to the pillows high adaptability to shape and pressure, it is advised to at least try the product out before deciding it is not for you. Remember, this pillow comes with a trial period. Also, with this quality product, you are not just doing yourself a favour, but also to the environment. So, enjoy the comfort and dream green with Panda Memory Foam Bamboo Pillow.