Best Pillow UK For A Good Night's Sleep In 2022
You can't sleep comfortably without the best pillow. Also, you can't wake up pain-free if the pillow doesn't give you support to your head and neck to keep your spine always aligned. 
That is why it is important to have a new pillow, that you have chosen taking into account the position in which you sleep and a few other important things. as well. 
Are you ready to meet the top 5 best pillows UK market has to offer its sleepers? This time we went on the quest to find a perfect pillow, the one that is comfy, breathable, soft, supportive and pleasant to your skin. 
5 best pillows UK for all types of sleepers
IMAGE
PRODUCT
DETAILS

Size:

60 x 12 x 40 cm

Weight:

1.5 kg

Materials: Cover: 60% polyester, 40% bamboo fibre Filling: 3rd generation memory foam

View Latest Price

Size:

60 x 35 x 25 cm

Weight:

N/A

Materials:

Memory Foam & Microfibre

View Latest Price

Size:

66 × 42 cm

Weight:

N/A

Materials: Cover: 100% polyester removable cover Filling: Memory foam

View Latest Price

Size:

75 x 50 cm

Weight:

N/A

Materials:

Stratos (phase change technology applied to soft cotton)

View Latest Price

Size:

40 x 70 cm

Weight:

1.3 kg

Materials: Cover: 98% polyester, 2% elastane Filling: 3 layers of foam

View Latest Price
Trust us when we tell you that we have not lightly chosen the following 5 pillows, which we consider the best pillows on the United Kingdom market. We have considered many different features like craftsmanship, material quality, durability, breathability and manufacturers. In front of you are the best pillows that the UK sleep industry has to offer.
TOP PICK: Panda Memory Foam Bamboo pillow
Panda company is one of our favorites and it's not because we're biased. We're really glad to see many new companies grow with sustainable resources and including new and different materials in the sleep market. 
As for this pillow, it is made of 3rd generation memory foam that is very supportive, while being bamboo-infused at the same time. Bounce is great, so there is no danger of flattening. 
Bamboo cover is gentle to our facial skin, breathable, durable, naturally antibacterial and hypoallergenic, making it ideal for allergy sufferers. Stitched pillow protector is there to prolong service life of your pillow. Panda is so confident in the quality of its product, that the Panda pillow comes with a 10 year warranty.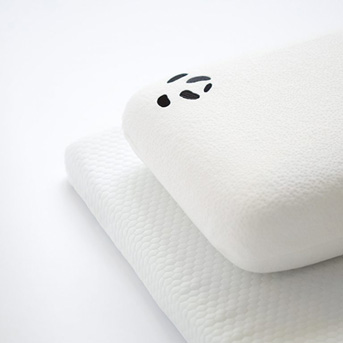 Soft and breathable finish
The best pillow with eco-friendly manufacturing process
Supportive
30-night trial
10-year warranty.
Not the best choice for sleepers who sleep on side.
BEST ADJUSTABLE: OTTY Adjustable Memory Foam
No matter how hard the manufacturers try, it is very difficult, almost impossible, to make a pillow that suits the side, stomach, back and combination sleepers equally. That is why adjustable pillows are becoming increasingly popular. 
OTTY company has launched its adjustable pillow where you determine loft and firmness by adding or removing memory foam filling. Memory foam filling in the form of pieces is very easy to add or remove. 
Also because it is filled with memory foam pieces instead of single block of foam (often seen in memory foam products), this pillow is much more breathable than many other memory foam pillows. On a firmness scale of 1 to 10, we would rate it between 5 and 6, which means it is a medium firm.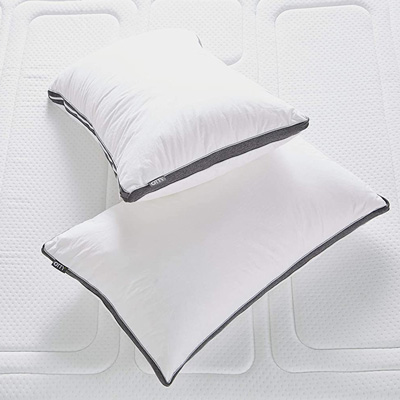 Adjustable height
Medium firmness – a suitable pick for back and front sleepers
Breathable
Hypoallergenic
Machine washable cover.
Not the best pressure relief.
If the Otty pillow seems like the right pillow for you, you can order it online on the Otty website – however, if you want to read a full review before that, you can find it here!
BEST MEMORY FOAM: Eve Memory Foam
If you're looking for elegance, you're probably looking for eve. Eve pillow is also not only a looker – it has highly responsive high-quality memory pillows. Due to its shape, firmness and loft, the Eve Memory Foam pillow is a decent choice for side and back sleepers, but we can freely say that front sleepers will absolutely adore it! 
Support is the primary feature of this pillow, so you can be sure that your head, neck, spine, and therefore your whole body will be in an ideal position all night long. 
All this will not be at the expense of comfort, because it is not too firm. Breathability has been improved compared to other memory foam pillows, and you have 30 nights to try it out, so you don't have to worry about whether it will suit you. Cover is removable and machine washable so you Eve Memory Foam pillow are going to be so clean and fresh all the time.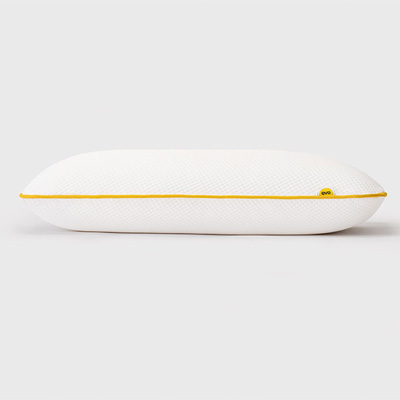 Highly supportive pillow
A bit of softer pillow
A right pillow for front sleepers
30-night trial
2-year warranty
Washable cover.
Not the first pick for stomach sleepers.
The Eve pillow is one of many interesting products you can buy on the eve website. Make sure to read our review of Eve pillow before you decide to order it, too!
BEST COOLING: Simba Hybrid
Simba does not have many products in its offer, but all products are premium and well-known in the British sleep industry due to their quality and the many innovations they have brought to the market. 
The same is the case with the Simba Hybrid pillow with adjustable loft. In the middle of this pillow are breathable and lightweight Nanocubes that you can take out and put back whenever you want. 
The other few layers of this pillow affect the temperature regulation, and the technology is space-inspired. It is 100% eco-friendly and hypoallergenic pillow. The Simba Hybrid pillow can be considered a medium firm pillow, but when you remove 5 to 10 handfuls of Nanocubes, it will be significantly softer.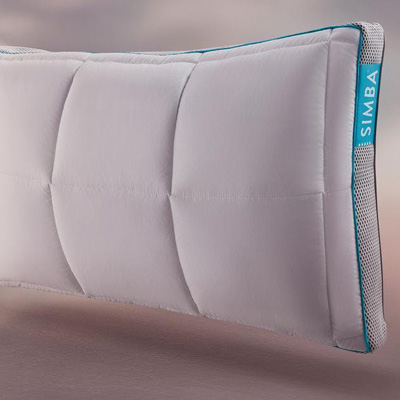 Adjustable loft
An affordable luxury pillow
Breathable
Eco-friendly
Excellent temperature regulation.          
Only one size – 50 cm x 70 cm.
Simba website offers a wide variety of products that you can order online. If you're interested in this specific product, you can either get more info on their website or read our full review here.
PREMIUM PICK: Emma Original
This luxurious pillow is designed to give you maximum possible support, while at the same time being comfortable and pressure relieving. There are three layers plus cover. Pressure-relieving viscoelastic memory foam evenly distributes the weight, followed by a layer of HRX hyper-soft cold foam designed to keep your spine evenly aligned. 
We also have a layer of highly breathable memory foam so as not to wake up sweaty, which is not uncommon when you sleep on a memory foam pillow. 
The whole pillow is encased in a vegan, non-toxic, machine washable and hypoallergenic cover. According to Emma, it is suitable for all three sleep positions because you can remove layers as needed.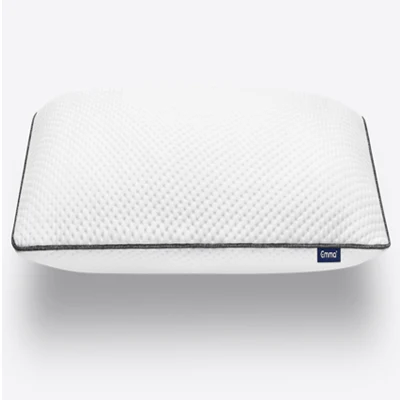 Good support
A bit firmer pillow
Pressure relief
Washable cover
Removable layers
Vegan-friendly.
One size only – 40 cm x 70 cm.
How did we test the products from our list?
We want to explain to you in more detail how we tested the products on our list so that you know that what you are reading is not the one more copy / paste review that most of you can find on the Internet.
When we decide to test a particular product, we first check which delivery options are available, whether it is free delivery or paid extra. Also, let's check the available sizes and everything else that matters for that first step. If we have any doubts about the product, we always contact support.
After that, we wait for the product to arrive and start our testing. We first check to see if there are any faults, and we recommend that you do the same, as this is crucial for warranty. After that we do a quality inspection where we check the seams and everything else we can, for example adjustable filling.
After that we are left with an overnight test and a maintenance test. During the overnight test, members of our test team sleep on a pillow. Each of them sleeps in different sleep positions, and we also have one hot sleeper. In the morning we compare impressions and in addition to checking all the characteristics of the pillow, we also know how to recommend which sleeping style it is suitable for.
Finally, we wash it in the washing machine or clean it in other ways listed in the emperor's instructions, to check if it will remain undamaged. This includes tumble dry also.
6 features that every best pillow must have
Before we reveal the pillows that made it into our top 5, we will talk about the traits that a pillow needs to have in order to be a good pillow and offer you a luxurious night's sleep. There are many types of pillows on the market, duck down, memory foam, cotton, buckwheat, synthetic pillows – you name it. And it can all get a bit confusing. So, people often focus on the material when buying a pillow. They hear that, for instance, buckwheat is the best, and they go for it.
But, the truth is, the material alone doesn't make the pillow great. The way the pillow is made makes the pillow great. So, instead of judging the pillows merely by their materials, we will judge the pillows by the benefits that they must provide. Scooms Hungarian Goose down pillow might be the best pillow for a sleeper who prefers sleeping on its side (not to mention the quality of product), but it might be the worst choice for someone who enjoys sleeping on its back. Therefore, we could say that the best pillow is a subjective award as we are not the same. We realized that this is the best way to conclude to avoid misunderstandings. So, regardless of the material that is been used in its manufacture and a personal preference, the very best pillows need to have the following traits:
High level of comfort and support for your neck
Number one thing that you should be looking for in a pillow is undeniable comfort as you want to ensure yourself a high level of comfort. Also, neck pain is one of the leading discomforts that bad pillows cause. Don't let that happen to you. Neck pain is not just annoying, it's a sign of things that have a bad influence on your health.
Even if you don't suffer from allergies, the hypoallergenic pillow can be a useful choice. Why? Because hypoallergenic pillows don't harbour any harmful or dangerous particles in them. Also, these pillows can be good for your skin and hair and can help you to achieve the perfect night's sleep. Some of the best hypoallergenic materials is bamboo – which we already discussed in our article on bamboo's advantages. 
Durability & easy maintenance
Nobody wants a pillow that will lose its shape soon. So, be sure to know what is your pillows estimated lifespan. Pillows that are hard to maintain can really become a nightmare. We've all been there. The best ones are washable, or easy to spot clean in the least. Check our detailed pillow washing guide to learn more.
Soft to touch & reasonably priced
Top layer of the pillow needs to be especially gentle. Your skin will thank you for that. The softest touch is often present in pregnancy pillows. There are many overpriced pillows on the market and it makes pillow shopping pretty annoying. It's never a bad thing to pay more for more quality. It's even better from a long-term point of view. But, overpricing is another thing and we will point it out immediately.
Eco-friendliness & not absorbing moisture and smell
It's nice to have a pillow made of materials that are safe both for you and nature. No one wants to use a pillow made of Scandinavian duck feather if the manufacturing process is not animal-friendly. We highly support and value sustainable production, absence of animal cruelty and non-toxic manufacture of materials. Many great pillows start their first day on the job with a bad smell. It's not the end of the world, but pillows that don't have it will always get a better score. Now, the real problem is if the pillow tends to absorb smells in general. You don't want that for your comfortable night's sleep.
Cooling effect and breathability
Last, but certainly not least, we come to the cooling effect. Pillows that are able to regulate temperature or at least not retain heat are especially desireable. Beside the natural material that are hypoallergenic and cooling, you can find space-influenced technologies like Simba's Stratos technology. So, if you want a really nice pillow, be sure to look for this trait.
A search for a perfect pillow is not an easy one. Plus, there is one more aspect to it: The pillow that is perfect for one person doesn't have to be perfect for the next one. After all, preferences in softness, flatness, materials, they are all very individual. Having all this in mind, we picked five pillows that have, let's say, objective or "neutral" qualities that the average sleeper should be fan of. We were looking for health benefits, safe materials, smart designs and reasonable prices. So, as you have seen, our top picks were
OTTY
and
Panda
. They fulfilled all of our criteria and ended the race as the best two. But, each one of these pillows is a winner for some happy sleeper!
FAQs about best pillows UK
Finally, we thought we'd end things off by answering some of the most commonly asked questions about pillows. We firmly believe that sometimes, a simple answer to a simple question could be the difference between someone buying a product or not. Here are some FAQs about pillows we thought you might like to know the answer to!           
How you wash your pillow depends on the type of pillow. Your best bet would be to read the label and instructions for the particular pillow you own.           
How often do I need to wash my pillow?
This also varies from type to type, but in general, you should wash your pillow at least two times per year. Ideally, you'd wash your pillow once every three months.       
What is the right size of pillow for me?
There is no perfect pillow size for everyone. You'll need to choose your pillow's size based on your sleeping position and other sleeping preferences.           
What is the best type of pillow for me?
To choose the perfect pillow you first need to know which type suits your needs the best. Your needs and preferences range from sleeping position, head or neck issues and even allergies. Factor in all of those before you choose a pillow.           
What is the best pillow material for people suffering from allergies?
There are several different hypoallergenic materials that are suitable for people suffering from allergies, but in general, a latex pillow is the safest, hypoallergenic option.