Dunelm Pillows: Top 3 Picks
If you ask orthopedists and chiropractors what is most important for the health of the neck and spine, everyone will agree that the pillow is one of the most important things. Dunelm offers you numerous different pillows so that everyone can find the right one.
When we wake up tired, with neck and shoulder pain, or suffering from insomnia, we may address many other potential causes before we think there may be a problem with our pillow. Until recently, the importance of a quality pillow that is suitable for a certain sleep position was not so much emphasized.
That is why most people buy a quality mattress, forgetting that it is equally necessary for the pillow to be comfortable and supportive. Dunelm is one of the leading retailers offering you over 100 different pillows of the varying sizes, shapes and materials. Here is the complete review by The Sleep Advisors.
Add a header to begin generating the table of contents
Who are Dunelm pillows suitable for?
We will not say anything incorrect if we say that Dunelm pillows are suitable for everyone. How is it possible? This is possible because on Dunelm website and in stores you can find so many different models of pillows, that everyone will find suitable ones. Whether you sleep on your stomach, back or side. Or combine all three positions. Or struggle with chronic neck pain. Or that you may have allergies to dust mites and some other things, at least one model is waiting for you, and probably more, which will solve your problems.
It was very challenging to single out the top 3 Dunelm pillows, because Dunelm offers so many different, high-quality pillows. After weeks of testing numerous models, we came up with winners in three categories: Best Overall, Best Hypoallergenic and Best Cooling.
IMAGE
PRODUCT
DETAILS

KEY FEATURES:

Filling:

Memory foam

Cover:

Microfibre

Product dimensions:

50cm x 70cm

View Latest Price

KEY FEATURES:

Filling:

70% Hungarian goose down & 30% goose feather

Cover:

Cotton

Product dimensions:

48cm x 91cm

View Latest Price

KEY FEATURES:

Filling:

70% Hungarian goose down & 30% goose feather

Cover:

Front: 100% polyester; Back: 100% cotton

Product dimensions:

64cm x 40cm

View Latest Price
BEST OVERALL: Octaspring TrueEvolution Anatomic Pillow
Octaspring TrueEvolution Anatomic is a revolutionary memory foam pillow.
Anyone who has ever used a memory foam pillow knows how comfortable, supportive and pressure relieving it is. But also how much memory foam retains heat, which makes it very uncomfortable to sleep during the summer months. That's why Octaspring technology is revolutionary, as it is 8 times more breathable compared to traditional memory foam.
 Octaspring technology is actually memory foam springs that do not block air circulation and have all the other characteristics of memory foam. It is suitable for side and back sleepers. The microfibre cover is removable and machine washable.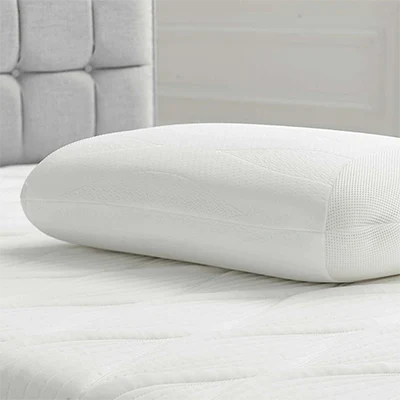 Support
Breathability
Washable cover.
Not for stomach sleepers.
BEST HYPOALLEEGENIC: Dorma Hungarian Goose Down Pillow
If you like natural filling, then Dorma Hungarian Goose Down pillow is the great choice for you because of the ideal ratio of feather and down.
You probably expected the winner in the Best Hypoallergenic category to be some synthetic pillow, but we chose feather and down pillow. Many pillows with natural filling are not suitable for allergy sufferers due to dust mites, pollen, and other microscopic allergens. If feather or wool is treated in a special way, then all allergens are completely removed and that pillow becomes hypoallergenic. 
Dorma Hungarian Goose Down pillow is filled with a blend of 70% Hungarian goose down and 30% goose feather, which is the perfect ratio to make the pillow both supportive and soft. Breathability is great and premium cotton cover is soft, durable and hypoallergenic.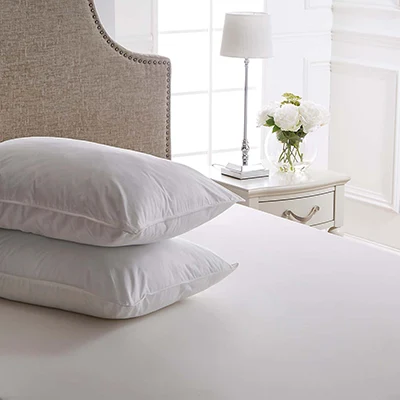 Premium filling
300 thread count cotton cover
Crafted in the UK.
Too soft for side sleepers.
BEST COOLING: Temperature Reactive Memory Foam Pillow
This pillow absorbs, stores and releases heat according to your temperature which makes it perfect for hot sleepers.
No, we didn't make a mistake, but this memory foam pillow is really cooling. It features technology that actively responds to your body temperature and then when you are hot, it absorbs excessive heat, which is then stored until you are cold, when the pillow will release it. We recommend it for side and back sleepers. It has two different sides. 
One is cotton and the other is polyester, so you can choose the one you prefer. Although off-gassing is present in the first 24 to 48 hours, this should not worry you, as it is not a consequence of toxic chemicals, but a normal occurrence for memory foam. It is CertiPUR certified, so you can be sure it is 100% safe.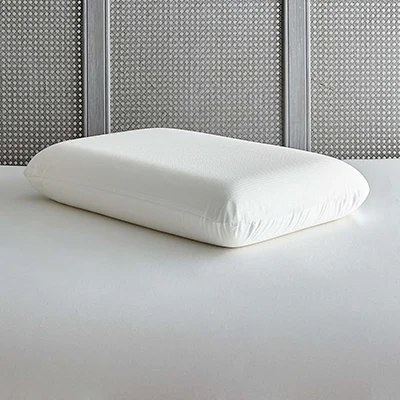 Support
CertiPUR approved
Two-sided cover.
Slight off-gassing issues.
Dunelm, officially called Dunelm Group Plc, is one of the largest home furnishings retailers in the UK, with over 150 stores and a highly developed webstore. The London Stock Exchange ranks them among the 350 largest UK companies. Dunelm is headquartered in Syston, England and their factory for curtains, blinds and accessories is located in Leicester, England.
Although Dunelm does not make pillows, many customers decide to buy pillows in one of the stores or on the webstore because there are over 100 different pillows in its offer, so everyone will find at least one suitable. You can choose between those made of synthetics materials, natural materials, as well as different shapes, for example V-shaped, travel pillows, pregnancy pillows and so on.
Features of Dunelm Pillows
It is certainly not possible to mention every feature as there are so many pillows that Dunelm sells. But we will mention most important features that are common to a large number of available products.
The firmness of the pillow you need depends on your preferences and sleep position. Some like to sleep on a very soft pillow, while others like a pillow firm almost like a rock. Also, different sleep positions require different firmness. Stomach sleepers need a firmer pillow than side sleepers, while back sleepers have more choice.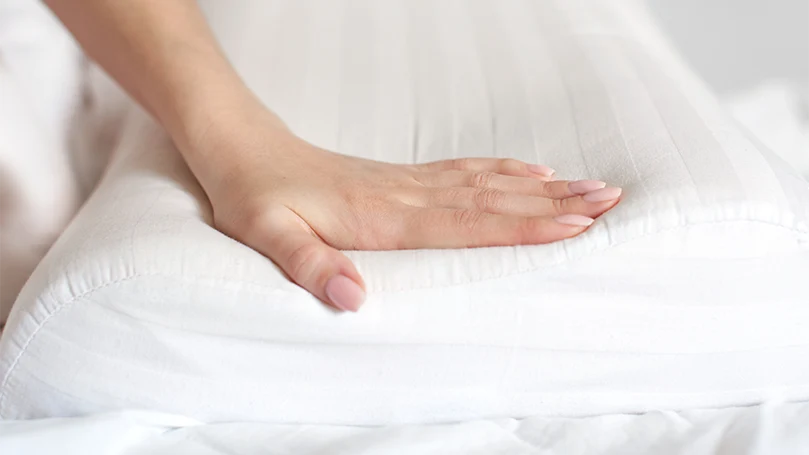 In the offer you will find pillows that are so soft and fluffy that your head will sink in as soon as you lie down. You can also find one very firm, with a lower loft that will provide ideal support when sleeping on your stomach.
Hypoallergenic & anti-bacterial properties
We have already mentioned the pillow with natural filling which is hypoallergenic and available in Dunelm stores. Also, all other available pillows that are completely or partially made of natural materials, such as Panda Bamboo pillow, are hypoallergenic. The same goes for memory foam and microfibre pillows, as these are materials that are generally recommended for allergy sufferers and as a down alternative for vegans.
It is very important that you use hypoallergenic and anti-bacterial sleep products to avoid allergy problems, even if you have never had allergies in your life. Also, bacteria can cause folliculitis and other problems, so anti-bacterial products are recommended.
Anatomical & cervical structure
The ergonomic shape of the pillow is especially useful for side sleepers. Such pillows follow the anatomy of a person and provide special support at the neck area. In this way, the position of the head and neck allows the spine to be aligned and the side sleepers to be pain-free in the morning. This shape of the pillow is also useful for back sleepers, while stomach sleepers choose a different shape.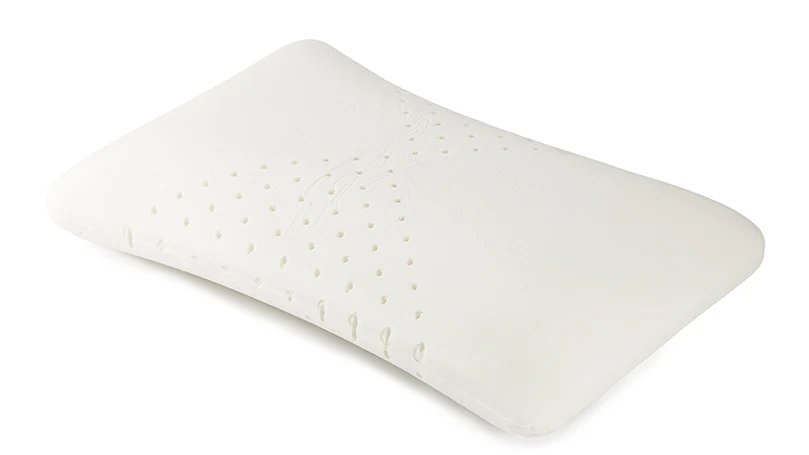 Absence of toxic chemicals in high-quality artificial materials
Artificial materials have taken precedence in the sleep industry due to their numerous benefits. They are supportive, durable, vegan-friendly, affordable and usually machine washable. However, what worries many customers are the toxic chemicals that are sometimes used during the production of artificial materials. Off-gassing further amplify that concert.
Although off-gassing must be present, that is not reason for concern, since Dunelm offers only those pillows that are made of high-quality artificial materials, completely safe. CertiPUR, OEKO-TEX and other certificates guarantee that memory foam, microfibre and hollowfiber are chemical-free.
Despite all the benefits of artificial materials, some properties have only natural materials because of which many customers will always want to sleep only on a feather / down or wool pillow. Benefits such as natural thermoregulation and comfort characterize natural materials. The natural materials used for pillows are washed and treated so that people who have allergies can also use them. 
Although vegans almost always buy sleep products made from artificial materials, they should know that most natural materials are also vegan-friendly. For example, wool and cashmere are obtained by shearing sheep and other similar animals, because it is necessary to do so during the summer, and not just so that man can use their wool.
Tips for buying and using Dunelm pillows
There are some basic tips for buying and using Dunelm pillows that we can give you. The first thing you need to do is consider what your preferred sleep position is. This will affect your choice of pillows the most. Next, you need to consider what material you want and whether you are hot sleepers. If you are a hot sleeper, then look for the product that is breathable and cooling. Our advice is to pay attention to maintenance, because it is very important that your sleep environment is always clean.     
For each sleeping position – side, stomach and back sleeping, there is a suitable pillow, as well as for a combination sleepers, and in order to sleep comfortably, you must buy a suitable one for your sleeping position.
Breathability is one of the most important features, as it affects both the fact that you are not hot during the night, and the fact that allergens do not stay inside.
It is advisable to buy a pillow that is fully machine washable or has a removable, washable cover.
The Advantages of owning Dunelm pillows
There are so many advantages of owning premium quality pillow, such as Dunelm pillows. The first and most obvious advantage is that you will be able to sleep comfortably and you will have no problem falling asleep. In addition to the fact that a good night's sleep is necessary to have energy for tomorrow, it also has great impact on our health. Insomnia leads to various physical and even mental problems.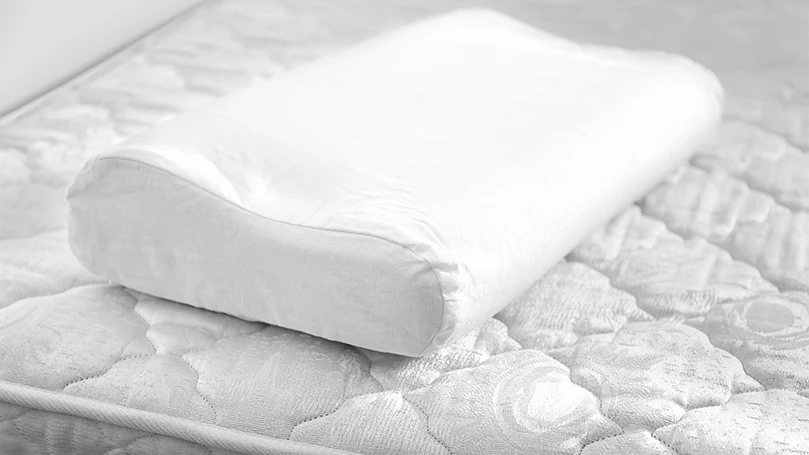 Another advantage is durability. When you buy a topnotch pillow, you will use it for years. It is a much better option than buying a cheap pillow every year or every two that does not have the necessary characteristics even on the first day. And in the end, when you add up the money spent, the amount is the same.
Dunelm pillows will provide you with a rejuvenating sleep every night, which will give you energy for work and other obligations
High-quality pillows last a very long time
A suitable pillow can solve the problems you have with the neck and spine, and when the spine is healthy, the rest of the body will follow.
FAQs about your Dunelm pillows
Frequently Asked Questions section marks the end of our review where you will be able to find out more useful information.
Where are Dunelm pillows made?
Most of the Dunelm pillows are manufactured in the UK, and those that are not are manufactured to UK quality and safety standards.
Are Dunelm pillows free of toxic chemicals?
Yes, every pillow is free of toxic chemicals and other harmful substances.
Should side sleepers use Dunelm pillows?
Side sleepers will find many suitable products among Dunelm pillows.
Are Dunelm pillows good for front and back sleepers?
Front and back sleepers don't have to worry, they can choose firmness, loft and other features they need.
How do I wash Dunelm pillows?
Every pillow comes with care instructions you should follow.
How long do Dunelm pillows last on average?
Expected lifespan of high-quality pillows is between 2 and 4 years.