Silentnight Memory Foam Pillow Review
If your head, neck and spine are in an unnatural position while you sleep, it will, in the short term, cause you to wake up during the night and disturb your perfect night's sleep. And in the long run it will cause pain and problems with the musculoskeletal system. So you need to have a pillow that fits your dominant sleep position. We tested the Impress Memory Foam pillow offered by Silentnight, trusted bed brand.
Who should go for Who is Silentnight Memory Foam pillow?
It is important to know that you can choose between the soft and firm version of this pillow. And that has the biggest impact on who Silentnight memory foam pillow is for. 
The firm memory foam pillow is for side and back sleepers, to give them the necessary support and maintain natural body alignment throughout the night, without allowing their head to sink too much as the hours go by.
Soft pillow is wonderfully comfortable for stomach sleepers so as not to unnaturally raise the head and neck relative to the spine. Some back sleepers will also opt for the soft version, and this depends on personal preferences as well as the weight of the head.
Add a header to begin generating the table of contents
What is this product good for?
We use this product for support and comfort. Both firm and soft versions have a good balance between support and comfort. Of course, the firm will be bought by those for whom firm support is more important, while it is soft for those who want a very comfy pillow. Since the pillow is hypoallergenic, and the cover is removable and machine washable, we use this pillow to have a clean sleeping surface, without the presence of bacteria, dust mites and other allergens.
Silentnight Memory Foam pillow - features that you should know about
Now that you know who is Silentnight Impress Memory Foam pillow for and what do we use it for, it is the time to take a closer look at the most important features.
Hypoallergenic & reactive memory foam
In addition to its many benefits, memory foam is such a popular material in the sleep industry because it is hypoallergenic. This makes it equally suitable for children, asthmatics, people with allergies and everyone else.
Silentnight Memory Foam pillow features a new, improved reactive memory foam that has an improved bounce, like latex. Also, you will feel the usual dose of comfort and support you are used to with memory foam pillows.
Removable knitted polyester washable cover
Removable knitted polyester washable cover 
It is always great when the pillow has a removable and washable cover. Even when the pillow is fully machine washable, we prefer a removable cover. It takes up less space in the washing machine, and you will also reduce wear and tear compared to washing the whole pillow every week.
This pillow has a knitted polyester washable cover that is soft and durable. You can wash it at 40 degrees C. It can be tumble dried at low heat and than you can return it to your pillow perfectly clean and fresh.
Improved head & neck support
Everyone needs head and neck support. Even if you just want a soft, squishy pillow to sink into it, that feeling of comfort will last for a short time, and then your neck will start to hurt, due to lack of support.
So whether you choose the soft or firm version of this pillow, you will get good head and neck support and you will avoid waking up in the middle of the night.
Silentnight memory foam pillow comes with a 2 year manufacturer's warranty which is standard in the UK sleep industry. This way you are sure that you are buying a quality product, and that you will get a new one in case of any damage that you did not cause.
Silentnight company wants their memory foam pillow to be used equally by side, stomach and back sleepers as well as combination sleepers. That's why they launched a soft and firm version, which we've already talked about.
The soft version is for stomach sleepers and some back sleepers, while most back sleepers and all side sleepers will choose the firmer option. Keep in mind that the firm version is very firm, around 8 on a firmness scale of 1 to 10, while the soft version is around 3. So everyone can have perfect night's sleep.
Review of Silentnight Memory Foam pillow
Silentnight memory foam pillow is available in two different versions – soft and firm. The soft version on the firmness scale from 1 to 10 gets a rating of 3, and the firm version 8. This means that you need to carefully choose which version to buy, because they are not similar and are adapted to different sleep positions. Reactive foam has a great bounce, better than traditional memory foam pillow and provides support to your head and neck. That way you can improve natural body alignment.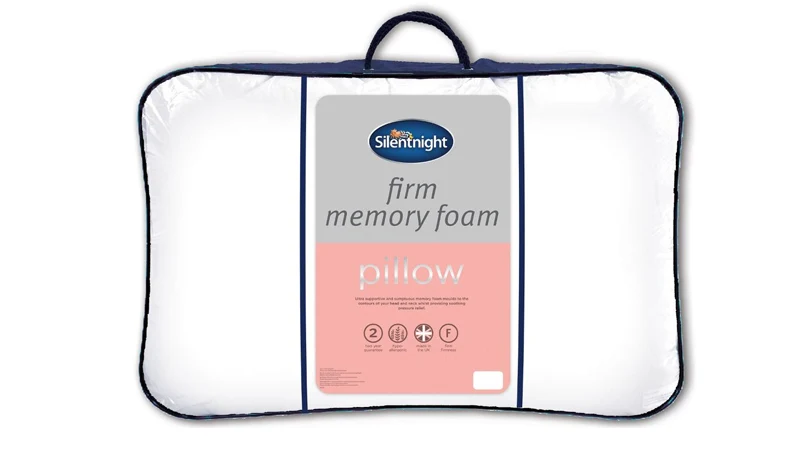 All the materials used to make this pillow are hypoallergenic. It has a zip-off removable and machine washable cover for easy maintenance. You can wash the cover at 40 degrees Celsius. It comes with a 2 year warranty.
Machine washable cover
Exceptional comfort
Hypoallergenic
Made in the UK.
Off-gassing
Shape is not ergonomic
Durability concerns.
3 things you'll love about Silentnight Memory Foam pillow
The ability to choose firmness makes it suitable for all sleep positions
It is 100% hypoallergenic and vegan-friendly
Super supportive, pressure relief and bounce are satisfactory.
Things you will probably not like about Silentnight Memory Foam pillow
Off-gassing is present in the beginning as with all memory foam pillows
Some side sleepers will not like the shape of this pillow because the ergonomic shape suits them better
We are quite sure hot sleepers will have to use another pillow during summer.
Consider the alternatives to Silentnight Impress Memory Foam pillow
Our review would not be complete if we don't suggest you some alternatives, and this time we chose another pillow from the large Silengnight offer, GelTex pillow, as well as Nectar Premium pillow.
Silentnight GelTex Pillow
If you are a hot sleeper then this pillow is a great choice for you. It provides ultimate support, pressure relief and extra comfort as well as memory foam pillows but GelTex, cooling replacement for memory foam, makes it suitable for hot sleepers. 
Around the GelTex core there is a hollowfibre layer which is also breathable and very comfortable. It is made for side and back sleepers who want luxurious night's sleep.
If you find this pillow interesting and appealing to you, we kindly suggest you to check our Silentnight Geltex pillow review.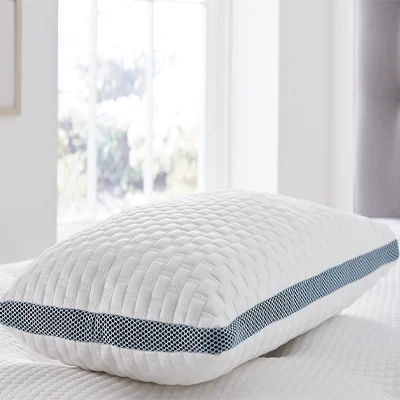 Hypoallergenic
Cooling
Made in the UK.
Cover is not removable
Not ideal for stomach sleepers
Can be too firm and flat.
Nectar Premium pillow is a quality memory foam pillow with improved breathability compared to other memory foam pillows. Nectar achieved this by not using a single block of memory foam but shredded pieces. 
Similar items often have fight the problem of breathability, but not this time –  the cover is cooling due to the breathable mesh border. This pillow comes in pair so it is ideal for couples who want to provide exceptional comfort to themselves.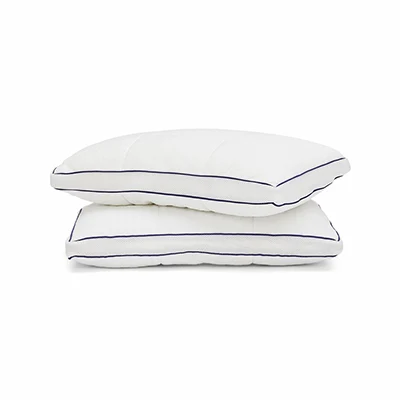 Breathable
Ultimate comfort
Gently moulding
Alleviates pain in pressure points.
One size only
You have to buy this pillow as pair
Not machine washable.
Consider Silentnight Weighted Blanket if you are thinking of getting Silentnight Memory Foam pillow
Whether you suffer from insomnia, depression and anxiety or just want to relieve pressure after a hard day and have a peaceful night's sleep, Silentnight weighted blanket is what you are looking for. 
You can choose between two available weights – 6.8 kg and 9 kg, and the choice will depend on your body weight as well as preferences. It is filled with hypoallergenic and silent glass beads and encased in soft microfiber cover.
Should you consider this blanket for yourself, we suggest you to check our Silentnight weighted blanket review to learn more about it.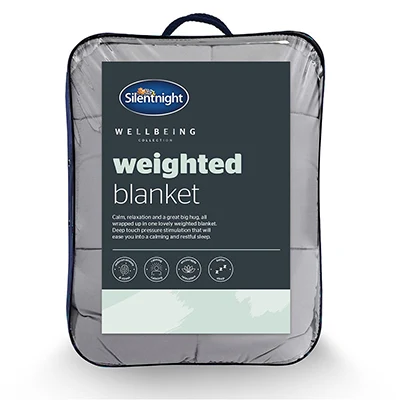 Machine washable
Hypoallergenic
Microfibre cover.
Non-removable cover
Only for adults
Not for hot sleepers.
What makes this product stand out among other similar ones?
Option to choose firmness when buying Silentnight memory foam pillow is what we would single out when talking about this pillow. Most traditional memory foam pillows are only available in one firmness and then if that is not appropriate for your sleep position, you need to give up buying that product. On the other hand, Silentnight offers you the option to choose a soft or firm version of memory foam pillow so whether you are a side, back or stomach sleepers, you can buy it.
We would also single out the improved bounce compared to some other similar products.
How did we test the product?
According to the available information, you need to wait 3 to 5 business days before your pillow is delivered to you. Free delivery will not be included if you do not order two pillows, as we did, because we needed both soft and firm for testing.
Expect off-gassing to be very noticeable in the first few hours, and it is best to air it for the first 24 hours and wash the removable cover to completely neutralize the off-gassing. Off-gassing is not a consequence of harmful chemicals but a common occurrence for most items made of memory foam.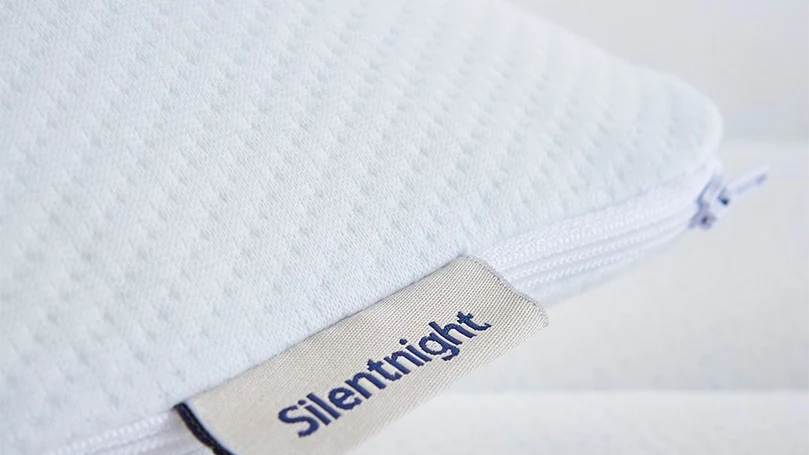 After a quality inspection and maintenance test, we proceeded to the overnight test. As we immediately knew which firmness corresponded to which sleep positions, then the stomach sleeper from our team took the soft version, and the side and back sleepers chose the firm version. Everyone was satisfied with their versions, but we repeated the overnight test with a back sleeper which then used a soft pillow and also found it comfortable. Side sleepers should expect this to be a very firm pillow, one of the firms when it comes to memory foam pillows.
FAQs about your Silentnight Memory Foam pillow
Our FAQs section marks the end of this review, but also a place where you can find answers to some more important questions.
Is Silentnight Memory Foam pillow suitable for side sleepers?
Yes, side sleepers can sleep soundly if they buy firm version of this pillow due to great support.
Is Silentnight Memory Foam pillow good for pain treatment?
You can use soft version of this pillow for pain treatment because it will relieve you of pressure and thus pain.
How to wash Silentnight Memory Foam pillow?
It comes with removable cover that you can wash in the washing machine at 40 degrees C.
How long does Silentnight Memory Foam pillow last?
We can't offer you precise answer to this question, but we expect it to last at least 2 years, probably 3 to 4 years.