Silentnight Squishy Pillow Review - Squishy Sleep & Great Comfort
The fact that you spend at least 6 hours sleeping, and probably even more, is often overlooked. So you have to choose the ideal pillow according to your body type, sleep position and preferences. You can find everything about Silentnight Squishy pillow in this review by The Sleep Advisors.
Who is Silentnight Squishy pillow ideal for?
It's ideal for back sleepers, and that's also the opinion of the Silentnight company. When we talk about side and stomach sleepers, opinions are divided. In general, it could be suitable for combination sleepers, but this is not always the case.
Many side sleepers will use it, but some will find it insufficiently supportive. Loft is too high for most stomach sleepers, but for those with a higher BMI, it can be good because it is soft so they may be able to achieve spine alignment. Silentnight Squishy pillow is great for allergy sufferers as well.
Add a header to begin generating the table of contents
What is this pillow good for?
We use Silentnight Squishy pillow for an ultra comfortable night's sleep. It can be said that every pillow is used for that reason, but cloud-like comfort is the main feature of this pillow. We also use it because of its hypoallergenic properties, as well as because of medium support it provides. So, to summarize everything – this effortlessly smooth pillow ensures:
A truly relaxing night's sleeping in back-sleep position
Wonderfully soft touch that velvet top cover delivers
Squishy comfort backed up by DuPont fibres
Super-easy maintenance.
Features you should know about Silentnight Squishy pillow
In this part of our Silentnight Squishy pillow review, we will break down the most important features you should know about before deciding on buying this pillow.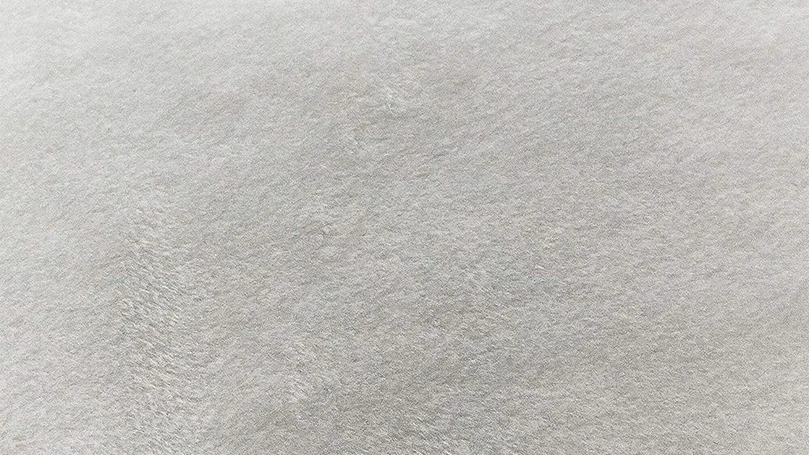 Fluffy DuPont cluster fibres
DuPont has been one of the world leaders in the polymer and textile industry since the early 1900s and has created many innovative fibers. They have always tended to produce highly durable, yet very light fibres. And also they are doing their best to make both fibres and whole process of manufacturing eco-friendly.
So Silentnight decided to use DuPont cluster fibers as a filling for this pillow. These fibres are so fluffy and provides squishy, ​​cuddly softness that leads to a luxurious feeling and a truly relaxing night's sleep. Thanks to DuPont cluster fibers, this pillow is so comfortable, but it also has gentle support, to prevent you from sinking in too much.
The goal of the Silentnight company when they created this pillow was to achieve medium firmness. Although they succeeded to some extent, because DuPont cluster fibres are not unsupportive and not completely soft, we would still position this pillow on a scale of 1 to 10 very close to soft pillows.
On a firmness scale of 1 to 10, this pillow is somewhere between 4 and 5. This definitely gives a great balance of comfort and support for the back sleepers. If it is just a little firmer, it would be equally comfortable for all sleep positions. This way it will depend on what exactly the side and stomach sleepers are looking for when buying a pillow.
Hypoallergenic from-head-to-toe
Another great quality of this unique pillow is 100% absence of harmful chemicals. For all people who have allergies, which is somewhere between 10 and 30 percent of the population in the UK and USA, the most important feature of any sleep product is that it is hypoallergenic. It is also recommended for those who do not have allergies to buy hypoallergenic products because anyone who is exposed to allergens can develop an allergy at any age.
Silentnight Squishy pillow is 100% hypoallergenic because both cover and filling are hypoallergenic. This pillow is very kind to skin and highly unlikely to cause any allergy problems.
Silentnight Squishy pillow comes with a 2 year warranty, which is common for the sleep industry. This is an affordable pillow so the 2 year warranty is great. It is important to check the whole pillow as soon as it arrives, so that you do not have problems replacing it later in case something happens during those 2 years.
Review of Silentnight Squishy pillow
Silentnight Squishy pillow is a pillow especially comfortable for back sleepers. Everywhere it is emphasized how soft and comfy this pillow is, but you should know that it also provides support, quite enough even for many side and stomach sleepers. Filling is made of DuPont cluster fibres and velvet touch cover further affects softness and comfort.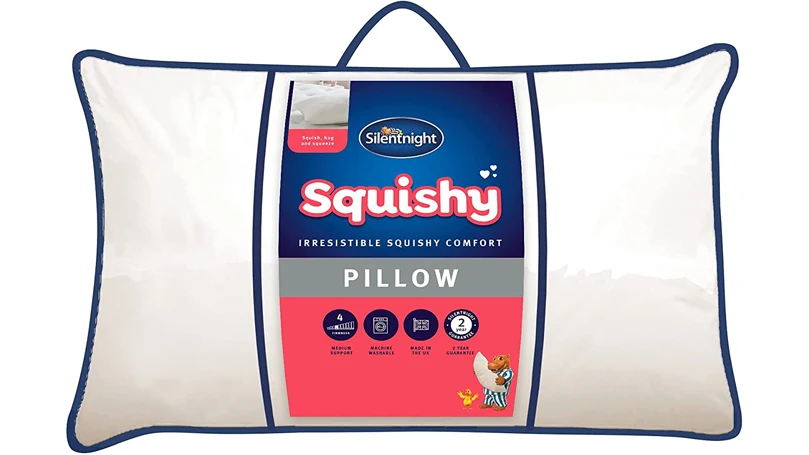 It is hypoallergenic and machine washable, so it is easy to always keep it clean and fresh. It comes with a 2 year warranty.
Size: 70 x 48 cm
Weight: N/A
Materials: Cover-Polyester (98%) & elastane (2%) ; Filling-Memory foam.
Affordable
Superior comfort & neck support
Machine washable.
One size only
Cover is not removable
Too soft for some sleepers.
What we like about Silentnight Squishy pillow
This is a comfortable pillow that is so soft and comfy, but also provides good support
Velvet touch cover is super-soft and pleasant for facial skin
Affordable, and in terms of quality it does not lag behind much more expensive pillows.
What we didn't like about Silentnight Squishy pillow
Different sizes are not available, only one
It will definitely not suit all side and stomach sleeper due to softness and loft
There is no removable cover, so you will have to wash whole pillow every time or use a pillowcase.
Check the alternatives to Silentnight Squishy pillow
Let's take a look at the pillows offered by Simba and Nectar, so you can compare them to Silentnight Squishy pillow or find an alternative if Squishy pillow doesn't suit you.
Add or remove Nanocubes and make the perfect loft and support for yourself. The Nanocubes are located in the middle of the Simba Hybrid pillow, and above and below are the temperature regulating layers that are astronaut-inspired.
Mesh borders for maximum airflow plus breathable Nanocubes and temperature control layers make this pillow perfect for hot sleepers.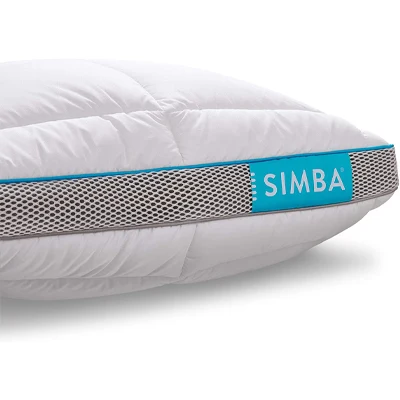 Adjustable height
Premium materials
Eco-friendly.
A bit more expensive when cmapred to similar pillows
One size
Some customers may want more support.
Premium Nectar pillow is often bought by couples because you get a pair of pillows. It has the usual characteristics of memory foam pillows but with improved breathability. 
Instead of a single block of memory foam, shredded pieces of memory foam are used for filling. Tencil fabric, obtained from eucalyptus, in combination with polyester gives breathable, durable and hypoallergenic cover.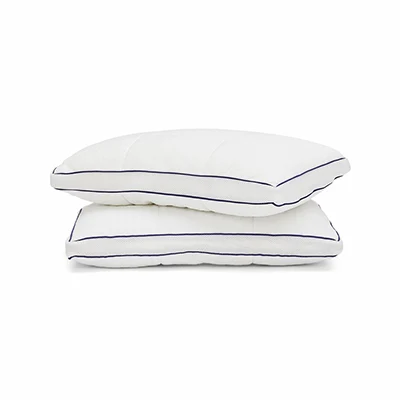 Breathability
Pressure relief
Support. 
Not machine washable
Loft too high for stomach sleepers
One size only (60x40x12cm).
Consider Mela Weighted Blanket if you are buying Silentnight Squishy pillow
If you bought a super-soft and comfy Silentnight Squishy pillow, you need to get yourself an additional piece of sleep equipment – a weighted blanket. Make your sleep even more comfortable with the Mela Weighted Blanket.
In this way, you can positively treat insomnia, anxiety, depression, PTSD  and other similar problems. Mela Weighted Blanket is high quality, composed of 7 layers, and weighs 7 kg.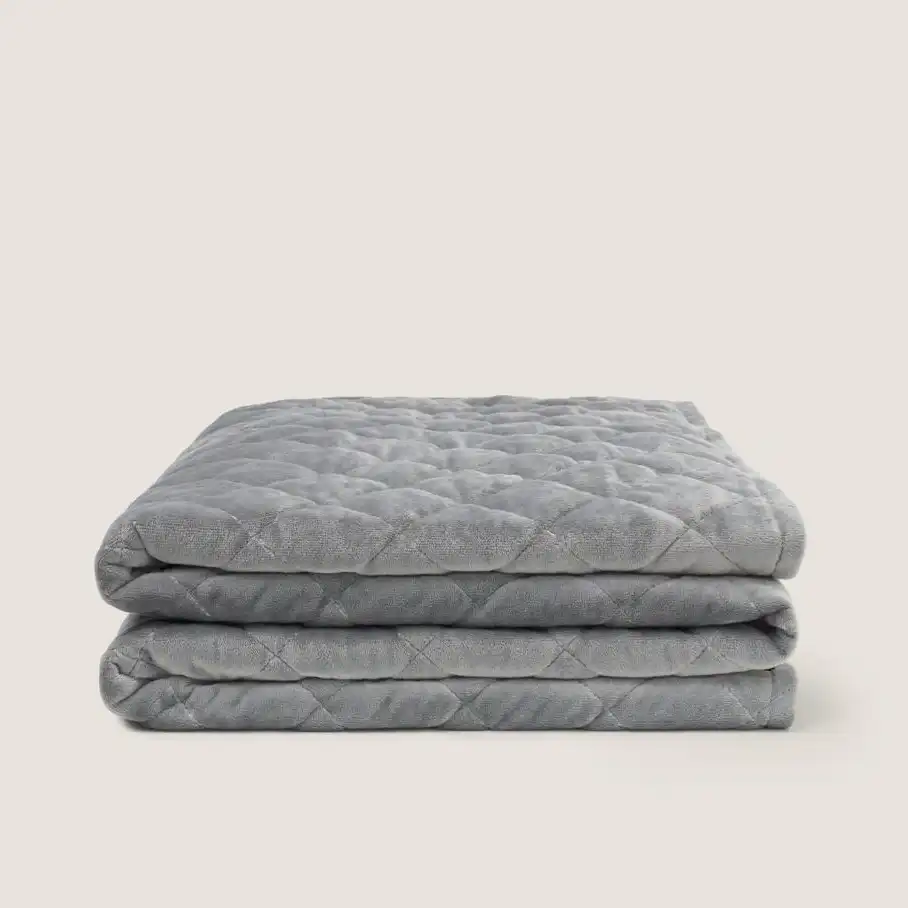 High-quality
Easy to assemble
Comfortable. 
Not the best one for hot sleepers
Some will find it too heavy
High-priced.
What makes this product better than some other similar ones?
We at The Sleep Advisors would single out softness as a feature that makes Silentnight Squishy pillow better than some other similar ones. The incredible softness and comfort that this pillow gives you, but also with a dose of support make this product really great.
How did we test the product?
We believe you can't wait to lie down on your new Silentnight Squishy pillow but you have to be patient and wait 3 to 5 working days for delivery and don't count on free delivery, as it is a product cheaper than £ 49 and below that limit you have to pay extra for delivery.
As soon as you take it out of the plastic bag in which it is packed, you will notice how soft it is. We didn't notice any off-gassing, so you can use it right away. If you want it to smell nice, then first wash it in the washing machine at 40 degrees Celsius, using a mild detergent. It can be tumble dried, so even if you decide to wash it, it can be ready to use within a few hours. We did so before the overnight test.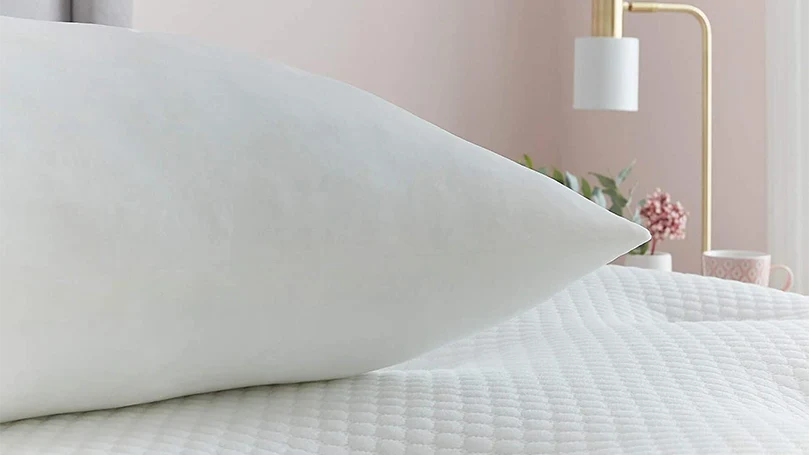 The first night of testing it was used by a back sleeper and we literally couldn't separate him from this pillow in the morning. He considers this one of the most comfortable pillows for back sleepers in the United Kingdom market due to its irresistible squishy comfort. It was then tested by side and stomach sleepers, who were satisfied, but also found a few flaws. That is why they cannot say that this pillow will suit everyone in these sleep positions. It will depend on each individually.
FAQs about your Silentnight Squishy pillow
At the end of this review we will answer some more questions in our FAQs section.
Is Silentnight Squishy pillow good for all types of sleepers?
This might be a matter of personal preference, but this pillow is the best option for back sleepers.
Does Silentnight Squishy pillow come with a trial period?
No, the Silentnight Squishy pillow does not come with a trial period.
How do I wash my Silentnight Squishy pillow?
You wash your Silentnight Squishy pillow in the washing machine at 40 degrees C.