Silentnight Airmax Pillow Review
There are many factors that affect how great night's sleep is but the pillow is certainly one of the most important factors and something without which it is not possible to sleep in a healthy position for our spine and the rest of our body. Here is your Silentnight Airmax pillow review by The Sleep Advisors.
Who is Silentnight Airmax pillow for?
This pillow is ideal for side and back sleepers, as well as for hot sleepers, and we will explain why. Shape and firmness are suitable for side and back sleeping. And what is the main feature of this pillow, which we can understand from its name, is breathability. 
Air circulation is equally excellent on all parts of the pillow because it is specially designed, so it is a favorite choice of many hot sleepers because they can have great night's sleep sleeping on it.
Add a header to begin generating the table of contents
What do we use this product for?
We use this pillow for additional comfort and support. While this is a pillow that could be classified as a medium-soft pillow, which we'll talk more about later, don't think it doesn't provide support. The support is surprisingly good when we consider pillow features. Also, it is very comfortable, and we use it for breathability so that we never get hot during night. It should also be mentioned that it is hypoallergenic, both because of the materials as well as because of the air circulation which does not allow dust mites to accumulate.
Features that Silentnight Airmax pillow offers
This part of our review is dedicated to the most important features you should know about the Airmax pillows. This way you will be able to get a better impression of whether this is the right product for you.
Airmax technology for increased breathability
The designers of the pillow deserve all the praise. Each part of this pillow is made with the aim that the air flow is never interrupted and to avoid retention of warm air so you will experience unparalleled breathability. The Airmesh walls, we will talk more about in the next paragraph, and hollowfibre filling make it perfect for hot sleepers. Hollowfibre is more breathable than microfibre due to the shape of the fibres, and it is also very soft and comfy.
Without Air mesh sides this pillow would not be so breathable. The problem with many pillows is that although the filling is breathable, the walls of the pillows are not. Silentnight solved this problem by implementing unique air mesh side walls that increase airflow and prevent overheating.
When they created this pillow, sleep experts from Silentnight had in mind all those customers who have allergies. And according to available data, almost one-third of the population in the United Kingdom at least once experienced allergy problems. This pillow is completely safe for them because it is 100% hypoallergenic. Also, we advise those who do not have allergies to buy hypoallergenic products, because allergies can develop at any age.
It is so easy to clean Silentnight Airmax pillow because it is fully machine washable. You can wash it in the washing machine at 40 degrees C. Don't forget to use gentle cycle. After washing it, you can dry it in the tumble dryer. You should do that not just because you want it to use it right after washing but also to prevent the filling from clumping. When you dry it in tumble dry, use low heat settings.
On a firmness scale of 1 to 10, we would rank this pillow somewhere between 3 and 4, and whether it is 3 or 4 depends on the body frame and the weight of the head of the one who sleeps on it. When you see that the firmness rating is 3/10 you will probably think that this is a very soft pillow.
But because of hollowfibres we consider this to be a medium firm pillow, rather than a medium soft. When you lie down, you will sink into it, but you will also get a plenty of support. You can be sure that your neck and head will be well-supported. So if you need soft and comfy pillow, that is also supportive, we highly recommend this one.
The construction of this pillow and the hollowfibre filling make Silentnight Airmax pillow very light. You will notice how lightweight it is as soon as you get it, and this will be especially important when you want to move it at night, which will be very easy due to its weight.
Silentnight Airmax pillow review
It is a pillow for side and back sleepers. It has high loft and it is medium firm. On the firmness scale from 1 to 10 it is well bellow 5, somewhere around 3.5 but when you lie on it you will have the feeling that it is firmer than that because it is supportive. It is filled with highly breathable hollowfibres which in combination with Airmesh walls make this pillow one of the most breathable pillows on the market. That is why it is much better for hot sleepers compared to so many pillows.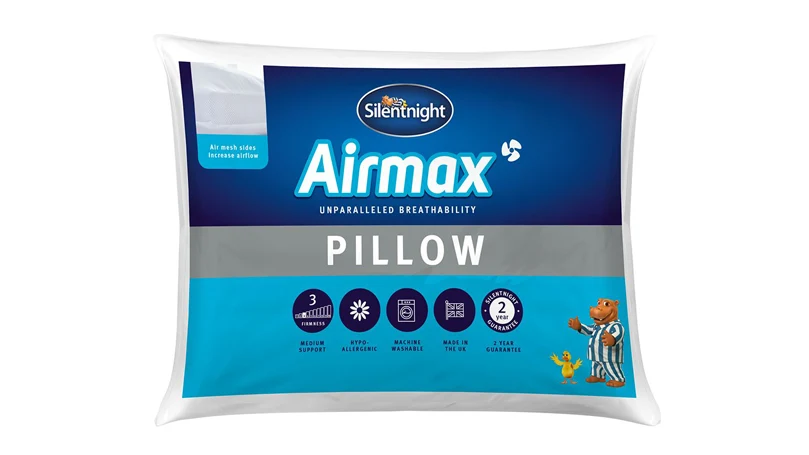 It is 100% hypoallergenic and vegan-friendly. It is machine washable at 40 degrees C and you can tumble dry it at low heat.
Highly breathable
Hypoallergenic
Affordable.
Not for stomach sleepers
Non-removable cover
Slight off-gassing.
3 things you'll love about Silentnight Airmax pillow
The air circulation in this pillow is A +
It is very comfortable and soft, and at the same time provides good support for side and back sleepers
It is fully machine washable and suitable for tumble dry.
3 things you will probably not like about Silentnight Airmax pillow
The loft is too high and it is too soft for stomach sleepers
The cover is not removable and if you use a bed linen then the breathability will not be so good
There is no option to test it and return it if it does not suit you.
Check the alternatives to Silentnight Airmax pillow
There are so many comfortable pillows, but as the best alternatives for this one, we have singled out another pillow from Silentnight offer, and that is the Geltex pillow as well as the Mela pillow.
Silentnight GelTex Pillow
Airmax and Geltex pillows are similar in many characteristics. They have a high loft, they are soft, but also supportive. Also, both are great for hot sleepers due to breathability, and the Geltex is further enhanced by having a cooling gel in the middle around which is hollowfibre filling and cover with Airmesh walls. 
All this implies that a similar type of customers will buy these two models, and it will probably be decided whether you are willing to give less or more money for a pillow.
Do check our out Silentnight Geltex pillow in-depth review to learn more about his fantastic pillow.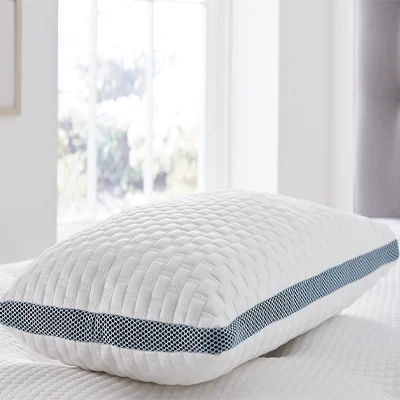 Breathable
Good pressure relief
Supportive. 
Not for stomach sleepers
Only one size available
Sometimes too firm.
Nectar Premium pillow is a quality memory foam pillow with improved breathability compared to other memory foam pillows. Nectar achieved this by not using a single block of memory foam but shredded pieces. 
Similar items often have fight the problem of breathability, but not this time –  the cover is cooling due to the breathable mesh border. This pillow comes in pair so it is ideal for couples who want to provide exceptional comfort to themselves.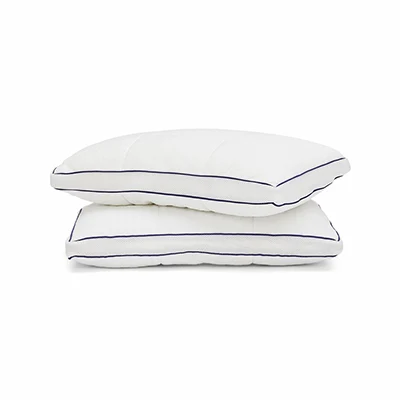 Breathable
Ultimate comfort
Gently moulding
Alleviates pain in pressure points.
One size only
You have to buy this pillow as pair
Not machine washable.
Consider Silentnight Weighted Blanket if you are thinking of getting Silentnight Memory Foam pillow
Whether you suffer from insomnia, depression and anxiety or just want to relieve pressure after a hard day and have a peaceful night's sleep, Silentnight weighted blanket is what you are looking for. 
You can choose between two available weights – 6.8 kg and 9 kg, and the choice will depend on your body weight as well as preferences. It is filled with hypoallergenic and silent glass beads and encased in soft microfiber cover.
Should you consider this blanket for yourself, we suggest you to check our Silentnight weighted blanket review to learn more about it.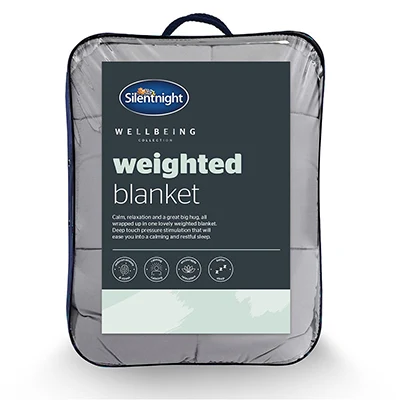 Machine washable
Hypoallergenic
Microfibre cover.
Non-removable cover
Only for adults
Not for hot sleepers.
What makes this product stand out among other similar ones?
Option to choose firmness when buying Silentnight memory foam pillow is what we would single out when talking about this pillow. Most traditional memory foam pillows are only available in one firmness and then if that is not appropriate for your sleep position, you need to give up buying that product. On the other hand, Silentnight offers you the option to choose a soft or firm version of memory foam pillow so whether you are a side, back or stomach sleepers, you can buy it.
We would also single out the improved bounce compared to some other similar products.
How did we test the product?
According to the available information, you need to wait 3 to 5 business days before your pillow is delivered to you. Free delivery will not be included if you do not order two pillows, as we did, because we needed both soft and firm for testing.
Expect off-gassing to be very noticeable in the first few hours, and it is best to air it for the first 24 hours and wash the removable cover to completely neutralize the off-gassing. Off-gassing is not a consequence of harmful chemicals but a common occurrence for most items made of memory foam.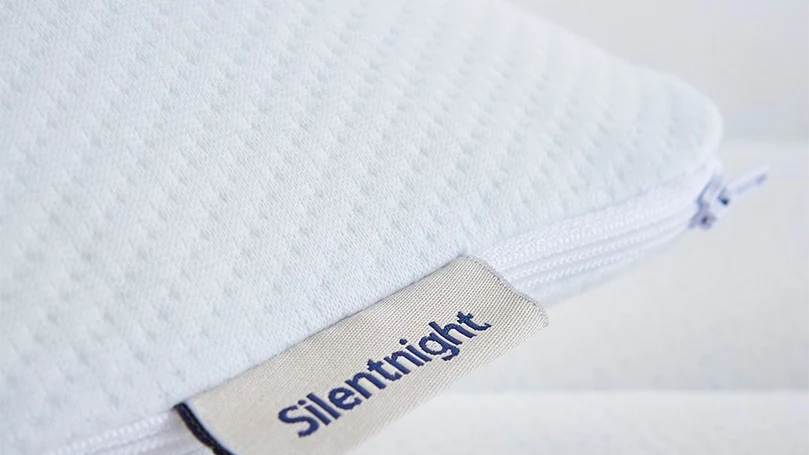 After a quality inspection and maintenance test, we proceeded to the overnight test. As we immediately knew which firmness corresponded to which sleep positions, then the stomach sleeper from our team took the soft version, and the side and back sleepers chose the firm version. Everyone was satisfied with their versions, but we repeated the overnight test with a back sleeper which then used a soft pillow and also found it comfortable. Side sleepers should expect this to be a very firm pillow, one of the firms when it comes to memory foam pillows.
FAQs about your Silentnight Memory Foam pillow
Our FAQs section marks the end of this review, but also a place where you can find answers to some more important questions.
Is Silentnight Memory Foam pillow suitable for side sleepers?
Yes, side sleepers can sleep soundly if they buy firm version of this pillow due to great support.
Is Silentnight Memory Foam pillow good for pain treatment?
You can use soft version of this pillow for pain treatment because it will relieve you of pressure and thus pain.
How to wash Silentnight Memory Foam pillow?
It comes with removable cover that you can wash in the washing machine at 40 degrees C.
How long does Silentnight Memory Foam pillow last?
We can't offer you precise answer to this question, but we expect it to last at least 2 years, probably 3 to 4 years.