Silentnight Weighted Blanket Review 2022
In the last few years, the popularity of weighted blankets has been steadily growing and that is why there are more and more of them on the United Kingdom market. Silentnight Wellbeing Weighted blanket caught our attention, so we decided to test it for you and in this review we tell you everything you need to know about this sleep product before buying.
Who is Silentnight Weighted blanket for?
Silentnight Wellbeing weighted blanket helps any person suffering from insomnia, depression, anxiety, post-traumatic stress disorder, restless leg syndrome, panic disorder, arthritis, fibromyalgia, chronic pain, obsessive-compulsive disorder, children with autism, and many other disorders.
But it is also a very good choice for those who just want achieve deeper sleep, as well as older people who generally sleep shorter compared to younger age. In general, we are all exposed to a lot of stress in everyday life, so practically everyone can benefit from using a weighted blanket as natural sleep therapy that will ease anxiety and stress and ease muscle tension.
Add a header to begin generating the table of contents
What do we use this product for?
We use Silentnight Weighted blanket to simulate deep touch pressure therapy (DTP) and thus achieve all benefits of it. Weighted blanket distributes weight evenly on your body, thus affecting the parasympathetic nervous system. When the parasympathetic nervous system is activated, your pulse drops and the tension in you calms down. It's a similar feeling as when someone hugs or cuddles you, and we all know how soothing a hug and cuddle are. It reduces muscle tension but it also reduces stress level.
Features you should know about Silentnight Weighted blanket
This part of our review will give you more information about the most important features you should know about Silentnight Weighted blanket.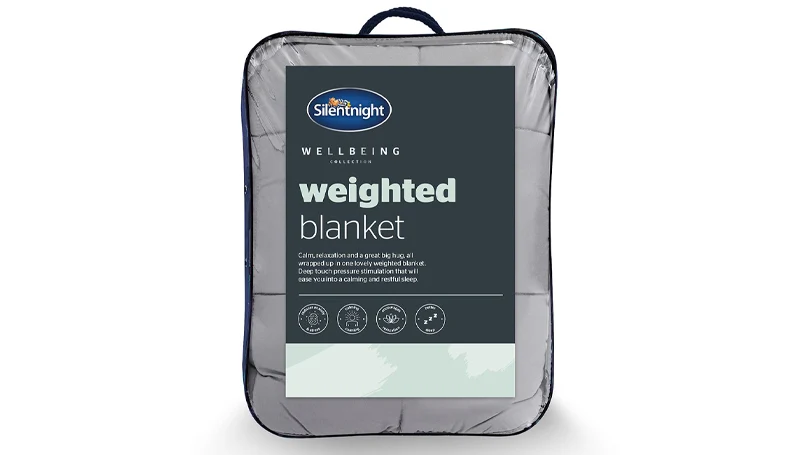 Silentnight Wellbeing Weighted blanket is available in two different weights – 6.8 kg and 9 kg. We must note that both weights are for adults, while Silentnight also offers option for kids. It is important that children do not use weighted blankets for adults, because the weighted blanket is safe as long as the person using the blanket has enough strength to lift the blanket off without anyone's help.
Which of these two weights you choose depends primarily on your body weight, but also your preference. It is recommended that the weight of the weighted blanket be between 5% and 14% of your body weight, which means that you should weigh at least 80 kg to use the 9 kg Silentnight Weighted blanket. But of course there are no strict rules, because there are customers who like the blanket to be very heavy, so they will then choose 9 kg. Most customers will buy 6.8 kg because it will be more suitable for them and provides all the benefits of weighted blanket.
Breathable & hypoallergenic quilted microfibre cover
The cover is made of soft quilted microfibre. Microfibre is very soft material, so it will make you even more comfortable and you will have the feeling that the blanket is hugging you. Microfibre is not too warm, nor plush, since many customers don't like plush that much.
Microfibre is also a good choice because of its durability
. This quilted cover is breathable, so most customers will be able to use weighted blanket even during the summer.
Microfibre
is hypoallergenic material, making this product suitable for allergy-sufferers.
When you buy a weighted blanket, you will notice that there are 5 or 6 fillers that are used in 99% of cases. Plastic pellets, glass beads, steel beads, sand, different grains like rice as an eco-friendly alternative and in rare cases pebbles.
Silentnight Weighted blanket is filled with tiny glass beads, which is considered the best option and is used for high-end products. Glass beads are smooth, hypoallergenic and eco-friendly. Also, they are very durable and machine washable. Since glass beads are heavier than plastic pellets, then the blanket will be thinner, less bulky and easier to maneuver.
Noise is one of the main reasons why some people avoid buying a weighted blanket
. No one wants to hear the filling every time they move during sleep.
Silentnight
solved this problem by placing glass beads in equally stitched pockets and thus limiting their movement, and the noise they could produce. It should also be said that glass beads are much quieter than steel beads for example. Equally stitched pockets are also important because it won't happen that the entire filling moves to the bottom of the blanket.
It comes with the 12 months manufacturer's guarantee, so you don't have to worry, because even if something happens during the first year of use, which isn't your fault, you'll get a new weighted blanket.
This product does not come with a removable cover, but is a fully machine washable which is not so common with a weighted blanket. It is machine washable at 40 degrees C and you should use a gentle cycle so as not to damage the glass beads, although they are very durable. One problem may be whether your washing machine has a large enough capacity to be able to wash a weighted blanket.
Review of Silentnight Weighted blanket
Silentnight Wellbeing Weighted blanket is available in two weights – 6.8 kg and 9 kg, and both weights are suitable for adults only. As the weight should be about 10% of our body weight, and many like it to be less than that, then most customers opt for 6.8 kg. Those who like really heavy blanket or weigh over 80 kg, 9 kg is recommended.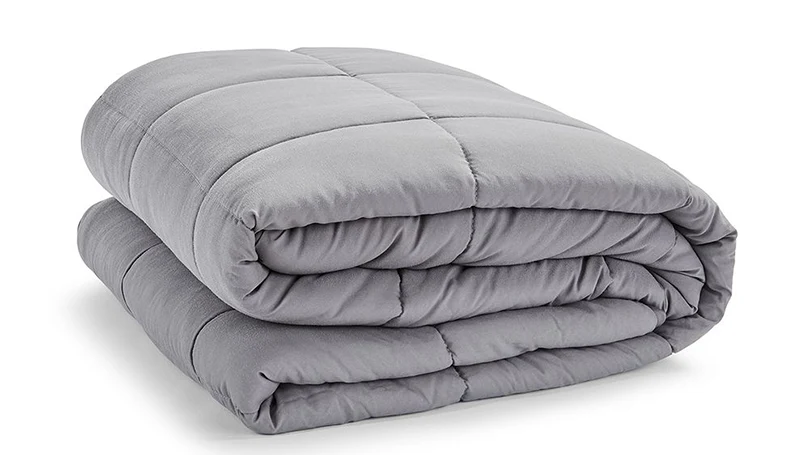 The use of this product has a positive effect on insomnia, PTSD, as well as many other disorders. In addition, it has a positive effect on sleep of the general population. High-quality glass beads filling is encased in quilted microfibre cover, which is soft and breathable. It is hypoallergenic and machine washable. It comes with a 1 year warranty.
High quality glass beads filling
Hypoallergenic and machine washable
Two weights available.
Cover is not removable
Only for adults basically
Sometimes too warm.
What we like about Silentnight Weighted blanket
Microfibre cover is soft and comfortable
Glass beads filling is hypoallergenic, durable and makes the blanket thinner compared to some other weighted blankets 
Free delivery and 1 year warranty.
What we didn't like about Silentnight Weighted blanket
The cover is not removable, and although the blanket is fully machine washable, it is questionable whether it can fit in your washing machine
Both weights are too heavy for children
Like virtually any weighted blanket, it will be too hot at times, especially for hot sleepers.
Check the best alternatives to Silentnight Weighted blanket
The anti-rustle glass quartz pellets are so quiet and distribute the weight evenly, so the Mela Weighted blanket was not uncomfortably heavy even when we tried the heaviest version of 11kg.
It is one of the very few blankets on the United Kingdom market that is available in 4 weights – 5.5kg, 7kg, 9kg and 11kg. The double-sided cover is very comfortable, and one side is cooling, while the other is super-soft.
You can read our review of Mela Weighted Blanket to learn more about this blanket.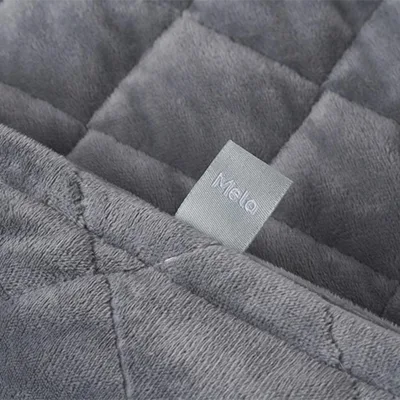 Available in four weights
Easy maintenance
Eco-friendly.
May be too warm
High-priced
Too heavy for kids.
Emma Hug Weighted Blanket
Unlike Mela product, Emma Hug weighted blanket has only one weight, and that is 7 kg. That is a weight that will suit most. It is made of 7 layers for optimal comfort. 
Craftsmanship is great, and we recommend that you buy a bamboo cover. Although it is not cheap, it will protect your blanket while boosting the hypoallergenic properties at the same time. If you are a true fan of weighted blankets, this is the right pick for you!
Please do read our in-depth review of Emma Hug weighted blanket to learn more about this product.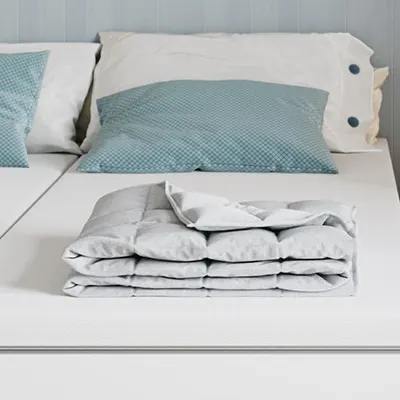 Design
High-quality craftsmanship
7 different layers.
Only one weight
Cover not included
Can be too hot for some sleepers.
Consider Scooms Hungarian Goose Down Pillow if you are buying Silentnight Weighted blanket
We can't find many goose down pillows that have such a good balance between softness and support as the Scooms Hungarian Goose Down Pillow. The reason is the different down and feather ratio between inner core and outer chambers.
The inner core is filled with 15% down and 85% feather, which gives great support because the feathers are much firmer than down. Outer chambers are filled with 90% down and 10% feather for perfect softness. Cover is 300 thread count 100% sateen cotton.
We have a full review of Scooms Hungarian Goose Down pillow so make sure you check it out.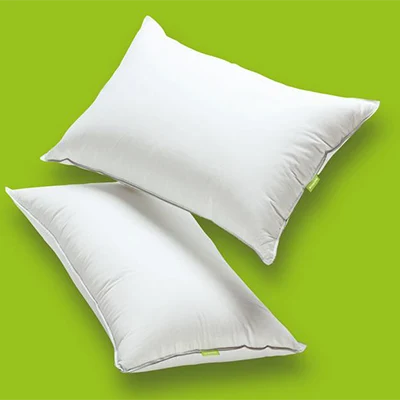 Soft
Free delivery
Hypoallergenic.
Non-removable cover 
Slight breathability issues
Not the best choice for hot sleepers.
What makes this product better than some other similar ones?
Weighted blankets are generally more expensive products, and the Silentnight weighted blanket is one of the more affordable ones, when we talk about high-end products. Also, undetectable weighted glass beads that are housed within equally stitched pockets are fantastic because they are quiet and the weight distribution is exactly the same. We also really like the microfibre cover because it is hypoallergenic and comfortable. It is machine washable to help you keep sleeping space fresh and clean.
How did we test the product?
Several members of our test team especially like to test weighted blankets, so they couldn't wait for Silentnight weighted blanket to arrive. It is necessary to wait 3 to 5 working days for delivery. Free delivery is included as both the 6.8kg and 9kg models cost over £ 49 which is the minimum for free delivery.
After a routine quality check to see the craftsmanship and make sure there was no fault to report to the company immediately, we did a maintenance test first, before we started the overnight test. We were wondering if it was possible to wash it in a washing machine of average size. If you choose a 6.8 kg weight, it probably won't be a problem, while for 9 kg you need an above-average size washing machine, so think about it before you buy a blanket. Remember that it is not suitable for tumble dry nor for dry cleaning.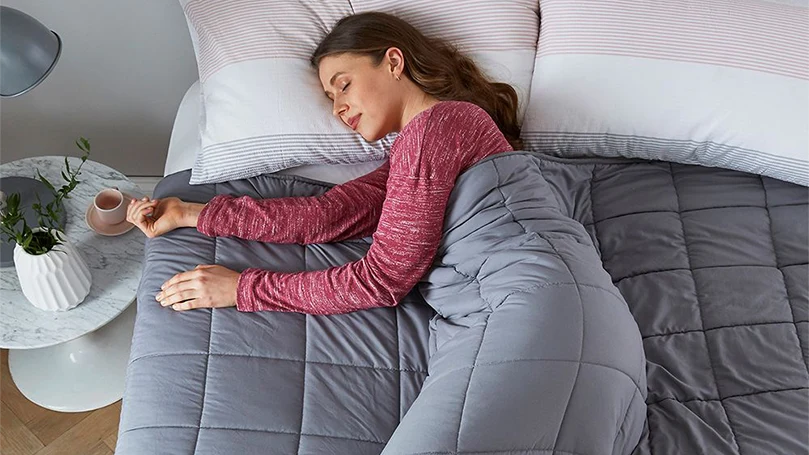 Since two different weights are available, then we had to do two overnight tests. The first night, several members of the test team used a 6.8 kg blanket and all were satisfied. This is the optimal weight, which should be appropriate for all adults. The next night, the 9 kg blanket was too heavy for women and men who had a smaller body frame, although it was not too heavy for them. While people with a higher BMI were even more pleased with the 9kg model compared to 6.8kg model. For maximum therapeutic benefits, it is important that you choose the right weight and you will be satisfied with this product.
FAQs about your Silentnight weighted blanket
Every customer has additional questions about the product he or she wants to buy, and this is especially the case with weighted blanket which is a relatively new product in the sleep industry. So we will end this review by answering some of the most frequently asked questions about Silentnight weighted blanket.
Does Silentnight weighted blanket come with a trial period?
For health and hygiene purposes, it does not come with a trial period.
How do I wash my Silentnight weighted blanket?
You can wash it in the washing machine at 40 degrees C, using gentle cycle.
What are the dimensions of Silentnight weighted blanket?
Dimensions of Silentnight Wellbeing weighted blanket are 150cm x 200cm.
Can I put a duvet cover on my Silentnight weighted blanket?
Yes, you can put a duvet cover of appropriate size on it if you want to reduce wear and tear and avoid washing whole weighted blanket every time.
Can I use Silentnight weighted blanket during the winter season?
Since it is quite warm, so many people use it during the winter season.