Best Ottoman Bed For Well-Organized Storage Space In Bedroom
An ottoman bed frame is a perfect solution when you're in need of extra storage space in your bedroom!
When you think about a perfect bed frame – what do you picture? Large and cosy? Comfy, padded headboard? Loads of storage space underneath? Or all of the above? Well, if that is the case – the best ottoman bed provides an answer to all of them!
Ottoman storage beds are the pinnacle of the bed frame design. When paired with a quality mattress, they provide us with everything we might ever need in the bedroom. Now, the only thing that's left to do is to find the perfect ottoman storage bed, right? Right.
However, that's easier said than done. With so many options to choose from, it can be overwhelming trying to make an informed decision and choose the best bed in front of you. So, we've decided to make it easier for you.
Before you, you'll see the only buying guide you'll ever need. We'll outline what to look for, what to expect, and how to choose the best ottoman that perfectly suits your needs. And oh, we'll give you our choices, too.
Let's begin! 
Before you buy an ottoman bed
If you're dealing with tight space – storage bed could be an answer to your prayers. However, with that being said, not everyone has the need for extra storage space, don't they?
If you have a walk-in closet, ample storage compartment, or you just don't have that many things to store – you probably don't need to pay extra for the best ottoman beds.
If you're just looking for a bed to sleep on – a platform bed frame or even a divan storage bed could do the trick. You wouldn't have to spend as much on those as you would on an ottoman, leaving you with more money in your wallet for a premium mattress.
The time to meet our top five picks for the best ottoman beds has finally come.
IMAGE
PRODUCT
DETAILS

KEY FEATURES:

Type:

End-opening ottoman

Material:

Wood

Sizes:

Double, King

Mattress weight limit:

N/A

Trial:

Not available

Delivery:

Free, 4-8 weeks

Warranty:

5 years

Base:

Slatted base

Assembly Service:

Self-assembly

View Latest Price

KEY FEATURES:

Type:

End-opening ottoman

Material:

Wood, birch, velvet

Sizes:

Double, King

Mattress weight limit:

N/A

Trial:

30 days

Delivery:

Small fee, scheduled delivery

Warranty:

10 years

Base:

Slatted base (birch)

Assembly Service:

Self-assembly

View Latest Price

KEY FEATURES:

Type:

End-opening ottoman

Material:

Hardwood, polyester

Sizes:

Double, King, Super King

Mattress weight limit:

55 kg

Trial:

Not available

Delivery:

Free, several working days

Warranty:

5 years

Base:

Solid base

Assembly Service:

Self-assembly

View Latest Price

KEY FEATURES:

Type:

End-opening ottoman

Material:

Pine, beechwood, MDF, ash, polyester

Sizes:

Double, King, Super King

Mattress weight limit:

N/A

Trial:

Not available

Delivery:

Free, 5 working days

Warranty:

5 years

Base:

Adjustable slatted base (beechwood)

Assembly Service:

Self-assembly

View Latest Price

KEY FEATURES:

Type:

End-opening ottoman

Material:

Wood, polyester

Sizes:

Double, King, Super-King

Mattress weight limit:

N/A

Trial:

Not available

Delivery:

Free, several working days

Warranty:

5 years

Base:

Solid base

Assembly Service:

Self-assembly

View Latest Price
1. BEST OVERALL: Malmo Oak Wooden Ottoman Bed HAPPY BEDS
An ottoman bed that's more than just oak-ay!
Designed with traditional values in mind, the Malmo Wooden Ottoman bed is made from the finest wood that will bring comfort, joy, and warmth to any bedroom.
Aesthetically pleasing oak-like exterior is warm and inviting, and a simple, slatted, rail-like headboard is simplistic yet stylish and will match any bedroom decor you got going on.
Available in double and king, this bed combines storage and cosiness and will effortlessly solve your needs for both extra space and extra comfort.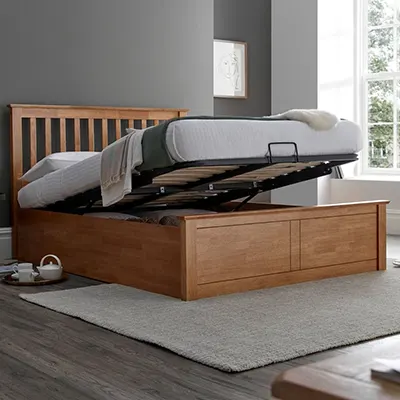 Traditional and contemporary design rolled into one
Seems very durable and long-lasting
Spacious, easily accessible storage unit
Available in two other finishes.
It is not made from actual oak
Quite expensive when not discounted
Delivery takes a long time.
2. BEST VALUE: Made Delia Ottoman Bed
How about a statement piece, spacious storage unit, and a comfy bed rolled into one?
If you're tired of the same old boring bed design – Delia from Made has got your back. Shell-like, upholstered, and generously padded headboard veiled in buttery smooth velvet is sure to make you appreciate finer things in life.
Made from sustainably-sourced timber, this upholstered ottoman bed frame comes with a capacious storage unit you will fill to the brim with silk sheets and pillowcases. Why silk? Well, once you run your fingers over this gentle fabric – it's just silk and velvet for you from that point on.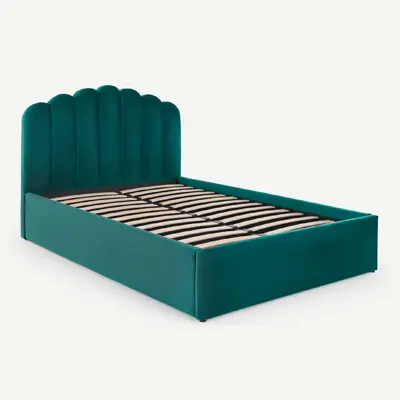 Contemporary, eye-catching design
Upholstered, cushioned headboard
Spacious, easily accessible storage unit
Available in four other finishes.
It can only be professionally cleaned
Charging fee for shipping and delivery
Not a good fit for any room due to unique design.
3. UPGRADE PICK: Yorkie Grey Fabric Ottoman Bed
As if a divan bed and an ottoman had a baby!
Are you tired of your bed frame taking up too much space? This Yorkie ottoman from Happy Beds is as compact as a full-sized ottoman can be. Superbly tailored to almost perfectly match the size of a mattress, Yorkie is an ultimate space-saver.
Yorkie's deep storage unit will effortlessly store your blankets and duvets when you're not using them, and its neatly upholstered, padded, buttoned headboard will provide you with all the peace and comfort once you lie down in your bed to read a book before you doze off.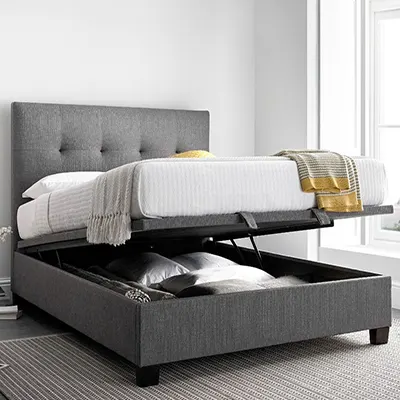 Contemporary, minimalistic design befitting any room
Compact, divan-like frame
Spacious, deep, easily accessible storage unit
Hardwood construction and high-quality polyester upholstery
Solid base for extra mattress support
Generously padded, deep-buttoned high headboard.
Non-specified hardwood
A bit more expensive when compared to similar products
Delivery takes a long time.
4. BEST STORAGE SPACE: Eve Storage Bed Frame
Tailored support and ample storage never looked this good!
Eve calls this one a "hoarder's dream", and with 18 cm of storage depth – we tend to agree. There aren't many things that can't fit inside of this one, aside from maybe another bed.
Upholstered in grey, woven polyester, this minimalistic ottoman is hand-down the most adaptable bed frame on our list – and not just style-wise. Its uniquely designed beechwood slats can be easily adjusted with a simple sleight of hand, and while you may not be a magician – a simple slat adjustment will make your back pain disappear.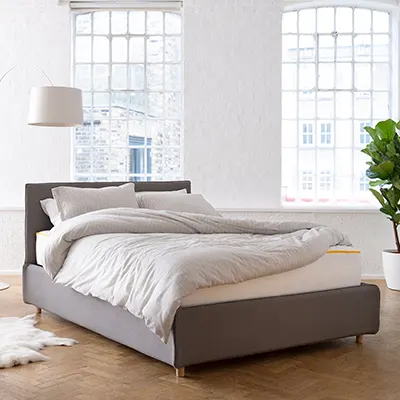 Thoughtful and stylish minimal design
Rather durable and long-lasting
Adjustable slat tension for tailored support
High-quality timber used all throughout
Available for purchase in 12-monthly instalments.
Only returnable if not used and in original packaging
Rather expensive when not discounted.
BEST CONTEMPORARY DESIGN: Walkworth Light Grey Fabric Ottoman Storage Bed
Contemporary storage solution that's equally comfy to sleep on!
Contemporary light grey upholstery complements all colour schemes and makes Walkworth worthy of being in your bedroom. Resting on heavy-duty hardwood feet, Walkworth ottoman's sturdy construction will brace whatever you throw at it – although we still wouldn't jump all over it.
Armed with two lifting and closing tabs, Walkworth makes accessing the storage space and maintaining the pistons as effortless as possible while simultaneously looking exquisitely handsome.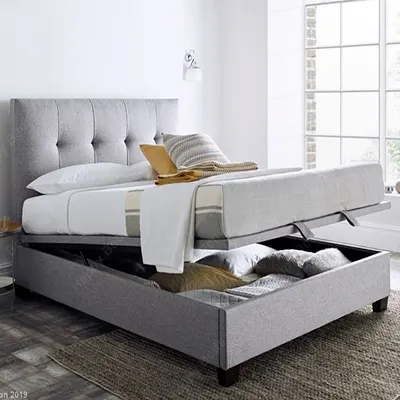 Fantastic contemporary design befitting any bedroom
Seems very durable and long-lasting
Spacious, easily accessible storage unit
Available in two other finishes.
Very expensive when not discounted
Light grey upholstery isn't the easiest to keep clean.
What to look for when buying an ottoman bed
Now that we've gone over the types, we wanted to make you familiar with some of the most important features of storage beds, so you can understand what to look for, but also see why we chose the beds we chose – once we get to them.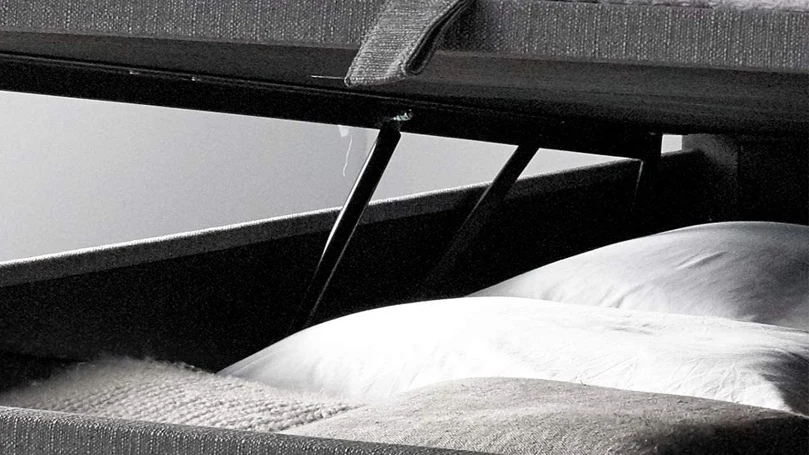 What do an upholstered ottoman bed frame and a wooden ottoman bed frame have in common? Well, they're both storage beds.
When you think of it that way, all ottoman beds seem to be exactly the same. However, that's not true. Even though all of them come with storage space underneath, not all of them have the same capacity.
Now, we're not just talking about size. It's natural that a single ottoman bed would have less capacity than a small double bed, but the size isn't the only thing determining the volume of the storage compartment underneath the mattress.
Type matters, too.
The end-opening ottoman bed is your standard, run-of-the-mill ottoman that opens up at the foot-end of the bed.
These are the most common ottomans on the market, and they're the ones customers generally go for. They provide super easy access to the storage department by simply lifting the top.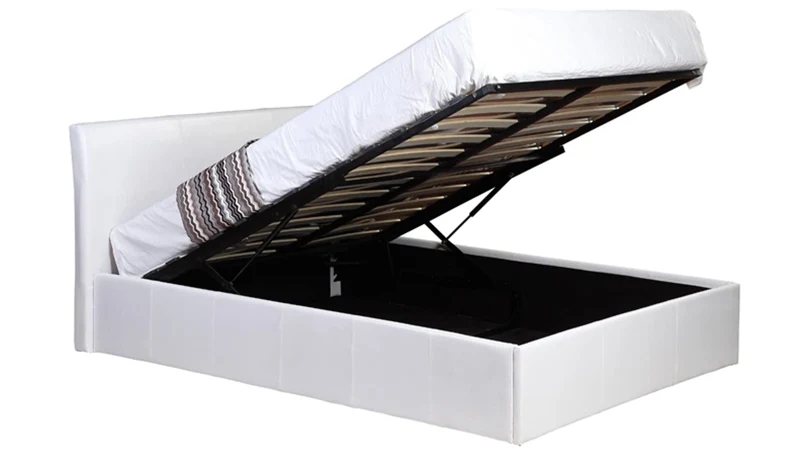 More often than not, an end-opening ottoman bed is powered by a powerful piston lift mechanism, allowing you not only to access the storage unit effortlessly but to keep it open while you're tinkering below.
Finally, the best thing about this traditional-style ottoman is that it offers large storage space – equivalent to the size of the actual bed frame.
A side-opening bed frame like a Wilson upholstered ottoman bed, for example, is another type of an ottoman. As you can tell by the name, the storage unit of this ottoman is accessed by lifting the side of the bed – not the end.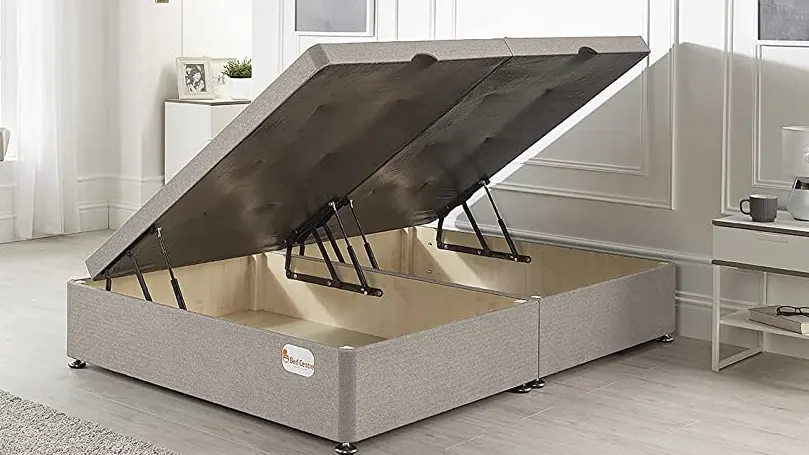 Just like the end-opening ottoman, the side-opening ottoman bed will also sport a storage unit the size of the entire frame, making this type as space-saving as the traditional one.
The half-opening or half-lift ottomans are convenient for smaller rooms. With only half of the base lifting up, you don't need as much clearance above the bed, making these ones especially suitable for awkwardly shaped bedrooms or bedrooms with slanted or low ceilings.
Naturally, with only half of the bed reserved for storage, you won't get as much extra space, but for most people – it should be enough.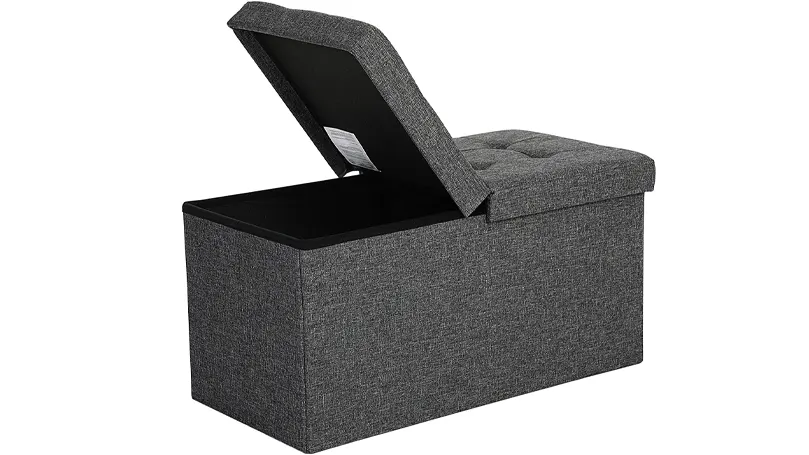 Just like the previous two, this one's also "powered" by the gas-lift hydraulic, so there won't be any heavy lifting involved with this one.
Finally, thanks to its unique design, this type of a space-saving bed might even come with drawers.
Weight & size of your mattress
Another thing to keep in mind is the weight and size of your mattress.
The size of the mattress is pretty self-explanatory. You'll want to go with a mattress that's the same size as your new ottoman bed. That's it.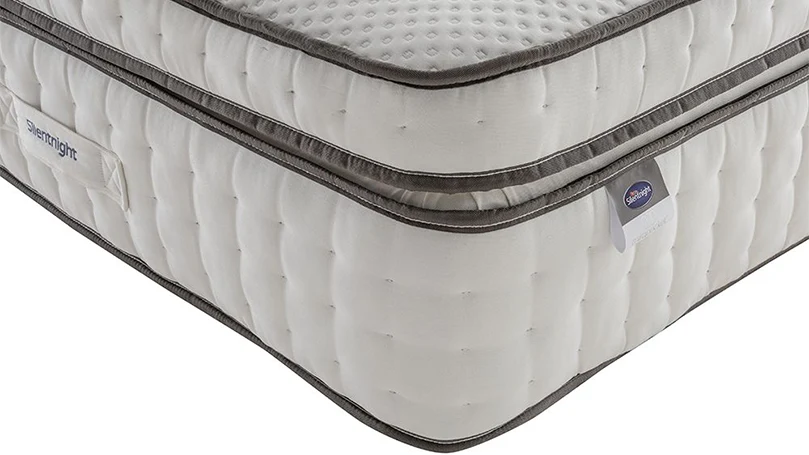 However, you'll also have to be mindful of the weight. As we've said, these beds are propelled open by the gas-lift pistons, and those hydraulic arms have limited power. Therefore, every individual ottoman will have a mattress weight limit that you will need to respect. Otherwise, you'll just end up with a squeaky ottoman and broken gas-lift hydraulics.
The good thing is, any reputable ottoman will hold anywhere between 40 to 80 kilos, which is more than most mattresses weigh.
You might fall in love with a super king-size ottoman, but if you don't have enough room for it – what's the point, right?
The thing is, when shopping for the best storage beds, like ottomans, the size of the frame isn't the only thing to keep in mind.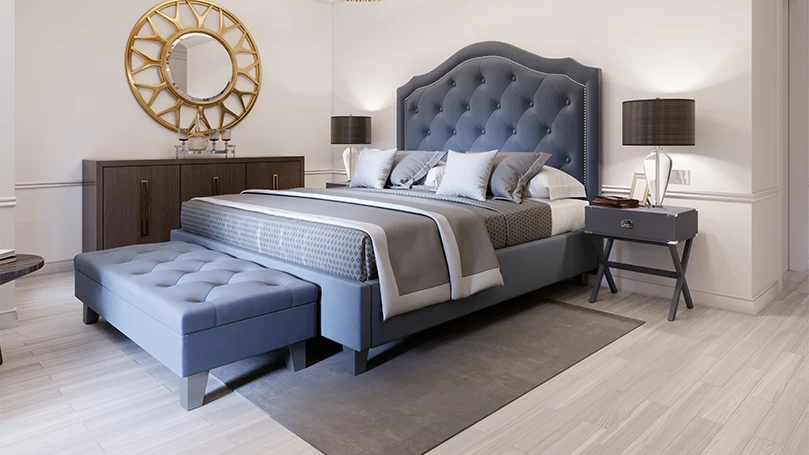 No matter the size, ottoman beds will always occupy the same amount of floor space, as they don't come with drawers. However, they do open up. And, some of them open up quite tall.
So, instead of just focusing on the floor space – make sure you have enough clearance to open up the bed and access the storage unit.
Amount of storage that you need
While it is true that you could always use some extra storage – you don't have to go overboard when shopping for a bed. After all, you could probably spend less money for more storage space if that was everything that you actually wanted.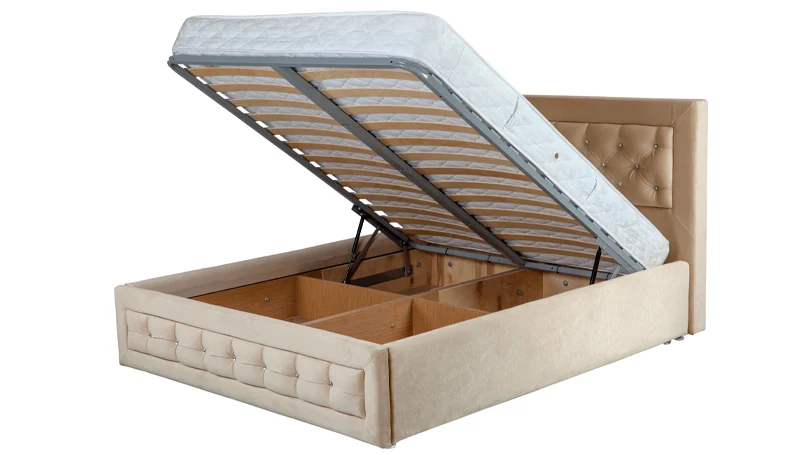 Keep in mind, you're shopping for a bed frame first, so don't get overwhelmed with storage capacity.
With that being said, if you're really pressed for space, and you really need some extra bedroom storage – go for it. It all comes down to your need and personal preference, so choose accordingly.
While we don't condone displays in bedrooms, some people love falling asleep while watching TV. However, some also don't have room for a TV in their bedroom. Well, no more.
Apart from all that ample space for spare bedding and other stuff, some ottomans come with built-in TV stands.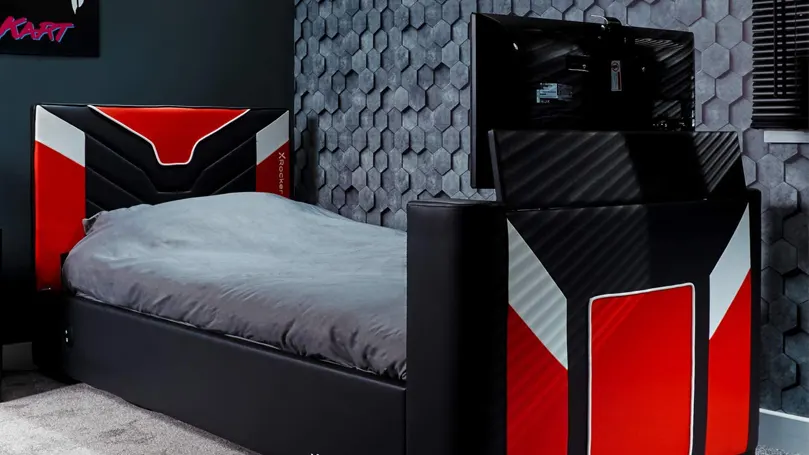 Basically, you'd get a bed with a footboard large enough to house an entire TV that would just pop up whoever you needed it.
This will come at its own cost, but if that's something you might be in for – don't hesitate to give it a try.
Tips for buying and using ottoman bed
Before we get to our list of handpicked ottoman beds, we also wanted to give you a few tips for buying and using them.
Always do your research – Impulse shopping is not something you'd want to do when shopping for a bed frame, so before you go out and get one – always do your research. Read the reviews, read customer experiences, and focus on your needs. That way, you'll always end up with precisely what you wanted.
Maintain the lifts properly – There are two things to remember when it comes to maintaining lift mechanisms. One – always use both hands to close the bed, and two – occasionally oiling the pistons will go a long way.
Bolster the storage unit base – More often than not, the bottom of your storage unit will be made from plywood. As you know, applying constant pressure on plywood will cause it to sink and break. Therefore, we'd recommend bolstering the base from the bottom by placing something firm and sturdy underneath your bed.
The advantages of owning an ottoman bed
There are more than a few advantages that come from owning an ottoman bed, and we wanted to share them with you. Obviously, extra storage is a given, so we won't focus on that.
You get to choose your own mattress – An ottoman bed frame will come without a mattress, so you will be the one that will decide which mattress you'll sleep on. Ottomans are compatible with any mattress out there, whether they're memory foam, pocket sprung, or hybrid, so you'll have endless choices.
You get to pick the base – Ottoman beds, unlike some other bed frames, come with both sprung slats and solid bases. That provides you with an opportunity to perfectly tailor your sleeping surface to your own needs. If you prefer something sturdier – go with a solid base. And, if you like to keep things nice and cool – go with the slats.
Easy maintenance – Whether you need to tighten up a screw, adjust the slats, or oil the piston lifts – the access-friendly design of the ottoman allows you to easily do any of the aforementioned tweaks and repairs.
FAQs about your ottoman bed
In the end, we wanted to wrap things up by answering some FAQs about our favourite storage beds.
What is the best base for an ottoman bed?
It depends. It's all up to your personal preference. Both solid and slatted bases are excellent choices.
Not particularly. They could become squeaky over time as gas lift hydraulics begin to harden, but that's nothing a little WD-40 can't solve.
Do ottoman beds have a solid base?
Yes. Some ottoman beds come with a solid base.
Are ottoman beds heavy to lift?
Not at all. A good lift mechanism will make lifting virtually effortless. As soon as you crack-open up the storage unit, the pistons will do most of the heavy lifting by themselves.
How do I clean an ottoman bed?
It depends. An upholstered ottoman will probably require vacuuming and spot cleaning, but a wooden frame will just require occasional dusting and wiping.