Emma Platform Bed Review - A Minimalistic Bed With Slatted Base
In the 21st century, the platform bed became a very popular type of bed frame for many reasons. If you have decided to buy a platform bed, and you do not know which model to choose, read Emma Platform Bed review by The Sleep Advisors where you will learn all the features, advantages, disadvantages and many other important information.
Who is Emma Platform bed for?
Emma Platform bed is for all those who do not want a box spring system, because it wears out much faster than platform platform. It is often the choice of those who want a minimalist design as well, since Scandinavian style is one of the most popular approaches for decorating interior. 
All those who do not want the assembly of a bed frame to be complicated opt for the Emma Platform bed because the assembly of platform beds is generally quite simple and fast since there is not that much parts.
Add a header to begin generating the table of contents
What do we use this product for?
We use Emma Platform Bed primarily to sleep more comfortably and that is definitely the main thing. But hygienic reasons should not be forgotten either. In addition to the fact that you will not be comfortable enough if the mattress is on the floor, no matter how comfortable the mattress is, it is also not hygienic. Another reason is that the mattress will deteriorate faster if it is not placed on the bed frame. So, in general, Emma Platform bed frame is ideal choice for:
People who want to avoid assembling complex bed frames
People who want to ensure a good level of comfort
People who want a highly durable bed frame
People who want to prevent sleeping close to the ground. 
Features you should know about Emma Platform bed
There are three main features of Emma Platform bed that you need to know more about. These features are structure, ease of assembly as well as classic design.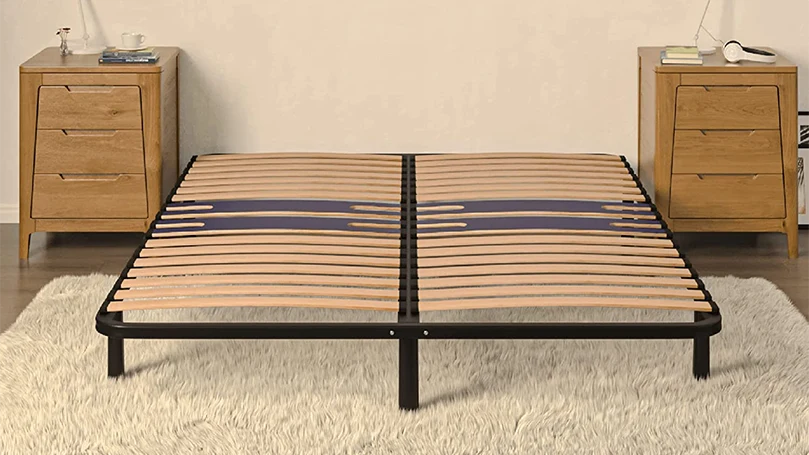 Metal bed structure with 100% polyester cover and plywood panels
The metal bed structure is there to make the whole bed even more stable and long lasting. Although many manufacturers use wood for the structure, Emma still opted for metal, because no matter how much the wood is sturdy, the metal is more resistant. In order not to make the bed too hard, plywood panels were placed over the metal construction. Plywood panels are made of engineered wood which means they are even more resistant than untreated wood. Even though many think plywood panels are not premium material, they can be better solution than some more expensive ones.
Everything is encased in a 100% polyester cover that is hypoalleregenic and high quality.
For everyone, one of the most important things when ordering a piece of furniture online is to get furniture that is easy to assemble. 99% of people do not have the necessary tools or knowledge of carpentry to be able to assemble complex furniture. Although manufacturers know this, customers often complain that it took them a couple of days to assemble a piece of furniture which consists of numerous different parts.
Luckily, Emma didn't make that mistake, as Emma Original bed is something that can be put together by someone who has never done anything like it. Everything is explained in detail in the manual, and thanks to click-and-lock technology everything is even simpler. We bet you would be able to assemble it even without manual. It is even easier because there is no headboard.
Classic design is one of the primary features that has made platform beds so popular in recent years. It is now popular to make everything simple and classic, surely that people will not want a bed that looks like from the Renaissance era, but that they need a bed like Emma Platform bed.
Platform beds have sleek style and are sure to be fashionable for a long time, so you don't have to worry that your bedroom will look outdated, as is the case when buying some extravagant piece of furniture.
Review of Emma Platform bed
Emma Platform bed has a metal construction over which plywood panels are placed, and all this is covered with 100% polyester cover. Feet are made of plastic wood. It has a classic design and is available in two shades of gray, which will fit into most modern homes.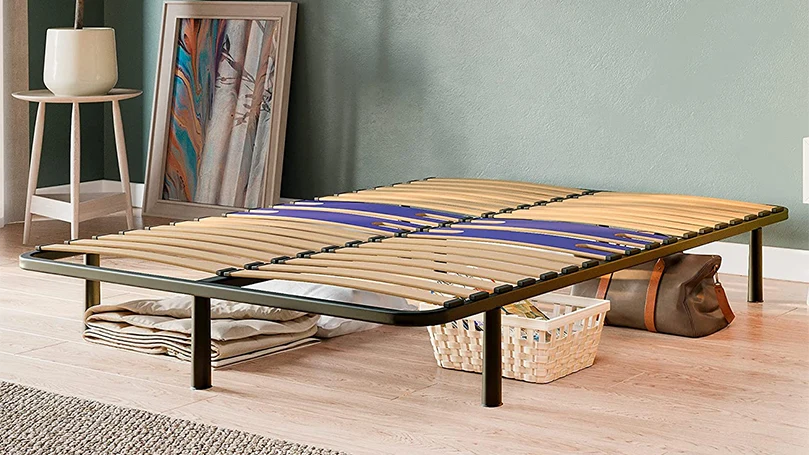 The trial period lasts as long as 200 nights, and it is certain that a much shorter period will be enough to make sure that it suits you. Customers generally say it is comfortable and are happy with the durability. Durability should definitely not be a concern for you, because you get a 10-year warranty. Delivery is free.
Material: Metal (painted in black); natural wooden slats
Type: Slatted bed frame
Size: UK Single, UK Small Double, UK Double, UK King.
Easy assembly
Free delivery
Elegant, yet minimalistic design.
No storage space
No available headboard to buy it separately.
What we like about Emma Platform bed
Stylish, yet very classic design
It is comfortable and durable so you will use it for years
One of the longest guarantee periods you can get for bed frame.
What we didn't like about Emma Platform bed
We are not sure why Emma offers only UK Double and Super king size, without UK Single and UK King
Grey fits great, but still someone would probably like to have at least one or two different colours available other than two shades of gray
There is no headboard nor storage space.
What makes this product better than some other similar ones?
A 10-year warranty is definitely something you won't get with a large number of bed frames. Warranties usually last up to 5 years, and Emma offers you twice as long. Easy assembly also sets it apart from the competition, as anyone with experience assembling different beds says this one is one of the simplest.
How did we test the product?
When we ordered the Emma Platform bed, they informed us that the expected delivery time was 2 to 5 working days which was good and TRUE. What is even better is that this deadline has been met and that the Emma Platform bed arrived after 3 working days. Delivery was free, although it weighed about 50 pounds. Emma offers no contact delivery for all orders. If you are not sure whether you will be home on a certain day, you can opt for "premium delivery", which means that the Emma Platform bed will arrive exactly on the day you choose, within a 3-hour time window.
As already mentioned, platform beds are easier to assemble than some other types and you will notice this while assembling the Emma Platform bed. Also, credit should be given to Emma because with the bed frame you get such detailed and easy to understand assembly instructions. Every, even the tiniest step, is explained to you so you should have your platform bed ready in half an hour, maybe less, because there is no headboard, just a plain platform bed frame.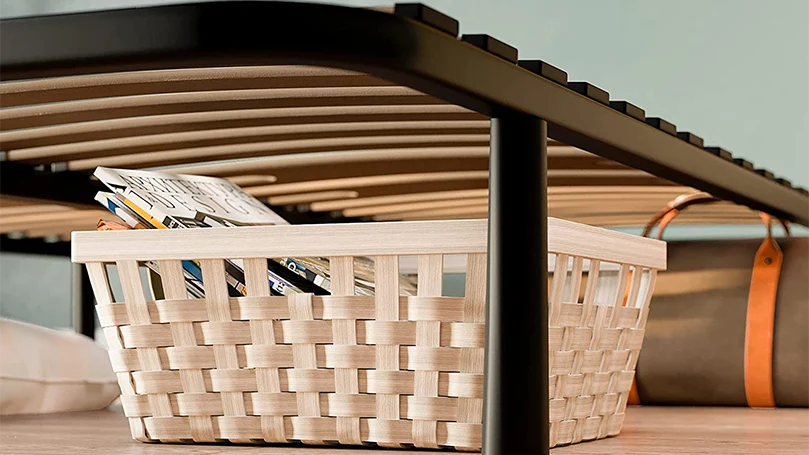 For our overnight test, we used the Emma Original Hybrid mattress to make sure that the mattress will be a perfect fit for the Emma Platform bed, because only then can we fully determine the performance of this bed frame. The Emma Original Hybrid mattress is very comfortable on any bed frame, but on this one it was even more comfortable because we got extra stability and support.
Since it has such a simple shape, you will easily clean the dust under the bed and around it, which is very important for everyone, especially for those who are allergic to dust. The bed itself is enough to vacuum occasionally and that is when it comes to cleaning.
FAQs about your Emma Platform beds
Since bed frames ads mostly show a mattress on top of bed, then many customers wonder if they also get a mattress with a bed frame or not. This question, as well as whether there is storage space, whether you can buy a headboard separately and what types of mattresses you can use for the Emma Platform bed will be answered in the FAQs section.
Does the Emma Platform bed have storage space?
No, it does not have storage space, but there is plenty of space under the Emma Platform bed which you can turn into storage space.
Can I get a headboard separately from the Emma Platform bed?
No, you can't get a headboard separately for the Emma Platform bed.
Does the Emma Platform bed come with a mattress?
No, it does not come with a mattress but you can order mattress at the same time as bed frame and they will arrive together.
Can I use different mattresses for Emma Platform bed?
Yes, you can use different type of mattresses for Emma Platform bed, but we suggest you to double-check the size of bed and mattress before you buy.