Hip Hop Wooden Bed Frame Review
Are you in the mood for a cosy, wooden, laid-back bed frame to add to your bedroom? If you are – Hip Hop Wooden Bed Frame might just be the one for you. We'll say, we can't quite put a finger on what makes this bed frame hip hop, but hey, if that's what we have to call it – we will. It's 2022. That's how things work nowadays. All jokes aside, we noticed this bed frame a while ago, and we thought to ourselves – we have to test this one out! Well, here it is – Hip Hop wooden bed frame review!
Who is Hip Hop Wooden bed frame for?
Who is this bed frame for? Well, here's who:
Hip Hop Wooden bed frame is perfect for anyone who wants a cosy, wooden bed frame in their bedroom
It's a great option for people who want a laid-back vibe in their bedroom
This bed frame is perfect for anyone who wants a stylish and trendy bed frame
A lovely option for anyone looking for a guest bed or a bed for their kids.
Essentially, anyone with a knack for a solid wood bed frame can go out and get this one. You can put it in a kids' room or master bedroom because this one comes in Single, Small Double, Double, and King.
And, if you had to guess – the Double bed frame is the most popular one.
What do we use this product for?
Well, aside from the obvious answer of sleeping in, you could use this bed frame for a variety of different purposes. For example:
A guest bed
A bed for your kids
A stylish statement piece in your bedroom
We've noticed some folks saying things like "Oh, you can use this bed frame if your back hurts" or "You can use this one to get a good night's sleep", and while we can't say we don't entirely agree with those statements when it comes to this solid ash frame, we have to say one thing – you need a mattress.
Don't fall for false promises of blissful sleep if you don't have a quality mattress. Not even the most luxurious bed frame can make a bad mattress feel good, so keep that in mind.
Features you should know about Hip Hop Wooden bed frame
There's not a lot that separates wooden bed frames from one another, right? Wrong. There is so much that makes one bed frame stand out in the sea of other, similar ones. In this case, here's what you need to know and what separates Hip Hop wooden bed frame from the rest.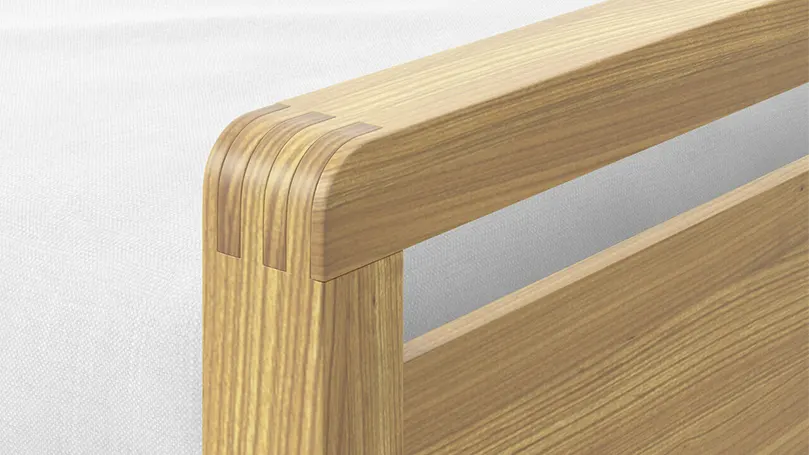 Hip Hop wooden bed frame is the epitome of Scandinavian design. How? Well, what makes this bed and Scandinavian design in furniture special is the focus on simplicity and functionality. This style began in the 1940s as a response to the ornate, over-the-top designs of the time. Furniture was often bulky and uncomfortable, so Scandinavian designers sought to create pieces that were both minimalist and stylish.
Today, Scandinavian design is still popular for its clean lines and simple aesthetic – as you can see from this piece. Many furniture companies have adopted this style in their products.
So, if you're looking for a sleek, functional piece of furniture, Hip Hop frame may be the right choice for you.
The sprung slatted base on the H-H feels rather premium, despite the frame's affordable price tag.
We never noticed any creaking or squeaking or other functional issues with the frame, but we did notice how cosy it was – especially with a medium-firm mattress.
These upper-facing arch sprung slats are designed to help the mattress contour to your body and provide support where you need it most. This results in a more comfortable sleep and can even help alleviate some back pain (with the right mattress!).
Thankfully, one thing we didn't notice with the bigger frames is "sliding down the middle". Due to each side having its own separate slats that arch toward the ceiling, it is not uncommon for sleepers to "slide" to the middle of the mattress during the night with these types of frames. Luckily, that wasn't the case here.
You might be wondering – "Why would I need a warranty for a bed frame?". Well, even the best products have their manufacturing flaws and a 5-year warranty gives you some peace of mind in case anything were to happen to your bed.
In this case, though, there weren't any manufacturing flaws with the bed. At least with the one we tested. This 5-year warranty is there as a declaration of quality.
If you have kids or pets that like to jump on the bed – you know that the manufacturer has got you covered with repairs or replacements during the first five years. Just, don't mention that anyone was jumping on the bed. That'll certainly void the warranty.
The frame is made of solid ash and ash veneer – two high-quality, durable materials. Ash is known for its strength and shock resistance, making it a great choice for bedroom furniture. It's also one of the most popular woods for regular furniture making, so you can be sure that it will last long.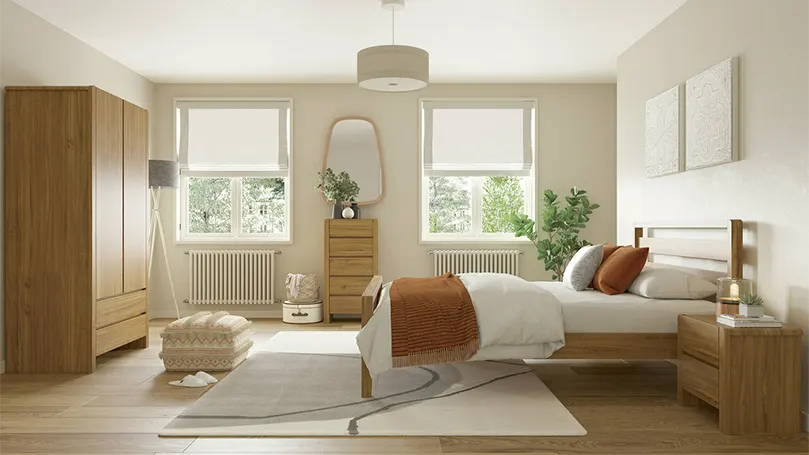 Ash veneer is a thin layer of real ash wood that is glued to another type of wood or mixed with one. This material is used for "finishing touches". This gives the furniture a more natural look and feel, while still being strong and durable. No complaints on this one, whatsoever. 
We love that Hip Hop frame is available in two colours – ash and white. This gives you the ability to choose a frame that best fits your bedroom's aesthetic.
If you're looking for a more natural look, the ash frame will be a great choice. If you want something that will stand out (or blend in) – go for the white frame.
We feel that the ash one looks nicer, but it really depends on your personal preference. And, if we're being completely honest, we've only tested the ash one so we can't really say how the white one looks.
Review of Hip Hop Wooden bed frame
Hip Hop Wooden Frame is a premium-quality, affordable bed frame that is available in two colours – ash and white. It is not uncommon for affordable beds to be good, but we are very inclined to say that this one might one of the best deals available out there.
Another thing we'd like to double down on is that this one's made of solid ash and ash veneer, which gives it a natural look and feel. The frame is also durable and strong, thanks to the use of quality hardwood, which is not something you come across very often in this price range.
Unfortunately (or fortunately) for parents, the wooden slats aren't made from natural ash, so you will have to stop your kids from jumping up and down on the bed because we did notice some customers complaining about the slats being a bit brittle. We didn't find any signs of weaknesses ourselves, but as we said earlier – manufacturing flaws aren't that uncommon, so check yours if you decide to get this bed.
From what we saw, slats seemed fine. They didn't creak or make any unpleasant sounds, and the bed held up fine. Extracurricular activities shouldn't be an issue in this one.
Thankfully, Hip Hop Wooden Frame comes with a 5-year warranty, which means that even if something does happen to your bed – you'll be able to get a replacement or a free repair. That's not a small feat, and we truly appreciate this one.
And, finally, the thing that most people are worried about – assembly. Well, you don't have anything to worry about. The frame is lightweight and easy to assemble, making it a great choice for anyone, no matter how much of a handyman they might be.
Wood: Ash
Base: Slatted
Upholstery: None
Colour: White, Ash
Size: Single, Small Double, Double, King
Headboard height: 100 cm
Assembly: Required
Trial and warranty: 5-year warranty.
What we like about Hip Hop Wooden bed frame
It's available in two colours – ash and white
You get a 5-year warranty for it 
Arguably the most affordable King size bed frame on the market
Available in Single so it's perfect for kids' and guest bedrooms.
What we didn't like about Hip Hop Wooden bed frame
Despite being easy to assemble – you still have to assemble it. That's a hassle.
There have been some negative reviews stating that the solid slats are a bit brittle.
We can't say we don't like this, per se, but this frame is too affordable to finance over a 12-month period. The only way you could finance this is if you buy a King-sized frame when it's not on discount.
What makes this product better than some other similar ones?
If you're tired of trying to figure out how to afford a new bed in this financial climate, you'll be pleased to know that the biggest strength of this bed frame is its affordability. It is one of the most affordable bed frames of this quality on the market, and it offers a great value for the price. An absolute deal of a lifetime if you will.
It is also available in two colours, which gives you some flexibility in terms of choosing a frame that best fits your bedroom's aesthetic, so we're just throwing it out there if that's something you pay special attention to.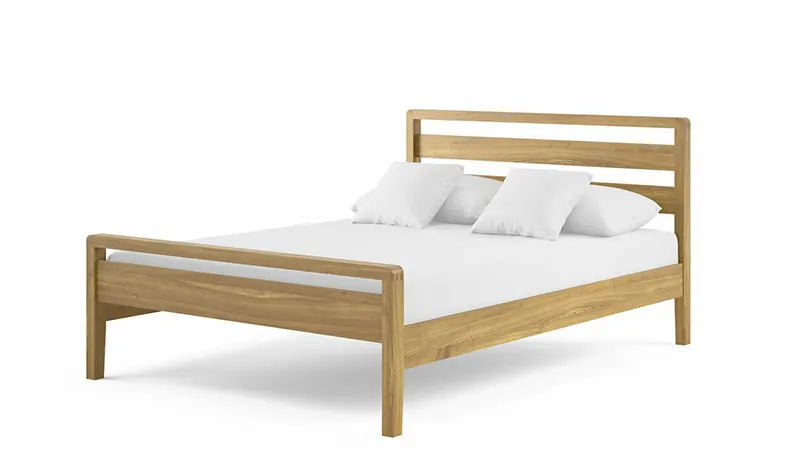 Additionally, the frame is very easy to assemble, making it a great choice for anyone, regardless of their handyman skills. We know it's a hassle, but most beds come disassembled, so we've come to appreciate easy assembly.
Finally, the frame comes with a 5-year warranty, which is a great perk – especially if you have kids.
How did we test the product?
We first inspected the packaging to make sure that there was no damage. Actually, that's not true. The first thing we did was order the product. Once the delivery team knocked on our door a few days later, then we inspected the packaging.
Once we confirmed that the packaging and frame were in good condition, we proceeded to assemble it. The first thing we did was made sure to test the reports of brittle slats by having our kids jump up and down on the bed (we're not recommending you do this at home). We didn't want to test the strength of the slats under our jumping bodies because they wouldn't have made it – no slats would.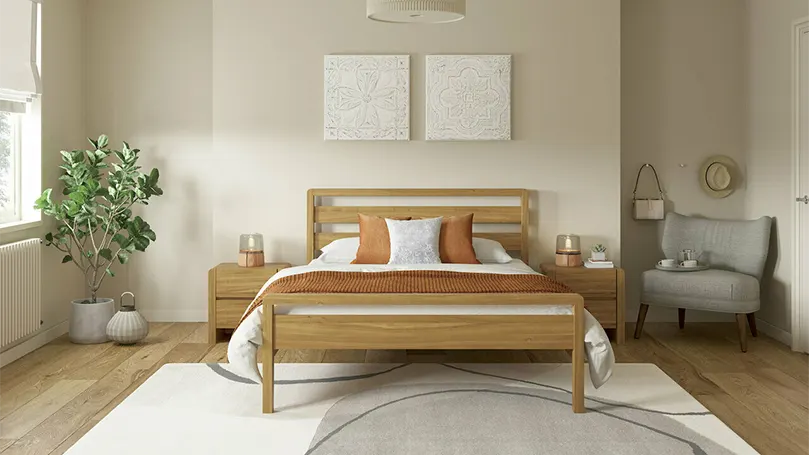 We also checked for any weak spots or manufacturing flaws. Thankfully, we didn't find any. Everything was neatly done. And, finally, we slept on the bed for a few nights to see if there were any comfort issues. As per usual, we've switched between a few different mattresses just to see how they'll behave, and we're pleased to say we haven't found anything out of the ordinary.
All in all, we were very pleased with the results of our testing and can confidently say that this is a solid bed frame – especially for the price.
FAQs about your Hip Hop Wooden bed frame
In the end, we didn't want to wrap things up without answering some potentially burning questions. All jokes aside, there were a few FAQs we thought needed answering, so here they are.
Is Hip Hop wooden bed frame good for modern bedrooms?
It depends on what you like, but we don't see why not. The frame's frame is pretty simple and contemporary; it will match with carpet and wooden floor equally; the white version will fit most wall colours, it'll work well with bedroom plants, so yeah - it'll be a good fit.
Can I assemble Hip Hop bed frame on my own?
Yes. You can probably benefit from a pair of helping hands, but even if you have to assemble it on your own - you'll be able to do it.
What is a good mattress for Hip Hop Wooden bed frame?
From what we were able to tell - any decent mattress will fit Hip Hop wooden bed frame just fine. Arched sprung slats offer a decent base for memory foam, hybrid, or pocket spring mattresses.