Cot and Cot Bed: What's the difference?
Choosing the baby furniture is a pretty exciting part of preparing for a new family member. It's hard to imagine an infant as a toddler, but when you're considering sleeping option for your offspring, a bit of forward planning won't hurt.
There are some specialized options for newborns, like cradle, crib, or even Moses basket. Even so, some parents prefer cot or cot bed right from the start. A lot of people mix cot and cot bed, but although they are pretty similar, there are some differences between those two. Here's how to know exactly what's what.
British discovered the object called cot in India. It's a light frame strung with tapes or rope. Later the term cot was used to indicate other types of bed, including the British usage as a crib.
Anyway, a cot is a child boxlike bed, usually with vertical bars. In USA, a cot is a portable bed which is used when a permanent bed couldn't. However, in United Kingdom, a cot is essentially a crib used for infants. It has a baby mattress and a single frame with vertical bars, so it could hold a standing child. A cot is usually used from the birth up until the child is two years old.
What are the similarities?
There are many similarities between the cot and cot bed. They are basically the same shape and design. Cots vary in size, though, but they are usually smaller and cheaper than cot beds, and they have fixed side railings. An advantage to choosing a cot rather than a cot bed, is that a shopper can select one to fit the available space in the room.
Some children are happy to stay in a cot for longer than the two years, which is recommended by many manufacturers. Other children move from a cot to full-size single bed with ease. Another thing to consider is whether or not the buyer is planning on having more children. That way, a cot is more cost efficient for more children to sleep in.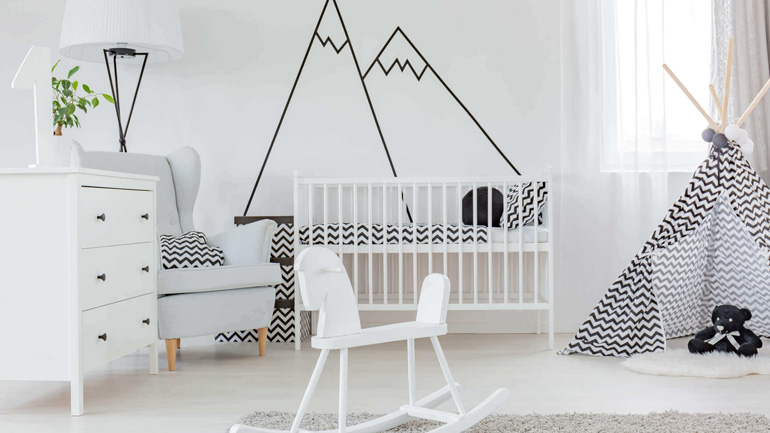 A cot bed is a variation of a cot, with some features that aren't present in cot. Those features are teething rail, casters, headboard and footboard and under-cot drawers. It could be used from birth until the age of 5, due to its transformation into a toddler bed by removing the bars.
There are also many types of cot beds. Except standard, there are drop sided cot beds, which have the rail on one side for the better access to the baby. You can remove the drop side and rail  to make a toddler bed. There are also sleigh cot beds which got their name due to similar shape to sleigh. They could be drop-side or fixed rail type and side rails are removed to turn it into the bed.
In difference from a cot, the cot bed has removable sides and an end panel. The purpose of the end panel is for use to convert it to a short, low bed for a toddler. A cot bed is larger than a cot, but smaller than a single bed. It requires a mattress and bedding designed specifically for it. Although a cot bed is slightly more expensive, the buyer gets twice the use out of it, so in a sense, it can also be more cost effective than a regular cot. A cot bed is also larger than a standard cot. If the buyer does not have enough space in the home for larger bedroom furniture, they may pick a cot.
Recommended reading: Best cot bed mattresses
| | | |
| --- | --- | --- |
| Type | Cots | Cot beds  |
| Longevity: | Up to 2 years (however, can be used for future siblings) | 5-8 years (depending on the child's growth speed) |
| Size: | Not adaptable | Big; can be turned into a small bed |
| Versatility | Not very versatile | Highly versatile |
| Access: | Easy to find | Hard to find |
Sizes
| | |
| --- | --- |
| Standard (American cot) | 69 x 130 cm (27,2 x 51,2 inches) |
| Boori Cot | 77 x 133 cm (30,3 x 52,4 inches) |
| Cot beds | 140×70 cm (55,1 x 27,5 inches) |
The choice between a cot or a cot bed depends on whether parents are looking for a long term solution for their child or just a crib-type bed gear. There are many variations of cots and cot beds, which provide options for buyers to choose what's the best for their children. The definite rule of thumb is: If you're planning on having more children in the future, a cot is the answer. However, if the answer is no, then a cot bed is the best long-term solution for your child's rest.