Best Mattress For Hip Pain UK: Guide To Comfortable Night's Sleep
Say goodbye once for all to the annoying hip pain with one of the best picks we prepared just for you!
Hip pain can be annoying and it can cause you to lose precious sleep, which is why we've decided to find the best mattress for hip pain UK mattress industry has to offer. But, as we soon realized, crowning just the one best mattress for hip pain UK wasn't good enough – so we found five of them.
Today, we're going to lead you through some of the best mattresses on the market, and tell you exactly why each and every one of them will make your hips feel as good as new. So, without further ado – let's take a look at our top 5 picks!
Add a header to begin generating the table of contents
5 Best mattresses for hip pain UK
Before you is the handpicked selection consisting of memory foam, hybrid, innerspring, and pocket sprung mattresses – all great at alleviating hip pain. What makes these better than the rest, well, let's find out!
IMAGE
PRODUCT
DETAILS

KEY FEATURES:

Type:

Memory Foam

Firmness:

6/10

Thickness:

25cm

Sizes:

UK Single, UK Small Double, UK Double, UK King, Super King

View Latest Price

KEY FEATURES:

Type:

Memory foam

Firmness:

6.5/10

Thickness:

25cm

Sizes:

Single, Small Double, Double, King, Super King.

View Latest Price

KEY FEATURES:

Type:

Hybrid

Firmness:

6/10

Thickness:

20cm

Sizes:

Single, Double, King, Super King

View Latest Price

KEY FEATURES:

Type:

Hybrid

Firmness:

6.5/10

Thickness:

30cm

Sizes:

Single, Small Double, Double

View Latest Price

KEY FEATURES:

Type:

Hybrid

Firmness:

6/10

Thickness:

22cm

Sizes:

Single, Double, King, Super King

View Latest Price
The best memory foam mattress for hip pain!
Emma Original is a multi-award winning memory foam mattress that is excellent at many things, one of which is alleviating all sorts of pain. Its three-layer design makes this one of the most comfortable memory foam mattresses on the market.
As we spoke in our review of this pillow, the HRX memory foam layer brings extra support, while the Visco-elastic and Airgocell foam top layer bring pressure relief, comfort, motion isolation, and quite a few other things.
Unlike other memory foam mattresses, Emma Original is quite supportive, which is one of the most important things when it comes to relieving hip pain. It's also hypoallergenic, and it comes with a removable cover.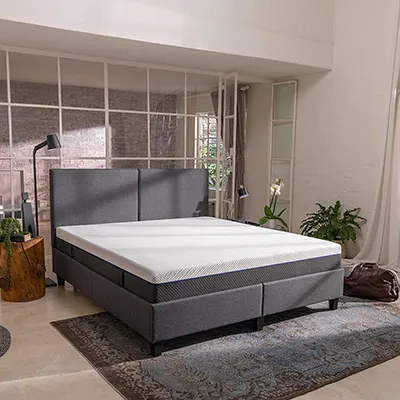 Nectar Memory Foam Mattress
Say goodbye to hip pain!
Nectar Memory Foam mattress is one of the best mattresses for hip pain thanks to its 5-layer construction. Starting with a 7-zone support base, allowing for tailored support for your whole body, this medium-firm, 25 cm deep, Nectar Sleep mattress allows you to sink into it where it matters the most while keeping the other parts of your body adequately supported regardless of your sleeping position.
This high quality pillow, which we reviewed earlier, contains 5 layers. On top of the 7-zone support base, we have three additional layers of open-cell and pressure-relieving, cooling memory foam, that conforms to your body shape relieving pressure from core areas like hips and shoulders.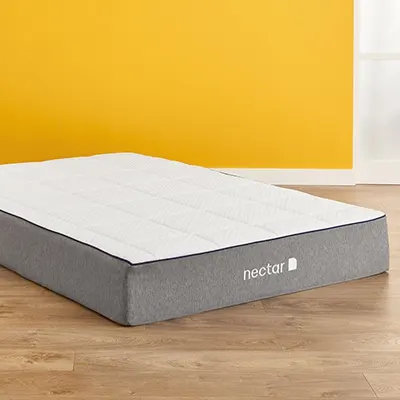 Linenspa Gel Infused Memory Foam Mattress
Innerspring base and a memory foam combo!
This 20 cm deep, affordable, innerspring and memory foam hybrid is excellent for lightweight sleepers struggling with hip pain. It's pretty good for all sleeping positions, as is often the case for an open coil spring mattress.
Another strong point of this one is breathability. Thanks to the open coils and the gel-infused foam layer, this one is almost guaranteed not to retain any excess body heat, so you won't have to worry about overheating and sweating during the night.
To top things off, this one also comes with a 10-year limited warranty, which is pretty much unprecedented for a mattress this affordable.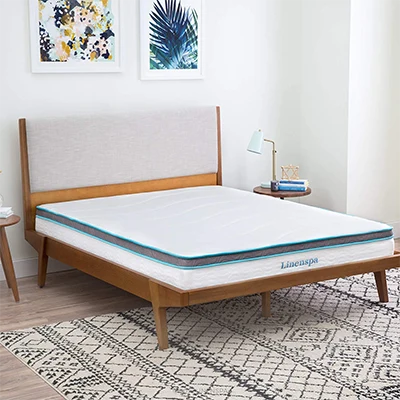 Inofia Mattress Handcrafted 12 Inch
Pocket sprung and memory foam hybrid mattress for hip pain!
This 30 cm tall, medium-firm hybrid mattress might be too thick for a mattress topper, but it will do just fine in alleviating persistent hip pain. 
The base of this one is a pocket sprung layer, followed by the additional four layers of comfortable, pressure-reliving memory foam. 
In addition to that, this one also sports a high-quality soft cover with air mesh on the sides for improved air circulation, ensuring that you don't sweat or overheat during the night.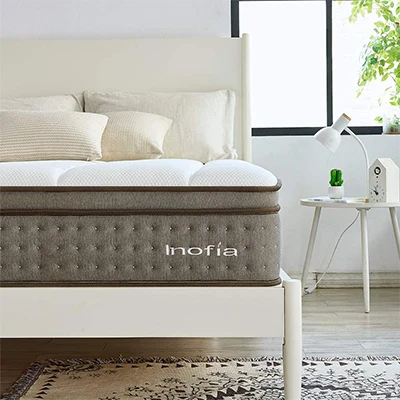 Dormeo Octasmart Hybrid Mattress
One of the best hybrid mattresses for hip pain!
Dormeo Octasmart offers zoned support for all sleeping positions, and as such, it also offers excellent pressure and pain relief – especially around the hips and the lower back.
 Made from Dormeo's patented Octasprings, this one will most definitely relieve pressure off of core areas, allowing you to get a blissful night of restful sleep.
Also, when it comes to comfort and support – this mattress just does it better than the others. A true, premium quality product, you will most certainly not regret buying, whether you suffer from hip aches or not.
Here is our full review of Dormeo Octasmart Hybrid mattress.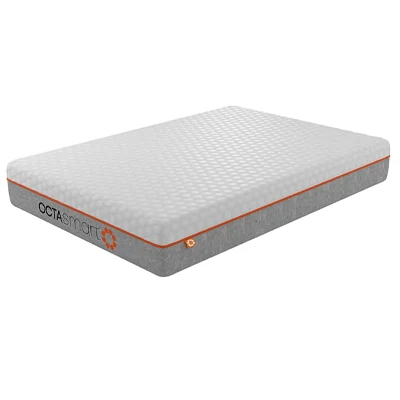 The main causes of hip pain
There are two main causes, apart from a faulty mattress, that cause people to lose sleep over the pain in their hips – health and injuries.
Why is this important? Well, depending on the cause of your pain, a mattress will be more or less efficient in helping you cope with it. So, let's learn more about it.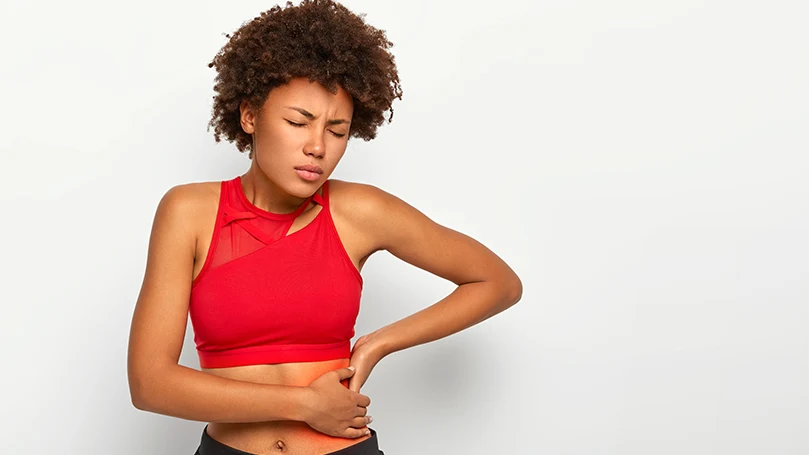 On the health side of things, the most common cause for hip pain is definitely Osteoarthritis, a condition developing due to old age and wearing down of the cartilage that surrounds the joints. Infections and rheumatoid arthritis are also a thing.
In addition to various types of arthritis, inflamed tendons and trochanteric bursitis can also cause your hips to ache.
Hip injuries are common causes of hip pain, and some of the more severe injuries, like fractures, are almost always caused by some of the conditions we've mentioned above.
Most of the time, fractures and other severe injuries require surgery to be corrected, in which case, a good mattress might help during the recovery period.
What is the best sleep position for people who suffer from hip pain?
While there is no perfect sleeping position for dealing with hip pain, it is quite obvious that if you're struggling with it, you should probably avoid sleeping on your side.
It doesn't matter if you have a memory foam mattress or a pocket sprung mattress, sleeping on your side will put extra pressure on your hips, potentially aggravating the injury and causing more pain even if you sleep on a softer mattress.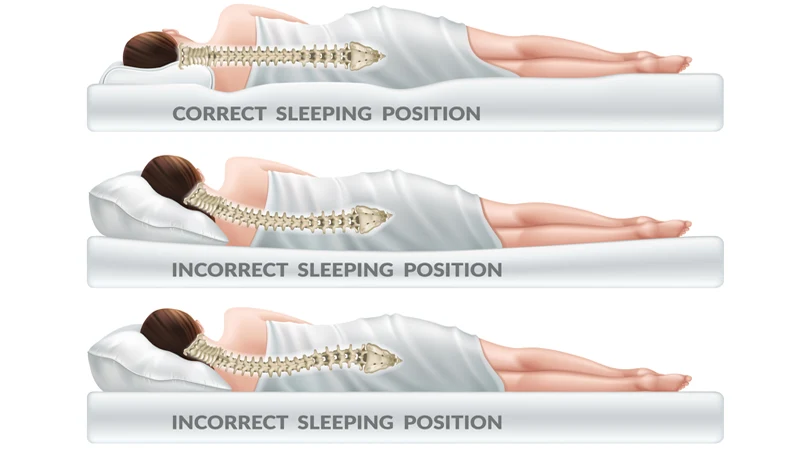 Then again, sleeping on your stomach might cause you to sleep in an inadequate position if you're not sleeping on the firmer mattress, which could also lead to some pain.
With all that in mind, we guess you could say that sleeping on your back will be most beneficial to hip pain sufferers because it will alleviate the pressure points and keep the spine properly aligned, but then again, it is not a guarantee.
Should I use orthopaedic mattresses for treating my hip pain?
An orthopaedic mattress is a firmer mattress, and it isn't generally considered to be a good fit for hip pain sufferers. However, that is not necessarily true.
You have to take a few things into account. Let's take a firm, orthopaedic innerspring mattress for an example. Just because you sleep on a firm, the orthopaedic mattress does not mean you will experience joint or hip pain.
Some people suffer from hip pain because they sleep on their stomachs so their pelvis and hips sink too far into the standard medium-firm mattress, causing them pain and discomfort. In those cases, orthopaedic mattresses are excellent for treating hip pain.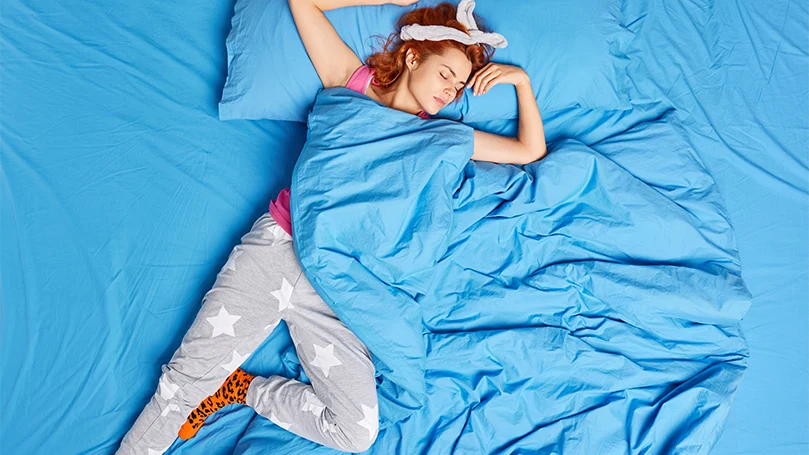 Furthermore, a sleeper could also benefit from a firm mattress and a memory foam mattress topper. This way, you would get all the necessary support for perfect spinal alignment, alongside contouring and pressure relief from memory foam.
Finally, you have to factor in the body weight, bed base, bed frame, and the reason behind the pain. Once you put all of those together, you might just come to a conclusion that an orthopaedic mattress is good for the pain.
Are memory foam mattresses good for hip pain treatment?
Generally speaking, memory foam mattresses are considered to be good for hip pain, mostly because they offer pressure relief. Hips are the biggest pressure points for side sleepers, and unless your mattress allows you to properly sink into it, pain and aches are almost inevitable.
With that being said, you can't just call a memory foam mattress a perfect mattress for hip or joint pain. Sure, memory foam is good for pain relief, but as we have learned moments ago – there are a few things to consider here like sleeping position, weight, cause of pain, and more
Buying a new mattress might not be enough to get rid of your hip pain. So, here are some additional things you could try to help ease your pain and suffering.
Lose extra weight (if you have some)
Don't put too much load on your hips
Have a light workout at least four times a week
Walk and/or swim
Stretch
Try hot and cold therapy
Reduce sitting and lying down
Use pain medication.
Will a mattress topper help with hip pain?
A topper will most definitely help you ease the pain, especially if the cause for your pain was an old, dingy mattress.
Generally speaking, mattress toppers come in handy when you have firm mattresses that offer enough support and spinal alignment, but lack contouring, comfort and pressure relief.
Arguably the most ideal mattress topper for hip pain would be a memory foam topper. As we know,  memory foam will offer some gentle pressure relief and it will follow your body's curves, allowing you to lie down in perfect alignment while being gently cradled around the core areas like hips.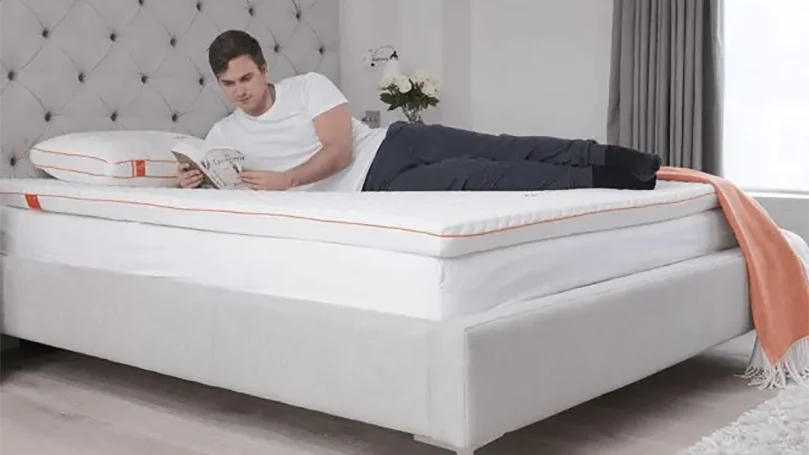 FAQs about your mattress for hip pain
To wrap this guide to alleviating hip pain up, we've decided to answer some FAQs.
What kind of mattress is good for hip pain?
As long as you choose the mattress that's good for you and your sleeping preference, it doesn't matter whether you're sleeping on pocket springs or memory foam.
Is a soft or firm mattress better for hip pain?
It depends. For side sleepers, a soft mattress will be a better choice. On the other hand, the front sleeper will need something firmer.
Can a firm mattress cause hip pain?
Absolutely. So can a soft one. It all depends on choosing the right mattress based on your body weight, sleeping preferences, and so on.
Is memory foam good for hip pain?
Generally speaking - yes. Memory foam is quite good for hip pain because it offers pressure and pain relief.
What is the best way to sleep if I suffer from hip pain?
If possible, we would suggest sleeping on your back, with a small, thin pillow under your knees.
Will a mattress topper help me with my hip pain?
It could. If you need to make your mattress softer or firmer in order to lose pain - a topper could help.
What is the ideal firmness of a mattress for hip pain?
Once again, it all depends on your body weight and sleeping position. On average, a medium-firm mattress will probably be the best for alleviating hip pain, but you should always choose based on your preferences.