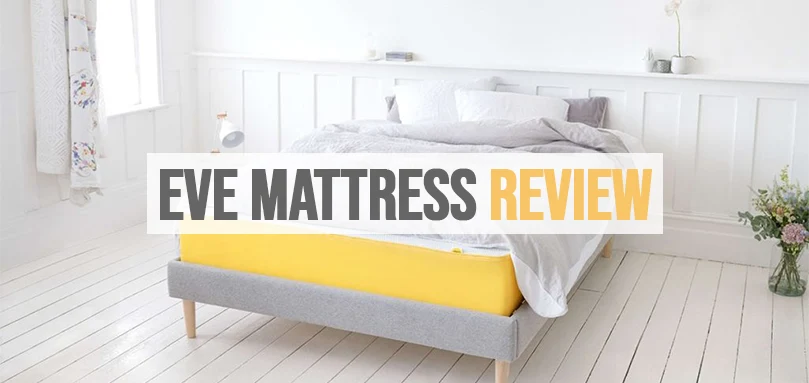 The blend of state of the art technology and attractive design is what makes the search for the perfect mattress interesting. Eve, the producer of The Eve Mattress did exactly this. It is a beautifully crafted hybrid-foam mattress – presented as the flagship product of the said company. The expectations have been elevated, but did the product rise to the challenge?
Eve is a UK based company that has worked on developing mattresses for 12 years. Eve is proudly presented as the child of that development period. They also want to change the producer to customer pipeline in the current market. By offering specific benefits (detailed below) for exclusive online purchases, the middleman is essentially redundant. A nifty way to save money for both parties, but what if you still want to try it out? I've got you covered below.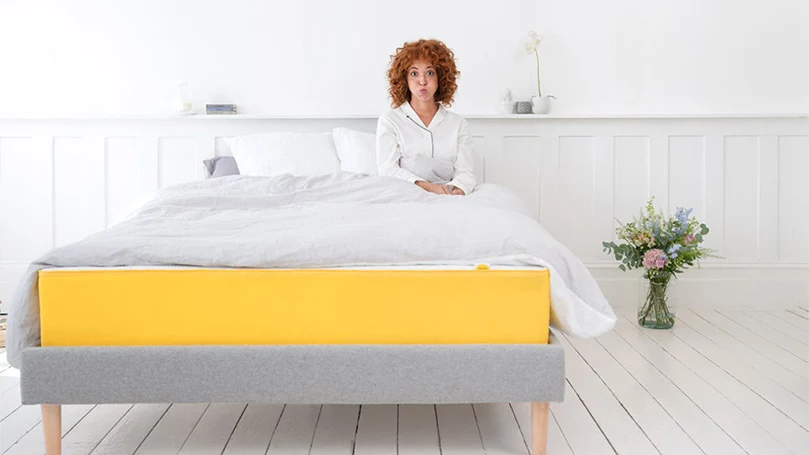 What makes the Eve Mattress interesting is the amount of complexity within its practically crafted cover. A 3-layer foam structure (Memory Foam, Polyurethane Foam, and Base Foam) is giving the mattress a depth of about 24cm. This is true for all sizes of the Eve Mattress.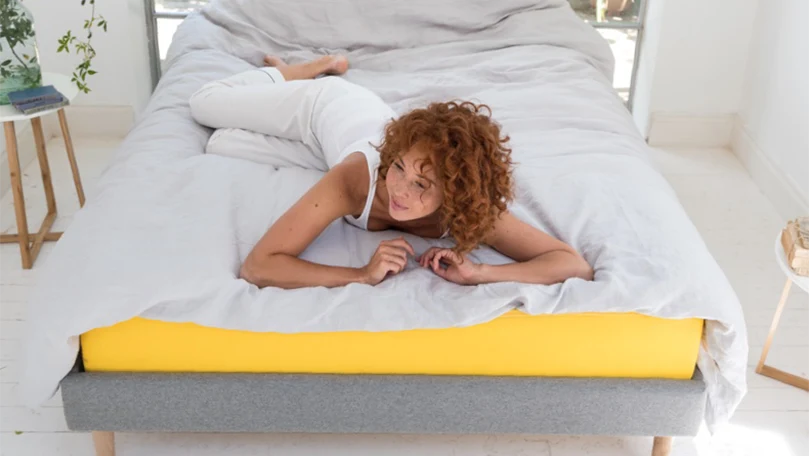 When I took a good look at Eve Mattress once it got fully unpacked, I was genuinely impressed with the design. I'm not someone who puts a lot of stock in such things when mattresses are concerned, but credit where it's due. It is a thing of beauty that can easily fit most interior décors. However, what's inside is what makes it work: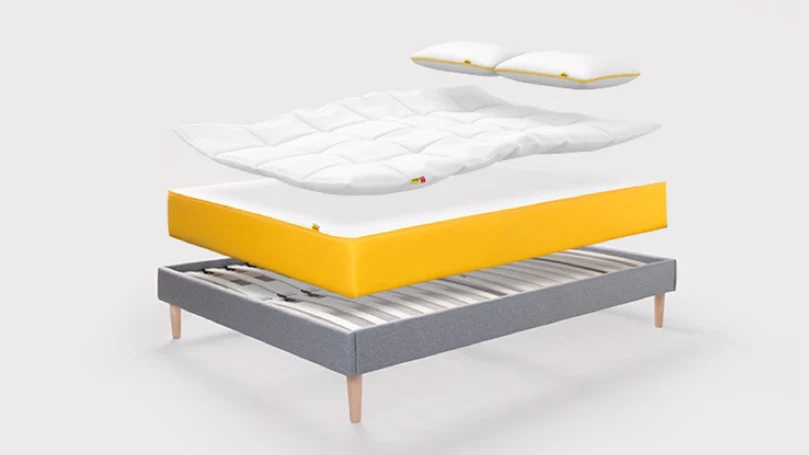 We'll start from the top. The cover feels refined and gentle. Made out of polyester, it is feels very soft to the touch. The white cover is well designed for repetitive use. It is connected to the yellow side-covers with only one zip. At 40 degrees, the white cover is washable while the yellow side-covers aren't. In any case, I found the washable cover a very interesting feature – especially if you are a bit germ freaky.
Memory foam layer (3cm depth, top layer)
Easily the most important part of the mattress, at least in my opinion. This layer has an open-cell structure which allows air and other gasses to flow faster through the mattress – effectively cooling you down. This foam gives the Eve Mattress it's contouring and molding power.
Polyurethane foam layer (3cm depth, middle layer)
The support layer. This part combats the sinking feeling created by the memory foam. Modern solutions for support foam have been made to increase the cooling effect further.
Base foam layer (18cm depth, bottom layer)
Extremely durable for long-term use. This layer is a fire retardant and very sturdy. It has been tested for strength and stability so it can support any body type, and I do believe them (explained in support).
The bottom cover. Very durable, made out of a polyester fabric coated to have anti-slip properties. An amazing fire retardant.
Support (both middle and edge)
Easily the best quality of the mattress. I'm still appreciating comfort over support as a sleeper, so when it comes from me – it is quality. Any position is possible for sleeping. On my back, stomach or sides, it doesn't matter. The mattress can handle it all and safely tuck you into position. The lack of springs makes the bed distribute pressure evenly across the mattress.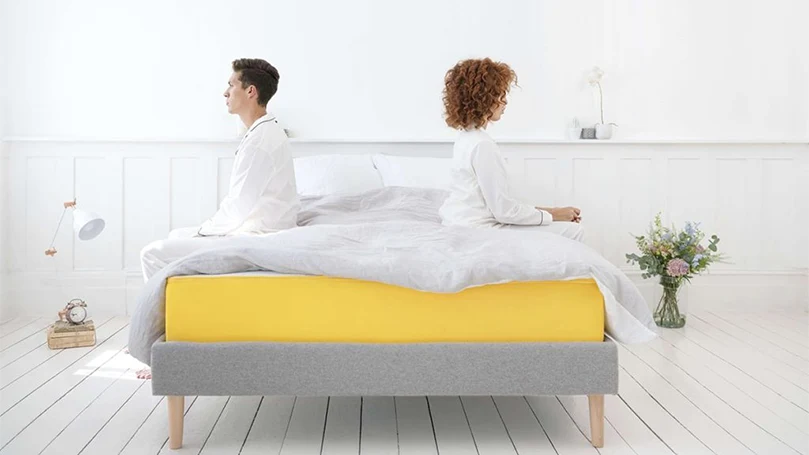 This is where I have to try and be objective. I'm of average weight at best, and I do like a sinking bed. Even though the Eve Mattress comes with a great comfort layer, it feels underwhelming and countered by the layers below. This leaves me with a somewhat rigid feeling – which is something I try to avoid. With that said, if you are looking for a firm this is as green of a light as it gets.
The Eve Mattress feels bouncy enough, not as much as a coil-based mattress, expected for the material. I've read upon consumers claiming some previous versions lacked bounce, but this has probably changed through iterations. If you want to bounce and need a where, this mattress can take it.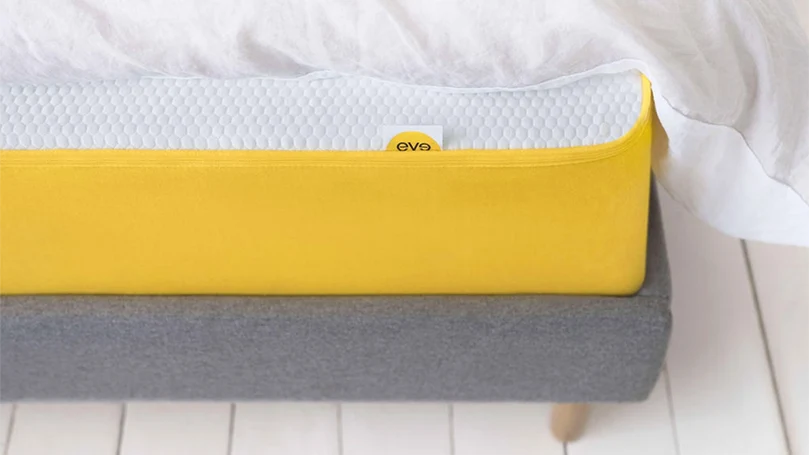 All materials aside from the base foam are made specifically to allow cooling to happen. While also having such cooling properties, the top cover has moisture-wicking properties. Keeping your dry and cool during the night. Great for all seasons – keeps me warm on cold Winter nights and cool during Summer.
Yes, it does smell initially. It is a foam mattress so it comes with the package. The Eve mattress is delivered by a one-man delivery (2 if biggest is ordered). It takes about a day for it to decompress and around a couple of days to a week for the smell to completely dissipate. Eve mattress' smell isn't harmless in any way, but you can leave it to air simply for your own comfort.
It comes with a 10 year warranty so even if the sturdy design fails, such defects will be covered by the warranty. I say without a doubt that this is a long-term investment. You're safe for at least 10 years, but I bet it can last up to 13-15 without losing its best properties.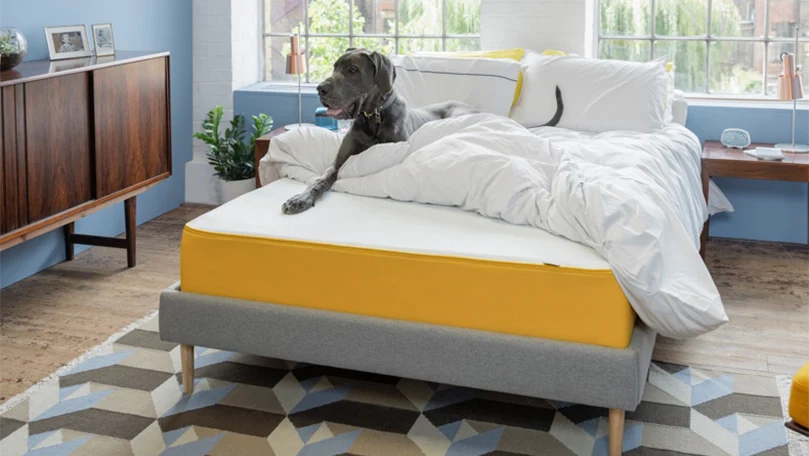 Amazing price – quality ratio. That is the point of this deal – by cutting the middleman you can purchase a top-tier quality mattress for mid-tier money. The only downside is you can't test it out.
| | |
| --- | --- |
| MATERIALS | Hybrid-foam mattress with polyester cover. |
| SMELL | Yes, has to be managed through airing. |
| PRICE – QUALITY RATIO | Great! |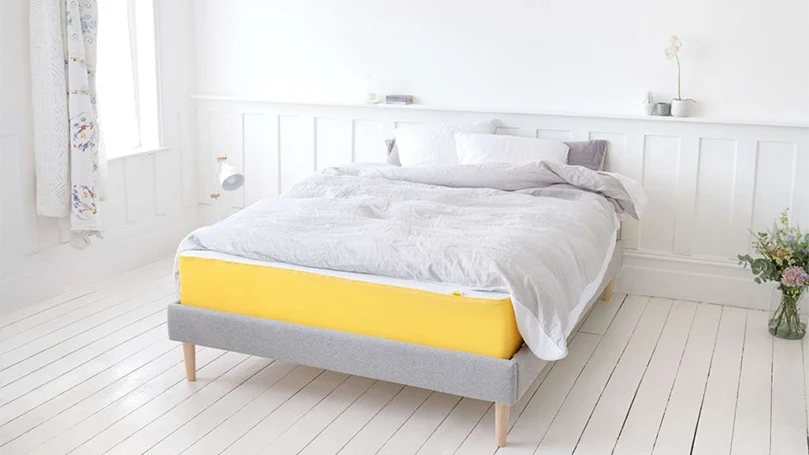 Trial period, warranty, shipping and refunds
If you opt to buy the Eve Mattress, try to do it from them directly. While it is great to directly support a producer, it is also the only way to get the 100-day trial after which you can refund the mattress, no questions asked. If you go through Amazon for example, this period lasts only 30 days. The mattress is vacuum-packed and delivered with standard delivery or Express Delivery (UK only).
They have multiple sizes available
| | |
| --- | --- |
| Size | Dimensions |
| UK Single | 90cm x 190cm x 24cm |
| Small Double | 120cm x 190cm x 24cm |
| UK Double | 135cm x 190cm x 24cm |
| UK King | 150cm x 200cm x 24cm |
| Super King | 180cm x 200cm x 24cm |
Amazing support for anyone of any age. If you cannot find the correct position this is the buy for you. Also if you have extra weight, the Eve Mattress can easily compensate and give you a dreamy state of mind before going to bed. It wasn't the right fit for me personally, but is a great mattress and definitely worth a shot. If your bed is too soft for your liking, this could be the solution.