Eve Original Mattress Review - A Firm & Supportive Mattress
Eve is a famous UK sleep company, which especially came under the spotlight in 2015 when Eve was one of the first companies selling mattresses online with a 1 year risk free trial. Since then, their mattresses have been very popular. But there is no one-size-fits-all mattress, so we have tested one of the most popular mattresses for you – Eve Original mattress. Here is your Eve mattress review by The Sleep Advisors.
Who is Eve Original mattress for?
Although we said there is no one-size-fits-all mattress, the Eve Original mattress can be suitable for all three sleeping positions. Like 99% of all-foam mattresses, this mattress is better for side and back sleepers than for stomach sleepers. But unlike other memory foam mattresses, this model will be supportive enough for most stomach sleepers of average BMI. Also, Eve Original mattress is one of the best for combination sleepers. So, the mattress is a great pick for:
Allergy sufferers
Combination sleepers
Back & side sleepers
Sleepers with an average BMI
Sleepers who need a firmness
Sleepers who want a higher level of support.
Add a header to begin generating the table of contents
What do we use this product for?
We use Eve Original memory foam mattress for support, pressure relief and motion insulation. Also, we use it to sleep in a hypoallergenic environment and on a clean sleep surface, thanks to the washable cover.
We use it for support.
We use it for pressure relief.
We use it for anti allergy properties.
We use it for motion isolation.
We use it for stability.
Features you should know about the Eve Original mattress
It is certainly most important to know the general characteristics of Eve memory foam mattress and that is why we will start this part of our review with thickness and number of layers. Then we will focus on the foam layers that are most important for the performance of this mattress, and then we will talk about the firmness level, cover and trial period, as well as about delivery.
5 layers in total & 24cm of thickness
You may be confused by the fact that on the Eve website you will find opposed information about thickness, but we measured the mattress and it is definitely 24 cm thick and not 25 cm. This is the average thickness of the mattress in general, and more than enough for an all-foam mattress, because such mattresses can have good performance even if they are thinner compared to hybrid, for example.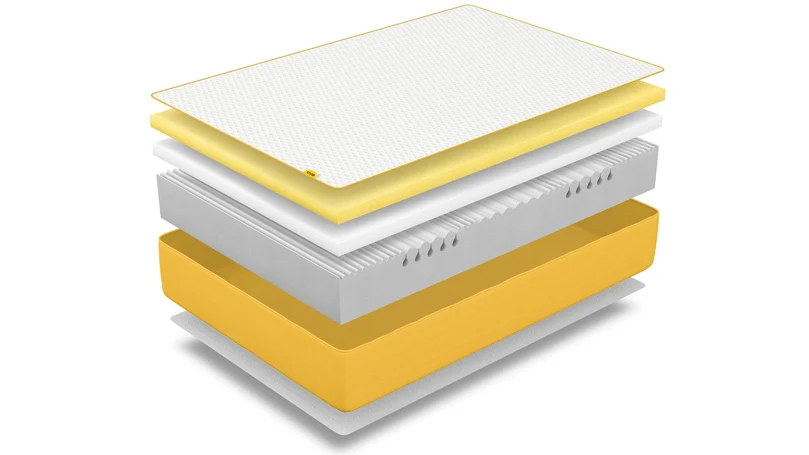 There are a total of 5 layers, of which three are three foam layers which we will talk about in the next paragraph. The other two layers are at the bottom and top. The closest to you is the cover, to which we will also dedicate separate paragraph, and at the bottom is the anti-slip base, a special layer implemented to make sure your mattress is always perfectly stable and does not move during the night.
Below the cover you will find the Evecomfort foam layer, in the middle is the memory layer and at the bottom the base layer, which is the thickest of all three layers. Next to the Evecomfort layer you will see the registered trademark symbol, so that layer is the heart and soul of this mattress. This layer is so supportive, but also breathability is significantly improved compared to traditional memory foam.
The middle memory foam layer is there for the pressure relief, which will make side sleepers especially happy, and also affects motion isolation. The base layer, sometimes called springy foam, is even more important for motion isolation, but also for the firmness of this mattress. The base layer has seven unique contour zones, to be adapted to different parts of the body. Base layer is the densest, due to durability.
The firmness and support of this mattress are very cleverly designed. Layers are of different firmness and then together they give a medium firm feel and supportive mattress that is good for different sleep positions.
 It is very comfortable for back sleepers, as well as for side sleepers because it allows them to sink enough to achieve a neutral spinal position and avoid pain in the shoulder and hip at the same time. Also, it is supportive and firm enough for all stomach sleepers of average body weight, so you won't put too much pressure on your back.
98% polyester & 2% of elastane in top cover
We really liked the cover for many reasons. First, the cover is very comfortable and pleasant to the skin. It is made of a combination of polyester and elastane, where polyester is 98% and elastane 2%. The combination of these materials gives you moisture-wicking and highly breathable top cover on which it is comfortable to sleep even without bedding.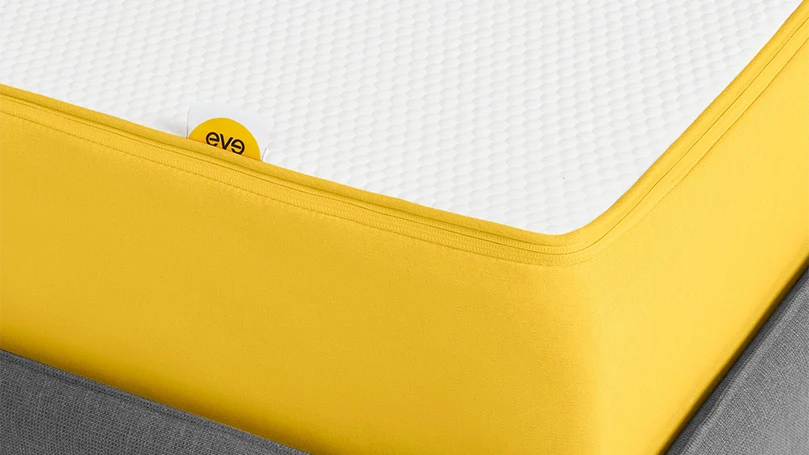 Also, the cover is removable and machine washable, so if you want to use it without bedding, you can do it, because you will wash it easily and simply, so that you always have a perfectly clean sleep surface. After you unzip it, wash it at 40 degrees C and then hand dry it, because it is not suitable for tumble dry.
1 year trial & free delivery
Eve is the first UK sleep company which introduced 1-year trial, risk-free, and after one year, you can return it if it doesn't suit you. Of course, this is more than enough time and after a month or two you will know whether it is the right mattress for you or not. It takes the body on average 3 to 4 weeks to adapt to a new mattress.
Eve is also proud of its delivery service, as they deliver the mattress to you completely free and in a jiffy.
Review of Eve Original mattress
Eve Original mattress is 24 cm thick, all-foam mattress. It is a medium firm and very supportive, which in general makes it comfortable for all three sleep positions – side, back and front. However, it is a bit better for side and back sleepers than for front sleepers, which is the case with most all-foam mattresses. Unlike many other all-foam mattresses that are way too soft for front sleepers, this one is not too soft and it is supportive enough even for that sleeping position. Since it has such characteristics, we really recommend it to combination sleepers. It consists of a total of 5 layers, of which three are foam layers plus cover and anti-slip base.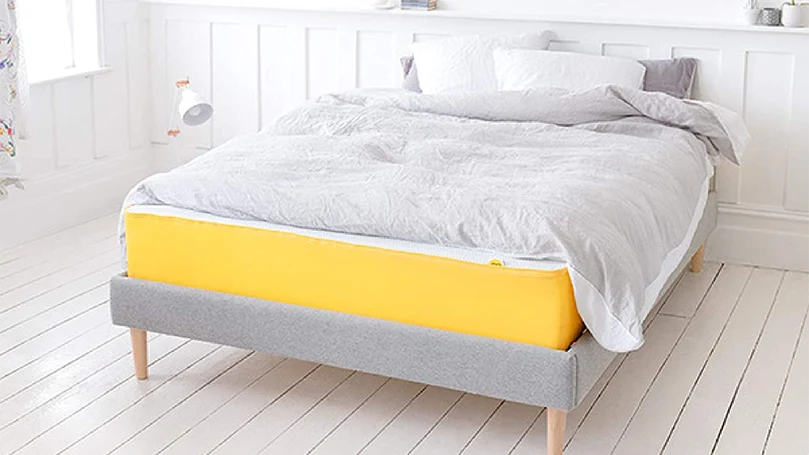 The cover is removable and machine washable, and since the mattress is overall hypoallergenic, this is a great choice for allergy sufferers. You have the whole year at your disposal to make sure of the comfort and quality of this mattress, which makes buying it completely risk-free. It comes with a 10-year warranty.
Type: Foam mattress
Cover: 98% polyester and 2% of elastane
Sizes: UK Single, Small Double, UK Double, UK King, Super King
Warranty: 10-year.
10-year warranty
Washable cover
Finance options.
Off-gassing
A bit more expensive
Potentially too hot for hot sleepers.
What we like about Eve Original mattress
Great balance between support, firmness, pressure relief and comfort
It is a great choice for couples as it completely neutralizes tossing and turning of other person in bed
10-year warranty and 1-year trial are not roads in the sleep industry so kudos to Eve for that.
What we didn't like about Eve Original mattress
Off-gassing is present for the first few days, which is totally expected for an all-foam mattress, but you don't have to worry because it is CertiPUR and Oekotex certified
Heavier stomach sleepers may want to buy another mattress
Although Evecomfort foam layer is highly breathable as well as cover, hot sleepers may still find it too hot, especially for summer months.
What makes this product better than some other similar ones?
Eve Original mattress has numerous features that make it better than some other similar ones. We would definitely single out the support which is great and also very adaptable, and that is reflected in the fact that the manufacturer recommends it to everyone, no matter  what is your preferred sleep position.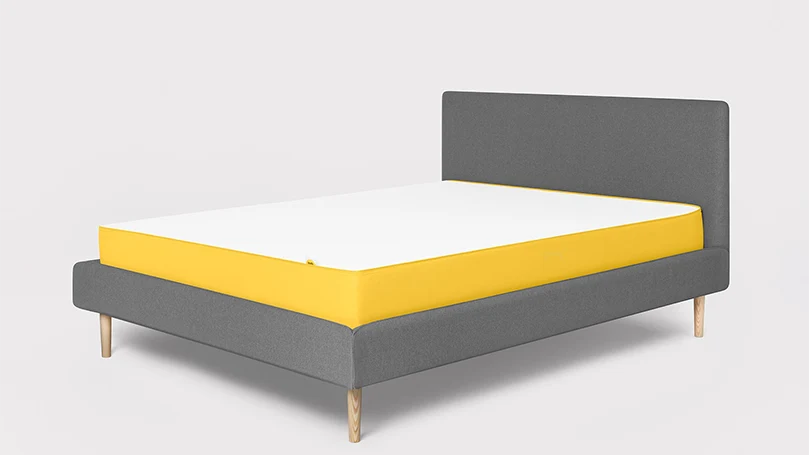 Side sleepers will feel pressure relief, while partners will not wake each other while moving in bed thanks to great motion isolation. Removable cover is breathable and machine washable, which is one more great advantage of this product. We have to once again mention the 10-year warranty and 1-year risk-free trial, as both are much better than the industry average.
How did we test the product?
Deliver, Remove & Recycle service is very useful, so if you have an old mattress, we recommend that you choose this service at checkout. Two sizes and two color combinations are available, so you should choose that when ordering.
The mattress was delivered to us very quickly and free of charge, and we immediately unpacked it carefully and left it for 2 days to completely regain its full size which you should do with every bed in a box. And we let the characteristic chemical odour disappear, that present in all memory foam products.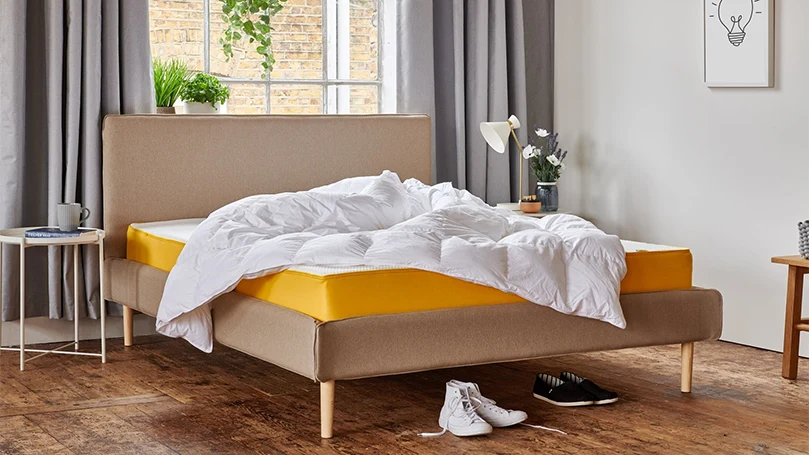 box. And we let the characteristic chemical odour disappear, that present in all memory foam products.
We used that time to check the craftsmanship and to conduct two tests – durability test and maintenance test. The durability test is actually a series of tests that includes a roller test, and during the maintenance test we removed the cover and washed it to make sure it won't shrink.
After all that, we started a multi-week testing, where our team tested it in detail and checked all the characteristics. Numerous overnight tests included checking support in different sleep positions, breathability, motion isolation and everything else we conveyed to you in this review.
FAQs about your Eve Original mattress
Find out the answers to some of the frequently asked questions about your new Eve Original mattress.
Which is firmer: Eve or Emma mattress?
Both Eve and Emma have a large number of different mattress models in their offer, so we are sure you will find the firmness level you are looking for.
Is Eve Original mattress good for orthopaedic use?
Orhopaedic mattresses are usually firmer than Eve Original mattress, but it provides great support, so you can try it for that purpose.
Should sleepers with back pain use Eve Original mattress?
Eve Original mattress should contribute to better night's sleep and thus will help with back pain too.
How do I wash my Eve Original mattress?
Cover is removable and machine washable at 40 degrees C.
Does Eve Sleep take old mattresses?
Yes, you can choose that option under named day delivery at checkout if you want Eve to collect your old mattress and recycle it, but be aware availability of this service might vary per area.
Will Eve Original mattress become softer over the time?
It is very durable and thanks to high density foam base it won't become softer over the time.