Best Mattress for Back Pain: 7 Efficient Options to Consider
Waking up fresh and rested, without any back pain, should be the way you always wake up. If you can't seem to do that, don't worry – we're here to help!
Most of us lead a busy, fast-paced lifestyle and sleep is the only rest we get. With that in mind, it's easy to understand how unfortunate it is that some of us wake up even more tired and in more pain than they were in the night before. Some people find it very hard to get a good night's rest. Their sleeping position is off, the body is not supported or aligned when they lie down and all of that results in an aching back from the moment they open their eyes in the morning.
What if we were to tell you that you alleviate those pains simply by sleeping on the right mattress? A quality mattress can offer you more than you can possibly imagine. Not only can it relieve you of pain, but it can also improve the quality of your life by significantly improving the quality of your sleep. On that note, we've decided to provide you with a list of top-tier, quality mattresses that will help you get rid of the annoying back pains, find the best mattress for back pain and have you feel good again.
Add a header to begin generating the table of contents
Now that we've covered pretty much all you need to know before you go out looking for the best pain alleviating mattress, let us give you our picks for some of the best ones you can find on the UK market. We've done our research and all of the products we're about to list are great in their own way, so if you wish to narrow down your search, you can start with our picks and work your way from there.
IMAGE
PRODUCT
DETAILS

KEY FEATURES:

Material:

Memory foam

Size:

Single, EU Single, Small Double, Double, EU Double, Queen, King, Super King

Removable cover:

Yes

Warranty:

10 years

Trial:

200 nights

View Latest Price

KEY FEATURES:

Material:

Hybrid

Size:

Single, Small Single, Double, Small Double, UK King, Super King

Removable cover:

No

Warranty:

10 years

Trial:

100 days

View Latest Price

KEY FEATURES:

Material:

Hybrid

Size:

Single, Double, Small Double,King, Super King, EU Single, EU Double, EU Queen, Kids

Removable cover:

No

Warranty:

10 years

Trial:

1 year

View Latest Price

KEY FEATURES:

Material:

Memory foam

Size:

UK Double, UK King, Super King

Removable cover:

Yes

Warranty:

10 years

Trial:

1 year

View Latest Price

KEY FEATURES:

Material:

Hybrid

Size:

Single, Double

Removable cover:

No

Warranty:

5 years

Trial:

60 days

View Latest Price

KEY FEATURES:

Material:

Latex

Size:

Single, Small Double, Double, King, Super King, EU Small Single, EU Single

Removable cover:

No

Warranty:

8 years

Trial:

N/A

View Latest Price

KEY FEATURES:

Material:

Memory foam

Size:

Single, Double, King, Super King

Removable cover:

No

Warranty:

15 years

Trial:

60 days

View Latest Price
BEST OVERALL: Emma Original Mattress
Emma Original is widely considered to be one of the greatest mattresses in the world.
Emma Original has been the synonym for comfort for quite some time now. This mattress is composed of three individual layers of foam – 'Airgocell' foam, memory foam and firm, foam foundation. These layers allow Emma to be both excellent in terms of support and pain relief, which makes it ideal for someone struggling with back pain.
We'd give it 6.5/10 in terms of firmness, which is just the 'sweet spot' for every sleeping position. Also, you get a 200-night money-back guarantee as well as a 10-year warranty when you purchase this one.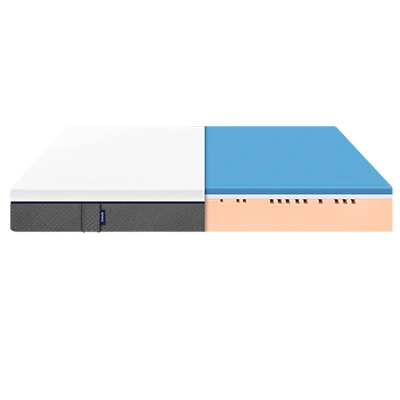 BEST BUDGET: Vesgantti Pro Hybrid Mattress
Vesgantti Pro Hybrid is a 'cheap' mattress that feels premium!
Vesgantii Pro Hybrid offers full-body support and unparalleled comfort in its price range. As you can tell by the name, we have a hybrid mattress on our hands, which means you can expect solid support from the coils, as well as a comfortable feel from the outer layer of memory foam.
Regardless of the price, you can expect this one to last a long time, since Vesgantii prides itself on using quality materials while selling its products at entry-level prices. On the firmness scale, this one sits at around 5.5/10, which is not quite ideal for everyone, but is still quite good.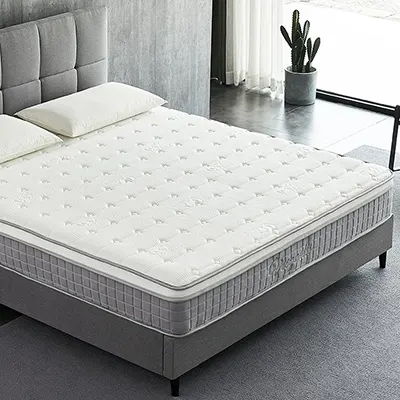 BEST HYBRID: Simba Hybrid
One of the finest products to come out of the award-winning company.
Simba Hybrid could just be the best hybrid mattress on the market. It should not come as a surprise this one is one of the best-selling mattresses in the UK. It's remarkably comfortable, offers great support and what's even more important – keeps the pain away. The outer foam layer is gentle on your body, while the cone-shaped springs offer much-needed stability and firmness. As far as firmness goes, we'd give it a 5.5.
You can read our review of Simba Hybrid mattress to learn more about this product.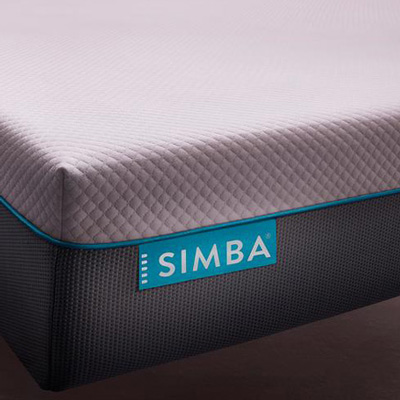 BEST MEMORY FOAM: Eve Premium Mattress
Memory foam mattress at its finest.
Eve Premium is a memory foam mattress that everyone can enjoy. It's even more comfortable compared to the regular model. It has multiple layers of foam that provide not only great pressure relief, but also substantial support for a memory foam mattress. We'd give it a 6.5 on the firmness scale, which is great for memory foam and especially great for alleviating backaches.
Do check our Eve Premium mattress review if you are interested in this product.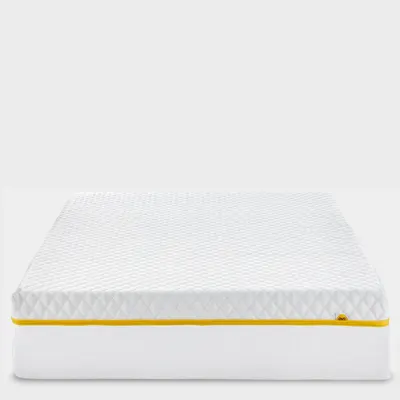 BEST INNERSPRING: Silentnight 2000
If you're in the market for an innerspring mattress – this is the one to choose.
Silentnight is one of the UK's most famous mattress manufacturers with a number of quality products such as Silentnight 2000. It's an innerspring mattress, so you can expect it to be a bit more on the firmer side, but that's just what some suffering from back pain need given they provide great zoned support.
If you think this mattress could be your ideal match, we suggest you checking our Silentnight Miracoil mattress 2022 review.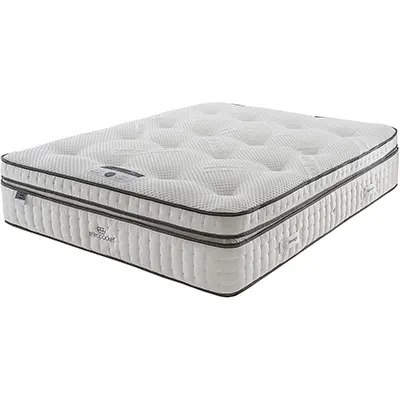 BEST LATEX: Dunlopillo Royal Sovereign
Superior comfort from a latex mattress? Is it really the case?
Dunlopillo Royal Sovereign is a latex mattress for those with a deep wallet. Coming with '7 comfort zones' this mattress promises to alleviate you of any pain – back or otherwise. It sits comfortably in the middle of the firmness scale, so it's pretty much suitable for everyone.
It is 100% latex-made, it's hypoallergenic, fantastic for couples as there is no noise upon movement and  delivers good pressure reliving abilities. On top of that, it is eco-friendly product.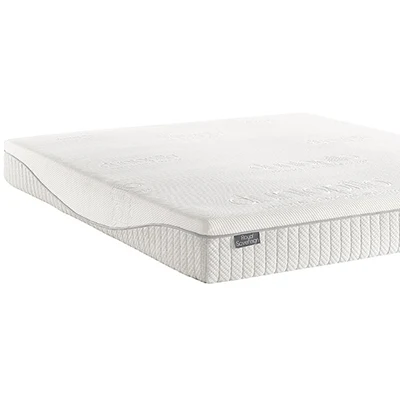 BEST FOR LOWER BACK PAIN: Dormeo Memory Plus
Thin mattress with some thick features.
Dormeo Memory Plus may not look like much, but it certainly performs well. Made of two layers of memory foam, it promises great comfort and solid support. For a two-layered memory foam mattress, this one is quite firm, offering much-needed support for those with back issues.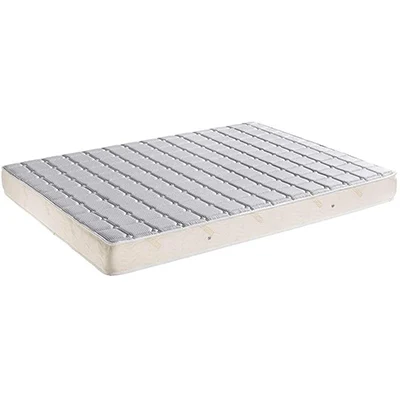 Features to look for in the best mattress for back pain
Finding the perfect mattress is certainly much easier said than done. Since there is no universal, best mattress for everyone, you have to pay attention to several defining factors of a mattress such as firmness, material, bounciness, as well as your body type, weight and of course, the position you sleep in. When it comes to alleviating back pain, you should mainly focus on the firmness, material and the position you sleep it, as that will help you find the most comfortable mattress, as well as bring forth the best results.
As back pain usually comes from an unpleasant sleeping position and the lack of support, when it comes to firmness, you should probably avoid very soft mattresses. However, that' only a general rule of thumb, so be sure to test out the mattress before committing to it. As you probably already know, firmness refers to the feel of the mattress, meaning how hard or soft it is.
In a way, it's a subjective feeling. Those who weigh more will most certainly benefit more from a firm mattress, as that will offer a lot more support for their body weight. If we had to pinpoint an ideal range of firmness, we'd place it somewhere between 5 and 7, on a 1 to 10 scale, with 1 being the softest. However, none of this is an exact science and the only way to identify the perfect mattress for you is to test it out.
Another thing that is directly tied to how comfortable and relaxing the mattress will be is your sleeping position. Depending on your sleeping position, you'll enjoy a certain material or firmness – some more some less. In general, people are either stomach, side or back sleepers. Each of these positions require a different level of firmness for optimal comfort.
For instance, people who tend to sleep on their side, usually prefer softer mattresses since they more allow for hips and shoulders to sink into them, thus keeping the body properly aligned. Stomach sleepers on the other hand will require a certain amount of support to retain the natural curvature of the spine while they sleep – especially in the lumbar area. As far as back sleepers are concerned, whatever feels good is usually the best approach.
When looking for mattresses for back pain, we have to think about the material as well. In general, we have four types of mattresses – memory foam, innerspring, hybrid and latex. Each of these have their own defining features, so let's briefly go over them.
Memory foam mattresses are the softest of the lot and they're ideal for side sleepers and those who don't move around a lot while they sleep. Also, they're great for those who get cold during the night.
Innerspring mattresses are what we call 'traditional' or 'old-school'. They've been around for quite some time and they're still quite popular, which isn't surprising given the fact that they offer pretty sound support and can be quite comfortable.
Hybrid mattresses are a combination of the previous two and they're the new kids on the block. The great thing about them that they're firm and soft at the same time which makes them ideal for many struggling with back pain, but still looking for that 'hugging feeling' from a mattress.
Finally, we have latex mattresses which are not the most popular option for those looking for relief, but they do offer some substantial support which can be ideal for stomach sleepers that struggle with lumbar aches.
Tips for buying and using best mattress for back pain
Now that we've gone over some of the most important features of the best mattresses for back pain, let's get into some useful tips for buying and using them.
It's important to understand that just because a mattress feels firm to the touch does not mean it's better than all the rest. It's about your needs and what feels best for you. In addition to that, don't overlook the size. A mattress should fit the bed perfectly and you shouldn't have to lay across the bed to feel comfortable.
This is important since we're not talking about a small investment here. Since you won't be able to properly test out the comfort and the effect of the mattress on your body directly in the store, make sure you can get your money back and return the mattress after a few weeks if it turns out not to be the one for you.
Also, don't forget about the accessories like mattress toppers or quality sheets. Those can improve your quality of sleep as much as anything else.
A firm mattress does not equal a better mattress.

Size matters.

Always look for a return policy.

Don't forget about the accessories.
The advantages of owning the best mattress for back pain
As you already know, annoying back pain can keep you tossing and turning all night and when you finally manage to fall asleep – it's time to get up and do it all over again. Restless nights like these aren't good and they greatly impact your life in a negative way. With a great mattress, you can make them disappear.
Having a mattress that will alleviate your back pain will make you fall in love with life all over again. Not only that, we know that back pain goes hand in hand with neck pain, sensitive joints, sore hips and shoulder and so on. A mattress topper also goes a long way when paired with the right mattress. So, if we were to sum it all up…
No more restless nights and painful mornings.

Better quality of life.

No more neck, hip or joint pain.
FAQs about mattresses for back pain
As we've already mentioned, mattresses are a big investment and they will affect your life and health in a significant way. Considering that everyone has different needs, asking the right questions before buying a mattress can make all the difference between choosing the perfect mattress for back pain or ending up with a mediocre one.
What sleeping position is the best for back pain issues?
In general, sleeping on your back offers the best support and pain relief as it distributes the weight of your body evenly.
What type of mattress is the best for back pain?
Hybrid mattresses are best for alleviating back pain as they offer the perfect combo of support and pain relief.
Can a bad mattress cause back pain?
A bad mattress can most certainly cause back pain and other health issues.
How long can I use a mattress for back pain?
A quality mattress should last you anywhere between 10 and 15 years, perhaps even more.