Simba Hybrid Luxe Mattress - 2022 review for UK shoppers
Simba has a reputation of being one of the innovative companies in the mattress business, and once again, they did not disappoint. Not long after their beloved Hybrid Pro mattress, we've been introduced to the all-new, top-of-the-line Simba Hybrid Luxe.
We've got our hands on one of these, we've tested it and now it's time for our final review. Is the Simba Hybrid Luxe as great as it seems? Let's find out.
Who is the Simba Hybrid Luxe mattress for?
On the first glace, Simba Hybrid Luxe is for those with deep pockets, but that's not all there is to this mattress. This one is most definitely a luxury item, but for a good reason. Simba advertises this mattress as a 10-layer luxurious sleeping surface, but in reality, there's actually 8 layers and a two-piece removable cover.
On that note, these 10 layers make this mattress suitable for pretty much everyone – provided that you can afford it. Without spoiling too much of our review, this one offers a great level of comfort, support and full-body alignment, so whether you're struggling with back pain or are just looking for a premium mattress – this one is for you.
Add a header to begin generating the table of contents
What do we use this mattress for?
As with any other matters, you'd use this one to sleep on. Now, if you're experiencing some back pain or trouble sleeping, you could also test this mattress out and see how it works out for you. And yes, we're fully aware that this is a costly product, but you may feel free to use it as it comes with a 200-night trial period and full refund from Simba in case you don't end up enjoying your new mattress.
Is the Simba Hybrid Luxe mattress an upgraded version of a previous Simba Hybrid Pro?
Simba Hybrid Luxe is Simba's most advanced mattress and it is, in fact, an upgraded version of Simba Hybrid Pro, which is an upgraded version of Simba Hybrid. There are several subtle differences between these two (three), but the most obvious one is the number of individual layers making up our reviewe – Simba Hybrid Luxe.
Features you should know about the Simba Hybrid Luxe mattress
Now to the fun part – our breakdown of the most important features of this mattress. Here's what you need to know about Simba Hybrid Luxe before you decide whether you should buy it or not.
First and foremost, the most defining feature of this mattress – 10 layers of support. Of course, as we've already said in the beginning, it's actually 8 layers of support encased in a two-piece removable cover, but we guess we'll let that slide.
Not counting the top cover, the first support layer is a 100% bamboo heat-regulating wool layer. It's soft, moisture-absorbing and hypoallergenic.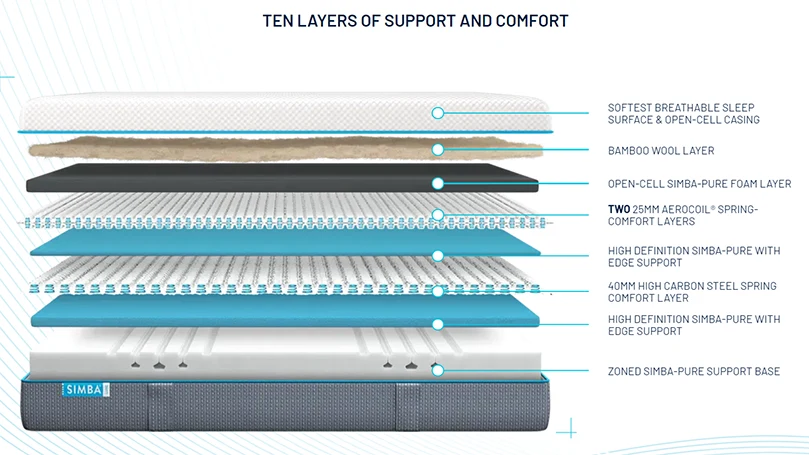 Next up, we have an open-cell Simba-Pure foam layer, specially designed for improved airflow and better temperature regulation. This layer is also infused with graphite for even better cooling.
Then, we're looking at two 25mm Aerocoil spring-comfort layers stacked on top of each other. Beneath them is the 40mm high carbon steel spring comfort layer, nestled between two layers of high definition Simba-Pure foam layer with edge support.
Finally, all of that is supported by a zoned, Simba-Pure support base encased in the open-cell casing or the bottom end of the removable cover.
As a part of our review, we wanted to make sure Simba Hybrid Luxe is safe and healthy to use and as we could've guessed – it is. All of the foams used in the manufacturing process of this mattress are CertiPUR certified, meaning they're toxin-free and they're both safe to use and kind to the environment.
Furthermore, all mattresses in the UK must be fire-retardant. However, as of 2019, they can't include TCPP and other harmful chemicals to meet fire safety regulations.
In response to that, amongst many other things, after many years, Simba developed their high-definition Simba-Pure foam, which is both TCPP-free, paraben-free, phosphate-free and in accordance with UK's fire safety regulations.
100% Bamboo wool heat-regulating top surface
As we've previously mentioned, the first of 10 support layers is a 100% bamboo wool layer.
Simba claims their bamboo wool layer is "cashmere soft with a sheen of silk", and to be fair – they're not far off. Bamboo wool is known to be super soft and comfortable, but that's hardly why they went with it.
Bamboo wool is also naturally hypoallergenic, temperature-regulating, moisture-absorbing, wrinkle and crumple resistant. Now, bamboo wool isn't what you would call cool or breathable. While it is true that it will keep you cool during the warm night, it'll also keep you warm during chilly nights.
Bamboo wool is also great at retaining moisture, which also adds to its overall ability to retain or dissipate heat based on the circumstances.
To put it simply, this isn't a cooling layer – it's a temperature-regulating one.
Hypoallergenic knitted cover
After they've received some backlash for not including a removable cover with a Simba Hybrid Pro, Simba corrected their mistake and delivered a hypoallergenic, knitted cover on their Luxe model.
The cover weighs 750 grams and is certified to be anti-allergenic, dust-mite repellant and more. On top of all that, it is machine washable at 30 degrees, but still, read the washing instructions carefully, just in case.
Furthermore, the cover is genuinely high-quality and very durable since it's made from 99% polyester and 1% elastane. Still, as we always say, you're always better off covering it with a sheet or a mattress protector rather than sleeping directly on it.
However, keep in mind that this is a 31cm deep mattress, so you might need a large sheet if you prefer them fitted. Simba does offer a 400 thread count Egyptian cotton Performance fitted sheet for their mattresses and the 200 thread count Performance mattress protector, but like all of their products, they are quite expensive.
3x6000 titanium aerocoil layers
As you could probably guess just by looking at the number, Aercoil springs aren't your typical pocket springs – they smaller and softer. The two 25mm Aerocoil layers serve more as comfort layers rather than support ones, and that's also the case for the bottom, 40mm carbon steel spring comfort layer.
However, this shouldn't concern you. First, since they're quite close to the sleeping surface, they have to be softer; otherwise, they would be uncomfortable. Also, these Aerocoil layers offer a more gradual sinking feeling, rather than isolated dips around your hips or shoulders. This also should prevent any sinkage or dips from forming in your mattress. A large number of coils will evenly distribute your weight, which will allow you to repeatedly sleep in the exact same spot without forming a body imprint in the mattress.
It's important to note that the number of individual coils is dependent on the mattress size. King size mattress and super king size mattress are the ones coming with 6000 coils. However, it would be best if you didn't get caught up on those numbers, as there's simply no room for 6000 coils in a single-sized mattress.
8 handles for easy movement
When you're handling a mattress that's 31 cm deep and weighs over 40 kg at the king size, you need all the help you can get. Fortunately, just like Simba Hybrid and Simba Hybrid Pro, Simba Hybrid Luxe also comes with handles attached to the cover.
The single-sized mattress only comes with 4 handles attached to the sides, while the double, king and super king-sized mattresses come with 8 – two on each side.
These are not only useful, but they're quite important, as well. As is often the case with hybrid mattresses, you have to flip or turn them, especially in the first few months. This one is one-sided, so there isn't going to be any flipping involved. However, Simba advises you to rotate the mattress once a month for the first 3 months and then every 3 to 6 months for as long as you keep using it.
Not only should you rotate your hybrid mattress regularly to evenly "break it in", but it is also important to note that if you don't rotate this particular mattress regularly, you'll be voiding your 10-year warranty.
Review of Simba Hybrid Luxe mattress
This bed-in-a-box, Simba mattress, is pretty much the gold standard when it comes to hybrid mattresses. It is inarguably the best mattress, the Simba Sleep company has to offer.
It is a 10-layer, hybrid, medium-firm mattress with loads of unique features. As we've learned during our Simba Hybrid Luxe mattress review, there really aren't many things wrong with this one.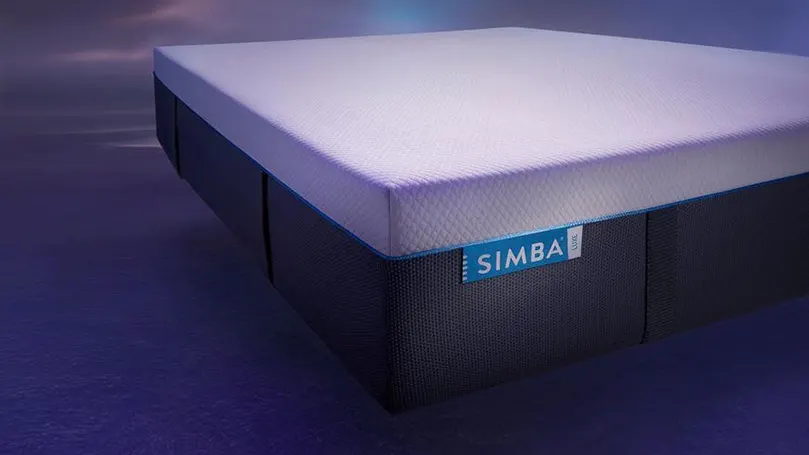 The support is excellent; comfort too. This is truly a medium-firm mattress that gives you that "lying on top of it" feeling instead of the hugging feeling you'd get from a softer hybrid mattress or a memory foam mattress. Furthermore, it offers far more edge support than any other hybrid mattress we've ever reviewed. This mostly due to the fact that the Aerocoil layers don't extend all the way to the edge of the mattress. Instead, the edge of the mattress is supported with memory foam.
On the other side, you lose some motion isolation because of the Aerocoil and high-definition Simba-Pure foam layers and if you're sharing a bed with a restless sleeper, you're almost guaranteed to feel them move. However, the additional bounce of the Luxe has its own perks – especially for couples.
KEY FEATURES:
Type: Hybrid
Firmness: 7/10
Thickness: 31cm
Size: Single, Double, King, Super King
Excellent full-body support and outstanding comfort
Fantastic edge support
Excellent overall durability and easy maintenance.
Average motion isolation
It might be uncomfortable for side sleepers
Expensive when compared to similar products.
What we like about the Simba Hybrid Luxe mattress
An all-around great product with amazing results across the board
Excellent edge support, which is not something usually found with pocket sprung or hybrid mattresses
Not low-maintenance, but very easy to maintain and keep clean, since it comes with a removable cover.
What we didn't like about the Simba Hybrid Luxe mattress
It is one of the most expensive mattresses on the market. We'd advise waiting for sales if you're interested in purchasing it
Even though it comes with more layers, including the temperature-regulating, bamboo wool layer – Simba Hybrid Luxe does not get cooler or better at regulating heat than Simba Hybrid Pro
Even though the base is zoned for better support, some lightweight side sleepers might still experience some unpleasantness in the shoulder and the hip area.
Check the alternatives to Simba Hybrid Luxe mattress
As always, we like to provide you with alternative options. In front of us, we have Simba Hybrid mattress and Made Hybrid mattress, both fairly similar, but will quite different from Simba Hybrid Luxe. Here's what you need to know about them.
Simba Hybrid mattress is sort of a baby-brother to Luxe. However, this one "only" has five layers, as opposed to 10 and unlike our reviewee – it does not come with a removable cover. It does, however, come equipped with 2500 Aerocoil springs, an open-cell Simba-Pure foam layer, a high-definition Simba-Pure foam layer with edge support and of course, a zoned Simba-Pure support base.
Our full review of Simba Hybrid mattress can be found here!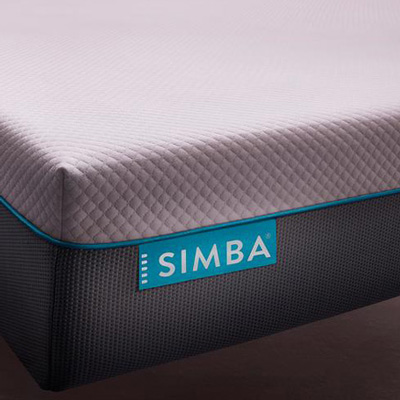 Very comfortable
Excellent durability
200-night trial period
Below-average support
Not the coolest or the most breathable hybrid mattress
No removable cover, quite easy to stain and hard to clean
Here we have another 5-layered hybrid mattress; 6 if you count the non-removable cover. This is more of a medium-firm mattress than Simba Hybrid, but it still isn't as firm as the Luxe. From top to bottom, this one consists of a hypoallergenic, soft-quilted cover, 25 mm of cooling memory foam, 25 mm of MadeFlex bounce-back memory foam, 1800 mini pocket springs and a supportive memory foam base.
Excellent support
Great durability
Great price-to-quality ratio
Not the most comfortable mattress for side sleepers
Not the best at pressure and pain relief
No removable cover
Consider Simba Hybrid Pillow if you are buying a Simba Hybrid Luxe mattress
Every great mattress needs a great pillow. So if you're thinking of buying the Luxe mattress, you should probably look into buying the Simba Hybrid Pillow, as well.
This temperature-regulating, highly breathable, fully customizable and adjustable pillow is designed to have you never again turn the pillow over to the cool side.
The cotton cover enriched with Simba's Stratos technology for better temperature regulation and the inside of the pillow is filled with Nanocubes – small, open-cell memory foam cubes you can add or remove to achieve desired firmness and thickness of the pillow.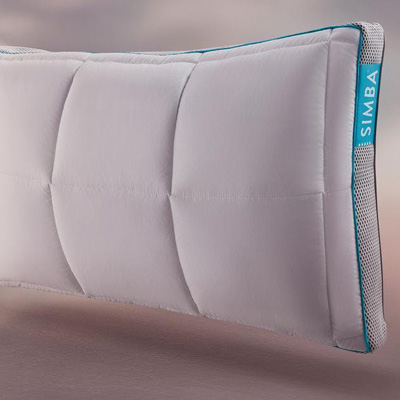 Very cool and breathable
Excellent durability
Solid neck support
Not ideal for stomach sleepers
Not the most comfortable pillow you can buy
Quite firm when full
What makes Simba Hybrid Luxe mattress better than the competition?
To put it simply, what separates the Simba Luxe mattress from the others is the excellent engineering, finest materials and quality craftsmanship.
There are many high-count pocket sprung/hybrid mattresses on the market, but none of them are quite as good as this one.
With Simba Luxe mattress, you can expect excellent support, great temperature regulation and a good night's sleep for a really long time.
Sure, you will have to pay a lot of money for a UK King-sized mattress, but with proper care and maintenance, this one should last you at least 10 years and we can't really say there are many, if any, better mattresses at this price range.
How did we test the product?
We always approach our reviews with two things in mind – objectivity and attention to detail. In this case, we really dove in and did our best to test every inch of this mattress to really check whether you should spend this amount of money or are you better off with a more affordable product.
First and foremost, we've started by removing the cover and inspecting the body of this mattress. We won't go into too much detail on each separate layer at this point, as we're saving that for later, but you'll be happy to know is that this mattress is composed of high-quality materials and isn't just a marketing ploy.
Next up, we tested the firmness, support and comfort of the mattress by having our review team each spend ten nights sleeping on this mattress and writing down their notes. Keep in mind, our team is diverse and all of our testers have different sleeping preferences and also differ in bodyweight. That allows us to look at every mattress from several different perspectives and paint a broad, objective picture.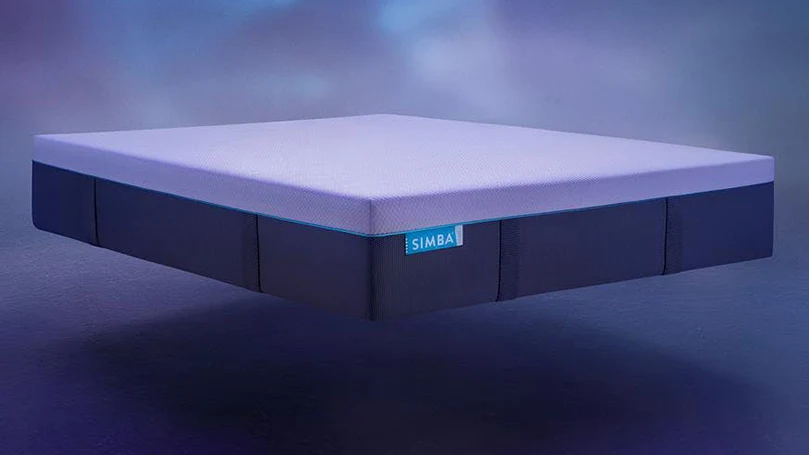 Also, we've tested this mattress with a roller to simulate long-term use and test its durability and longevity and we have to say, results are much better than we expected.
On top of all that, we also focus on things like edge support, zone support, pain relief, pressure relief, motion isolation, weight distribution, bounce, breathability, hypoallergenic properties, alongside the features we've already mentioned.
FAQs about your new Simba Hybrid Luxe Mattress
Finally, we wanted to wrap things up by answering some of the most frequently asked questions, mostly regarding the maintenance of the Luxe mattress. Sometimes, all you need is a straightforward answer to a simple question and that's precisely what we want to give you.
How to wash my Simba Hybrid Luxe mattress?
Simba Luxe comes with a removable mattress cover that you can safely wash in the washing machine at 30 degrees Celsius.
Do I need a mattress topper for my Simba Hybrid Luxe mattress?
If you're a side sleeper or if you prefer a softer sleeping surface, you may want to consider a mattress topper. But, other than that, we don't really see the need for a mattress topper with a mattress this good.
How long will my Simba Hybrid Luxe mattress last?
From what we've learned during our testing, this one should last you for a decade without any issues. But even if it fails, you get a 10-year warranty on this Simba mattress, just like you do on all the other ones.
Is Simba Hybrid Luxe mattress a good replacement for OTTY mattresses?