Sealy Millionaire Orthopaedic Mattress Review
When it comes to mattresses, there are all sorts of choices available on the market. But if you're looking for an extra-firm mattress that will provide you with support and comfort, the Sealy Millionaire Orthopaedic Mattress seems like a great option for you to consider. Whether that's really the case, we're going to find out in just a little bit.
Who is Sealy Millionaire Orthopaedic mattress for?
Sealy Millionaire Ortho firmer mattress is a good choice for people who want a firm mattress. It is especially good for back and stomach sleepers because it helps keep their spines aligned correctly.
This open-coil marvel also has a layer of memory foam that helps reduce pressure on the body, making it not only supportive but also comfortable and pleasant on your back, alleviating annoying pains and aches.
Add a header to begin generating the table of contents
What do we use this product for?
If you're one of the many people that suffer from back pain, neck pain, or any other type of chronic or acute pain, you may be interested in a hand-tufted mattress like this one.
Designed to provide extra orthopaedic support for your body and help relieve pressure points that can cause pain, they are often recommended by leading orthopaedic surgeons that spend their whole lives treating backaches.
So, on that note, we can:
Use it to alleviate or help with back pain.
Use it to get a good night's sleep.
Use it to keep the body in the optimal position all night long.
Use it if you love high levels of support consistently firm across the entire sleeping surface.
Features you should know about Sealy Millionaire Orthopaedic mattress
Now, let's take a look at the features this mattress offers. This will help you gain a better understanding of what we paid attention to when we were reviewing it, but also, it should help you gain a better understanding of mattresses like this one.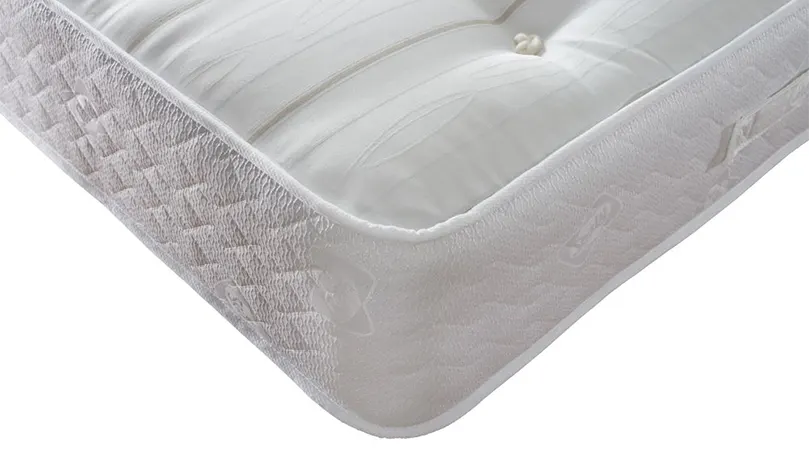 The open coil system in the Sealy Millionaire mattress, dubbed PostureTech core support springs system, is one of its main features. This system provides firm support for your body and helps to keep your body nice and cool during the night. The coils are also designed to keep your spine in alignment, which is especially beneficial for back and stomach sleepers.
On the other hand, there are certain drawbacks to this "archaic" design. Namely, since the coils are interlocked with one another, you can forget about motion isolation, so if you're sharing a bed with a restless sleeper – you'll definitely feel it. Also, you might hear this Sealy bed during the night, as coils are notorious for its squeaky noises, especially during the extracurricular bed activities.
Hypoallergenic white fibre fill
Sealy Ortho Mattress is filled with hypoallergenic white fibre, which helps to keep the sleeper cool and comfortable all night long.
Additionally, this material is known for its anti-microbial properties, which help to keep the mattress clean and free from allergens, ensuring that you don't end up sharing the sheets with dust mites and other pesky pests.
After all, the manufacturer of this mattress is an approved member of the National Bed Federation Code of Practice, so you can rest assured these claims aren't false.
On top of the open coil system, there is an additional layer of 20mm memory foam. This helps to reduce the pressure on your body, making the mattress more comfortable and pleasant to sleep on. Furthermore, this foam also contours to your body, providing you with extra cushioning and cosiness where you need it the most.
Sure, 2 cm isn't a lot, but it's better than nothing, and you will most definitely be able to tell the difference between this and, say, microfibre.
This mattress is also hand-tufted, which means that the inner layers are held together with strong tufts. This provides extra support for your body and helps to keep the mattress in good shape for a long time by keeping the fillings evenly distributed.
Similarly, this feature helps to distribute the weight evenly, so you don't end up with lumpy or depressed spots on your mattress which could make you squirm all night long.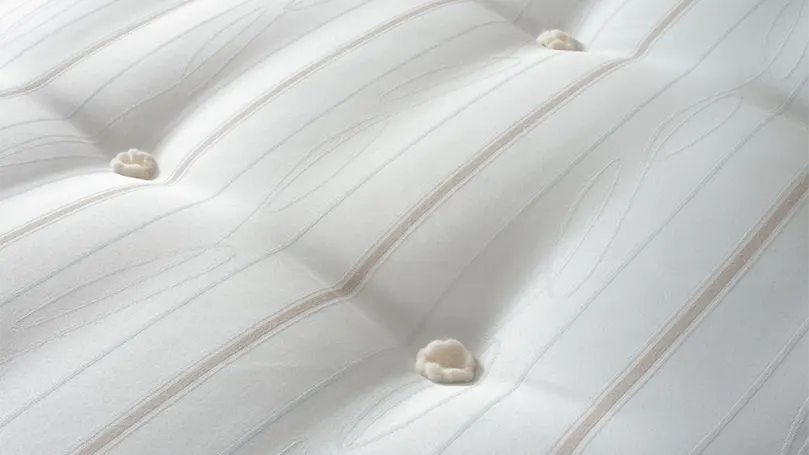 Sealy Millionaire mattress also features a perimeter rod wire support. This means that the perimeter of the mattress is reinforced with metal rod wires, which provides extra edge support. In other words, sitting on the edge of the bed and getting in and out of it will feel super smoothu.
Moreover, this feature helps to keep the mattress from sagging over time, so you can be sure that it will provide you with good support for many years to come.
This mattress has a one-sided design, which means that you don't have to flip it over every few months. However, this also means that you can't do much about its longevity, so if you start to feel like it's sagging in one spot – there's not much you can do about it other than rotating the mattress around.
Thankfully, the regular rotation should be more than enough to prevent sagging in one spot, especially when you consider that these coils are rather firm and durable and shouldn't sag easily, regardless of your body weight.
Thankfully, rotating this mighty boy won't be an issue, as it features side handles which make it a lot easier to grab and move around. This is definitely a welcomed feature, as some mattresses these days don't have them, so you're left on your own when it comes to flipping them over or moving them around the room. And, let's face it, no matter how light or heavy the mattress is – it's not the easiest thing to pick up.
24cm deep firmer mattress
The mattress is 24cm deep, which means that it's pretty much ideally thick. As you probably know, a mattress depth of 10 inches or 25 cm is considered to be ideal for mattresses, for various reasons we wouldn't want to bore you with. Anyway – the perfect option.
As far as firmness goes – this mattress is extra firm, which means that it might not be the most comfortable choice for side sleepers. However, if you're a back or stomach sleeper – you'll definitely appreciate its firmness, as it will provide good support for your spine and prevent you from sinking in too much and putting strain on your hips or lower back.
Lastly, this mattress comes with a 5-year warranty, which should give you some peace of mind knowing that the Sealy mattresses can withstand the test of time.
Now, let's be real – 5 years isn't that long. We'd be more confident if it were ten years, but then again – this is an open-coil, budget-friendly mattress – a 10-year warranty is just not in the books.
Also, keep in mind that the warranty only covers manufacturing defects, so if you damage the mattress in any way – you void the warranty.
Review of Sealy Millionaire Orthopaedic mattress
Overall, if you're in the market for a firm sleep surface and a soft damask cover – you've found your pick. This one's a stomach sleeper heaven. It's so firm and supportive that even the heaviest of stomach sleepers could comfortably sleep on this one and still wake up in the morning without any lumbar aches whatsoever. Definitely one of the most supportive orthopaedic mattresses we've tested.
As far as the materials go – this one's pretty standard for an open-coil. It features a standard core support spring system and a bit of memory foam and white fibre fill, which means that you won't get excellent motion isolation if your partner tosses and turns in their sleep, but what you will get is a very breathable mattress. Additionally, these coils are extra firm and durable, so you can be sure that they won't sag easily – even if you're on the heavier side.
The mattress is 24 cm thick, which is great news for those of you who'd like to add a memory foam topper on top of your mattress. This way, you won't have to worry about the mattress sinking in too much and losing its supportive qualities over time (not that this one would).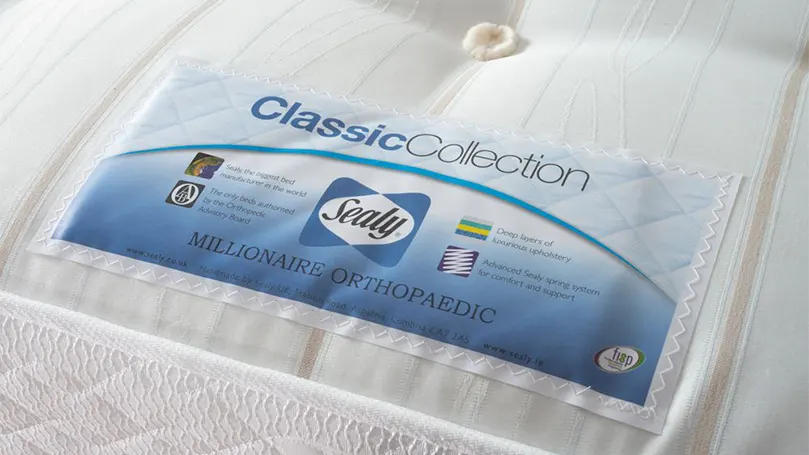 The only downside of this mattress is its one-sided design and the fact that side sleepers won't get any comfy shut-eye on it. Unlike with most open-coil mattresses, you can't flip this one over and use the other side if one side starts to show signs of wear and tear. However, this shouldn't be too big of an issue, as long as you remember to rotate the mattress regularly. As for the firmness and side-sleeping incompatibility – it is what it is. It's just not made for it.
All in all, Sealy Millionaire Orthopaedic is a great choice for those of you who are looking for a firm and supportive mattress and like to sleep on your back and stomach.
Type: Open-coil
Firmness: 8/10
Mattress depth: 24 cm
Warranty: 5 years
Size: Single, Small Double, Double, King, Super king
Removable cover: No
Trial: None.
What we like about Sealy Millionaire Ortho mattress
One of the rare mattresses on the UK market that are perfect for stomach sleepers.
One of the best affordable-to-mid-range open coil mattresses in the UK. 
It offers a substantial amount of support, especially edge support.
What we didn't like about Sealy Millionaire Ortho mattress
Most likely too firm for every side sleeper, regardless of their weight.
Not the mattress you'd want to share with a restless sleeper.
If you've ever slept on a foam mattress, the sound of coils might be annoying.
What makes this product better than some other similar ones?
If you're looking to replace your old bed with a firm and supportive mattress that's also relatively affordable – Sealy Orthopaedic is a great choice.
It's one of the most supportive orthopaedic mattresses we've tested, and it just so happens that it is also very durable, and not just "for an open-coil". All in all – a great deal for the money.
But more importantly, stomach sleepers are often overlooked by mattress manufacturers, so finding a firm mattress like this one is certainly welcoming.
How did we test the product?
First, we went online to get this product. Fortunately, this was super simple. All we had to do was visit the online store, provide our information and in a matter of days – the mattress was at our doorstep.
Luckily for us, the delivery fees were zilch – even though this was a bulky package. Also, it was very fast – just like we like it.
As expected, the mattress came in perfect condition. There were no signs of any damage whatsoever, and our biggest concerns were quickly put to rest, as we realized that regardless of the affordable price tag – the quality of craftsmanship was very high. However, we did notice some off-gassing, probably due to fire-retardancy treatment. However, it went away in two days.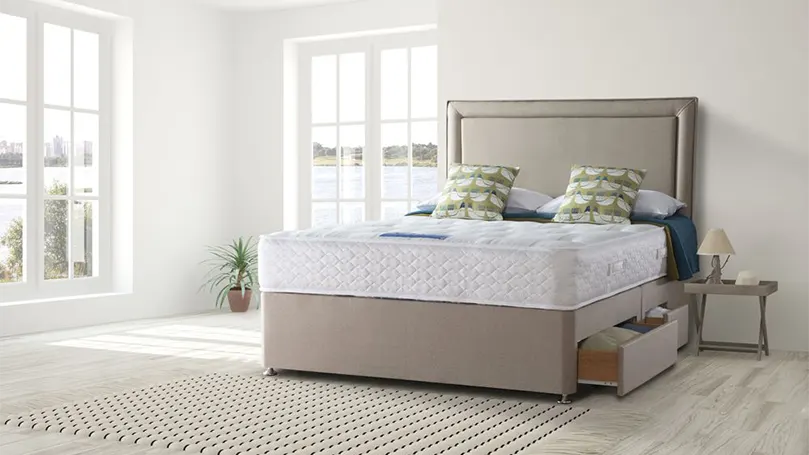 Now, to provide you with an objective review, each of our team members spent ten nights sleeping on this mattress, writing down all their impressions and notes about the mattress, so here's how that went.
The first thing we noticed is how firm the mattress felt. It managed to provide perfect support for every single one of us, regardless of our sleeping position. In cases of those of us that sleep on our side – a bit too much support.
All jokes aside, this mattress wasn't uncomfortable, even if you slept on your side – it was just too firm and you would end up in a weird, skewed position that would probably result in some shoulder or back pain in a matter of days.
And oh, before we wrap this up, the thing we wanted to test the most was durability and motion isolation. Unexpectedly, this one passed the roller test rather easily, proving to be quite long-lasting and durable. On the other hand, motion isolation kettlebell test results weren't that impressive, but we already told you that.
FAQs about your Sealy Millionaire Orthopaedic mattress
In the end, let's answer some FAQs.
What is the average lifespan of Sealy Millionaire Orthopaedic mattress?
An average lifespan of Sealy Millionaire Ortho mattress is about 8 years.
Is Sealy Millionaire Orthopaedic mattress good for sleepers with back pain?
Definitely. This mattress is very good for back pain, provided that you don't sleep on your side.
Is Sealy Millionaire Orthopaedic mattress good for side sleepers?
Nope. This mattress is too firm for side sleepers.
Is Sealy Millionaire Orthopaedic mattress good for back sleepers?
Absolutely. Back sleepers will certainly enjoy this one.
Is Sealy Millionaire Orthopaedic mattress good for front sleepers?
Most definitely. This is one of the best mattresses for stomach sleepers!
Does Sealy company use fiberglass?
There aren't any traces of fibreglass in Sealy beds' products.