Harrison Spinks Mattress: Levisham 3250 Pocket Mattress Review
Harrison Spinks is a luxury bed brand from Yorkshire, UK that has been around for over 180 years and that speaks for itself. The 5th-generation family of expert bed-makers produces mattresses and beds from the highest quality, mostly natural, materials making them one of the premium mattress brands. We have decided to test Harrison Spinks Levisham 3250 Pocket mattress for you, which is one of the mattresses in their offer. Here is your review of this high-end mattress by The Sleep Advisors.
Who is Harrison Spinks mattress for?
Harrison Spinks Levisham 3250 Pocket mattress is medium-firm, and we believe most sleepers will say it is more medium-to-firm than just medium, so it's best for front and back sleepers like most pocket sprung mattresses.
The focus is primarily on support, but that does not mean that it is uncomfortable, on the contrary. However, while not as hard as rock, we think it will be too firm for most side sleepers.
Top notch breathability will delight all hot sleepers, as well as allergy sufferers, except those who are sensitive to wool.
Add a header to begin generating the table of contents
What do we use this product for?
We use Harrison Spinks mattress for support and to sleep on the mix of high quality natural materials. It will not allow your body to sink on any part and thus will prevent the appearance of pain in the back and other joints.
We use it for firm support.
We use it for sleeping on wool and cotton.
We use it for breathability.
We use it for safety reasons since it is fire resistant.
Features you should know about Harrison Spinks mattress
To better understand what this mattress brings to the table, it is necessary to inform you in more detail about the most important features of Harrison Spinks Levisham 3250 Pocket mattress, such as pocket springs and blend of natural materials.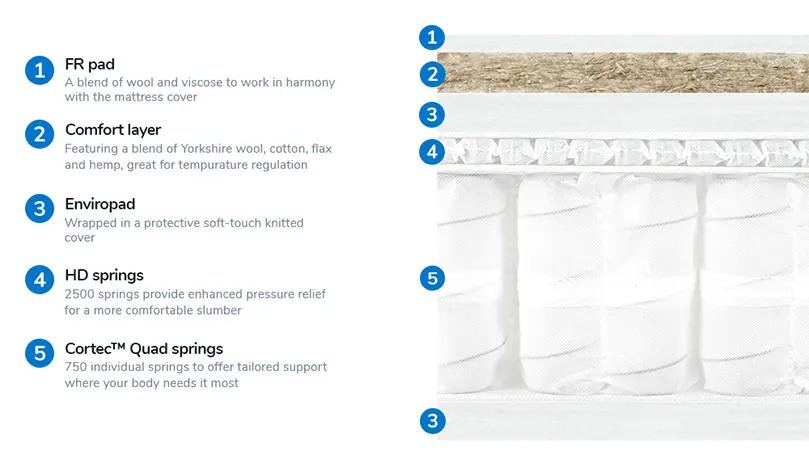 3250 individual Cortec Quad core pocket springs
Cortec Quad core pocket springs are advanced pocket springs that Harrison Spinks company implements in their mattresses. Full size pocket springs, not micro springs, are not glued, so work individually to contour with accuracy. In this way, superior personalized support is obtained, much better compared to conventional spring systems. Another advantage of not using glue is easier recycling, since steel and pocket cloth can be recycled over and over again, making this eco-friendly product.
This mattress model has 3250 Cortec Quad core pocket springs that are highly breathable and resilient. Since each spring works independently, couples will not be disturbed by moving the other person in bed, but will be able to have restful sleep. Cortec pockets springs are long-lasting.
Blend of natural Yorkshire wool, cotton, flax and hemp insulation
Many premium spring mattresses have layers of wool and cotton, which makes them practically hybrid mattresses. This mattress also has wool and cotton natural fillings, which comes with many benefits. Wool is an exceptional material when it comes to temperature regulation, probably the best natural material for it. Cotton is soft, breathable and wicks moisture away.
Compared to other premium mattresses that have wool and cotton layers, the Harrison Spinks mattress has been further improved. Flax and hemp are added that act as great natural insulators. The mixture of wool, cotton, flax and hemp gives you a mattress that is equally suitable for the hottest and coldest day of the year.
Edge support is a big problem for many mattresses, especially the cheaper ones. While in the middle most mattresses provide satisfactory support, making a mattress that is supportive edge to edge has proven to be a much bigger challenge for manufacturers.
Harrison Spinks mattress is side-stitched along the borders and so the edge support problem is resolved. Thus, you have more space to sleep, because you can use every inch of mattress instead of just middle. Hand side-stitching also has a positive effect on durability and roll-off prevention.
Eco-polyester extra layer
There is one more extra layer made of eco-polyester fibres. This layer is highly supportive and comfortable. Eco-polyester fibres are obtained from 100% recycled materials and can also be recycled again. As you may have concluded, sustainability and environmental friendliness are very important characteristics of this mattress.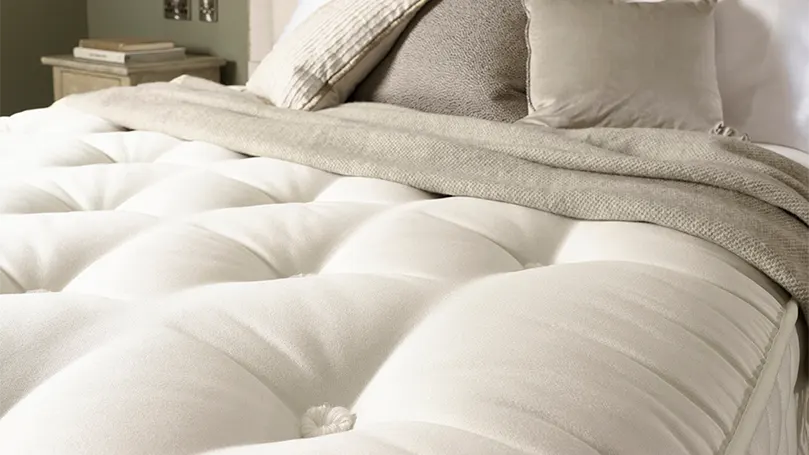 Harrison Spinks Levisham 3250 Pocket mattress has four in-built turning handles that are very sturdy and durable. We expect they will not tear no matter how long you use this mattress.
This is a single sided mattress, so you don't need to flip it, just rotate it end to end. The manufacturer recommends that you do this every 6 months, you don't have to do it more often because the sleeping surface is very durable. But it is certainly advisable to do this twice a year to reduce wear and tear and maintain equal support over the entire surface of the mattress.
Anti-bacterial and hypoallergenic
Although this mattress contains as many as four natural materials, none of them is a known allergen. Officially, allergy to wool and cotton is not possible, because they are not allergens. However, there are people who are irritated by wool, so they may want to avoid this mattress. All other allergy sufferers should know that this is a 100% hypoallergenic product that will not cause them any problems, on the contrary, this is dream mattress for them.
Also, wool has naturally antibacterial properties, so you will sleep in a clean and fresh environment free of dust mites and other allergens, bacteria and dangerous microorganisms.
Review of Harrison Spinks mattress
Harrison Spinks Levisham 3250 Pocket Mattress is a 24 cm thick mattress, which is firmer than a medium mattress to provide extra support. Therefore, it can be used by all those who need an orthopaedic mattress, although this is not a classic orthopaedic mattress since it is somewhat softer and more comfortable. 3250 Cortec Quad core pocket springs that are individually wrapped are located under the mix of wool, cotton, flax and hemp for improved breathability, temperature control and insulation. Another layer is made of eco-polyester, which is a material obtained by recycling.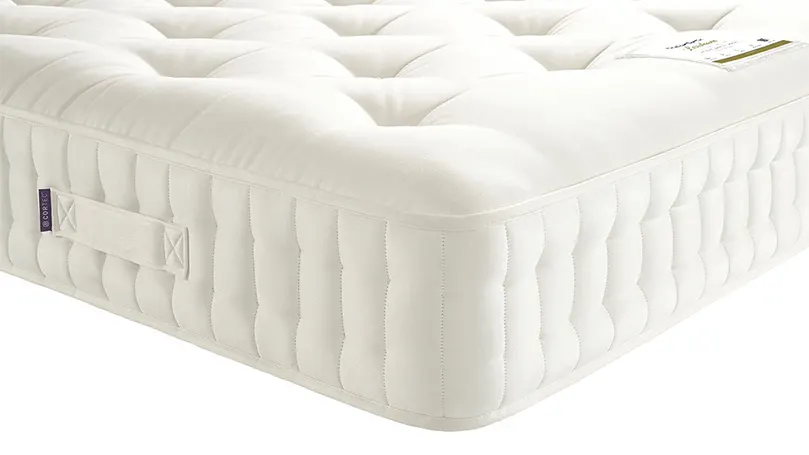 The mattress is highly supportive and great at motion insulation, so we recommend it to couples. It is fire resistant and approved by the National Bed Federation, so you can be sure it is completely safe. Harrison Spinks mattress comes with a 5-year warranty.
Type: Spring
Sizes: Single, Double, King, Superking
Depth: 24 cm
Warranty: 5 year.
What we like about Harrison Spinks mattress
Every part of this mattress, including the edges, provides firm support, but not at the expense of comfort
Premium materials and fantastic craftsmanship that characterizes Harrison Spinks company means that you will use this mattress for a very long time
It is equally suitable for summer and winter, as well as for hot and cold sleepers.
What we didn't like about Harrison Spinks mattress
While it is not firm like orthopedic mattresses, it is still too firm for most side sleepers as well as for those with lower BMI
Durability is certainly not an issue with this product, but it would be preferable to be double sided and not single sided
Even if you buy the smallest size (Single) you will have to spend a significant amount of money.
Consider Scooms Hungarian Goose Down pillow if you are buying Harrison Spinks mattress
We really like the fact that Scooms Hungarian Goose Down pillow has an inner and outer chamber, and also that the ratio of feather and down in these two chambers differs. The inner chamber has 15% down and 85% feather to give the pillow firmness and to get you the support you need. On the other hand, the outer chamber is made of 90% down and 10% feather, to make your pillow soft and comfortable. So you will have the feeling of lying on a cloud, but your neck, shoulders and back will not hurt since the pillow will not allow you to sink too much. Breathability is good, but down sometimes retain too much heat. This is a high quality and durable pillow you will use for years and comes with a 3 year warranty which is longer than the industry standard.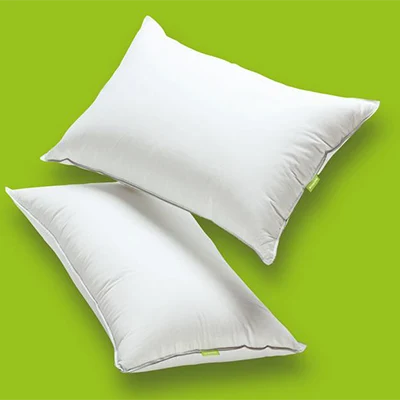 What makes this product better than some other similar ones?
Harrison Spinks Levisham 3250 pocket mattress is a truly remarkable product, which can be said for other mattresses and beds produced by Harrison Spinks as well. So when you check Harrison Spinks mattress reviews, you will find only positive opinions. This mattress provides better support than some other similar ones, but on the other hand it is more comfortable than orthopedic mattresses with similar level of support. We really like the combination of natural materials, as well as the eco-polyester layer. The whole product is eco-friendly, which is very important. It is hypoallergenic and durable because of the hand stitched borders and overall production quality.
How did we test the product?
You have the freedom to choose any day in the next two months when you want your new Harrison mattresses delivered. Free delivery is valid from Monday to Friday, and on weekends you have to pay an extra £ 17.5. Mattress recycling is also available for an additional £ 28.
We took advantage of the delivery to the room of your choice for free, which otherwise costs £ 20. We couldn't wait to start testing because we've heard so many positive reviews about this mattress.
However, we were patient and before we started the overnight tests, we first did the durability and maintenance test, as well as checking the whole mattress for defects that would void our warranty.
All members of our test team were deployed to give you a perfect review as it is a very expensive mattress, although we test equally intently cheaper ones as well. The testing lasted more than 3 weeks, since you need to give new mattress time, but in the end we were completely satisfied with the results, and we hope that you will be too.
FAQs about your Harrison Spinks mattresses
Our online research has shown that the following are the most commonly asked questions about Harrison Spinks mattresses which you can't find in other Harrison Spinks reviews.
Is Harrison Spinks Levisham 3250 pocket mattress suitable for side sleepers?
We didn't find Harrison Spinks Levisham 3250 Pocket mattress suitable for side sleepers, since it is too firm for that sleep position so it can cause shoulder and hip pain.
Should back and stomach sleepers use Harrison Spinks Levisham 3250 pocket mattress?
Yes, back and stomach sleepers should definitely use this mattress because it will keep their spine aligned and support whole body during comfortable night's sleep.
How long will Harrison Spinks Levisham 3250 pocket mattress last?
Knowing how durable Harrison Spinks products are in general, and also after the durability test we conducted on this model, we expect it to last close to a decade, if not longer, although it depends on other factors such as body weight and regular rotation.
How do I clean my Harrison Spinks Levisham 3250 pocket mattress?
You have to use bed sheets to keep your mattress clean, since it does not have removable cover.
Is Harrison Spinks Levisham 3250 pocket mattress completely made out of natural materials?
No, it is not since it contain polyester layer but it is completely made out of eco-friendly materials which is very important.