Rest Assured 2000 Pocket Sprung Mattress Review
Rest Assured 2000 Pocket Sprung Mattress is one of the most popular Rest Assured Mattresses, and for a very good reason. It has 2000 pocket springs, it's quite affordable, and promises to deliver unparalleled comfort. But, are those just empty promises or is there actually something there? Let's find out together.
Who is Rest Assured 2000 Pocket Sprung mattress for?
This Rest Assured mattress is for everyone in need of a pocket spring mattress that offers medium support. As such, this mattress is particularly suitable for side and back sleepers. However, front sleepers might not find it very appealing or comfy unless they're lightweight.
On the other hand, couples should be able to get a great night's sleep out of this one because the individually nested pocket springs offer independent sleeping surfaces and excellent motion isolation, without sacrificing the necessary bounce.
All in all, we guess you could say that this Rest Assured mattress is quite a good fit for pretty much everyone.
Add a header to begin generating the table of contents
What do we use this product for?
As is often the case with Rest Assured mattresses, their use case scenario isn't limited to one or two. A medium support mattress such as this one serves quite a few purposes. Add a natural fillings layer to the mix, and you'll get yourself a mattress that can do it all.
Pocket sprung mattresses are known for providing tailored support for your whole body, which can really come in handy when you're recovering from an injury or surgery, but that's hardly the extent of how we can use this single-sided mattress from Rest Assured.
Apart from that, we can:
Use it to get a perfect night's sleep
Use it to alleviate hip, joint, and back pain
Use it to experience excellent pressure relief
Use it to keep dust mites and other household allergens at arm's length
Use it to keep cool and dry all through the night.
Features you should know about Rest Assured 2000 Pocket Sprung mattress
Now that we know who can use this Rest Assured mattress, and how they can do it, let's talk a little bit about the product features and what makes this mattress special and different from other similar, Rest Assured products.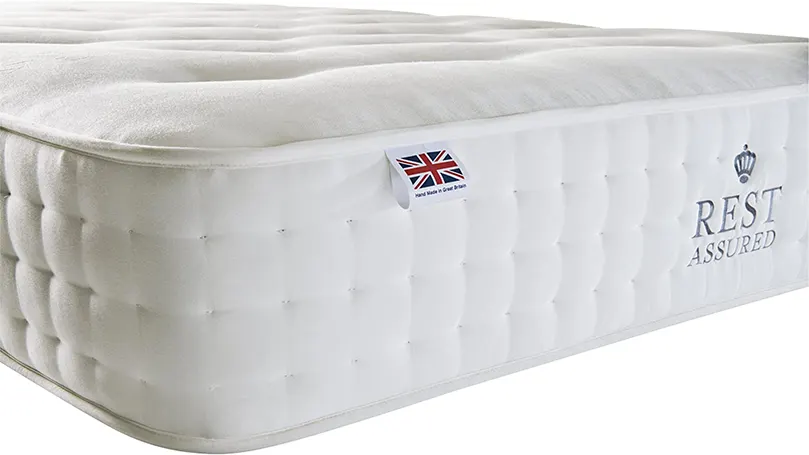 Silk, cashmere and British wool filling
Natural fillings are the second most important aspect of this mattress. Instead of going with memory foam, Rest Assured has blessed us with a generous layer of natural filings.
By combining natural silk, cashmere and British wool, Rest Assured has managed to keep their mattress nice and comfortable, without sacrificing safety, airflow, breathability, or hypoallergenic properties.
Wool is known as nature's most precious temperature regulator, which is why it can often be found in mattresses, toppers, and other sleep-related products. It will keep you nice and cool during the warm summer nights, but it'll also keep you warm and cosy during the winter. So, say goodbye to your winter sleeping socks!
Silk and cashmere on the other hand are there to keep things smooth, soft and comfortable.
In addition to all of that, the complete absence of memory foam means that there will be no potentially harmful chemicals found in this one. So, aside from being more breathable than a regular memory foam mattress, this one will also create a sleep environment that's good for your health.
2000 individual pocket springs for joint, hip and back support
As you can tell from the name, Rest Assured 2000 comes with two thousand individually nested pocket springs, wrapped in honeycomb cloth pockets.
Unlike traditional coil mattresses, pocket sprung mattresses keep their springs separate. This allows for much more tailored and superior support because lying on one spring won't affect the other right next to it. Loosely translated, this means that regardless of the position you sleep in, every part of your body will receive the support it needs.
You will particularly feel the benefits of pocket springs around your hips and shoulders, as well as on your back and joints.
Furthermore, the fact that the springs aren't tied together means that there is a far lesser chance of any dips forming. So, you won't have to worry about sagging with this one.
This is a medium to medium-firm support mattress – depending on how much you weigh. It's not a huge range, but it's present.
For an average sleeper, this Rest Assured mattress will feel medium, but if you're a bit lighter, you might find this one medium-firm.
Either way, this mattress sits in the middle as far as firmness is concerned, which is exactly what makes it so good for side and back sleepers. It will allow for your hips, shoulder and bottom to gently sink into the mattress, while the rest of your body stays in perfect alignment.
This level of firmness and support also makes it excellent for relieving pressure and pain caused by a bad mattress. So, if you're struggling with any of those – this single-sided mattress might just help.
Even though you won't use your mattress without a sheet – the mattress cover still matters. In this case, we have a micro-quilted Damask cover.
Damask covers are a common choice for mattresses because of the way they're woven. They will keep the moisture away from your body and will keep the sleeping surface sufficiently cool.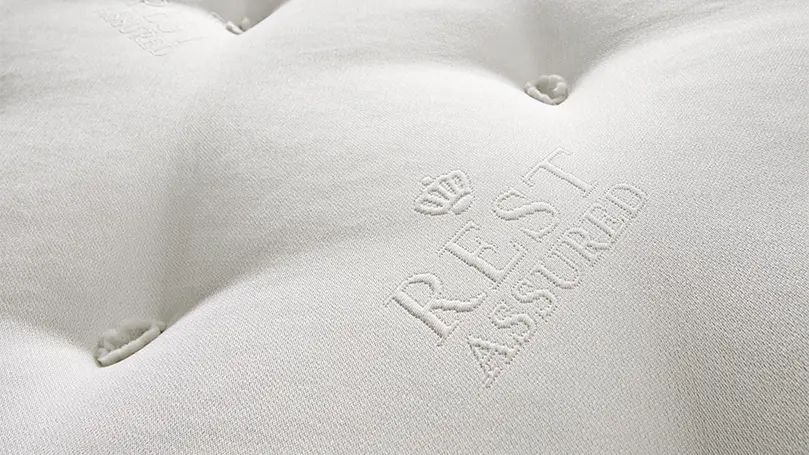 In this case, micro-quilting also helps keep the natural fillings securely in place, so that you don't have to worry about any lumps or hollow spots in your comfort layer.
However, one of the drawbacks of this otherwise lovely cover, is that it is not removable or machine-washable. So, investing in a mattress protector might be a solid idea.
Hypoallergenic & chemical-free
As we have already said, this mattress is completely void of memory foam. That alone makes this mattress free of any potentially harmful chemicals that are often used to treat and manufacture memory foam.
To attest to this, this UK-made mattress is approved and certified by the National Bed Federation and Good Housekeeping Institute. Furthermore, despite not being chemically treated or having any memory foam inside it, this mattress is also fire-retardant.
At 25 cm or 10 inches, this mattress is what many consider to be ideally deep. Or thick, whichever you like best.
The reason we consider 25 cm deep mattresses to be ideally deep is because, at that depth, they're pretty much guaranteed to be perfect for any bed frame or bed base.
Also, 25 cm deep pocket sprung mattresses are just deep enough so that you can comfortably sink into them without feeling the springs poking you in the back.
Finally, at 25 cm, this mattress is perfect for most fitted sheets and waterproof mattress protectors, which we already said you might need.
We've mentioned a few times already that this is a single-sided mattress, but, why should that concern you?
Well, single-sided mattresses are generally easier to maintain than double-sided ones simply because they don't require flipping or turning. The only thing you'll need to do to maintain this mattress is keep it clean, and rotate it head to toe once a week for the first three months. After that, simply rotate it once a month for as long as you use it.
Rotating will help you evenly break the mattress in, and will also prevent any dips from forming.
Keep in mind that rotating isn't optional. Not only will you risk damaging your mattress this way, but you'll also void the warranty.
The only problem with this is that your new mattress won't come with turning handles, so you might need an extra pair of hands to easily turn this pocket spring mattress.
As soon as you get your hands on your new mattress – your 5-year warranty will start.
Rest Assured holds their products to the highest standards. They also guarantee the quality of their products, both divan beds and mattresses, by offering the manufacturer's warranty.
In this case, you get a 5-year warranty to protect you from any manufacturing defects, so if your mattress gives out too early – you'll be properly compensated.
However, from what we saw during our testing – the durability or longevity of this mattress shouldn't be an issue.
Keep in mind, warranty only applies to manufacturing defects, so if you stain the mattress, or you fail to maintain it in any other way – your warranty will be voided. So, here's a piece of advice. Bed and breakfast should stay reserved for hotel rooms. Keep your bed clean.
Review of Rest Assured 2000 Pocket Sprung mattress
Now, let's take a look at the review of Rest Assured 2000 Pocket Sprung mattress.
As we've said, this is one of the most popular mattresses in the UK -customer reviews can prove that. And, considering everything we've learned about this one from our tests – we agree with them.
This is a very good mattress. It is reasonably priced, it is comfortable and supportive, it sleeps cool and dry, and is quite durable.
Pocket springs inside of this one are excellent. They're full-sized, responsive, durable, supportive, and quiet – everything you need for a good night's sleep. And, thank's to the side-stitching done on this one – edge support isn't as bad as it often is on pocket sprung mattresses.
Thanks to the individual pocket springs, motion transfer shouldn't be an issue. Even if you're sharing a bed with the world's most restless sleeper – you shouldn't wake up during the night.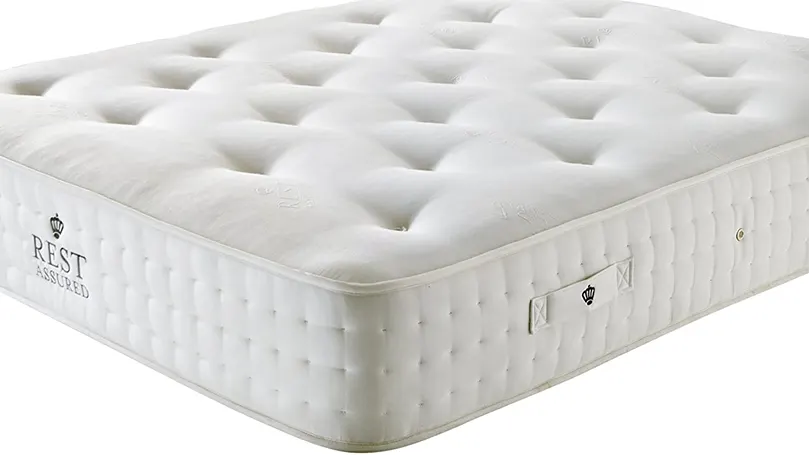 On top of the pocket springs, we have a layer of high-quality natural fillings – wool, silk and cashmere. The fillings feel nice and premium. They're hypoallergenic, stay in place, don't retain heat, and they don't retain sweat or funky odours.
Overall, this is an excellent medium support mattress that should help turn your bed into a blissful sleeping surface you'll enjoy all night, only to wake up feeling relaxed and ready to take on the day.
The only real drawbacks are that the cover is not removable. However, we can help you solve the issue of cover. Measure the mattress depth and size, shop for an appropriately sized mattress protector, put it on, and you'll be set.
Type: Pocket sprung
Firmness: 4.5/10
Mattress depth: 25 cm
Warranty: 5 years
Size: Single, Double, King, Super King
Cool and breathable
Supportive and comfortable
Excellent durability
Natural fillings
Hypoallergenic
Motion isolating
Pressure and pain-relieving.
No removable cover
Not suitable for front sleepers.
What we like about Rest Assured 2000 Pocket Sprung mattress
It is objectively comfortable to sleep on
It offers adequate support where you need it the most
Motion transfer shouldn't be an issue with this one
It is pressure relieving
It is a safe option for allergy sleepers.
What we didn't like about Rest Assured 2000 Pocket Sprung mattress
You can't remove or wash the cover
Front sleepers might want to look for something a bit more firm.
What makes this product better than some other similar ones?
Even though this one does not offer orthopaedic support, we must say that what makes this product better than the similar pocket sprung mattress is the actual support. The way these springs cradle your body, you'd think that this mattress was made just for you.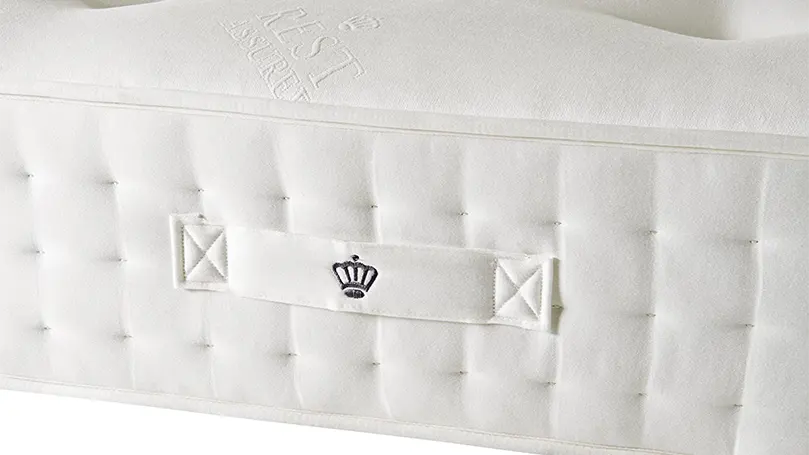 Also, pocket sprung mattresses aren't quite known for motion isolation, but with this one, your partner could toss and turn on one side of the bed, and you wouldn't feel it on the other. It is truly excellent.
All in all, this truly is an excellent value product almost every person would be lucky to have in their life.
How did we test the product?
When testing and reviewing products, our goal is always to be as objective as we can. While we're sure that we can't quite objectively assess things like comfort, what we can do, is take a look at all the individual pieces that make a product great, inform you on all of them, discuss how a product behaves, and so on.
In this case, it all started with a simple inspection to check for potential damages like nicks, tears or loose stitching. Fortunately, we didn't notice any. Another thing we didn't notice is any off-gassing, so you won't have to keep your new mattress in a well-ventilated room for 24 hours before you go to bed.
What we also did was test the durability and longevity of the mattress by performing a roller test. During this test, we simulate long term use and see how a product stacks up over time. As you already know, this one did great.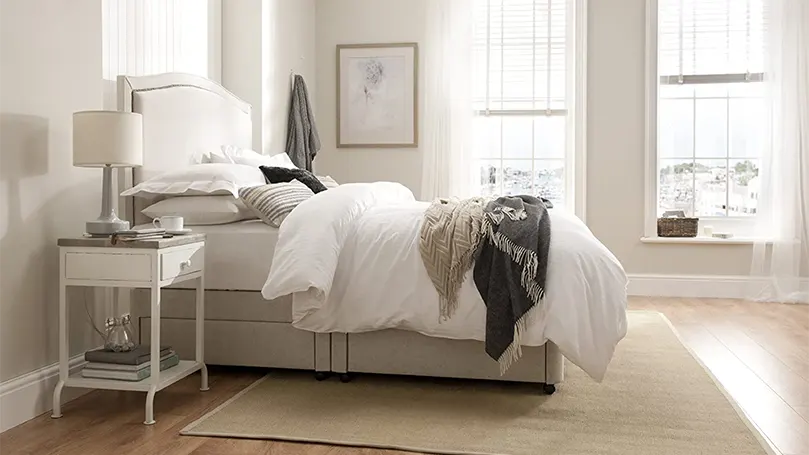 In addition to that, we also did the kettlebell test to test just how much will this mattress sink under pressure. As expected, it did well once again.
Finally, in order to get an objective overview of things like comfort, support, edge support, breathability, responsiveness, motion transfer, pressure relief and more, all of our team members took turns testing the mattress "hands-on", in varying conditions. We've slept in both hot and cold rooms, we've switched bed frames, and in doing so, we never tried to influence each other's opinion.
Once the testing was over, we sat down, compared our findings, and wrote this review.
FAQs about your Rest Assured 2000 Pocket Sprung mattress
Now, let's wrap things up by giving some answers to some frequently asked questions.
Should back sleepers use Rest Assured 2000 Pocket Sprung mattress?
Yes. Back sleepers will have a great time using this one.
Is Rest Assured 2000 Pocket Sprung mattress suitable for side sleepers?
This is an excellent choice for side sleepers.
Would stomach sleepers like Rest Assured 2000 Pocket Sprung mattress?
Not quite. Unless they're lightweight, front sleepers ought to look or something a bit firmer.
Is Rest Assured 2000 Pocket Sprung mattress good for sleepers with neck pain?
Sure. However, if you have trouble with neckaches, you might want to look into getting a new pillow.
How to clean my Rest Assured 2000 Pocket Sprung mattress?
You can either vacuum or use a damp cloth to spot clean this one.