Happy Beds - Signature 2000 Pocket Sprung Mattress Review
Today, we're going to be reviewing one of the Signature series pocket sprung mattresses from Happy Beds – Signature Platinum 2000 Pocket Sprung Orthopaedic Natural Fillings mattress… A mouthful, isn't it? Well, aside from the name, let's take a look at what else makes this pocket spring mattress stand out and why it is among the best picks within the United Kingdom market.
Who is Happy Beds Signature Platinum 2000 mattress for?
Happy Beds is a well-known company that produces high-quality mattresses and this time, they deliver pocket sprung orthopaedic mattress with natural fillings. It will help you to keep your spine aligned all the time while you are sleeping.
Although it is classified as a medium-firm,  this is a high quality orthopaedic mattress, meaning it is quite firm mattress. A mattress this firm will provide you with enough support for your whole body, possibly eliminating any pain and comfort associated with inadequate sleep.
Add a header to begin generating the table of contents
What do we use this product for?
As is often the case with a pocket sprung mattress, we would use it when we're in need of some additional support and orthopaedic features. With that being said, this is a medium-firm/firm mattress, so it should be a good fit for most people, not only those in need of some additional support. But for those who want a help for their post-surgical recovery, this natural fillings mattress is the first pick to go with. In a nutshell- Happy Beds Signature Platinum 2000 mattress is a suitable choice for:
Sleepers who like medium-firm/firm mattresses
People who need an orthopaedic support after the surgeries
All those who need a good an improved spinal alignment
Those who want a breathable mattress that won't make them hot.
Is Happy Beds Signature Platinum 2000 mattress an upgraded version of a product?
Signature Platinum is one of the higher-end models in the Signature series, so, in a word, yes, it is an upgraded version of several previous models. The main difference between this one and the lower-end models lies in the number of individually nested pocket springs, which this mattress has 2000 of, compared to 1800 and 1400 on some other models.
Features you should know about Happy Beds Platinum 2000 mattress
As is the case with all the other pocket sprung mattresses, this one also comes with its own set of defining features. We feel like you should know more about these features before you settle on buying any mattress. Let's begin!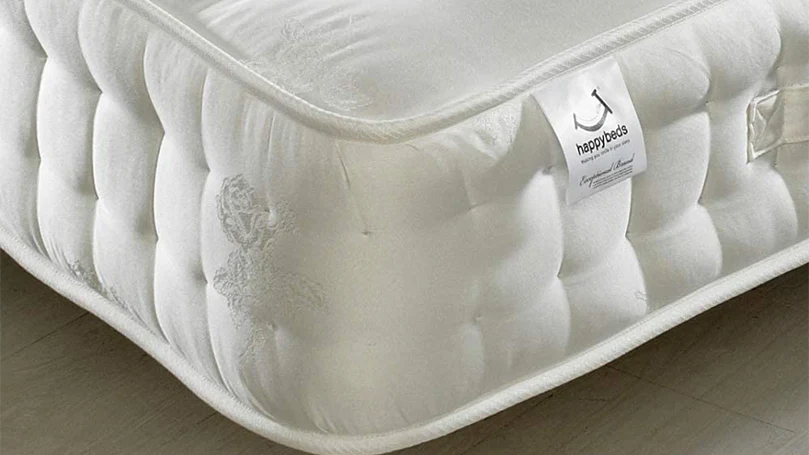 As is the case with any other pocket sprung mattress, pocket spring count is what pretty much defines it. This one has 2000 individually nested pocket springs, and we have to say – they're great. Now, the number of individual coils is important, and 2000 is widely considered a sweet spot. However, it is much more critical how those springs react to your body and how they feel when you lie down.
Overall, the quality of springs on this one is satisfying but not as good as we thought they would be. The springs support your body weight quite well, but after some prolonged use, we noticed some minor dips.
This mattress is overflowing with natural fillings and materials, including but not limited to wool, cotton, mohair and cashmere. Now, we're interested in wool and cotton. This mattress is hand-stitched and hand-tufted, which is usually a great sign that you're dealing with a comfortable and durable mattress.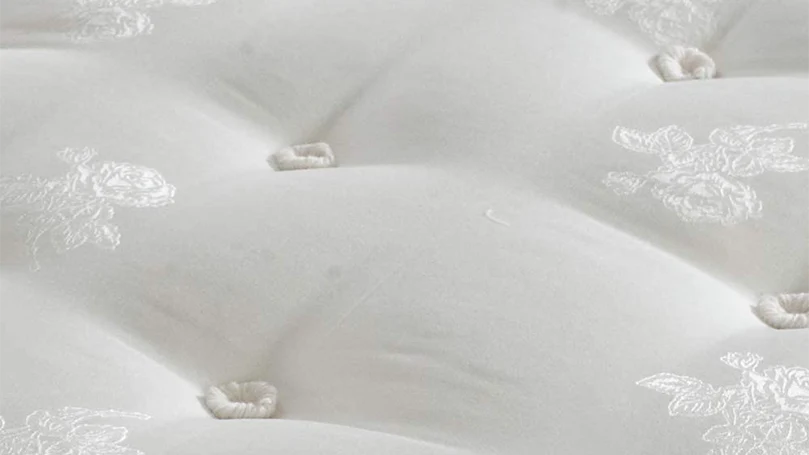 These wool and cotton tufts really do make for a good night's sleep, as they do a great job of covering the pocket springs, making them virtually impossible to feel. Also, they do a pretty good job regulating temperature – so that's a bonus.
Pair that up with a high-quality damask fabric used for covers and you have yourself a luxurious feel.
Now, this is rated as a medium-firm mattress, but we'd say it's a little bit firmer than that. While that could be an issue for some lightweight and side sleepers, the extra firmness of this one really makes it great as an orthopaedic mattress.
If all you're looking for is a firm yet comfortable sleeping surface that will keep you properly aligned and pain-free – this is the mattress for you.
On the other hand, if you're looking for something to alleviate the pressure from your joints, hips or shoulders – this might not be the right choice for you.
Happy Beds advise you to flip and rotate this mattress once every six weeks. We, on the other hand, would advise you to do it at least once a month.
Either way, you shouldn't have any trouble flipping or rotating this one, no matter how often you do it. Even the king-size, 190 cm long and 31 kg heavy mattress will be easy to handle (pun intended).
This one comes with six hand-stitched handles, two on each side, plus an additional one on each end. These handles are pretty heavy-duty, so you shouldn't worry about ripping or tearing them, even if you have the heaviest mattress available.
Review of Happy Beds Signature Platinum 2000 Pocket Sprung Orthopaedic Natural Fillings mattress
All in all, this is a solid overall natural fillings pocket sprung orthopaedic mattress. It is handmade from quality materials; it's hand-tufted, it's firm, comfortable and has a pretty solid pocket sprung foundation.
Where this mattress really excels is support, spinal alignment and breathability. Support and proper spinal alignment are crucial for an orthopaedic mattress and this one does it exceptionally well. As far as breathability goes, we can safely say that this has to be one of the most breathable mattresses we've ever reviewed. Air vents, natural fillings (wool and mohair) all do their job perfectly.
On top of all that, you can get this pocket sprung orthopaedic mattress in 6 different sizes, so we're pretty certain you'll be able to find the one that matches your bed and your needs.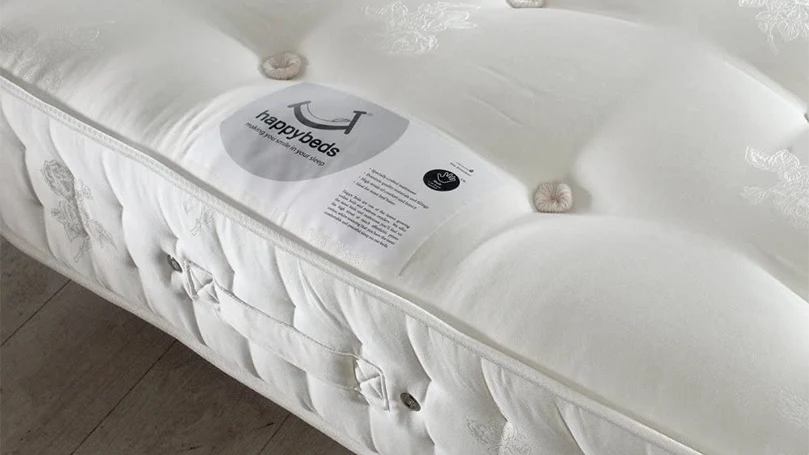 On the not-so-bright side of things, this mattress is not hypoallergenic and it does seem to have some durability issues. Not only did our roller test make that obvious, but we had also noticed some dips after our testers were done sleeping on it, even though we have flipped and rotated it after a month.
Furthermore, to say pressure-relieving properties are not the strongest suit of this mattress would be an understatement. But, to be fair, if you were looking for pressure relief, you would look for a memory foam mattress.
Finally, if you're a lightweight person that sleeps on their side – you probably won't find this to be a comfortable mattress.
Type: Pocket Sprung
Firmness: 7.5/10
Thickness: 25 cm
Size: Small Single, Single, Small Double, Double, King, Super King.
Great orthopaedic properties
Incredibly cool and breathable
High-quality materials & craftsmanship.
Not hypoallergenic
Will quickly develop dips; not the most durable or long-lasting
Subpar pressure-relieving properties.
What we like about Happy Beds Signature Platinum 2000 mattress
If you're in the market for something firm that can support some substantial weight – this is the mattress for you
Arguably, one of the most breathable pocket sprung mattresses we've ever tested
When on sale, this mattress is one of the best value mattresses you can buy.
What we didn't like about Happy Beds Signature Platinum 2000 mattress
This sprung orthopaedic mattress has quite a lot of bounce and not a lot of motion isolation, making it not the best for those sleeping with a partner
It does develop dips after regular use, so you might want to use it as a guest bed rather than your regular mattress
On top of it not being hypoallergenic, this mattress also does not have a removable cover, which could cause some issues for people suffering from allergies.
Check the alternatives to Happy Beds Signature Platinum 2000 mattress
Since there are some obvious drawbacks to this sprung orthopaedic Signature Platinum 2000, we thought we might offer you an alternative choice. Let's check them out!
Eve Premium is an alternative pick for those in need of a softer mattress. This one checks all the boxes that Signature Platinum is missing – it's softer, offers excellent motion isolation and is ideal for side sleepers.
With its anti-fugal and anti-bacterial removable cover, the maintenance is going to be super easy. Considering that all EVE products come with 10-year warranty, you can be sure that you will not face any durability issues.
We do have an in-depth review of EVE Premium Hybrid mattress so we suggest you checking it before you decide to buy this mattress.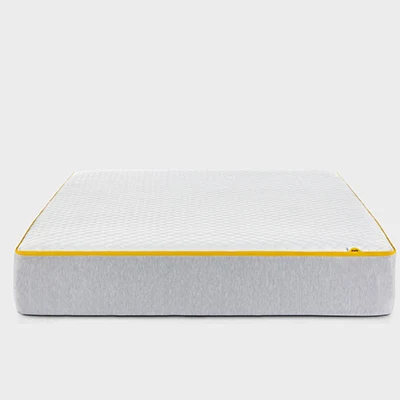 Very comfortable
Great motion isolation
Cool and breathable.
It might be too soft for heavier sleepers
Somewhat expensive
Lacks some additional edge support.
Signature 3000 Crystal Pocket Sprung mattress
Signature 3000 is another medium-firm mattress from Happy Beds' lineup of pocket sprung mattresses. It is quite similar to our reviewee, only this one comes with 1000 additional reasons to buy it (yes, we're talking about pocket springs) and it is far more durable than Signature Platinum.
With its high quality cotton material, a hand-tufted cover and high quality springs, this is a great upgrade for all Happy Beds enthusiasts. With 3000 individual springs, you will get a medium firmness and the superb comfort. Durability is also improved when compared to our model that we are reviewing. 
Check our review of Happy Beds Signature 3000 Crystal Pocket sprung mattress.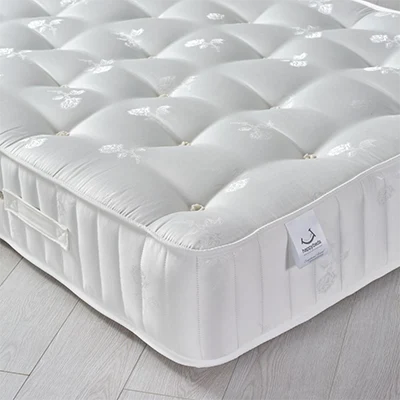 High-quality natural materials
Solid motion isolation
Great orthopaedic properties
Improved durability. 
Not hypoallergenic
It could be too firm for lightweight and side sleepers
Subpar pressure-relieving properties could be better.
Consider Supportiback Comfort Therapy pillow if you are buying Happy Beds Signature Platinum 2000 mattress
A pocket sprung mattress and a memory foam pillow go hand in hand, especially if you're struggling with neck issues. 
This memory foam pillow from Supportiback does quite a nice job of keeping your head and neck in an ideal position, especially if you sleep on your side, making it a great orthopaedic companion for our Signature Platinum 2000 pocket sprung mattress. 
Also, it is very comfortable pillow that you can pair with our reviewee, especially if you are recovering after the surgery.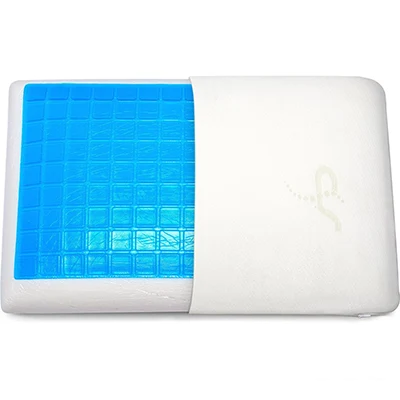 Affordable pillow
Very comfortable
Washable hypoallergenic cover.
Some sleepers find it retains heat too much
Questionable durability
Not suitable for stomach sleepers..
What makes this product better than some other similar ones?
There are many other orthopaedic, medium-firm mattresses that you can choose from, but what sets this one apart is that it is well-crafted, handmade from the best natural materials, is hand-tufted and will adequately support even the heaviest sleepers. Though we did find some possible durability issues, it is still a fantastic orthopaedic mattress that we highly recommend.
How did we test the product?
With so many mattresses on the market, we made it our mission to test as many mattresses as possible so that we can deliver objective reviews to you, the customer. We always do our best when it comes to reviews, and we strive to stay as objective as possible.
We did the same for this mattress. Signature Platinum 2000 is one of the many orthopaedic mattresses we have tested lately, and one thing is for sure – this one will give you all the support you need.
Naturally, as is always the case with orthopaedic mattresses, the main things we focused on are firmness, support and comfort, and durability.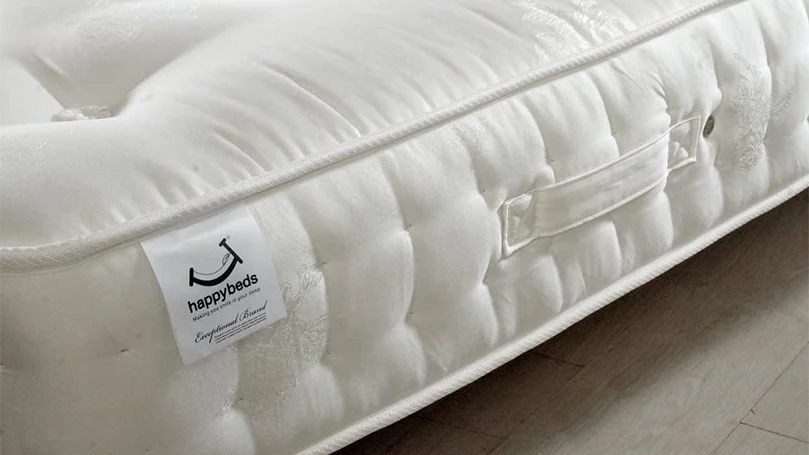 First, we tested firmness. Each of our team members spent ten nights sleeping on this mattress, writing down the impressions. It is important to note that our team counts 6 people, so by the time we're close to done with testing, the mattress has already been "broken in", so we do get to feel what the mattress will feel like after some time. Furthermore, all of our team members have different sleeping preferences, which allows us to paint a bigger picture for you.
Next up, we tested the durability of the mattress with a roller, simulating long term use. As you might know, pocket sprung mattresses do tend to last longer than traditional spring types. However, that hasn't really been the case here.
On top of all that, we also made sure to focus on edge support, pain and pressure relief, motion isolation and bounciness, weight distribution, breathability and the overall build quality and feel of a mattress so we can deliver the final review to you.
FAQs about your Happy Beds Signature Platinum 2000 Pocket Sprung Orthopaedic Natural Fillings mattresses
In the end, we wanted to answer several frequently asked questions that you might have. We've focused primarily on the orthopaedic properties, but don't worry; we didn't forget about the maintenance.
Is Signature Platinum 2000 Pocket Sprung Orthopaedic Natural Fillings mattress good for back pain?
In a word - yes. This natural fillings mattress is quite suitable for back pain. If you sleep on your back or stomach, this mattress will adequately support and align your spine, which will certainly alleviate some of your back pain.
Is Signature Platinum 2000 Pocket Sprung Orthopaedic Natural Fillings mattress good for neck pain?
This natural fillings mattress mattress will offer some relief as far as neck pain is concerned, but we would also recommend switching your pillow if you have neck issues.
How do I maintain my Signature Platinum 2000 Pocket Sprung Orthopaedic Natural Fillings mattress?
The mattress cover on this one is not removable, so you'd clean your mattress either by vacuuming or with a mixture of warm water and mild detergent. Baking soda and vinegar could also come in handy.
Should I use Happy Beds Signature 2000 mattress for post-surgical recovery?
Yes, this mattress is suitable for the post-surgical recovery process. 
Do I pay the delivery for Happy Beds Signature 20000 mattress?
No, you don't pay the delivery. The delivery is free of charge and the product is delivered to your address the very next day you order the product.