Relyon Vienna Ortho Pocket 1000 Mattress Review
There are people who need an orthopaedic mattress. Some of them just like firm support and therefore choose this type of mattress, while others need an orthopaedic mattress due to back problems. Although many mattresses are advertised as orthopaedic, many of them do not actually provide that type of support. Relyon Vienna Ortho Pocket 1000 mattress is a true orthopaedic mattress and that's why we decided to test it. Here is your review by The Sleep Advisors.
Who is Relyon Vienna Ortho Pocket 1000 mattress for?
Relyon Vienna Ortho Pocket 1000 mattress is firm mattress for all those who have back problems as well as for those who like firm support and sleep on their back or stomach. 
Certainly not for side sleepers to whom this mattress would cause shoulder and hip pain after the very first night.
It is good for allergy sufferers and we generally think hot sleepers will also be happy with the level of breathability.
Add a header to begin generating the table of contents
What do we use this product for?
We use Vienna Ortho mattress for orthopaedic properties such as firm support. If the most important thing for you is that your spine is aligned throughout the night, then this mattress is a great choice for you. Don't get us wrong, this mattress is not as hard as rock, it is supportive but also comfortable, so we use it for restful night's sleep too.
We use it for support
We use it for temperature regulation
We use it for hypoallergenic properties.
Features you should know about Relyon Vienna Ortho Pocket 1000 mattress
Now is the time to break down all the most important features of this mattress. In this part of our review you will find out, among other things, everything that is important about the pocket spring system and layers of lambswool and cotton.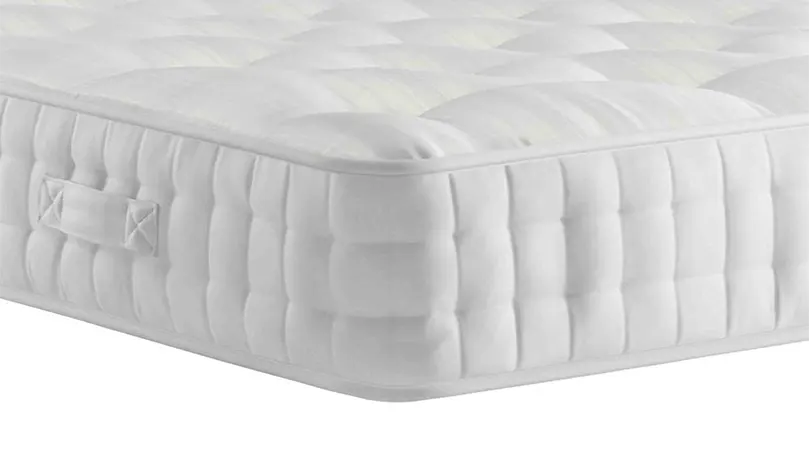 Firm & orthopedic support with 1000 individual pocket springs
We will first look at the 1000 pocket springs that are in this mattress and which are actually crucial for firm support and supportive surface feel. If you need orthopaedic support,because you suffer from pain in the neck, back or pelvis area, you will be happy to hear that 1000 pocket springs will respond to you every movement, giving you firm support but to the extent necessary.
What exactly does that mean? Since each individual pocket spring is hand-nested in a cotton sleeve and centre-tied with linen cord, then each pocket spring works independently. This way you get support on each part of the body individually. Another advantage of individual pocket springs is that they prevent motion transfer, making couples sleep peacefully.
Natural layers of lambswool and cotton
Only premium mattresses, such as Relyon Vienna Ortho mattress, contain high-end natural materials such as wool and cashmere. In this mattress, on top of the 1000 individual pocket springs, you will find layers of lambswool and cotton.
Lambswool is a finest type of wool, which is even compared to down because of its softness. Lambswool is a comfort layer, but also layer in charge of the temperature regulation. Wool will keep you warm in winter and lower your body temperature during summer.
Cotton layer, exceptionally breathable too, has been added to make you even more comfortable, and also wicks moisture away from you if you sweat, so you will always sleep in a dry and clean environment because of cotton.
Highly breathable & hypoallergenic
The breathability of this mattress is fantastic. The pocket spring system is breathable, and so are layers of lambswool and cotton. In addition, air vents have been implemented on the sides of the mattress to further improve air circulation, which gives a perfectly breathable mattress suitable for hot sleepers and dust free mattress for people with allergies.
If you are wondering if this mattress is hypoallergenic due to lambswool, we can tell you that wool is not a known allergen. That is why it can be used by all people who have allergies. There are people whose skin is sensitive to wool, although it is not an allergen, but they can check if the mattress suits them during the trial period.
Hand tufted plush top layer
Layers are hand-tufted, which contributes to the durability and stability of this mattress. When the layers are not hand-tufted, they can be glued or even left independent. But when glued, durability is not that good, while if the layers are left independent, the mattress will be unstable.
Hand-tufting is a premium process of securing the layers that further enhances the firm support of this mattress. Hand-tufting is one of the reasons why you can expect this mattress to last you a very long time.
Mattress fabric cover is made of luxurious Belgian Damask . The damask cover looks nice, featuring honeycomb pattern and is high quality both because of the material and because of the workmanship. It will give you a soft and fresh insulating upholstery layer, and durability is definitely not an issue. The cover is hypoallergenic, as is the rest of the mattress, so it additionally protects you against dust mites and other allergens.
Double sided & turning handles
In terms of durability and longevity, being double sided is plus for this mattress. Every few months you should flip and rotate it, thus always providing yourself with the same level of comfort. And at the same time keeping the mattress as new, because having two sides means that the wear and tear will decrease.
Turning handles are very durable and will make moving this mattress, which is not lightweight at all, very easy. Customers often overloo the importance of the mattress having handles, and you only realize how important it is when you first want to flip it.
It is 26 cm deep, which is slightly above the industry average. This is quite enough even for people with a higher BMI, and all people of average body weight will be very satisfied. You will need deep fitted sheets.
8 years warranty & free delivery
The 8 year warranty is above the industry standard, which is great, but certainly something we expected from a mattress in this price range. If damage occurs or wear and tear is more pronounced than what is considered normal, you do not have to worry, because the company will solve this problem for you. Of course, one exception is if you caused the damage.
Also, this mattress will be delivered to you for free. Depending on the size you choose, you will be able to choose which day it will be delivered to you or it will be delivered to you within 3 to 5 weeks.
Review of Relyon Vienna Ortho Pocket 1000 mattress
Relyon Vienna Ortho Pocket 1000 is a high-end mattress that is 26 cm deep. It belongs to the group of orthopedic mattresses that provide firm support. On a firmness scale of 1 to 10, it is around 8, which means it is very firm and therefore unsuitable for side sleepers. But on the other hand, it is ideal for front and back sleepers that will get support and comfort at the same time.
It has 1000 pocket springs that are hand-nested in a cotton sleeve. Each of these 1000 pocket springs works independently, adapting to your body, and that construction eliminates movement transfer. Over the pocket spring system you can find comfort and temperature regulating layers made of lambswool and cotton. These layers are hand-tufted and the overall craftsmanship is at a very high level.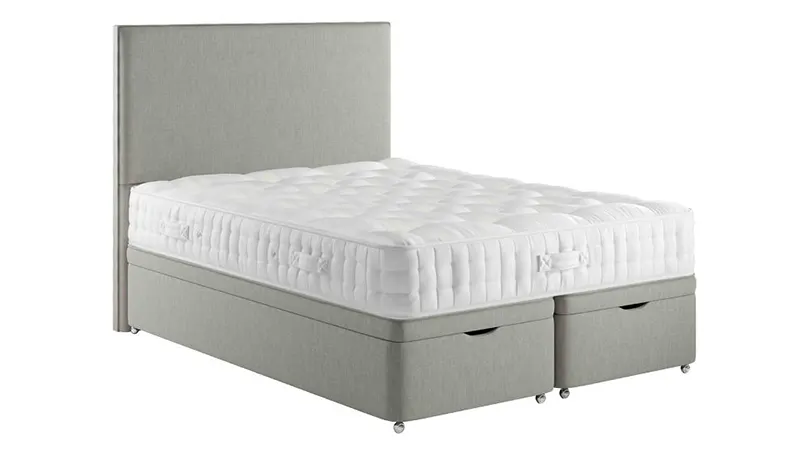 The mattress is hypoallergenic and breathable, great for hot sleepers and allergy sufferers. Belgian Damask cover is soft, hypoallergenic and breathable, but it is not removable. The mattress will be delivered free of charge and comes with an 8-year warranty. It is fire resistant and approved by the National Bed Federation.
Type: Orthopedic
Material: Lambswool and cotton
Firmness: 8/10
Support: 8/10
Mattress depth: 26 cm
 Warranty: 8 years 
Size: Single, Small Double, Double, European Double, King, European King, Superking
Removable cover: No
Hypoallergenic: Yes
Trial: None
Care: Wipe with a damp cloth.
What we like about Relyon Vienna Ortho Pocket 1000 mattress
The combination of wool and cotton brings great temperature regulation, breathability and softness
Craftsmanship is at a very high level, and high-quality materials have been used, so we expect it to last more than a decade
If you have back pain, buying this mattress can be a big step towards solving that problem.
What we didn't like about Relyon Vienna Ortho Pocket 1000 mattress
We can't imagine any side sleeper for whom this mattress would be comfortable, because it's too firm for that sleep position
It is not possible to remove and wash the cover, so you must use bed sheets to sleep in a clean environment
It is significantly more expensive than the average mattress on the UK market.
The common problems with Relyon Luxury Silk 2850 Pillow Top mattress

Firmness is a problem that a certain number of customers have when they buy the Relyon Vienna Ortho Pocket 1000 mattress. It is an orthopaedic mattress as advertised, but that means it is very firm. Although it has a soft wool and cotton layer, it is not enough to make it comfortable for side sleepers. 
That problem can certainly be solved by buying a memory foam or microfibre topper that will make sleeping on this mattress more comfortable, while the support and all other features remain the same. However, it is certainly not the cheapest option. It is up to you to decide whether this mattress is worth your money if you are side sleeper.
What makes this product better than some other similar ones?
There are so many features that make the Relyon Vienna Ortho Pocket 1000 mattress better than some other similar ones, but first we will single out the overall quality. We have only the highest praise for the quality of materials and craftsmanship. All this gives us a highly functional and durable mattress. Even heavier people will get the necessary support, preventing back pain. The mattress is comfortable and breathability will satisfy even hot sleepers during the summer. You get an 8-year warranty, which means that your investment is safe, which is very important, because this is a high-priced product.
How did we test the product?
At the time we ordered this product, the date of delivery could be chosen for Single, Double and King sizes, while if you opt for some of the other sizes, delivery will take place in the next 3 to 5 weeks. You can opt for Saturday delivery, delivery to the room of your choice as well as mattress recycling, and each of these options is charged extra.
As soon as we received the mattress, we immediately noticed that off-gassing is not present, other than the usual smell of new things that disappears very quickly. That's why we were able to start testing immediately.
The roller test showed no durability concerns, while we skipped the maintenance test as the cover is non-removable.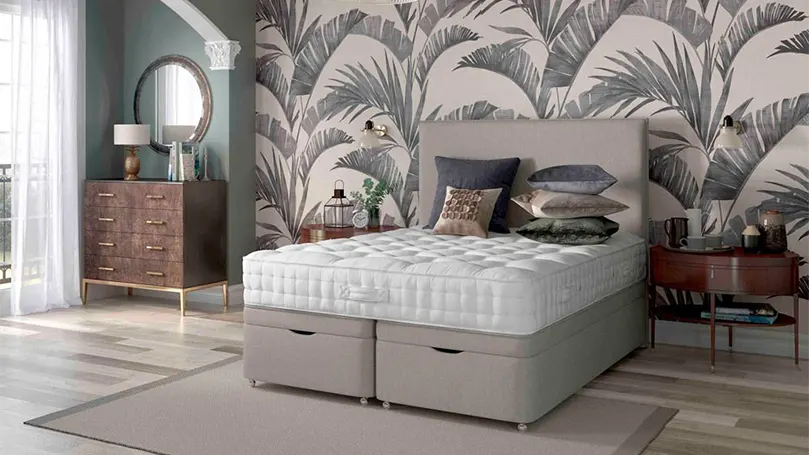 First, the mattress was tested by side sleepers from our mattress test team and after an hour they concluded that this is certainly not a suitable product for this sleep position. However, they tried it a few more times to make sure that the discomfort was not due to the fact that the body was not familiar with the mattress. It was then taken over by testers who sleep on their stomachs and backs and they conducted weeks of testing of all the features.
Overall impressions of the product after the testing
Our main impression about the Relyon Vienna Ortho Pocket 1000 mattress is that you cannot ask for more than what this mattress offers. If you are a side or back sleeper or someone in dire need of an orthopaedic mattress, you will be amazed by the performance. The support is fantastic on the entire surface of the mattress, even at the very edge. It is made of the highest quality materials, such as cotton and lambswool. It is 100% hypoallergenic and very breathable, great for hot sleepers. We believe that it will last at least 10 years.
FAQs about Relyon Vienna Ortho Pocket 1000 mattress
In the last section of our review you will find answers to frequently asked questions about your new Relyon Vienna Ortho Pocket 1000 mattress.
Should side sleepers use a Relyon Vienna Ortho Pocket 1000 mattress?
No, we advise side sleeper against using this mattress, since it is way too firm for them.
Is Relyon Vienna Ortho Pocket 1000 mattress suitable for back and stomach sleepers?
Yes, Relyon Vienna Ortho mattress is great choice for back and stomach sleepers because it will keep their spine aligned and give them comfortable night's sleep.
How do I clean my Relyon Vienna Ortho Pocket 1000 mattress?
There is no way to clean it other than spot cleaning, so you should use bedding.
Does Relyon Vienna Ortho Pocket 1000 mattress contain any toxic substances?
No, it does not contain any toxic substances and it is even approved by the National Bed Federation.
Does Relyon Vienna Ortho Pocket 1000 mattress have any off-gassing issues?
You may notice slight off-gassing, which is normal for any new product, but it will disappear very quickly because it does not contain memory foam, which is the culprit for multiday off-gassing.