The Best Bed Frames: 2022 Guide For Choosing The Best Beds UK
A common mistake of customers is to pay attention only to the mattress and not to the bed frame. To avoid making the same mistake, The Sleep Advisors prepared the best bed frames UK guide for you to find out more about the best beds UK available within the market.
Everyone pays attention to mattresses, which is certainly justified because it is something we sleep on, directly. But if we have a bad and inadequate bed frame, then no matter how good the mattress is, a poor bed will prevent us from reaching the optimal sleep experience.
We also want to emphasize that the bed frame should not just be viewed as something that holds the mattress. The bed is much more than that, because it can represent extra storage space, as well as make stylish beds even more stylish. When you decide on one of the best bed frames, it will benefit you many times over.
And now we come to our best bed frames UK picks. After careful consideration of all the factors we will list a bit later, the reputation of the manufacturers, as well as checking availability in the UK, we chose the following eight bed frame options. They met all the criteria and proved to be the best in their category.
IMAGE
PRODUCT
DETAILS

KEY FEATURES:

Type:

Storage

Material:

Velvet, steel, wood

Available sizes:

Small double, double, king

View Latest Price

KEY FEATURES:

Type:

Storage

Material:

Metal, fabric, wood

Available sizes:

Single, small double, double, king, super king

View Latest Price

KEY FEATURES:

Type:

Standard

Material:

Wood, foam, polyester, MDF, velvet

Available sizes:

UK double, UK king, super king

View Latest Price

KEY FEATURES:

Type:

Storage

Material:

Wood, polyester

Available sizes:

UK double, UK king, super king

View Latest Price

KEY FEATURES:

Type:

Platform

Material:

Wood, fabric

Available sizes:

Single, double, king, super king

View Latest Price

KEY FEATURES:

Type:

Box spring

Material:

Metal

Available sizes:

Single, small double, double

View Latest Price

KEY FEATURES:

Type:

Storage

Material:

Polyester, oak

Available sizes:

Double, king, super king

View Latest Price

KEY FEATURES:

Type:

Standard

Material:

Linen fabric, beech

Available sizes:

Double, king, super king

View Latest Price

KEY FEATURES:

Type:

Standard

Material:

Hopsack upholstery, natural wood feet

Available sizes:

Double, king

View Latest Price

KEY FEATURES:

Type:

Standard

Material:

Velvet (100% recycled polyester)

Available sizes:

Double, king

View Latest Price
BEST OVERALL: Warwick Grey Velvet Ottoman Bed
Luxurious look, strong construction and plenty of storage space have made this bed frame the best overall of our choice.
There are some products that stand out in all fields, and Warwick Gray Velvet Ottoman Bed is a great example of that. The whole bed frame is made of top quality material and is very durable. It has a big velvet upholstered bed headboard that contributes to a very luxurious look of the whole bed. Also, there is a a lot of room that you will easily reach thanks to the gas powered foot-end lift and you will not have to move the mattress.
A solid platform separates the storage space and protects everything inside, at the same time giving support to the mattress. We can safely say that this wooden bed frame takes the title of the best bed frame as this ottoman storage bed has everything a good bed frame needs.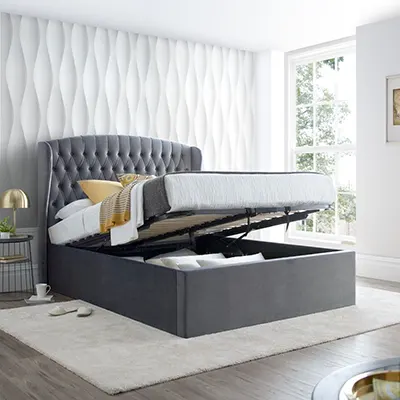 A lot of storage space
Overall quality
Luxurious look.
No single size available.
BEST VALUE: Upholstered Ottoman Bed Frame With Storage
This is a durable metal bed frame with a large storage compartment at a very affordable price.
Ottoman bed frames are always very popular because they give us extra room where we can store all those bulky things like duvets that we don't know where to put. What puts the Upholstered Ottoman Bed Frame With Storage in the best value category is the price to quality ratio as not all metal bed frame models can offer what this model offers for night's sleep. It is truly one of the strongest bed frames.
It has a hydraulic dual lifting mechanism that is very durable and gives you access to a large storage compartment. With the instructions and the assembly kit, you should have no problem assemble it, and you can also pay more for the assemble to be included.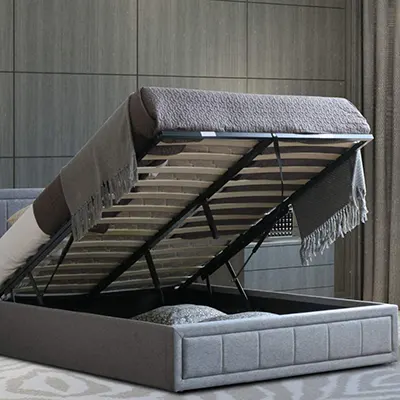 Affordable
Good lifting mechanism
Storage compartment.
UPGRADE PICK: Eve Button Back
If you want to add style to your bedroom, the Eve Button Back bed frame is a great choice.
This bed are going to be the centerpiece of your bedroom, whether you opt for a navy color that looks royal or a gray that fits perfectly into a modern design. Of course, look is not the only reason why this is a great bed frame. Adjustable slats move according to how you move during the night and thus provide ideal support to both you and the mattress whom they allow to give its maximum.
The bed is very durable and the velvet is anti-static and water-repellent so it does not have just a durable construction but it is still one of the best wooden bed frames UK market can offer.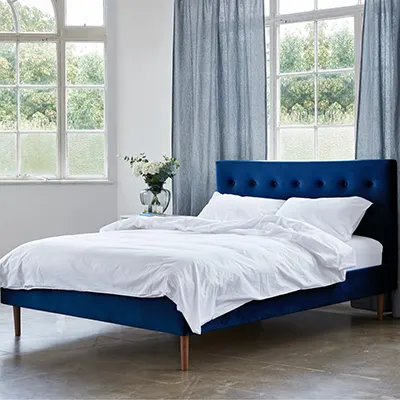 Attractive look
24 beech wood slats
Manufactured in Europe.
No single size available.
BEST STORAGE: Eve Storage Bed Frame
Eve offers you spacious storage and a comfortable bed frame in one.
At first glance you won't even notice that this is storage bed frame because of its perfectly elegant design. It is available in two colors, gray and pink, and in both cases it will fit perfectly in most interiors. Beneath such a beautiful exterior is spacious storage. Whenever you want to take something out of storage or put something away, the piston-powered mechanism will lift the mattress in no time. There are adjustable slaps between the storage and the mattress that will give you the best support you can get from any storage bed.
This storage bed frame comes with a 5 year warranty that speaks volumes about its durability and sorts it in the category of high quality bed frames.
Here is our full Eve Storage bed frame review.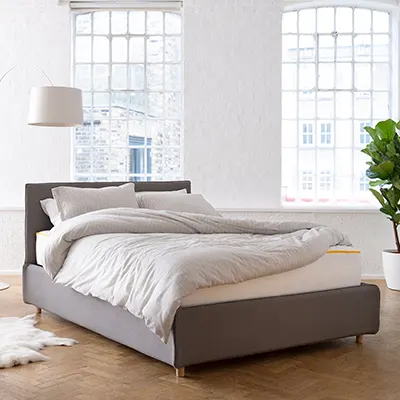 Good amount of storage
Adjustable slats
5 year warranty.
No single size available.
BEST PLATFORM: Nectar Platform Bed With Mattress
By purchasing this platform bed frame, you guarantee yourself a comfortable sleep because it includes a top quality mattress also.
It is not often that a bed frame and a mattress are sold together, but Nectar has decided to make it easier for all those who are looking for both. Of course, you also have the option to buy only a platform bed frame, without a mattress.
This platform bed frame that looks very simple and it is even simpler to assemble, you only need a few minutes to finish everything. Slats provide great support so you should sleep perfectly on this platform bed frame and Nectar memory foam mattress which has 5 layers. 4 layers are in charge of support and firmness, while top layer is actually quilted cooling cover.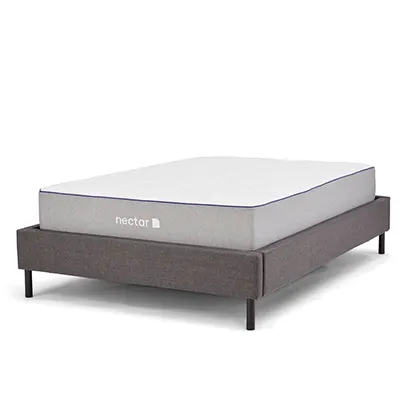 Mattress
Easy to assemble
Supportive slats.
Customers who want an attractive-looking platform bed frame will not be thrilled with this model.
BEST BOX SPRING: Dunelm Atlas Bedstead
Dunelm Atlas Bedstead looks very old-fashioned, but it is also easy to assemble bed frame.
At first glance, Dunelm Atlas Bedstead may seem like something from an antique shop. The metal bed construction and brass finials make it visually appealing even though it is very simple. It has a headboard and high footboard which many customers like, but tall people will probably have to look for another bed frame.
The sprung slatted base is very high quality and we are sure you will notice a difference in support and comfort when you switch your mattress from another bed frame to this one. It is available in two different colors and three sizes. Assembly is required but is relatively simple as there is no storage or any other part that is complicated to assemble. Therefore – order it and enjoy the best box spring bed frame!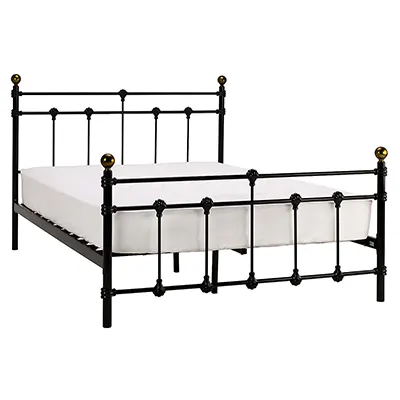 Affordable
Easy to assemble
Durable
Maintenance.
No King or Super King size available
Some customers won't like design of this bed frame.
BEST VELVET: Made Cory Bed With Storage Drawers
Made Cory King Size Bed With Storage Drawers will make your room luxurious and you will have the feeling that you are in a great boutique hotel.
Velvet is a material that gives vintage vibes and a modern chick look at the same time. This bed frame would fit perfectly in a boutique hotel room, and also in your bedroom if it is designed in that style. The soft velvet upholstery that is located both on the padded headboard and on the rest of the bed gives a very luxurious look.
There are two drawers that don't give you space like some storage bed frames, but you'll have more than enough space to store bedding and a winter or summer duvet, depending on the time of year. Full assembly is required and don't forget that professional cleaning is mandatory.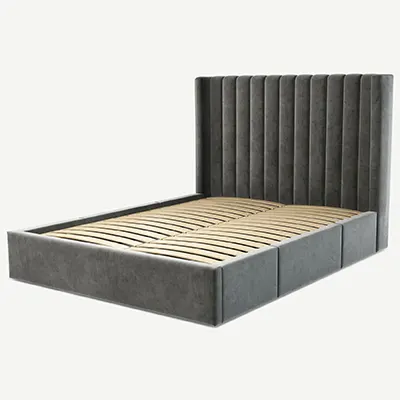 Vintage luxurious look
Two drawers 
8 colours available 
Durable slats.
No single size
Expensive when compared to similar products.
BEST CUSTOMISABLE: Simba Bed Base
Simba bed base brings the evergreen classic design with upholstered  headboard!
Made of 100% recyclable materials and made using nothing but a sustainably sourced wood, this bed frame is a true green product. Birch wood and linen fabric ensure enough stability and support. With the new Simba Flex slat system, you get the whole body support and good motion isolation. 
This renders in a good pressure relief around shoulders, whereas lumbar support gives enough pressure relief thanks to the extra-wide slats. Would you believe that Simba Orion Base is spill-resistant as the barrier does not allow any liquid to penetrate inside.. Available in 6 different leg color variations and 3 bed frame colors.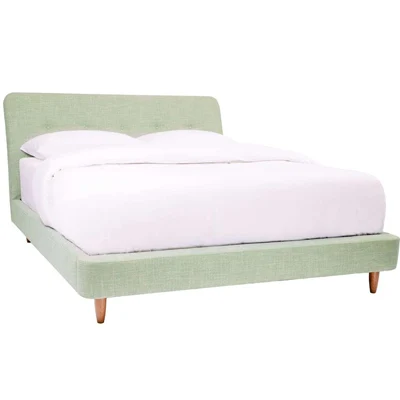 BEST HEADBOARD: Nectar Headboard Bed Frame
High-quality button-tufted & upholstered headboard on a metal bed frame!
The combination of sturdy metal bed frame and high quality wooden slats will give your entire body the comfort and support it needs for a comfortable night's sleep. No need for an additional frame or box spring – it's super comfortable and stable!
Button-tufted headboard is silky and super-soft to the touch so it will provide a calm environment and help you sleep smoothly. Almost forgot – super easy to assemble and set up!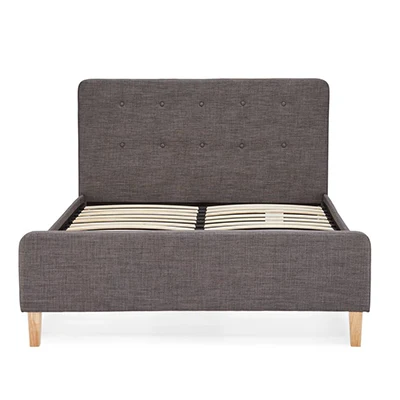 BEST RECYCLED: Made Skye Bed
A stylish bed made of 100% recycled polyester!
Made is a well known company that delivers 100% recycled bed frame – the first pick for all those who enjoying using eco-friendly products. Sprung birch slats ensure the superb comfort and support for the entire body. 
In terms of design – it is the perfect pick if you like stylish and lavish upholstery, a button-backed headboard. It gives an impression of a high quality and expensive upholstery so it is perfect for modern bedrooms. In addition, thanks to ottoman storage, it gives you a plenty of storage space to store various items up to height of 37 cm.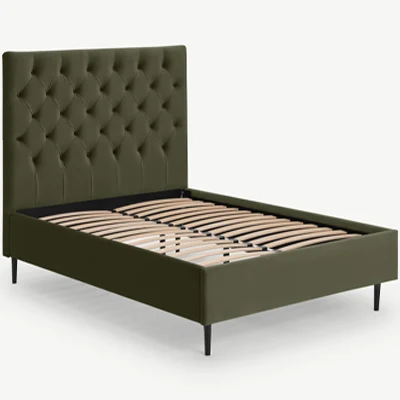 100% eco-friendly – made of recycled polyester & birch and plywood
A plenty of ottoman storage space
High quality velvet upholstery 
Smooth sprung system 
Available in different colours.
Delivery is not free of charge
Full assembly required 
Professional cleaning required.
What to consider when buying best bed frames
Choosing a bed frame can be much more complicated than you thought. There are many things to consider when buying this piece of furniture. And if you do not analyze each of these criteria, you can make a costly mistake. So we will start this guide by pointing out the most important things to consider when buying best bed frames.
When you go in search of a suitable bed frame, you probably don't know how many different types of bed are there. Bed frames differ in style, how you use them and much more. Platform, canopy, box spring and adjustable bed options are some of the most common types of bed you will find on the market. 
Canopy is very decorative and attractive looking, and it is also a good choice for all those who need complete darkness to sleep. You can find a divan bed as well, which is similar to Ottoman bed frame.
The platform is the simplest type, having (wooden) sprung slats that hold the mattress. This type of bed frame is the most affordable, especially as it is super easy to set up.
Box spring is a type of bed frame that has a sturdy and solid wooden base, so there is no need for slats. This type offers the highest level of support. It also usually has storage space. However, be prepared for a high price tag. 
Adjustable ones give you the ability to raise parts of the bed, usually the part at the head or feet. The main downside is that, in more than 95% of the cases, you are obliged to buy a mattress from the same company.
Canopy type is also called four-poster because it has four posts. These four posts create canopy, which gives a very nice look. It also gives you the opportunity to put curtains there and thus create an intimate and dark space for yourself. It is an option that has been popular since medieval courts, and in recent years it has gained significant popularity again.
It creates a very cozy feeling. You need to clean it regularly, because dust accumulates on the tops as well as in the curtains. Also, you need more space to accommodate the canopy bed frame. And you should know that it is difficult to move it.
If you want it to have a stylish bed frame without taking up too much space then the headboard type is the perfect choice. Also, it suits all those tall people, who are uncomfortable sleeping in sleigh type because it limits them on both sides.
The headboard will give an equally beautiful look, and it is suitable for people of all heights. There are also standalone headboards so you can add them to any type of bed. But if you choose a standalone headboard, then do not count on having a bed frame that will hold the mattress, but only the decoration. Also, some of the headboards cannot be attached to some beds.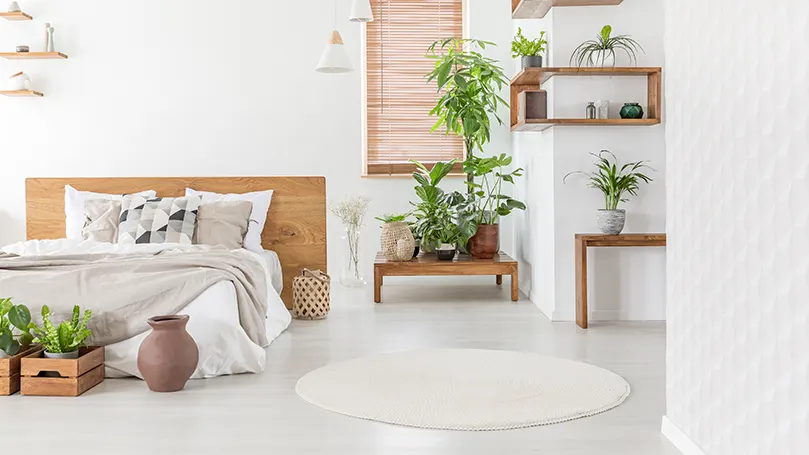 Size is something you need to pay attention to for several reasons. First of all you have to pay attention to the size of bed frame towards the mattress. You can't choose a king size mattress and have a small bed frame because you can fit it, obviously.
The next reason why you have to think about the size of the bed frame is because of the room dimension. If you have a small room, a huge canopy bed frame probably won't be able to fit. And even if it can somehow fit, the bed shouldn't occupy the entire space. That is why size is perhaps the primary factor to consider.
Bed frames, especially if they are made of high quality wood, can be extremely heavy. So you need to think about what your needs are. If you have bought a house in which you plan to spend the next 30 years and it has large rooms, then you do not have to think about portability. Then the heavy one is a great choice. Such models give us a cozy feeling, because they are very stable, while light ones jiggle as soon as you move in bed.
On the other hand, if you are in a rented apartment where you will stay for a short time, then you need a bed frame that you will easily remove when you move. Therefore, consider the material of a frame.
Another important aspect of every bed frame is the storage space. This is super-crucial to the sleepers who don't have a lot of space to convert to storage. Ottoman storage type is probably the most famous storage bed frame as it really has a lot of space. Not to mention luxurious design and high quality piston-mechanism that opens/closes the storage space.
The design of the bed frame is something that will probably have the biggest impact on the look of the entire bedroom. So if you are paying attention to the aesthetics, consider what style you want. Stylish bed frames should fit with the design of the rest of the room. Or you can buy a bed frame first and then design everything else accordingly.
It will not be a problem for you to find any style, because the choice of nice bed frames on the market is huge. Whether you want classic wooden bed frames that will look like it was made 100 years ago or you want a modern design, you will find exactly what you want to achieve night's comfort. In addition, you should look for a space-saving design, or storage beds. These allow you you to store more stuff under the bed without taking space of your room.
Don't forget to ask the seller, whether you are buying in a brick and mortar shop or online, what the assembly process is like. While with some the assembly is very quick and easy, so it is ready in just half an hour, others require much more time, knowledge and the right tools.
Weight also affects whether a man can assemble a bed frame on his own. If it is a more complex type of bed frame, and you do not have the appropriate tools nor someone to help you, immediately ask if they can assemble it for you when they deliver it. A good bed frame requires effort and tools sometimes to be put together. 
Tips for buying and using best bed frames in UK
Good quality bed frames are made of many different materials, and the material they are made of will play a big role in how long they will last, whether they will be stable and what they will look like. When they are made of quality materials, they will be more expensive of course, but in the long run they will pay off. It will last you a very long time and will look as nice as when they are new.
Four of the most common materials stand out. Wood as a traditional material is very beautiful, environmentally friendly and high quality. But you have to take care of maintenance, because wood cracks if not maintained properly. Then there is the metal, which is the most cost-effective, but less comfortable and beautiful. Leather or faux leather and upholstered bed fabric are two more options you will often encounter. Both give a nice look, but require maintenance, especially leather. Upholstered fabric must be vacuumed frequently due to the dust that accumulates.
●     Wooden bed frames are great option, but these require maintenance
●     Metal is the most cost-effective
●     Price is usually a reflection of quality.
The advantages of owning the best bed frames UK
Advantages of owning the best bed frames are numerous. First, you will sleep very comfortably because it will provide solid support to your mattress. Without a quality bed frame, your mattress wilthe best bed frame not be as comfortable as it would otherwise be. If this were not the case, there would be no bed frames, but everyone would put a mattress directly on the floor.
Then, you will have a great piece of furniture around which you will be able to design the whole room. Depending on whether you choose a particular model, storage, canopy and so on will be available. Some models are even adjustable.
If you were to try to use a low quality bed frame, we are sure you would quickly decide to buy one of the best bed frames. But our advice to you is not to even try it, but to immediately decide on one of the best.  
●     Best bed frames will provide you with stability during sleep, no matter how restless you sleep.
●     Most of them are easy to assemble.
●     Eye-catching design is something you can count on when buying the best bed frames.
FAQs about your new bed frame
Now that you've chosen your new bed frame, you probably have a few more questions you want to know the answer to. We will do our best to answer them in the FAQs section. The following three questions have in our experience proved to be the most common questions of interest to new bed frame owners who want the best bed frame for their sleep.
What type of bed frame lasts the longest?
There is no exact answer to this question because it depends on many factors. However, box spring metal bed frames are extremely durable as they don't deteriorate over the time as it is the case with wooden bed frames.
What is the difference between a bed base and a bed frame?
Bed base is often used as a primary form of support, beneath the mattress. On the other hand, bed frames are structured bed foundation pieces that come with a sturdy rim and the primary role is to raise a mattress and give enough support. Bed frames often come with headboards or storage.
Can I put a bed base in a bed frame?
Yes, in case it is an adjustable base that you can put flat on the existing bed frame.
How do I know the right size for my bed frame?
It must match the size of your mattress as well as room dimension.
Do bed frames come assembled if I buy it online?
Whether the bed will arrive assembled or not depends on the option offered by the seller and the option you have chosen.