12 Wooden Beds From Dunelm That Boost Your Bedroom Design
Add nature's touch to your bedroom by making the wooden bed frame the central piece of your boudoir aesthetic.
The last thing you'd want to do is make your bedroom boring. A bedroom is a lot more than just a room you sleep in – remember that. If you're a single guy – pick up that mattress off your floor and get yourself a proper wooden bed frame. Otherwise, not a lot of hotties are going to want to spend the night.
All jokes aside, a bed frame will make or break the bedroom. You could have the best curtains, most expensive rugs, plants, artwork, and all that jazz, but if your focal point, your bed frame is icky – the whole room fails.
So, we thought we'd give you a hand. Here are the 12 wooden bed frames from Dunelm that will boost your bedroom's aesthetic.
Add a header to begin generating the table of contents
Why are wooden beds popular?
Wooden beds are arguably the most popular choice for most bedrooms. Wooden beds come in all shapes, sizes and styles, so they can easily fit any aesthetic. They're incredibly versatile.  You want a modern bedroom? Go with a wooden bed frame. You want a contemporary bedroom? Go with a wooden bed frame. They're simply a timeless piece of bedroom furniture.
Bedroom décor is heavily influenced by bed frames. While it is true that other pieces of furniture affect the way your bedroom looks – a perfect bed is what set apart a great-looking bedroom from an average one.
Also, a great wooden bed frame will help you sleep comfortably, which is, at the end of the day, the most important thing. Getting a perfect night's sleep trumps aesthetics and decor, but then again, looks are also important.
So, on that note – let's check out some cool wooden bed frames.
Mission White Storage Bed
A tiny bed with a lot of storage space.
Mission White Storage bed is a brilliant choice for small children's bedrooms. It's a nice, white bed that should make both boys and girls happy. They can keep their toys inside the drawers.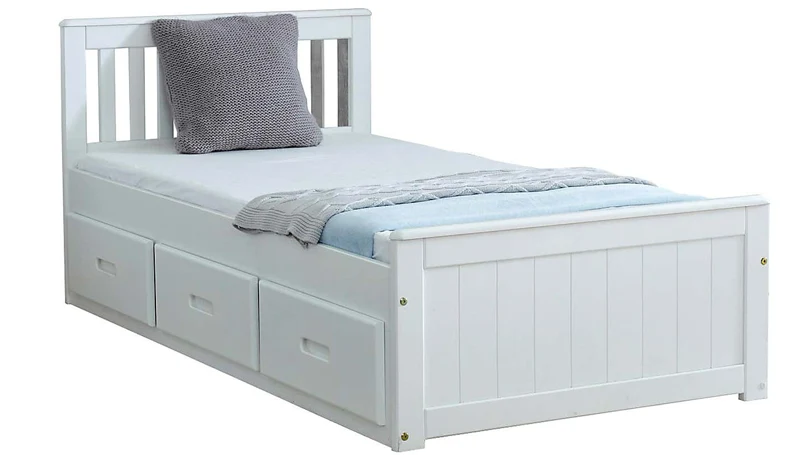 When it comes to small single wooden beds, this one is one of the best. Since it has an elegant headboard and is a small bed, it is best suited in a corner of the room – leaving enough space for other furniture.
A black wooden bed for the brave.
Lyndon bed frame is a good choice for both the master and guest room, as it is available anywhere from Single to Super King size. Its modern/traditional style makes it a good fit for most rooms, and the fact that it's available in white and light grey apart from black makes it an easy piece to work in your bedroom's decor.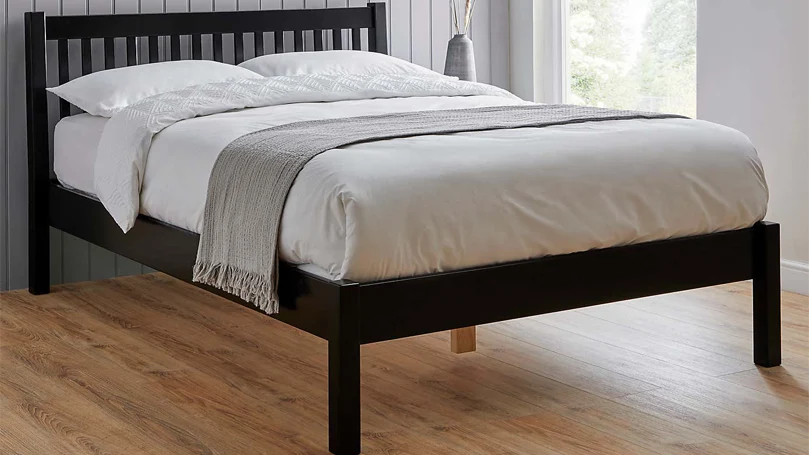 Tall legs leave some extra space for storage, but we wouldn't really do it – for aesthetic reasons. We could see this one benefiting from a nice rug underneath it, and a few bedside tables to complete the look.
Manhattan High Gloss Bed Frame
Minimal design – maximal comfort!
If you want a contemporary or a minimal-looking bedroom – this is the bed frame for you. A sleek, minimal design of the legs and glossy headboard make this one a great fit for bright, modern bedrooms.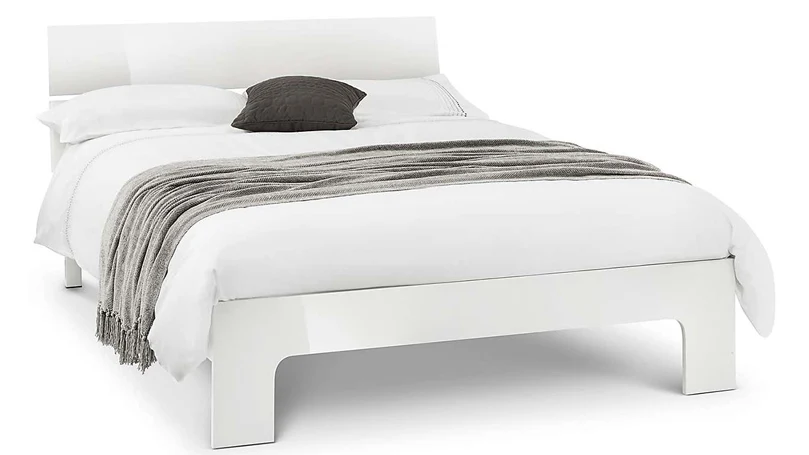 Pair this one up with a few glossy bedside tables and create a contrast with some bright, colourful sheets, and watch your bedroom transform in front of your ice. The bed's not small, so make sure you have enough floor space!
Pine bed frames are always a good choice!
Pine beds never go out of style, and this Single bed frame proves that. A relatively simple design and natural look will make any bedroom feel rustic and cosy, but also warm and homey.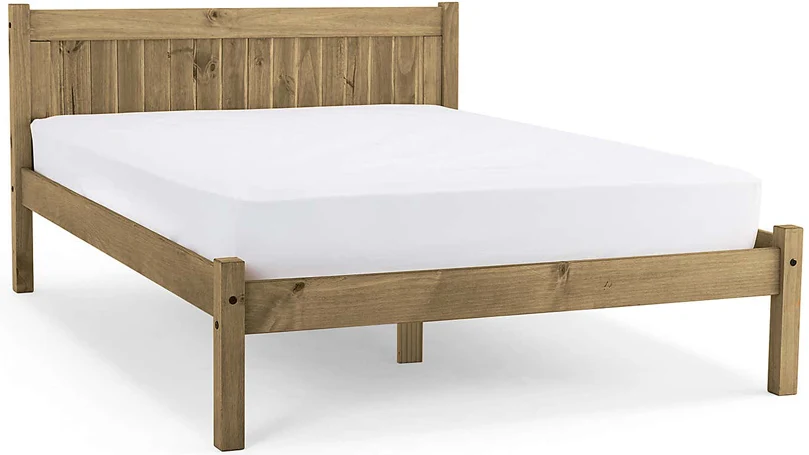 We feel like you can't go wrong with this one in a cabin or a lake house. Also, clean, white cotton sheets will really make the natural pine colour pop and will set a beautiful relaxing tone to your bedroom's aesthetic. And oh, it's also available in Small Double and Double.
Who needs different colours when you have pine?
Monaco Pine bed frame screams traditional look and style. It is another bed frame on our list that will fit nicely in a cabin or a lake house, as it will perfectly match with the existing furniture, provided that you've styled your vacation home in a wooden style.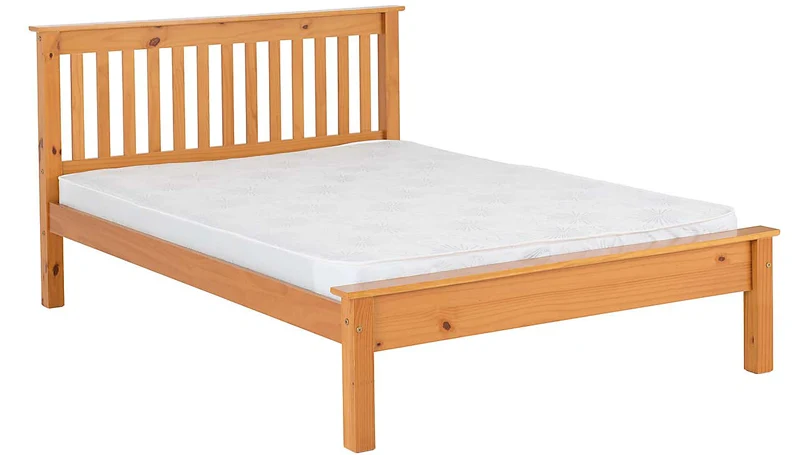 Now, the bed's kind of low-profile, so don't expect to hide any boxes underneath it. However, what you can place underneath it, is a nice antique rug to complete the look.
An art piece and a bed frame rolled into one!
This wooden bed frame is going to turn some heads. The arabesque-style headboard is definitely a central piece of this bed frame. Flower-like motifs are elegantly carved right into the headboard, so you might want to make sure your sheets are as simple as possible.
Otherwise, they would just clash with each other. What will work great with this all-white wooden bed frame is a good mattress, because you don't need anything else with a headboard this striking.
Kids love wooden bunk beds!
Camden bunk bed is a great choice for smaller bedrooms kids have to share. You get two single beds in one – what more could the kids ask for? A simple bunk bed design and pure-white colour make this one a good choice for both boys' and girls' bedrooms.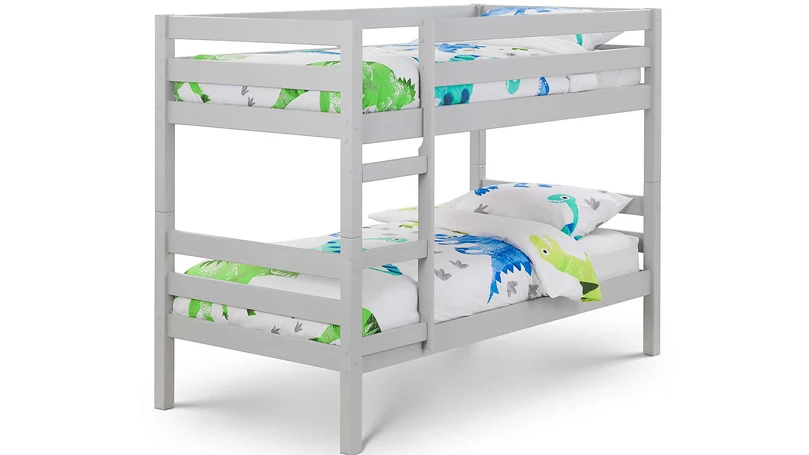 Just add some colourful sheets and your kids will love it. The sturdy structure will also come in handy when the kids inevitably start jumping on the bed, although for safety reasons, we wouldn't really want them jumping on the top bunk.
A trundle bed with a bookshelf!
Trundle beds are a great choice for a bedroom – and this one's no exception. Tyler guest bed might look like a bed for a single guest, but once you pull out a trundle and a spare mattress – two of your guests can comfortably sleep in it. Now, due to its unique design, this one only works when placed sideways next to a wall, but we're sure your guests won't mind the placement as long as they can sleep comfortably.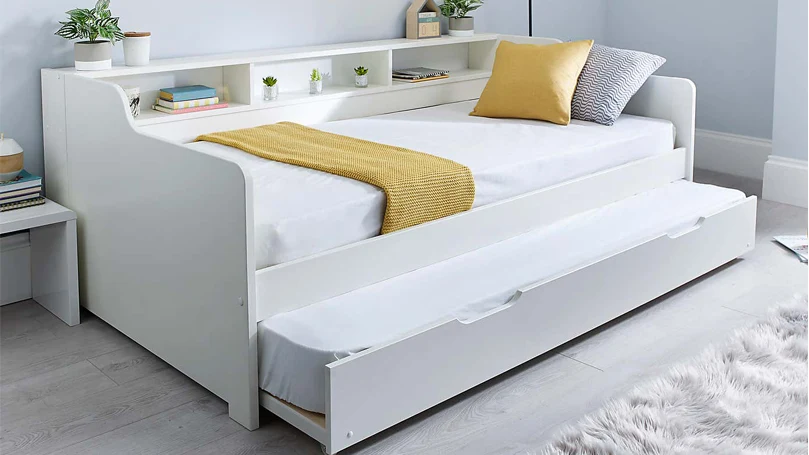 Also, one of them will get to enjoy a bookshelf – so that's a bonus. If nothing else, you'll get a nice decorative shelf alongside a bed, so you won't have to waste too much money on decorating your guest room – this one should do the trick all by itself.
Wood and metal – what more could you ask for?
This robust bed frame is made from solid wood and even harder metal. It's sharp, in-your-face, but equally inviting and cosy. It is a great choice for urban or industrial bedrooms.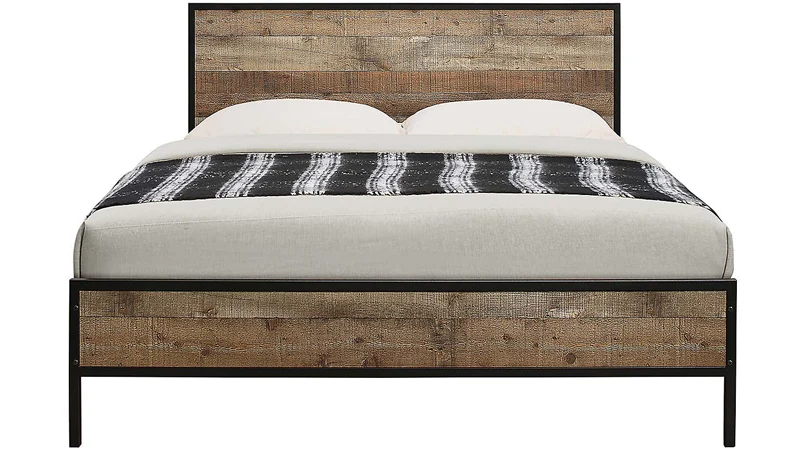 If you have exposed brick, rugged wooden floors, or you're living in a loft with a prevalent industrial look – this bed will fit the space perfectly. It's a bigger bed, available only in Double and King size, so if space is an issue – sacrifice something else. This bed frame is a must-own!
A timeless look anyone could enjoy!
For a while, oak bed frames were the standard and you could find a bedroom without them. Well, oak beds are making a comeback. Spindle bed is a traditional, oak bed that won't quite agree with modern bedrooms, but if you're into a classic bedroom look – this one's perfection.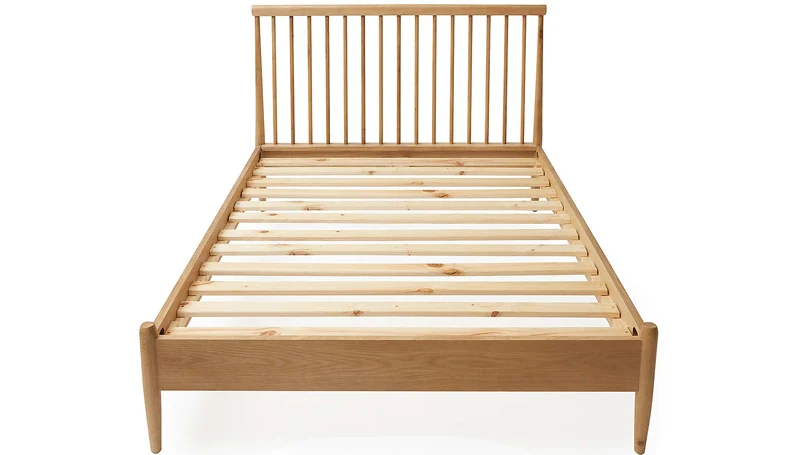 The thin slatted oak headboard is definitely a design statement, so make sure not to press it directly against the wall. Leave some room behind it, or maybe put a plant or a painting behind it because you'll definitely see it.
A 3-in-1 bed for the smallest bedrooms.
Pegasus High Sleeper bed is ideal for small spaces. It's a bed, a desk, and a closet all rolled into one. There aren't many bed frames that save as much space like this one does.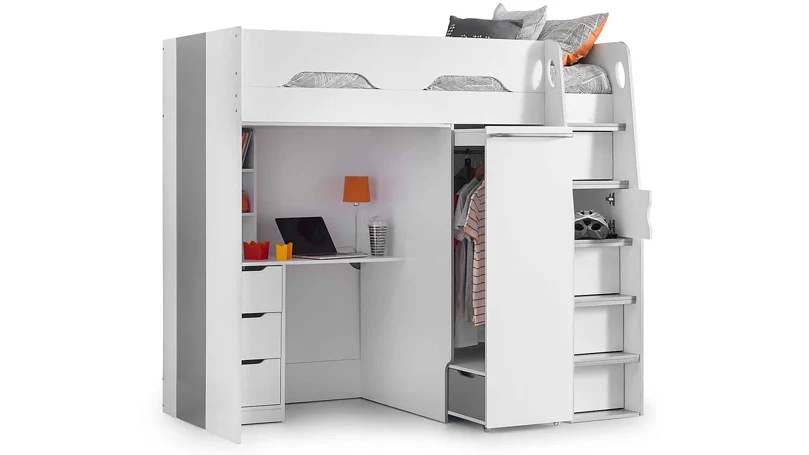 Granted, you wouldn't put this wooden bed frame in a master bedroom, but if you have teens that need to share a bedroom whilst keeping their peace – there is no better bed than this one. Everyone will have their own bed, desk and closet. And a few desk drawers, too. Just put this one up against the wall and you should be golden.
Jessica Daybed With Underbed
What space-saving bed frames are all about.
Jessica daybed is an excellent choice if you need a seating area for a compact space, but also a bed that can comfortably lay two people. Yes, it's a trundle bed.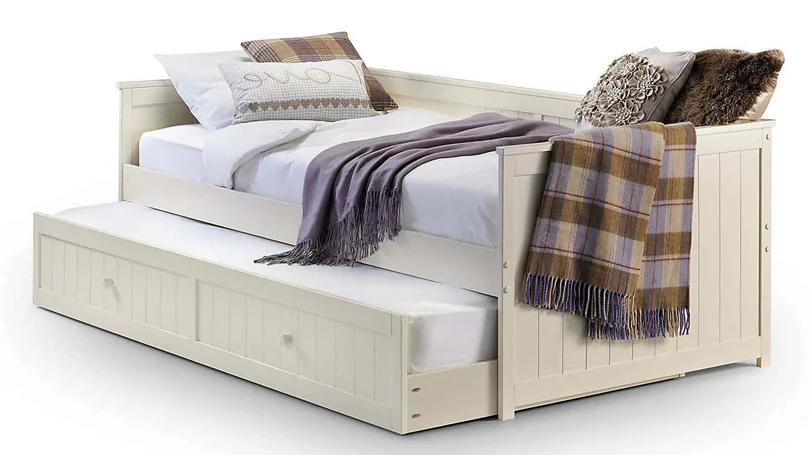 A traditional design of this one makes it perfect for old-school, more homey-looking rooms, so if that is the look you're going for – this one's all you need. Guest coming over? Just pull out the underbed and let them relax and unwind.