The 7 Best Duvets for Hot Sleepers in the UK
It is impossible to fall asleep when you are hot. Many people only get hot during the summer, but hot sleepers face this problem all year round. That is why it is necessary for the duvet to be appropriate.
In most parts of the United Kingdom nights are not very hot even during the summer months, and especially not during the rest of the year. But, it doesn't matter if they live in a hot or mild climate, because it's always hot for them when they go to bed. That is why it is necessary for them to choose one of the best duvets that won't get them too hot because if they do not have a cooling duvet, it is certain that they are going to have problems with night sweats. Natural materials are considered the best choice for sleepers who suffer from night sweats, so you should always consider a natural material for the best duvet! Now, we will break down important features you should consider when choosing the best duvet that has a good temperature regulating properties.
IMAGE
PRODUCT
DETAILS

KEY FEATURES:

Material:

bamboo and nano microfibre

Tog rating:

10.5

Care:

machine washable

View Latest Price

KEY FEATURES:

Material:

microfibre

Tog rating:

4.5

Care:

machine washable

View Latest Price

KEY FEATURES:

Material:

aerelle softflex hollowfibre

Tog rating:

10.5 + 4.5

Care:

machine washable

View Latest Price

KEY FEATURES:

Material:

eco fibres

Tog rating:

4.5

Care:

machine washable

View Latest Price

KEY FEATURES:

Material:

hollow fibre

Tog rating:

4.5

Care:

machine washable

View Latest Price

KEY FEATURES:

Material:

wool

Tog rating:

7 - 10

Care:

machine washable

View Latest Price

KEY FEATURES:

Material:

eucalyptus silk

Tog rating:

4.5 - 10

Care:

machine washable

View Latest Price
What to consider when buying the best duvets for hot sleepers?
It's not enough to just find a duvet that the manufacturer advertises as one intended for hot sleepers. Apart from the fact that ads aren't sometimes true, you also need to check for yourself if that product is the right one for you in terms of comfort. You cannot buy a duvet that is cooling but not comfortable. It has to be comfortable but also contain an appropriate material that won't cause night sweats.
This primarily refers to the filling material. However, temperature regulation and also the weight of the duvet itself can be one of the key factors. Let's take a closer look and understand these features.
What all people should keep in mind when buying a cooling comforter is that the fill material has the biggest impact on whether a duvet is right for them or not. Natural materials absolutely bring victory over synthetic ones. As you know, if you have a memory foam pillow or mattress, heat retention is one of the biggest problems you will encounter.
That's why you need a duvet that is filled with one of the natural materials like feathers, cotton, wool, and down (which is probably the best option). Duck down has proven to be a better option than goose down for people who suffer from night sweats. In case you are allergic or want a cruelty-free product, you can opt for a down alternative. It is the only synthetic material we recommend to sleepers who need naturally-cooling materials. We recommend you checking the comparison between microfiber and down duvets.
Natural materials are the best choice because they are highly breathable. That way the airflow is unobstructed and there is no heat retention and that is why they are such a good option for people who have problems with night sweats. Breathability has other advantages too, so it is the most important feature. Alongside the different types of down and down alternatives which we have already talked about as the best options for fill material, silk, cotton, and even wool are also a great choice.
Cotton is a cheap and very pleasant material and that is why you will not go wrong if you buy a cotton duvet. Silk is a dream come true for hot sleepers because it is a light and also resists heat retention. However, keep ind mind that it is an expensive material. Wool, at first glance, seems like something that is perfect for the winter, but wool has natural temperature management properties.
Cooling properties & temperature regulation
Natural temperature management properties is something all natural materials have, but wool especially because it warms you when needed, but also wick-moisture, which is very important for all sleepers. That is why wool is still a highly valued and expensive material, even though there are so many synthetic ones on the market, which are cheaper.
Down, cotton and silk have cooling properties, and also a down alternative which is actually microfiber made to simulate down properties. That is why such materials are the right choice for this type of sleepers, otherwise the duvet would only aggravate the inconveniences that some people experience anyway.
The weight also significantly affects the warmth of the best duvet. Many like heavier duvets and weighted blankets because of the feel they give you, but it's not perfect option for people who like to stay cool during their sleep. The heavier the duvet, the more heat it retains and therefore it is better for those who are cold when they sleep.
There are also cooling weighted blankets, but even that is probably not enough. Lighter duvets do not adhere as much to your body as the heavier ones and therefore the airflow between you and the duvet will be better. Asa result, the heat won't retain and you won't get hot.
Tips for buying and using best duvets for hot sleepers
Our first tip for buying, as you might have guessed, is to choose a duvet filled with natural materials. But in addition to fill material, cover material is also important. Again, it is best to be some natural material, and cotton covers stand out as the most comfortable one.
Our second tip is about the size of the duvet. It is very important to buy a duvet of the appropriate size, otherwise you will not be comfortable sleeping, especially if it is smaller than it should be. Choose a duvet that is at least 20 cm longer than your height, and people often choose a longer one than that. And the width should be 20 cm wider compared to width of your chest. These are the ideal dimensions that you should follow. Here is the summary:
Buy duvet which is filled with natural materials and have cover made of natural materials
Duvet should be at least 20cm longer than your height and 20 cm wider than your chest
Wash cover regularly to avoid accumulating dead skin cells, dust mites and so on
Ultimately, go for coverless duvets to ensure more cooling properties, as well as to make the maintenance process significantly easier.
We have selected the best duvets for hot sleepers, after searching the UK market and examining each individual product. All products have met the standards of quality, workmanship and everything else, so it is certain that you will be satisfied with your purchase and choice will depend on your personal preferences.
BEST OVERALL: Panda Cloud Duvet
Panda Cloud Duvet will surely make the sleeping experience pleasant for all hot sleepers.
Panda is a company that offers premium bamboo products, and their duvet is fantastic for several reasons. In addition to being suitable for all types of sleepers throughout the year, it is also antibacterial and hypoallergenic. This should come as no surprise as bamboo is naturally hypoallergenic.
The cover is 100% bamboo and the filling is 50% bamboo and 50% microfiber. This all guarantees you the ideal balance between comfort and breathability. All Panda products are made in accordance with eco-friendly regulations and they are cruelty-free. Therefore, Panda Cloud Duvet with 10,05 TOG rating is one of the most environmental-friendly products that you can find in this niche!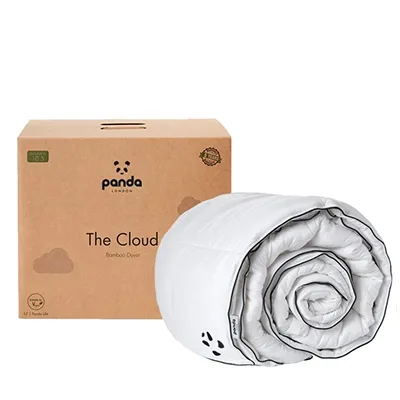 Hypoallergenic
Antibacterial
Comfortable
100% eco-friendly
5-year guarantee
More expensive than most duvets on the market
BEST VALUE: Slumber Down Anti Allergy Duvet
This one is ideal choice for all those who want the comfort offered by down duvets, but have allergy problems.
A lot of people are allergic to down and feathers, which prevents them from enjoying the comfort of duvets that are filled with down. Slumberdown Anti Allergy Down Duvet is in that case the ideal choice because fill material is microfiber.
Also, sleepers like it truly because it is designed to keep you cool at night and even during the summer months. It is made in the UK and is very affordable. It is machine washable and you can dry it in a tumble drier.
Here is our Slumberdown Anti Allergy duvet review so take a look.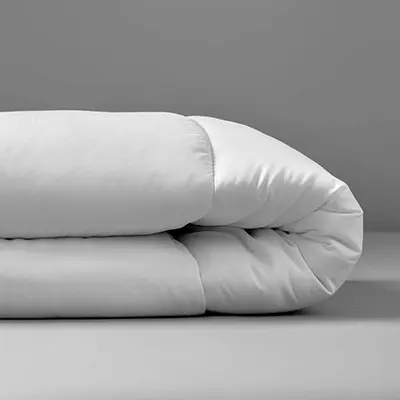 Anti-allergy
Cooling
Machine washable
Made in UK
Affordable
BEST FOR ALL SEASONS: Eve Warm:Cool Duvet
Sleep comfortably throughout the year under the Eve Ying Yang duvet.
The Eve Warm:Cool Duvet (our review) is one of the best examples of a duvet that is really suitable for all seasons and of course for people suffering from night sweats. This duvet has two sides, one has a 10.5 tog rating and it is cozy side for the cold period of the year, while the other side is 4.5 tog and is ideal for summer. And most of the sleepers will probably use that side most of the time.
Duvet is high-quality, and the hollowfibre fill is very durable. On top of that, it is easy to maintain as it does not require any special method of cleaning.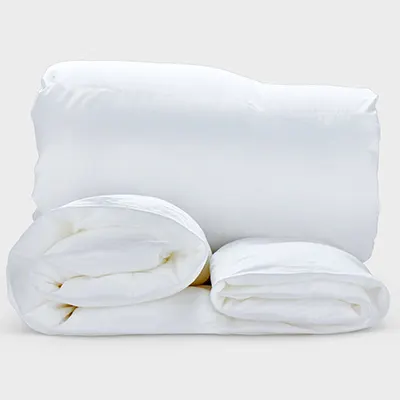 Two sides
High-quality
Durable
Easy to maintain
No single size
A bit more expensive
BEST HYPOALLERGENIC: Silentnight Cooler Summer Duvet
Silentnight duvet is the best choice for all hot sleepers who suffer from allergies.
This duvet offered by the famous Silentnight company is the answer to all the wishes of people who suffer from night sweats and allergies. It is perfect for summer and for all types of sleepers who don't like to have a temperature regulating duvet, because it has 4.5 tog and is very cool. You will never be hot under it. It is also lightweight. In addition, it is hypoallergenic because it is filled with lightweight fibers, so it is suitable for people with asthma and everyone else who suffer from allergies. It is machine washable, so you will always be able to keep it in perfect condition easily.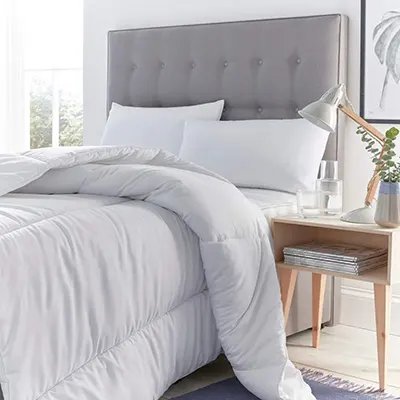 Hypoallergenic
4.5 tog rating
Lightweight
Machine washable
Not suitable for all seasons
BEST LIGHTWEIGHT: Yorkshire Bedding Anti Allergy Duvet
Lightweight duvets like the Yorkshire Anti Allergy Duvet is something this type of sleepers appreciate as it is light!
Lightweight duvets tend to just fall on your body, but not to cling so hot sleepers generally benefit from lightweight duvets rather than heavier ones. This one is really light and very soft and comfortable thanks to hollow fiber filling. It is also anti-allergy and very easy to maintain which makes it a great choice for everyday use. It is wrinkle free which means you just need to wash it in the machine and let it dry. It is available in 4 different sizes. And it should also be noted that it is affordable to most of the people as it comes with not that expensive price tag.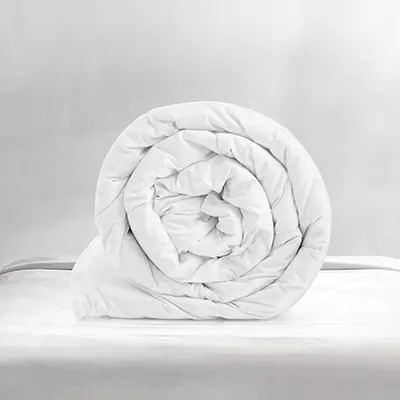 Lightweight
Soft
Comfortable
Easy maintenance
Affordable
Polypropylene cover that can get you hot sometimes
BEST WOOL: Woolroom Natural British Medium Duvet Quilt Duvet
Due to its natural characteristics, wool duvet is a great choice for this group of sleepers!
Wool is a natural material that has been highly valued for thousands of years and is still one of the best you can find on the market. This duvet is cooling and if you have used a duvet made of some other material which is not cooling, you will notice a big difference during the first night. Wool naturally regulates the temperature and does not allow moisture to stay close to your body. This wool duvet holds the Allergy UK Seal of Approval which means it is suitable for everyone because it is naturally hypoallergenic. That rating is around 8, so while that may sound like too much for the summer, it will suit most throughout the year.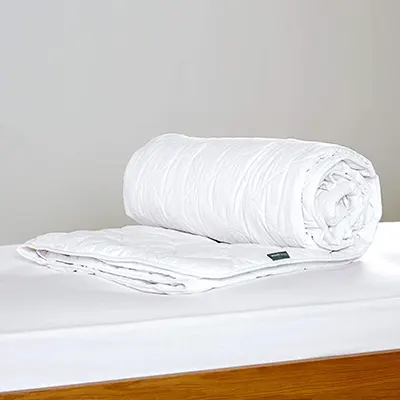 Cooling
Hypoallergenic
Eco-friendly
Anti-bacterial
BEST COOLING: Mela Air Duvet
Mela Air duvet will guarantee you forget night sweats, especially during the summer time.
Mela is a company that is primarily known for its weighted blankets, but their Air duvet is also a great product and perfect duvet for all who suffer from night sweats. The Air stands out with its cloud-like comfort, and what is the most important – it won't get sleepers hot due to natural material. Made from 100% eucalyptus, Mela offers a high level of breathability but also durability due to natural material. No harmful chemicals have been used to make this duvet, making it 100% eco-friendly. Don't forget that you protect 1000-square-feet of Amazonian rainforest when you buy this duvet!
Read our Mela Air Duvet in-depth review.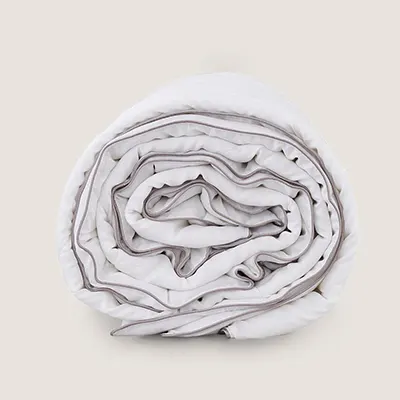 Cooling
You can choose between 4.5 tog and 10 tog
Breathable
100% Eco-friendly
Durable
You have to buy a duvet cover separately
The advantages of owning the best duvet for hot sleepers
A quality, comfortable and cooling comforter always comes with many advantages and everyone's sleeping experience will be significantly better if they buy the right duvet. But this is especially important because if they have an inappropriate duvet, they probably won't be able to fall asleep at all. Owning one of these duvets will ensure that you are not too hot during the night and that you can sleep during all seasons. Also, the best models are made of the highest quality materials, so you can be sure that they are hypoallergenic, antibacterial and have all the other great features. Also, we highly recommend buying a quality cover, if you don't get it with a duvet.
Best duvets for hot sleepers will not raise your body temperature while sleeping during the summer nights.
They are filled with highest quality materials and also covers are made of cotton or some similar soft and comfortable materials.
Maintain them in accordance with manufacturers instructions.
What is the ideal duvet TOG rating for hot sleepers?
TOG is an estimate of the level of heat retention of duvet or an estimate of thermal resistance. This means that a higher TOG implies a warmer duvet. On the other hand, people will be more interested in a lower tog rating or 2.5 tog or 4.5 tog duvet.
Since some people always feel the heat and they need a fabric with which their skin will breathe, this rating allows for airiness. It will not overheat you and these duvets will be gentle on your skin.
Why do people sweat at night?
There are several factors that cause people to sweat during the night if we exclude the overheated environment. For example, it could be a menopause for women. This period is characterized by sweating that can occur at night. Idiopathic hyperhidrosis is a condition in which a person sweats too much without a medical cause.
Also, many infections can be associated with night sweats, as well as medications such as antidepressants. Hypoglycemia, hormone disorders, and various neurological conditions are other factors that can cause night sweats and disrupt the temperature regulating.
How to prevent night sweating?
Although sweating is basically a normal thing, because in that way the body regulates the temperature, excessive sweating is a problem that is very common. It also happens during sleep, without any physical activity. That is why some people are not recommended heavy blankets or warm bedrooms. Otherwise, the quality of sleep is significantly reduced, but this does not have to happen as there are several solutions to this problem:
Sleeping in a cooler bedroom to keep your body temperature cooler
Wearing breathable clothes and use low-thread count beddings
Avoiding caffeine, alcohol, and spicy foods
Drinking cold water
Maintaining a healthy weight
Utilizing relaxation techniques.
FAQs about your new duvet for hot sleepers
Sleeping for hot sleepers can be a big challenge, because the conditions in which they sleep must be absolutely in line with their needs. Fortunately, there are duvets with a low tog rating (like 4.5 tog rating) that are ideal for this type of sleepers. However, read the answers to some common questions to make sure which duvets are ideal for your needs.
What is the best duvet filling for hot sleepers?
It is an ideal material that provides greater air circulation and easier moisture output, and that is exactly the naturally filled duvet.
What is the best type of bedding for hot sleepers?
Experts in this case recommend natural fibers such as cotton and linen, because they are highly breathable and offer temperature regulating properties.
How often should I wash my duvet?
Duvet should be washed every few months, or at least once a year. As for duvet cover - you can wash your duvet cover once a week.
Remove stains from the duvet, put it in the washer machine, put tennis balls and pour detergent. Set the cycle and run the washer. Check our how to wash a duvet guide for more information.
Does thread count play a role in preventing night sweating?
Thread count can play a role in making an optimal sleep conditions. Higher the thread count, heavier the duvet is - meaning you get hot under it. Try to get beddings or a duvet with lower thread count.