The 5 Best Duvets for Hot Sleepers in the UK
Are you a hot sleeper? Not hot – we're sure you're attractive, but tossing and turning in bed hot? Do you always throw away your duvet or blanket while asleep because it just becomes too hot under it? Do you naturally have a higher body temperature and need your skin to breathe more? Well, do we have good news for you! No more sweating, no more sleeping in undies (although that's okay too). You can take your comfy pajamas and tuck yourself in some of these awesome and breathable duvets. They won't overheat, they'll keep you warm when it needs to and be gentle to your skin. Shall we take a look at some of the best duvets for hot sleepers now?
IMAGE
PRODUCT
DETAILS

KEY FEATURES:

- Antibacterial & hypoallergenic

- Temperature control

- Seriously soft

- Sustainable

- Vegan

View Latest Price

KEY FEATURES:

- 3D pocket construction

- Nomite™

- Made in Lancashire

- 100% Ural goose down filling

View Latest Price

KEY FEATURES:

- 100% goose down filling

- Pure cotton fabric

- Oeko-tex & Nomite certified

- Easy to care

View Latest Price

KEY FEATURES:

- 85% feather, 15% down

- 230 thread count cotton cover

- 4.5 tog - great for summer

- Made in the UK

View Latest Price

KEY FEATURES:

- 280 Thread Count

- More Sustainably Sourced

- 100% cotton cover

- 100% polyester filling

View Latest Price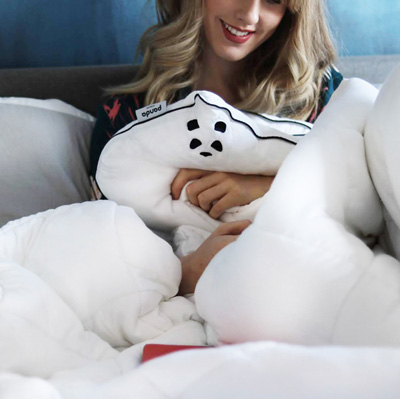 Speaking of ethical and eco-friendly, here's a duvet that doesn't use any animal by-products. In fact, it's using just bamboo with a microfiber filling. Bamboo fiber is a naturally breathable and hypoallergenic material. The cover of the Cloud duvet is exactly that. If you're having issues with overheating, then this temperature control duvet might do the thing. Even if you sweat, the bamboo cover will easily make the moisture dissipate. The microfiber filling is also hypoallergenic and it allows airflow without making you feel cold. Indeed, it really feels like a cloud! This duvet really is suitable for all seasons, too. So, if you want a vegan-friendly product that will last you a long time, has all the necessary certificates and definitely doesn't overheat, then this is the right duvet for you. It comes with a 5-year warranty and it's machine and hand washable.
John Lewis & Partners Mountain Goose Down Duvet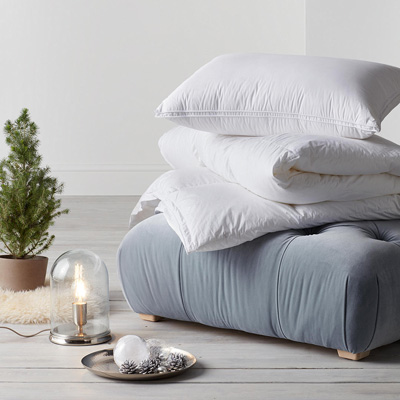 Superior to any of the duvets we've mentioned so far, the John Lewis has unprecedented feel. It's extremely soft and lightweight and you won't even feel it on you. This luxurious duvet is filled with extra large down clusters produced by Ural Mountain Geese that roam outdoors during even the coldest winters. It offers unparalleled insulation, and is blissfully warm yet light. The down is evenly distributed through the duvet with square-like pockets. The cover acts as a barrier to any outside contaminants; so if you suffer from dust mite allergies you can be safe as they won't get into the duvet. It's highly breathable, so moisture doesn't stay under, so no worries about sweating. On top of that, the John Lewis company ensures that the down used is ethically collected. It's collected only as a by-product, and the producers practice the highest standards of animal welfare. It's hard to find a company that can publicly vouch for its animals to be ethically treated so we definitely recommend this brand as it can provide you with a quality product made in a healthy environment.
Cuddledown 100% Pure Siberian Goose Down Duvet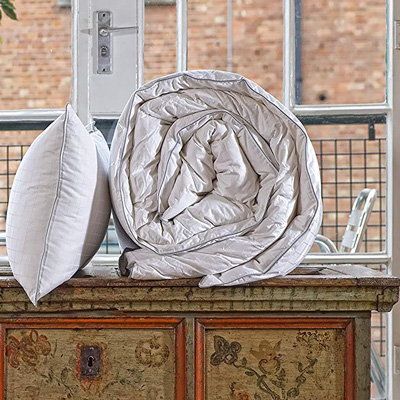 If you're looking for extra quality, extra softness and a luxurious feeling – then Cuddledown duvet is the right choice for you. This duvet also comes in an "all-seasons" variant, but if you're the type to sleep and sweat a lot, then we recommend the 4.5 tog one. It's light, it's very soft, and you won't even feel it's on you. You'll be protected the whole night. The casing of the duvet is a 300 thread count cotton one – so nope, there won't be any down escaping this duvet. That also comes at a price though; the casing may produce some sound when moved. However, that fades in comparison to the quality of the casing itself. The duvet will definitely last you a long time! The duvet is also machine washable and you can also tumble dry it at lower cycles. Make sure to fluff it. If you don't want to go through the trouble, you can take it to dry cleaning. Available in Single, Double, King and Super King sizes.
Snuggledown Scandinavian Duck Feather and Down Duvet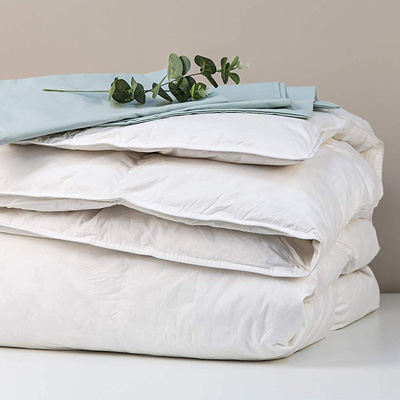 The Snuggledown duvet is made from 85% duck feather and 15% duck down filling. It's super light and fluffy! At a 4.5 tog rating, we think it's the best version of duvet for hot sleepers. The cover is 100% cotton, down-proof and very gentle. No mess, no worries. The down is evenly distributed throughout because of the pockets on the duvet. It's easy to roll in and stack somewhere when you don't need it. Most importantly, this duvet, although feather and down, is washable! Just make sure you have a washing machine of a bigger capacity. It weighs around 2 kilograms because of the filling so it's a little heavier than a synthetic duvet. You can purchase it in Single, Double and King sizes.
John Lewis & Partners Synthetic Summer Duvet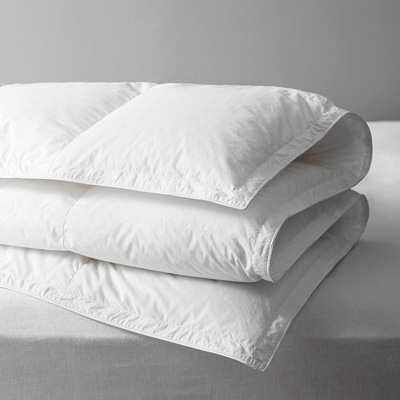 This synthetic duvet feels just like a natural goose down duvet – it's lightweight and very breathable. The filling is 100% polyester – blown fibre clusters which allow airflow but can also retain heat in the colder days to keep you warm. The cover is made from sustainable ethically sourced cotton, and just that. The cover is smooth to the touch, gentle to the skin, and it's no wonder since it's a 280 thread count. The higher the thread count, the softer the material feels. This product also supports cotton farmers who use water efficiently, care for the environment and promote fair and decent work. So, not only are you going to get an awesome duvet, you'll get it knowing that you also contributed in caring for the environment.
Conclusion
It's hard finding the right duvet. If you want to get one that's breathable, you have to find a lighter one. If you want to find a warm one, you have to make a decision whether a down or a synthetic duvet is better. The Sleep Advisors have decided to find and categorize all kinds of duvets because there's so many preferences. So, here you have a complete list. These are all suitable for hot sleepers! Whether you feel too hot or sweat during the night, one of these duvets will definitely help you feel fresh.