Scooms Double Hungarian Goose Down Duvet Review
Finding a perfect all-seasons duvet can be tricky. However, with a 9 TOG rating, Scooms Double Hungarian Goose Down Duvet promises to be just that. Whether this duvet will live up to its expectations, we'll see in our review.
Who is Scooms Double Hungarian Goose Down duvet for?
This duvet is for all of those who need a duvet all year round. With fluffy and soft Hungarian goose filings and the finest quality natural materials, this Scooms 9 TOG duvet promises to be your best friend through all seasons.
Not only is it light, wonderfully comfortable and honestly priced – but this duvet can also be purchased in a pair with another two duvets. When bought as a double duvet, this one really transforms into an all-season duvet that absolutely everyone can use at any given time. A 9 TOG duvet paired with a 2.5 or a 4.5 TOG duvet really makes for a perfect double duvet combo.
Therefore, we feel like we can safely say that this is an excellent all-around product for everyone.
What do we use this product for?
As we do with any 9 TOG duvet, we use this one to snuggle, relax or get a good night of fantastic quality sleep underneath it. With a 9 TOG rating, this duvet will keep you cool nice and cool during the summer, but as soon as the weather gets cooler – you'll feel that warmth all over your body.
Features you should know about Scooms Double Hungarian Goose Down duvet
To better understand why this duvet feels light but still snuggled, we're going to have to take a closer look at what makes it unique. Here are some of the features you should know about.
A TOG rating is how you can determine what kind of a duvet you're buying. For instance, if you get a 4.5 TOG duvet, you'll have yourself a nice, cosy cover for warm summer days, and on the other hand, if you get a 13.5 TOG duvet – you'll be warm even during the chilliest winter nights.
With a 9 TOG rating, this Hungarian goose down duvet will help you achieve both things. It's warm enough to keep you cosy during snowy nights but still light enough that you don't sweat during the summer.
This duvet has a 700 fill power, which is an excellent rating as far as duvets are concerned. Fill power is a way of measuring the quality and effectiveness of a feather and down duvet. Essentially, the higher the number – the better the duvet. A duvet with a 700 fill power is as fluffy as the cloud because of all the air chambers inside. Those air chambers directly affect how effective the duvet is at insulating and keeping the temperature just right. Also, the higher the fill power – the lighter the duvet. Once again, it's those air chambers that do the trick!
90% Hungarian goose down; 10% Hungarian goose feather
This all-seasons duvet is filled using the finest quality natural materials – all ethically sourced. This means that no geese were harmed making this blanket. All of the Hungarian goose feather and down inside this duvet has come from geese who have lived a happy life, and none of them have been live-plucked.
90% of this duvet is filled with Hungarian goose down, with 10%  Hungarian white goose feather added only for additional comfort and a little bit of weight.
All of these wonderful natural fillings are encased in a beautiful white cover.
Scooms Hungarian goose duvet comes with a 100% sateen cotton cover, which essentially means you get cotton sheets, only a lot more durable and shinier. Sateen cotton is essentially just cotton, only treated differently. The cotton fibres are combed or carded to become longer, and after that – they're mercerized, making them more durable and long-lasting.
So, it's safe to say that this sateen cotton cover will last you a long time.
Thread count essentially measures fabric density, so contrary to popular belief – you can have a sheet or a cover with a thread count that's too high. To put it simply, if the thread count is too high – the material won't be breathable and will retain heat, which means you'll sleep hot and uncomfortable.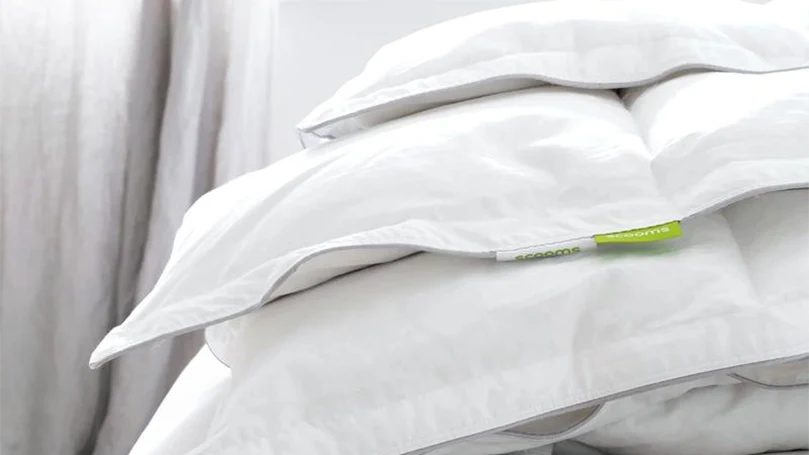 That's why Scooms Hungarian goose comes with an ideal sateen cotton cover with a 300 thread count. 300 thread count is widely regarded as the ideal thread count for bedding, which is why Scooms has decided to go with it.
If ethically sourced feathers weren't enough to convince you Scooms cares about the environment – maybe plastic-free packaging will.
Scooms Hungarian goose down duvet comes in a reusable material bag, in a recyclable cardboard box, without any plastic inserts or wrapping.
Not only is this goose feather and down duvet delivered without any plastic inside the package, but it is also delivered fast and free of charge. If you live in the UK, you get free, next-day delivery when you order Scooms Hungarian goose down duvet.
Review of Scooms Double Hungarian Goose Down duvet
Now, for the main event – the review of Scooms Double Hungarian Goose Down duvet.
Our first impressions were excellent, and we're pleased to say they haven't changed as we've spent more time with the duvet. At 9 TOG, this duvet is perfect for all seasons. A duvet such as this one should be a part of anyone's bedroom.
What's even better, you can get this one as a double duvet package too. Pair this one with a 4.5 TOG or a 2.5 TOG duvet and really get yourself a perfect duvet for all year-round.
All in all, the duvet really felt amazing. It was fluffy, lightweight but still had a bit of snuggle to offer. It always felt like it was gently hugging us, which is what a duvet should feel like – not too light or too heavy. It was comfortable, breathable, and it didn't have any funky odour you can sometimes encounter when using a feather and down duvet.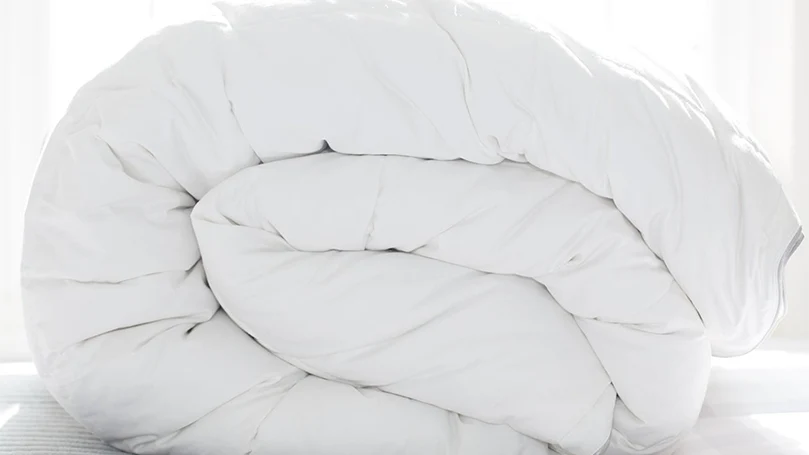 Also, making a feather and down duvet hypoallergenic is a major accomplishment. This duvet is as anti-allergy as one could get. It is both Nomite, and OEKO-TEX certified, so you don't have to worry about any dust mites or other allergens disturbing your sleep.
Cover: Sateen Cotton
Fillings: Hungarian goose down and feather
TOG: 9
Size: Single, Double, King, Super King.
Very comfortable and breathable
Good for all seasons
Hypoallergenic.
A bit on the pricier side
Too big for most washing machines.
What we like about Scooms Double Hungarian Goose Down duvet
You get a 60-night trial period when you order Scooms Hungarian goose down duvet
You can get it in a pair with a goose down duvet 4.5 TOG or a goose down duvet 2.5 TOG
It is hypoallergenic, which is rare for a down duvet.
What we didn't like about Scooms Double Hungarian Goose Down duvet
It is a bit more expensive than some similar down duvets
Not getting a warranty at this price point is not something we had expected to see
Even though it is machine washable, don't expect to fit your Super King Hungarian goose down duvet into a regular washing machine.
Check the alternatives to this duvet
If you don't seem to like this goose down duvet Scooms is offering you, or you'd much rather have a winter and a summer duvet separately – take a look at these alternative options.
OTTY Deluxe Microfibre duvet
If you'd prefer a microfibre filled duvet – OTTY has got you covered. This is a 13.5 TOG duvet. All seasons don't really work with this one as this one is designed mainly for cold winter time. Instead, you'd be getting a warm duvet for cold winter nights.
Despite being 13.5 TOG, this one is quite lightweight, comfortable and breathable. We're sure you'd enjoy it throughout the winter time as this is a warm duvet that will keep you warm all the time.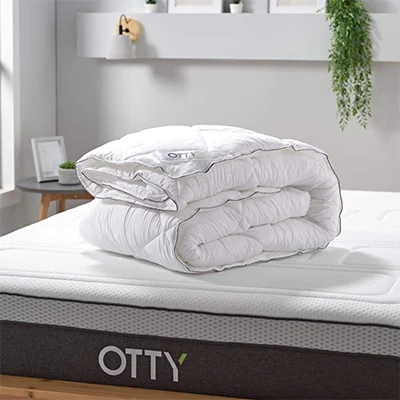 Very comfortable and breathable
Anti-bacterial and hypoallergenic
Removable, machine-washable cover.
It can be hard to return this one
Not an all-season duvet, despite being advertised as such
Only a one year warranty.
Eve Light Eco is a recycled hollowfibre-filled duvet, hence the name. It is a 4.5 TOG duvet, made for warm summer nights where you want to keep cool but still want to cover yourself. Due to the low TOG filling, it is not an adequate choice for the winter nights when you need more warmth.
It is very lightweight so that you won't get that snuggly feeling out of this one, but we'd assume you wouldn't really want that during the summer either way.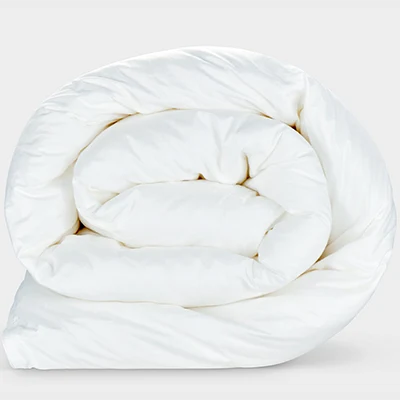 Very breathable
Hypoallergenic and easily washable
Made from high-quality, sustainable materials.
It can't be returned if used
It might be too big for your washing machine
Not warm enough for colder months.
Consider Whole Night's Sleep Adjustable Memory Foam pillow if you are buying this duvet
If you get a duvet – you need to get a pillow too! This adjustable memory foam pillow from Nectar can be quite an addition to your bedroom. This is a fully adjustable, three-cushion pillow that will fit everyone's needs.
It is quite comfortable, durable and supportive, and despite being made from memory foam – it is also quite breathable for a memory foam duvet. Therefore, it is an adequate choice for the winter time, but you can use it during the summer as well.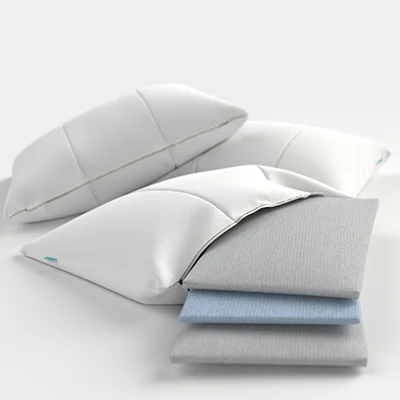 Excellent build quality and design
Very supportive and very breathable
Hypoallergenic.
Not for those who like fluffy, soft pillows
No trial period
Minor off-gassing.
What makes this product better than some other similar ones?
What makes Scooms Hungarian goose down duvet much better than all the other similar duvets is the fact that they've made feather and down hypoallergenic.  That is truly a remarkable feat, and we can only hope to see more of these products in the future. Also, we can say that it is a quality expensive but worth your time and money.
How did we test Scooms Double Hungarian Goose Down duvet?
Testing of this duvet was pretty easy, and might we add – enjoyable.
The first thing we did was order the product. The delivery was free, but what's even more impressive is that it was very fast. We've received our duvet the next day.
What really impressed us is that this white goose feather and down-filled duvet came completely plastic-free – in a reusable and recyclable packing. That was very nice to see.
Next up, we've inspected the duvet for any tears or faulty seams, and we checked to see if there were any stains on the cover or perhaps some foul odours. Also, we've weighed our king-sized duvet, and when we saw that it was just above 1 kg – we were chuffed to bits.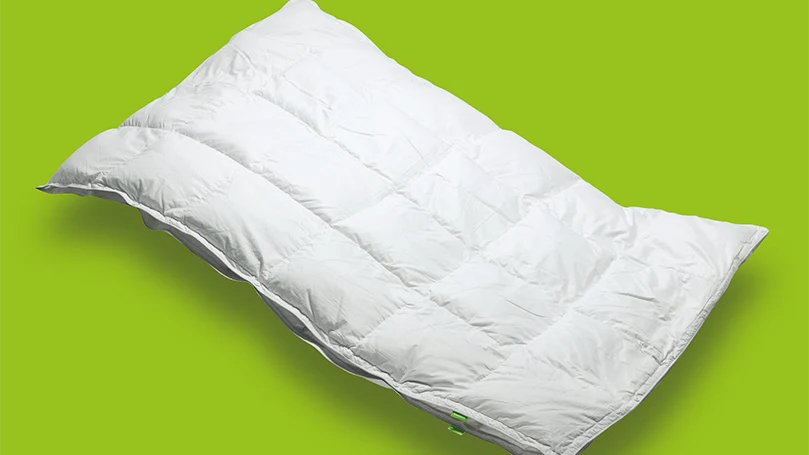 We've spent a few nights sleeping under this duvet in both chilled and heated rooms, and we're pleased to say that it felt terrific in both of these. There was no sweating or overheating in a warm setting, but more importantly, there was no shivering when we tested it in the chilled room.
It was comfortable, lightweight, soft, breathable – all that you'd want from an all-season duvet.
FAQs about Scooms Double Hungarian Goose Down duvet
In the end, let us answer some FAQs about this duvet.
Is this a good duvet for the autumn?
Yes. You could even argue this 9 TOG duvet is ideal for autumn.
Is this duvet good enough for wintertime?
Yes. This one will keep you warm during the winter.
Can I use this duvet in the summertime?
Yes. You should have no problems staying cool and dry with this one, even during the summer.
Is this duvet hypoallergenic?
Yes. This is OEKO-TEX and Nomite certified hypoallergenic product.
Do Scooms offer free shipping?
Yes. You get next-day free shipping when you order this product.
Do I get a trial period with Scooms?
Yes. This duvet comes with a 60-night trial period.
Does the duvet come with a warranty?
Unfortunately, you don't get a warranty when you purchase this product.