Calming Blankets' Adult Weighted Blanket Review
There is a lot of discussion about the benefits of weighted blankets, but most people who have tried them agree that they are very pleasant, comfortable and that most people will be happy with the performance of a weighted blanket. There are several Calming Blanket UK reviews but we think none offer all the necessary information, so we from The Sleep Advisors have tested this weighted blanket for you.
Since we primarily tested the 4.5 kg version of Calming Blankets Adult weighted blanket, we can say that it is for all adults as well as for older children. As the manufacturer suggests, and we agree with that, anyone who weighs over 25 kg can use this weighted blanket.
It is ideal for people between 25 and 60 kg of body weight, but of course it also depends on preferences. It is also great for allergy sufferers, because it is made of hypoallergenic materials and it is machine washable.
Add a header to begin generating the table of contents
What do we use this product for?
We use Calming Blankets' Adult weighted blanket for its calming effects on our body and mind thanks to deep pressure stimulation. Whether you suffer from depression, anxiety and similar disorders or just love to be hugged by a weighted blanket after a long and hard day, this model is the right choice for you.
We use it for restful sleep
We use it for alleviating problems with insomnia
We use it for disorders like anxiety and PTSD
We use it for its hypoallergenic properties.
Does Calming Blankets Adult weighted blanket come in different versions?
There are two more versions available to you, which differ in weight, and everything else is the same, such as maintenance, materials and more. We will tell you briefly how the difference in weight affects performance and who the weighted blanket is for. Also, you can choose from three available colors – Ocean, Granite and Quartz.
This is considered to be the ideal weight for adult males, since research suggests it should be about 8% of the average body weight of an adult male. This does not rule out the possibility this weight to be used by women as well as men lighter than average, because this is not too heavy blanket, so many who like this feeling use it even though it does not fit into the usual calculation.
Great for average weight males
Not too heavy nor too light.
Not for kids nor lighter women.
The 9 kg weight ranks this weighted blanket among the heavy weighted blankets that are suitable for people over 85 kg body weight. Or for those who like the feeling of being completely trapped under the weighted blanket. It is not recommended for all those who do not have enough strength to move it, but they need assistance to take it off.
Very calming
Same price as lighter models.
Too heavy for most customers.
Features you should know about Calming Blankets Adult weighted blanket
We singled out 6 features that we think are the most important and that you should know more about them. After reading this part of our review, your knowledge about this Calming Comfort weighted UK blanket will be significantly greater and you will be much closer to making the right decision whether to buy it or not.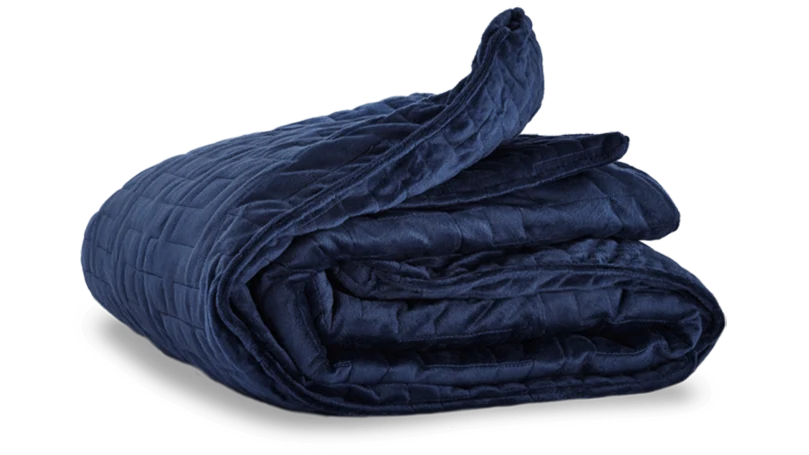 Although the impact of weighted blanket on our parasympathetic nervous system is the main reason for weighted blanket huge popularity in last couple of years, we should not forget that it is blanket after all and that should be comfortable for us, and not just have a calming effect. That is why it is important to know that the outer shell is made of ultra smooth plush polyester fabric. Although polyester is not a premium material, the polyester used by the manufacturer to make the cover is high quality and is very soft and velvety to the touch.
We need to draw your attention to one more thing. The cover is not lightweight at all, more precisely, it weighs 1.4 kg. So remember that you need to add 1.4 kg to the weight of the weighted blanket. In case this cover is not cosy enough for you, you can buy bamboo or cotton cover.
On the market in the UK you will most often find weighted blankets filled with plastic poly pellets or glass beads, and there are also those filled with steel beads as well as some other natural materials like sand. Calming blankets UK is filled with glass beads that are generally considered a high-end type of filling.
There are several reasons why this is so, and some of the main ones are smooth textures, that they are very quiet and hypoallergenic. Also, glass beads are heavier than plastic pellets, so there is no need to be so many of them and this makes the weighted blanket more comfortable, thinner and less bulky. One more reason why glass beads are so great is because they are eco-friendly.
Anti-microbial & free-of-toxic substances
We have already mentioned that both inner blanket and outer cover are hypoallergenic and eco-friendly, and they are also anti-microbial. It is very important for all sleep products you use to be anti-microbial, especially if they are used by children, as well as people with weaker immunity. All materials used during the production of this weighted blanket are free of toxic substances, so it is 100% safe.
Weighted blankets are designed to simulate deep touch pressure stimulation, so their weight will affect our parasympathetic nervous system. Firm, controlled pressure has calming effects and is therefore used in a wide variety of disorders but also because of the stressful lifestyle we are all exposed to today.
Whether you suffer from insomnia, restless sleep, anxiety, depression, PTSD, ADHD, autism, restless legs syndrome or some other similar disorder, you will experience the benefits of using Calming Blankets Adult weighted blanket. All those who do not have any of the mentioned disorders will fall asleep faster and notice an improvement in the quality of night sleep.
Now we come to the maintenance which is very simple compared to some other weighted blankets. This weighted blanket is fully machine washable, but we strongly advise to wash the inner blanket and removable cover separately. Also, check the capacity of your washing machine to avoid overloading it, especially if you buy a 9 kg model.
Wash both inner blanket and cover at 40 degrees Celsius or in cold water, using a gentle cycle and mild detergent, without fabric softener that can damage the weighted blanket.
30-day guarantee with free return
You can never know if a product will suit you when you order it online, especially when it is a product like a weighted blanket that you may have never had the opportunity to try in your life. But you don't have to worry, because it comes with a 30-day guarantee with a free return.
If you decide to return it, you must return it in an acceptable condition without damage, such as stains. In the event that the manufacturer determines that there is damage on it, it reserves the right to deny your refund. Also, it must be returned in the original packaging, so keep the original packaging for the first 30 days. Return is free for UK and EU customers.
Review of Calming Blankets Adult weighted blanket
Calming Blankets Adult weighted blanket is available in three weights – 4.5 kg, 6.8 kg and 9 kg, and the 4.5 kg version was the primary focus of our review, although we tried the other two versions too. This is a high-quality weighted blanket consisting of an inner blanket and cover. The inner blanket holds the glass beads in pockets to keep evenly distributed weight. Glass beads are a premium type of filling, and they are also eco-friendly. Outer cover is made of velvety polyester and weighs 1.4 kg. Both inner and outer parts are washable, and it is recommended to wash them separately at 40 degrees Celsius.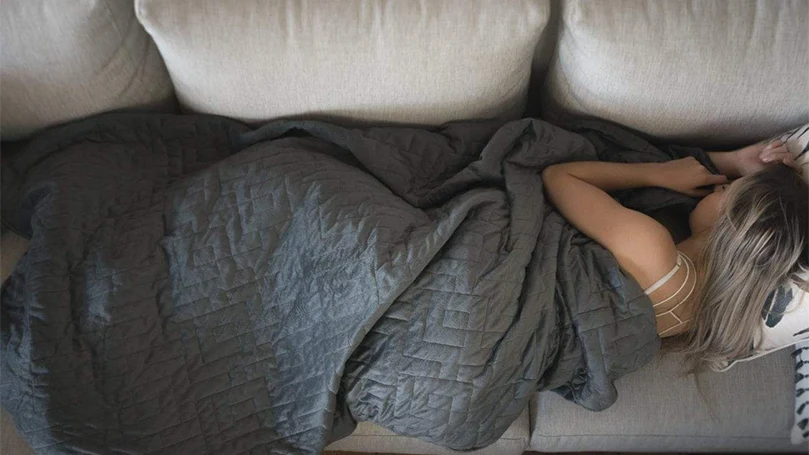 Weighted blanket significantly helps reduce symptoms in people suffering from anxiety, insomnia, depression and similar problems, and also affects the quality of sleep. You have the option to try it for 30 days and return it for free in case it doesn't suit you, if you haven't damaged it.
Weights: 4.5 kg, 6.8 kg, 9 kg
Filling: Glass beads
Cover: Polyester (bamboo and cotton also available)
Machine Washable: Yes.
Soft cover
Machine washable
30-day trial.
A bit more expensive
1.4 kg cover
Sometimes too hot.
3 features of Calming Blankets Adult weighted blanket that convinced us to buy it
The polyester cover is soft and comfortable, and you can buy a cotton or bamboo cover separately
It is fully machine washable which makes maintenance easy
When you lift it you will have the impression that it is very heavy, but when you cover yourself with you will find weight very pleasant and calming.
3 things we didn't like about Calming Blankets Adult weighted blanket
It is more expensive than the average weighted blanket, but we think that the price is justified and it is still cheaper then Gravity blanket for example
The cover weighs 1.4 kg which means your weighted blanket is heavier than you originally thought
Hot sleepers may find it too hot for summer months, especially if they use a polyester cover while other two types of covers better regulate body temperature.
Check the alternative to Calming Blankets Adult weighted blanket
There are more and more weighted blankets on the UK market, so we had a difficult choice to single out just two alternatives, and our choice fell on – Nectar Cloverlane Weighted Blanket and Silentnight Weighted Blanket.
Silentnight Weighted Blanket
Unlike our reviewee and Nectar Cloverlane, this weighted blanket is way more affordable. It is filled with glass beads that are placed in equally stitched pockets to keep them evenly distributed and quiet. It is encased in soft microfibre cover. Silentnight Weighted Blanket is breathable which is good for hot sleepers, as they usually have problems with weighted blankets and it is hypoallergenic. 
It is available in two adult only weights – 6.8 kg and 9 kg. It is fully machine washable, although if you buy the 9 kg version, there is a chance that it will be too heavy for your washing machine. Warranty lasts 12 months. Check our detailed Silentnight weighted blanket review.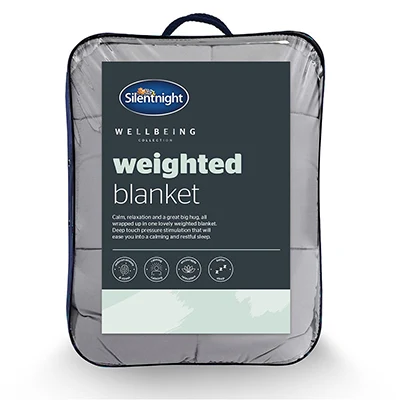 Glass beads filling
Hypoallergenic
Machine washable.
Non-removable cover
Can be too warm
Only for adults.
Consider Silentnight Latex Core pillow if you are buying Calming Blankets Adult weighted blanket
When the weighted blanket calms you down, you only need one more thing for a perfect night's sleep and that is a comfortable pillow. If you are a side or back sleeper, our recommendation is the Silentnight Latex Core pillow. Firmness is ideal for these two sleep positions, as it has a supportive and responsive latex core, which is wrapped in hollowfibre filling to make it comfortable. 
Breathability is excellent both because of the hollowfibre filling and because of the special Airmesh walls that make the entire Silentnight's series of products highly breathable. It is made in the UK and it comes with 2-year warranty. You can read our in-depth Silentnight Latex core pillow review to learn more.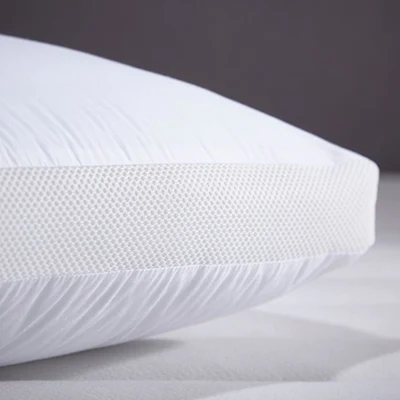 Support
2-year warranty
Breathability. 
Not for stomach sleepers
Non-removable cover
Not machine washable.
What makes this product better than some other similar ones?
Eco-friendly glass beads, plush cover and overall product quality make Calming Blankets Adult weighted blanket better than some other similar ones. Also, the ability to wash the entire blanket, not just the cover, is great news for everyone, especially for people who have allergies. Since it is made from hypoallergenic products, and in addition to being fully machine washable, allergy sufferers have no reason to worry. The decision of the manufacturers to offer three different weights is very smart because customers have different body weights and preferences.
How did we test the product?
When ordering, you need to decide which weight and which color you want. Also, you have the option to add a bamboo cover, and the price is the same as when you order it separately. The great news is that delivery is free for the UK Mainland, as this is a heavy product for which delivery is often paid extra.
Royal Mail or DPD will deliver the package to you within a few days and then you can start using it. First of all, we recommend that you do a quality inspection, to check that there are no stains or any other damage that may affect the possibility of returning the product. Also don't forget to save the original packaging for the same reason.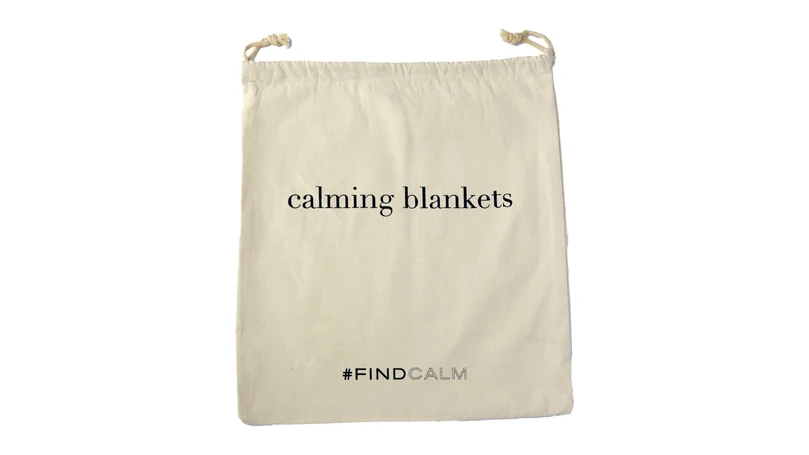 We were very satisfied after the quality inspection, because this is a well-made product. Then we approached the maintenance test and according to the manufacturers' advice, we separated the inner blanket and cover. We used a mild detergent and a gentle cycle. Both parts of the blanket came out of the washing machine undamaged.
When we did all that, several days of tests followed where members of our test team of different body weights and preferences tested this weighted blanket. Also, we tested it in rooms where the temperature is different to determine if it is good for hot sleepers and summer. Finally, it was used by members of the test team who are prone to allergies.
FAQs about your Calming Blankets Adult weighted blanket
Finally, let us answer some of the most frequently asked questions, to make sure there will be no doubt in your mind when you decide to buy Calming Blankets Adult weighted blanket.
How do I wash my Calming Blankets Adult weighted blanket?
You should separate inner blanket and cover and wash it in the washing machine at 40 degrees C.
Does the Adult weighted blanket sag over time?
Since glass beads are placed in pockets that are separately sewn and there are inner ties, you don't have to worry about that.
What are the dimensions of Calming Blankets Adult weighted blanket?
The dimensions of a Calming Blanket Adult Weighted Blanket are 198cm x 121cm and it is recommended that each adult has its own.
How long does Calming Blankets Adult weighted blanket last on average?
It is a high-quality product, so with proper maintenance we expect it to last at least 3 to 5 years, and probably more.