Best Air Purifier UK - Sleep Well With High Quality Indoor Air
Keep your indoor air quality at the top level  & free of allergens using an air purifier. These air purifiers will improve your air quality and help you with your allergies by eliminating all of the allergens from the air – including dust, pollen and many others.
It's not a secret that we need to keep our house , especially the indoor air that we cannot clean using nothing but an air purifier. However, you can spend a whole day cleaning, dusting and vacuuming the house and still end up with a runny nose or an off-putting smell in your house. The reason? The lack of the best air purifiers that would keep your indoor air quality at the top level.
Finding the best air purifier UK for your household isn't easy. The market is flooded with various products, so we can see how it could get overwhelming. 
That's why we have done our best to find the greatest products on the market by comparing their specs, listening to customer feedback and sticking to trustworthy brands. Here are our picks that will make your air quality better. 
Add a header to begin generating the table of contents
IMAGE
PRODUCT
SPECIFICATIONS

Filter:

HEPA Filter, Ultra-Fine Pre-Filter & Activated Carbon Filter

Coverage:

Up to 40m²

Noise:

24–50 dB

Dimensions:

22 x 22 x 36 cm

View Latest Price

Filter:

HEPA Filter, Ultra-Fine Pre-Filter & Activated Carbon Filter

Coverage:

Up to 12m²

Noise:

25-46 dB

Dimensions:

19 x 19 x 32 cm

View Latest Price

Filter:

HEPA Filter & Activated Carbon Filter

Coverage:

Up to 85m²

Noise:

As loud as 52 dB

Dimensions:

35.5 x 32 x 63 cm

View Latest Price

Filter:

HEPA Silver Carbon Filter

Coverage:

Up to 102m²

Noise:

42-56 dB

Dimensions:

67.95 x 45.09 x 25.40 cm

View Latest Price

Filter:

HEPA Filter, Pre-Filter & Activated Carbon Filter

Coverage:

Up to 20m²

Noise:

As loud as 52 dB

Dimensions:

17 x 16 x 28 cm

View Latest Price

Filter:

HEPA Filter, Pre-Filter & Activated Carbon Filter

Coverage:

Up to 15m²

Noise:

20-48 dB

Dimensions:

20.6 x 20.6 x 32.6 cm

View Latest Price

Filter:

HEPA Filter

Coverage:

Up to 130m²

Noise:

Up to 66 dB

Dimensions:

42 x 24 x 69 cm

View Latest Price
Before you buy the best air purifier
Before you buy an air purifier UK– it's important to know how the air purifiers work. These appliances are great for removing various particles from the air, using the filters and fans and you can expect them to remove pretty much all the particles like dust, smoke or pollen that may cause your trouble breathing. At the same time, if you have problems with mould spores, you can use this device to reduce the mould spores, reduce the overall level of humidity and therefore get the fresh air. 
The keyword here is particles. The air purifiers won't be very helpful in highly polluted environments, considering their lack of ability to remove foreign gasses from the air. Additionally, all of these appliances are tested in controlled conditions by the manufacturers, so keep in mind that some variations are to be expected.
Now's the time to meet our air purifiers UK market offers! We've tried and tested all of these air purifiers ourselves, we've compared them to one another and by the time we were done with our testing, we felt like it was safe to say that you're almost guaranteed to find a suitable product for yourself on our list.
BEST OVERALL: Levoit Core 300 Air Purifier
Enjoy some high-quality air from a high-quality air purifier.
For our top pick, we've gone with a Levoit Core 300. It's a remarkable piece of tech that everyone should want in their home. It comes with a CADR rating of 187 – which is almost ideal by our high standards. This great air purifier covers up to 40m2 making it ideal for most medium-sized rooms.
Naturally, it comes with a true HEPA filter, so you can be certain it will trap even the finest airborne pollutants, clean the air effectively and ensure the needed fresh air. 
Additionally, this one is quiet as a mouse at only 24 dB, thanks to QuietKEAP Technology, so you won't have any problems sleeping with it. For optimal performance, Levoit recommends changing the filters every 6-8 months.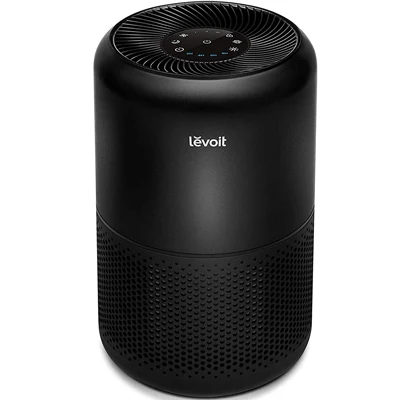 Energy efficient
Low maintenance cost
Very quiet & portable
Additional features like timer & display.
Not suitable for large rooms.
BEST VALUE: Levoit LV-H132 Air Purifier
3-Stage Filtration System for the utmost air quality and budget-friendly shopping!
Once again, we have a product from Levoit. Just like our previous model, this air purifier also comes with a 3-Stage Filtration System thanks to 3 separate filters working in unison.
What's also important to mention is that this device, just like the previous one, doesn't use UV/Ion light and doesn't produce any ozone or other kind of secondary pollution.
Once again, the sleep mode allows this one to run ultra-quiet which makes this cheap air purifier an ideal for a bedroom.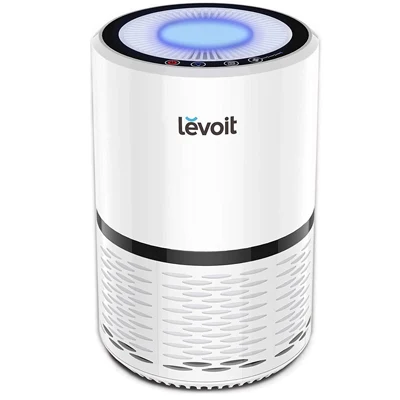 Very energy efficient
Low maintenance cost
Sleep mode
Noise-less & portable
Night light feature.
Only suitable for small rooms
Not the best air cleaning performance.
UPGRADE PICK: Philips Expert Series 2000i Air Purifier
An efficient, smart HEPA air purifier for all of your rooms!
Expert Series 2000i from Phillips is one of the best looking and best-performing air purifiers on the market. It comes with a remote control, a true HEPA filter in addition to an activated carbon filter, making it very efficient and allowing it to remove 99.97% airborne particles ensuring excellent air quality.
This one also comes with a a night mode option and a few smart features and can be easily controlled via an app, however, the app takes some additional work. At its highest setting, this one can get as loud as 52 dB, which is pretty great for such a powerful machine.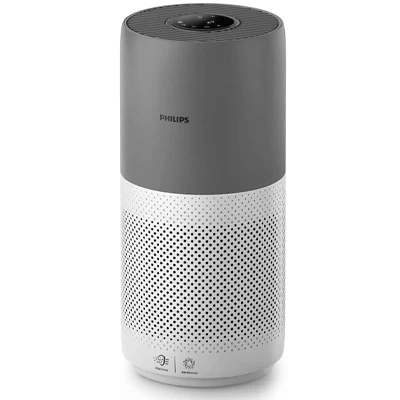 Suitable for small rooms
Highly-sensitive sensor
Home assistant integration & a smartphone app
Remote control
Night mode.
Remote control can stop working due to a glitchy app 
May be more expensive than some similar products in this category.
BEST FOR LARGE ROOM: Alen BreatheSmart Classic P1000 Air Purifier
A big boy for the largest of the rooms!
If you need an air purifier for dust that does a great job even in the largest of the rooms, this air cleaner will do the work. The P1000 can clean 102m2 in just half an hour, making it perfect for entire floors or entire apartments, thanks to its fan speed.
An H12 HEPA filter works in unison with Alen's proprietary antimicrobial treatment and nontoxic odour-eliminating technology to create the perfect, healthy environment in your home.
When talking about the maintenance, you'll only need to replace the filters once a year and continue to use it for preventing the air pollution.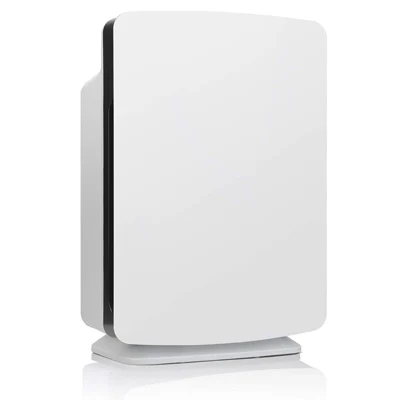 Very fast – 4 fan speeds
Low maintenance cost & great power efficiency
Great real-time air quality sensor
Ideal for entire floors.
Noisy
May be more expensive than similar products in this category.
BEST FOR PETS: Silentnight Air Purifier
Easily removable and washable pre-filter that grabs all the large particles!
If you have pets in your home, you know how troublesome hair can be. Those hairs can easily clog the filters rendering the air purifiers virtually useless.
With this air purifier from Silentnight, you can easily clean the air purifier dust and hairs from the fine gauge sponge filter that catches all the pet dander and other larger particles.
Also, this one is quite good at eliminating unpleasant odours, which can be a huge help, especially if you live with multiple pets.
Very energy efficient
A compact air purifier 
Low maintenance cost
Ionizing feature for the better air purification process
4 timer settings.
Noisy

Needs to run at highest settings for the best results.
BEST FOR SMOKE: TCL Air Purifier
Say goodbye to cigarette smoke and improve your air quality!
If you're a smoker, we're going to assume you have a designated space where you smoke, rather than lighting up wherever you please. That's why we've selected this one.
It's not the greatest or the most powerful, but with a specialized CADR rating for smoke – this one will clean out all the smoke residue from confined smoking spaces with ease.
It comes with an H13 HEPA filter so it'll do a lot more than just get rid of the smoke and unpleasant odours.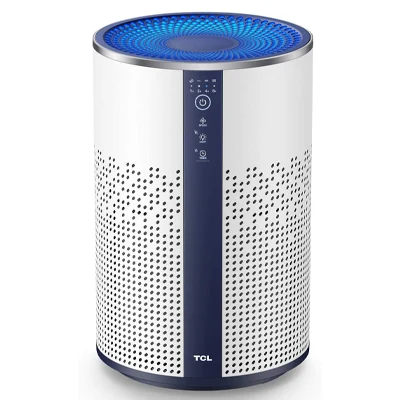 Highly energy efficient
Low maintenance cost
Incredibly quiet
Adjustable night light & timer.
Not suitable for large rooms.
BEST FOR DUST: electriQ EAP500HC
The best air purifier for dust filtration!

If you are fighting the allergies and you have problem with dust, you'll want a high-quality air purifier for dust. Know your indoor air quality all the time with built-in LED indicator. With 7-stage filtration system, this electriQ air purifier offers a long-lasting and super-efficient fight against the dust.
It can work for 12 hours straight, allowing you to set 4 different fan speeds, where the fastest generates up to 66 dB of noise. At the same time, this feature allows you to regulate noise and lower it to sleep undisturbed. This air purifier for dust is suitable for spaces up to 130 m2.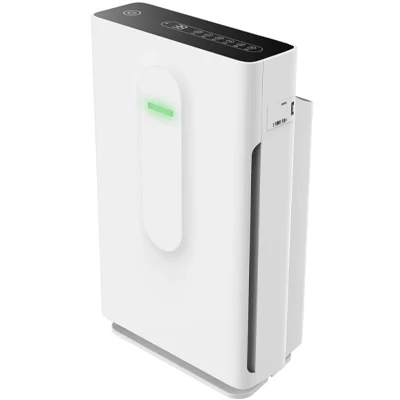 7 stages of air purification
LED air quality indicator
Timer
Sleep mode
Adjustable fan speed.
It can be hard to find replacement filters from time to time
A bit heavier
More expensive than some similar air purifiers.
What to consider when buying the best air purifier
Before we get into our picks, it's important that you understand what some of the key features are that you should look for in the air purifiers before you get one. Home air purifier shopping decision shouldn't be reached quickly, without considering these features.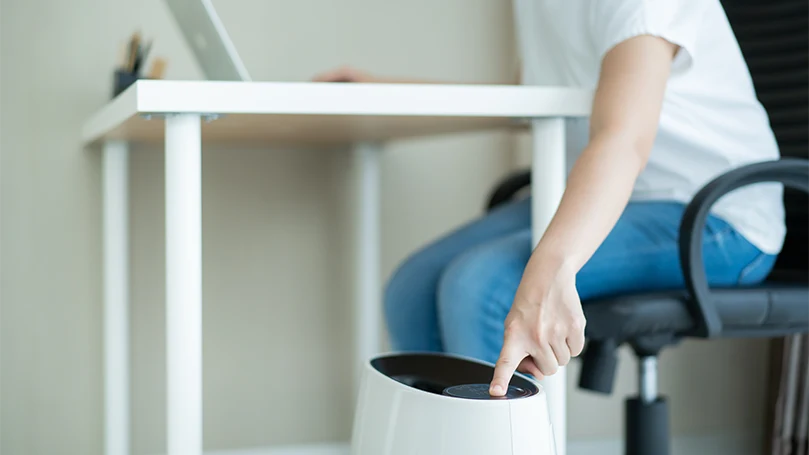 Not all of these are the same. Some are quiet, some aren't, some have EPA some have filters and so on. On that note, here's what we've considered when we've made our list with the best air purifiers.
First up, we have a CADR (Clean Air Delivery Rate) rating. At the first glance, this one can be quite confusing, but soon you realize the higher the CADR rating the more efficient the air purifiers are. In general, you should look for an appliance with a CADR rating of 180 or greater.
In essence, a CADR rating shows, in cubic feet per minute, just how much clean air can the air purifier produce at its highest speed setting. Additionally, you may find some models have a couple of different CADR ratings for each individual particle, like pollen or cigarette smoke. This can come quite in handy for those suffering from allergies because they can easily find the best air purifier for their specific needs.
When it comes to filters in the air purifiers, ideally, you want to look for one with an air purifier HEPA filter. HEPA is an acronym for "high efficiency particulate air".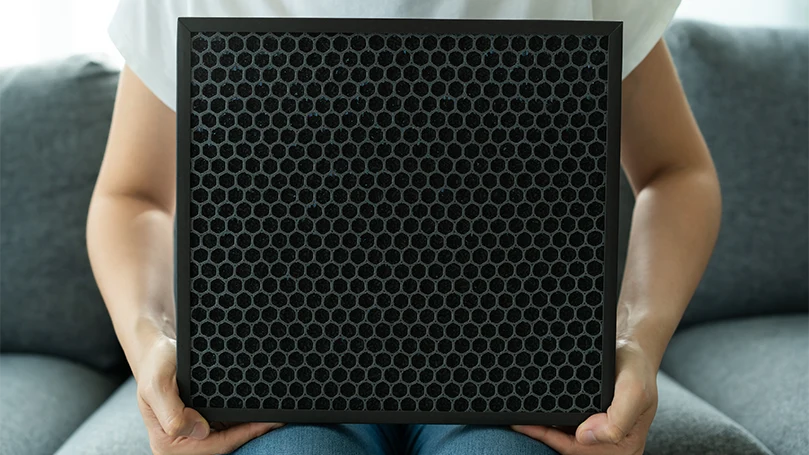 It is a high-quality filter that traps 99.97% of the airborne particles and air pollutants that are 0.01 microns and larger, contrary to popular belief that they only capture particles that are 0.3 microns and larger. To put things into perspective, most humans can't see anything smaller than 60 microns, so that tells you a little bit about the effectiveness of this filter.
Unfortunately, many manufacturers advertise their HEPA air filters as equal to regular ones, but that's not the case and you should always try and find the air purifier with a True HEPA air filter – the one that's been tested.
The thing about air purifiers is that they produce noise – not much, but some. As you might've guessed, that can pose a significant problem if you're using it while you sleep, for instance.
Most air purifiers will operate somewhere between 20 and 60dB, with some exceptions both over and under. The good thing is, most of them have their noise levels printed on the label or the packaging, so you won't have to guess. Ideally, you'd want your appliance to run as quiet as possible, but since everyone has a different level of tolerance for noise, you'll have to play it by the ear.
Additional features/smart home integration
In addition to all of that, some of the newer models come with all sorts of additional features. Some will come with a remote controller, so you can turn it on or off, or lower the fan speed directly from your bed – if you're using it in your bedroom. Some come with a programmable timer or a small light that indicates you need to replace your filter and so on.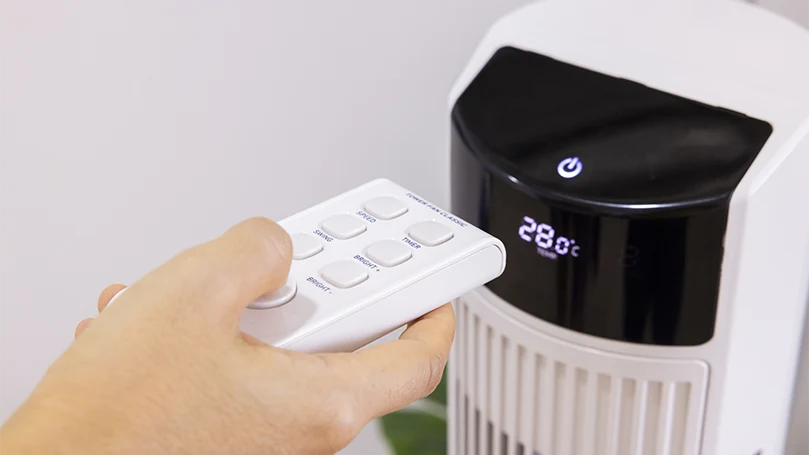 Finally, some of the latest models come with some smart features like app integration or integration with your virtual home assistant, which can come quite in handy if you want to program the working hours of the air purifier based on your schedule.
Tips for buying and using the best air purifiers
Before you decide to buy a new air purifier, we wanted to give you a few additional tips that you can follow to decrease the air pollution. 
Keep in mind that these appliances run on electricity and that some of them aren't the most power-efficient. You'll definitely feel their presence on your electricity bill. If that is something that may be a concern of yours, try and find the models with Eco modes that put the devices on standby when they sense that the air is pollutant-free.
Additionally, an air purifier needs to be maintained from time to time. The thing you'll do the most is filter replacement and you can expect to replace a quality filter about once every 6 months. So, factor in the maintenance costs before you buy the air purifier.
Finally, if you plan on moving the air purifier from room to room, you may want to think about getting a portable device. Some air purifiers are bulky and aren't the easiest to move, so don't buy those if you know you'll move them around frequently.
Look for energy-efficient models
Factor in the maintenance costs
Think about the portability.
The Advantages of owning the best air purifiers
Naturally, we can't forget about the benefits of the air filtration system and there are a handful of them.
First up, removing the allergens and other particles like dust, pollen or smoke from the air relieves the symptoms of asthma according to CDC.
Next up, an air cleaner machine is also quite good at eliminating unpleasant odours from your home. if you happen to cook all day or if you are a smoker –  you won't have to worry about the smell lingering for too long if you put the air purifier to use.
Finally, air purifiers can come in handy during the flu season. Most of those pathogens are spread through the air, so having an appliance that can trap those pathogens might be the difference between one household member getting sick and the whole house getting infected.
It helps relieves symptoms of asthma
It removes unpleasant odours
It helps spread germs and pathogens.
FAQs about your new air purifiers
Finally, we wanted to answer a couple of additional questions that might be interesting to the readers. Here are some of the FAQs we've found and thought were worth checking when talking about the best air purifiers. 
Can a HEPA filter from my air purifier remove coronavirus?
In a word – yes. The virus is approximately 0.125 microns in diameter, which is a lot more than the 0.01 microns that the HEPA filter capture. This does not mean that you should follow other cautionary measures.
How often do I need to change my filter from my air purifier?
Depending on the filter you're using – you'll have to change them anywhere from once a month to once a year for optimal performance.
How powerful of an air purifier do I need?
You should always choose the air purifier based on the size of the room you plan on using it in and compare it to the CADR rating of the appliance you plan on buying.
Should I sleep with an air purifier on?
It's perfectly safe, even recommended, to sleep with an air purifier on. The only thing that might be bothering you is the sound, but other than that, it's perfectly fine.