Jaymag Weighted Blanket Review - Top Weighted Blanket UK
Do you feel that you need something extra to calm you down and make you fall asleep faster after a hard day? Or you may be suffering from anxiety and depression like a large number of people nowadays. Weighted blanket can be a solution to your problems or at least it can significantly alleviate symptoms. We tested Jaymag weighted blanket for you and here is a review by The Sleep Advisors.
Who is Jaymag weighted blanket for?
This wonderfully designed soft blanket is available in 6 different weights which we will talk more about later, and the 7 kg version is the focus of our review, so we will answer this question accordingly. Jaymag weighted blanket 7 kg is for adults who weigh at least 70 kg, and is recommended for those over 80 kg because otherwise it can be too heavy. Preferences are also playing a big role, because someone likes a very heavy blanket.
It is for allergy sufferers and hot sleepers too, because it is highly breathable and made of hypoallergenic materials. It it especially suitable for sleepers who suffer from PTSD, insomnia and anxiety so it has highly valuable therapeutic properties.
Jaymag weighted blanket is one of the best blankets in the UK at the moment and no wonder it ended up in our buyer's guide for the best weighted blankets. So, let's start this Jaymag weighted blanket review!
Add a header to begin generating the table of contents
What do we use this product for?
Generally, we use it for coping with insomnia, anxiety, depression, restless leg syndrome, PTSD and other similar disorders, and because it promotes sleeping quality. It has a calming effect on our body that will positively affect each of us, even if you are perfectly fine.
We use it for falling asleep faster
We use it for restful sleep
We use it to prevent anxiety attacks
We use it for hypoallergenic sleep environment.
Does Jaymag weighted blanket come in different versions?
Most weighted blanket is available in several different weights, including Jaymag weighted blanket. We have tested all versions for you and in this part of our review we will tell you briefly which version is suitable for which type of customer. Other characteristics like filling type and cover are same for all models.
This is a model for older children and teenagers, both because of the weight as well as because of the size – 100 cm x 150 cm. Although this model weighs only 3.5 kg, be careful not to use it for children who weigh less than 30 kg since it can be too heavy for them.
For older children and teenagers
Affordable.
This blanket's weight is recommended for adults with lower BMI, as well as all those who want to fall asleep faster and sleep better but do not have any of the above-mentioned disorders.
Smaller size for some adults – 100 cm x 150 cm.
We talk about these two versions together because the weight is almost identical, so they are suitable for the same type of people. 8.5 and 9 kg are for those who weigh over 85 kg or for those who like a very heavy weighted blanket, to soothe their anxiety symptoms. The only difference is in size. The dimensions of the 8.5 kg version are 135 cm x 200 cm, and the dimensions of 9 kg are 150 cm x 200.
Calming
Cosy for people over 85 kg.
Too heavy for average adults.
The 11 kg version of Jaymag weighted blanket is one of the heavier weighted blankets on the UK market. People who weigh over 95 kg can benefit from it, but be careful with this weight because the average adult will not be able to move it off without assistance, which is potentially dangerous.
Features you should know about Jaymag weighted blanket
We will now focus on each of the most important features individually, to help you better understand if this is the product you are looking for.
Premium 100% cotton with high quality stitches
Although the filling is the heart and soul of every weighted blanket, the cover is also very important to keep you cosy so we will start with a 100% cotton cover. Jaymag weighted blanket has two layers of cotton.
Both are made of 100% high-quality cotton. The layer that is closer to you is ultra-soft and that is its primary purpose, while the other cotton layer surrounds glass beads. Both cotton layers are highly breathable so most customers will be able to use this weighted blanket all year round. And it is even suitable for hot sleeper. You will notice high density stiches which is a reflection of great craftsmanship.
Hypoallergenic & non-toxic glass beads
Something must give weight to the weighted blanket, and Jaymag company opted for a premium type of filling and that is filling consisting of glass beads. While many weighted blanket in this price range are filled with plastic pellets since plastic pellets are cheaper alternative, we really like what glass beads used here.
Glass beads are best because they are hypoallergenic and non-toxic, but also because of the weight distribution. Since they are heavier than plastic pellets, they distribute weight better, and also blanket is less bulky.
Deep Pressure Touch stimulation
Since deep pressure touch stimulation, also known by the acronym DTPS, is the reason why weighted blankets were invented at the first place, we need to dedicate a separate paragraph to DTPS and explain to you exactly what it is.  It has probably happened to you at least once that you woke up in the winter covered with a heavy duvet and that you had a feeling of calmness. Scientists have investigated this phenomenon and concluded that firm pressure applied to the body over some period of time time relaxes the nervous system.
Relaxation of the nervous system is achieved by the secretion of serotonin and dopamine. DTPS can also be in the achieved by hugs, massages and other techniques, but none are as effective as a weighted blanket.
High-density sewing for extended durability and even weight distribution
It is very important that the weight is evenly distributed. Glass beads are the best type of filling for this, as we have already said, but it is also very important that the filling is arranged in pockets because only then the pressure can be spread evenly over your body.
Precise computer-programmed stitching and high-density sewing give us 10 cm x 10 cm pockets, each one is small diamond lattice pocket where glass beads are placed. And even if you toss and turn during night, you won't upset the balance of filling in the weighted blanket. In addition to same weight pressure, this way of stitching and sewing significantly affects the durability of this product, extending its service life.
The reusable vacuum bag in which your Jaymag weighted blanket will be delivered to you is a very useful thing. In addition to protecting your new weighted blanket during delivery, you will also have a bag to store it when not in use. Since it is an original bag, it fits perfectly, so it will completely protect your weighted blanket from dust and other dirt when you put it under the bed or somewhere else.
Review of Jaymag weighted blanket
Jaymag weighted blanket is an affordable weighted blanket available in 6 different weights – 3.5 kg, 5 kg, 7 kg, 8.5 kg, 9 kg and 11 kg. So everyone can find the right weight for themselves according to preferences, as well as body weight as it is advised that the weighted blanket be 7 to 12% of body weight. It is encased in a cotton cover that is very soft and highly breathable, making it suitable for hot sleepers as well.
It is filled with hypoallergenic, non-toxic glass beads that distribute weight evenly as they are placed in 10 cm x 10 cm pockets. Workmanship is at a very high level so this is a durable product that will last you a long time if you take care of it in the right way. It comes in a reusable vacuum bag that you keep so you always have something to store or carry.
Weights: 3.5 kg, 5 kg, 7 kg, 8.5 kg, 9 kg, 11 kg
Filling: Glass beads
Cover: Cotton
Washable: Yes
Hypoallergenic: Yes.
Glass beads filling
6 different weights
Reusable vacuum bag.
Non-removable cover       
Lack of sizes
Hand wash recommended.
What we like about Jaymag weighted blanket
The combination of glass beads and cotton makes it highly breathable and comfortable
Relieves symptoms that occur with depression, anxiety, PTSD, ADHD, insomnia and other similar disorders
Stress-free, money-back guarantee for 365 days is great.
What we didn't like about Jaymag weighted blanket
The cover is not removable so you should use a duvet cover
The 7 kg version is the only version available in two different sizes  
Although it is machine washable, the manufacturer recommends hand washing.
Check the alternatives to Jaymag weighted blanket
If you are willing to spend more money on one of the high-end weighted blanket brands, then continue reading this part of our review where we will tell you more about the two alternatives we have singled out – Emma Hug weighted blanket and Calming Blanket Adult.
Emma Hug weighted blanket is available in only one weight – 7 kg and one size, which limits the number of potential customers, because there are certainly people who find it too heavy but such people can search other weighted blanket brands. Other than that, this is one really great product made from high quality materials. The breathable cotton layer is great, although this weighted blanket is sometimes too warm for hot sleepers. 
Hot sleepers should consider buying Emma Hug weighted blanket luxurious bamboo cover which significantly improves temperature regulation. Silica glass beads are only 1 mm in diameter which makes them smaller than average glass beads, and are housed in pockets due to even weight distribution. You can try it for 200 nights.
Here is our complete review of Emma Hug weighted blanket.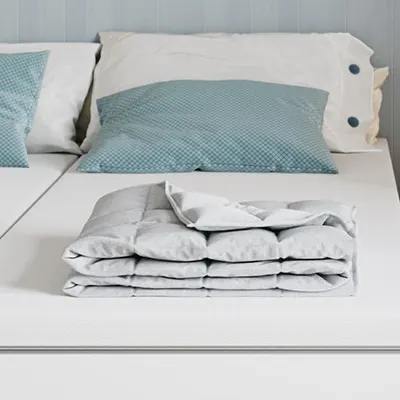 7-layers construction
High quality
200-night trial.
Sometimes too hot
Bamboo cover not included
One size only.
The Calming Blankets company also offers models for kids, and this is for adults, available in three weights – 4.5 kg, 6.8 kg and 9 kg. The inner blanket holds together eco-friendly glass beads, and the outer shell is made of polyester. Polyester is very soft and comfortable, and in case it is too hot for you, you can buy an additional cotton or bamboo cover. 
It is fully machine washable, but you should wash the inner blanket and outer shell separately. You can be see for yourself the quality of this product as well as its benefit during the 30 days trial period.
Machine washable
Cosy
Premium-quality product.
High-priced when compared to similar products
Heavy cover
Polyester cover can be too hot.
Consider Simba Hybrid pillow if you are buying Jaymag weighted blanket
The Simba pillow is one of the most advanced pillows on the UK market. The Stratos technology implemented in this pillow is a phase change material (PCM) that absorbs store and releases heat for optimal comfort. The pillow has two completely different sides, one bordered in blue and the other in gray so you can easily distinguish them. 
Thanks to the Nanocubes which are made of visco-elastic open-cell foam, you can adjust the loft so it fits all types of sleepers. Breathability is fantastic and it is hypoallergenic. Simba pillow is CertiPUR certified and TCPP-free.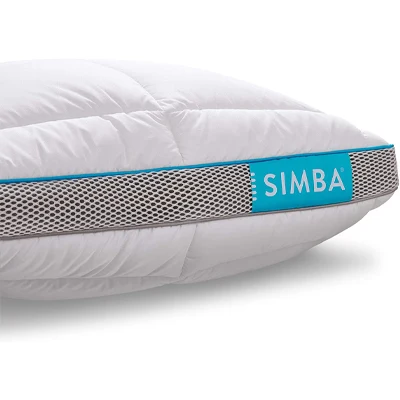 Temperature regulation
Eco-friendly
Adjustable loft.
Nanocubes not washable
Among more expensive ones
1-year warranty.
What makes this product better than some other similar ones?
The price-quality ratio is what primarily makes Jaymag weighted blanket better than some other similar ones. Premium filling, high quality cotton cover and craftsmanship are same as with weighted blankets which are twice as expensive as this one. Also, we really like that it is available in large number of different weights so everyone can find the right one for themselves. Addition of reusable vacuum bag is another advantage.
How did we test the product?
Free delivery within 3 to 5 working days is included in the price, which is great for customers, because this is a heavy product for which delivery services charge significantly. When ordering, you need to choose the right weight and that's it, since it is only available in one color.
The first thing after the quality inspection we did is a maintenance test. Since it is machine washable, but the manufacturer advises hand wash, we tested both washing methods. We did not notice any problems or damage after the machine wash, but you should listen to the manufacturer's instructions so that you only wash it occasionally in the machine, otherwise wash it by hand and use a duvet cover to wash it as rarely as possible.
Since we tested all 6 weights, our entire test team was involved in testing this product. In the end, everyone was very pleased with the effects on calming our nervous system, and give high marks for breathability and comfort.
FAQs about your Jaymag weighted blanket
We will use our FAQs section to provide you with some more information about Jaymag weighted blanket and thus complete our review.
How do I wash my Jaymag weighted blanket?
This weighted blanket is machine washable, but manufacturer strongly advise you to hand wash it.
How long will my Jaymag weighted blanket last?
Since it is high-quality product and it comes with 1 year warranty we expect it to last for years if you maintain it properly.
Is Jaymag weighted blanket good for people suffering from anxiety, depression and insomnia?
Yes, Jaymah weighted blanket is great for people suffering from anxiety, depression, insomnia and other similar disorders.
Should people with allergies use Jaymag weighted blanket?
People with allergies can use this weighted blanket since it is hypoallergenic, breathable and washable.
Is Jaymag weighted blanket hypoallergenic?
Yes, it is suitable for sleepers who suffer from allergies and want a hypoallergenic weighted blanket of premium quality.