Best Latex Pillow UK: Top 5 Picks Reviewed
Want to know which is the best latex pillow UK has to offer? We got you!
So, you want to know which is the best latex pillow UK has to offer? Well, we understand – we'd want to know, too, if we needed one. After all, a pillow is not just a pillow; it's an important item that can make or break your sleeping experience.
That's why we've decided to put together this guide, to help you find the best latex pillow to rest your weary head on. We'll be taking a look at five of the best options available, and giving you our thoughts on each one.
We'll also offer some tips on what to look for when choosing a latex pillow so that you can make an informed decision when it comes time to spend your money.
So, without further ado, let's get started!
Add a header to begin generating the table of contents
Now that we've shared some wisdom with you, it's time to meet our contestants. We've selected five of the best latex pillows currently available on the market and put them head-to-head in our quest to find the best one. And the winner is…
IMAGE
PRODUCT
DETAILS

KEY FEATURES:

Size:

68 x 40 x 17 cm

Cover:

Cotton polyester blend

Filling:

Latex

Firmness:

Firm

Warranty:

5-year warranty

Trial:

No trial

Best for:

Side sleepers

View Latest Price

KEY FEATURES:

Size:

60 x 40 x 12 cm

Cover:

Ice silk/Tencel

Filling:

MDI latex memory foam

Firmness:

Medium firm

Warranty:

No warranty

Trial:

100 nights

Best for:

Side & back sleepers

View Latest Price

KEY FEATURES:

Size:

65 x 40 x 14 cm

Cover:

Cotton

Filling:

Latex

Firmness:

Medium soft

Warranty:

No warranty

Trial:

No trial

Best for:

Side & back sleepers

View Latest Price

KEY FEATURES:

Size:

61 x 40 x 12, 70x x 40 x 13, 85 x 40 x 15 cm

Cover:

Tencel

Filling:

Latex

Firmness:

Soft

Warranty:

No warranty

Trial:

30 night trial

Best for:

Side & back sleepers

View Latest Price

KEY FEATURES:

Size:

70 x 40 x 12 cm

Cover:

Cotton

Filling:

Latex

Firmness:

Medium firm

Warranty:

No warranty

Trial:

No trial

Best for:

Back & stomach

View Latest Price
1. BEST OVERALL: Relyon Superior Comfort Deep Latex Pillow
Arguably the best latex pillow ever made!
Previously known as Dunlopillo Super Comfort Latex pillow, Relyon Superior Comfort Deep Latex pillow offers excellent value for money – despite being pricey. It is not-so-slightly deeper than most latex pillows, making it ideal for side sleepers – but not as much for the rest of the market.
On top of that – it's firm. Noticeably firmer than most pillows. Whether that's a good thing or not is a personal preference, but we like it. It's an all-latex pillow, what do you expect? It features bounce-back technology for long-lasting shape and support, so you can count on this one to last for ages. Also, fluffing the pillow is not in the books for this one.
The cover is soft to the touch and hypoallergenic and can be removed for washing, which is what we'd expect at this price point. As for comfort and support, the pillow does a great job at relieving pressure even though it provides more-than-sufficient support for your head and neck – perfect if you wake up with aches and pains.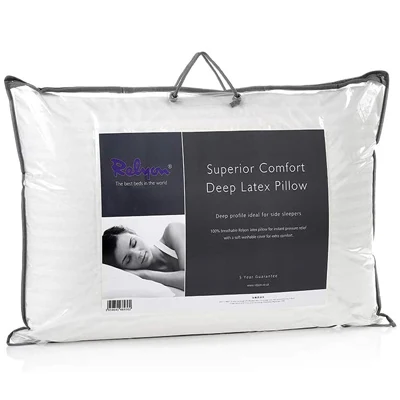 2. BEST VALUE: Inofia Latex Memory Foam Pillow
Who wouldn't love a good night's sleep on a budget?
A good pillow is a key to getting a good night's sleep, and the Inofia Latex Memory Foam Pillow is one of the best out there.
Made of innovative MDI latex memory foam, this pillow provides the perfect balance of comfort and support for your head and neck. And, if you're worried about the latex-foam-mix durability – don't be. This 12 cm deep pillow's been through a stress test 80 thousand times and still emerged victorious!
On top of that, the breathing pillow core brings unparalleled breathability and anti-bacterial properties to your sleep environment, while the unique two-in-one (Ice silk and Tencel) design means you can enjoy cool or warm sleep all year round. The removable and machine-washable zipper pillowcase also helps keep your pillow fresh at all times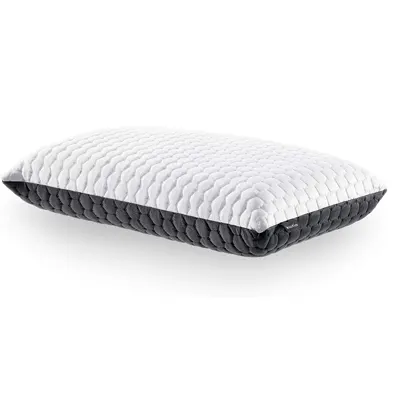 3. BEST SOFT SUPPORT: Yanis Latex Sense Traditional Dunlop Latex Pillow
Who says a latex pillow can't be soft and cosy?!
If you're in the market for a latex pillow, you can't go wrong with the Yanis Latex Sense Traditional Dunlop Latex Pillow. It's designed to give you soft support, and it does just that – thanks to its 100% pure and natural Dunlop latex.
On top of that, this one's super comfy and pressure relieving, conforming to the silhouette of your neck and head for an amazing night's sleep. And because it's made of latex, it does a great job of keeping things cool.
It's also anti-microbial, anti-allergenic and dust mite resistant, making it a perfect choice for those who suffer from allergies. Plus, the cotton cover is super soft and comfortable, and of course, machine-washable.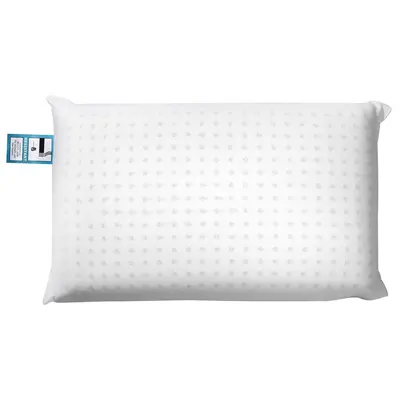 4. BEST LARGE: TALATEX Talalay Pillow
When you need a big pillow…
If you're in the market for a big pillow, look no further than the Talatex Talalay Pillow. This pillow comes in three different sizes – Standard, Queen and King – and the one you choose will depend on the size of your bed (and your preferences).
The pillow is filled with 100% natural Talalay's own Thailand-sourced latex, which is known for its durability and is covered in a Tencel fabric that's both soft and breathable.
The Talalay latex core is supportive and springy, so it won't go flat over time like some other types of pillows. It's also hypoallergenic and dust mite-resistant, making it a good choice for people with allergies or asthma. And because the pillow is perforated for better airflow, it won't get too hot while you sleep.
And, if for any reason you're not satisfied with the pillow, Talatex offers a 30-night risk-free trial, so you can return it for a full refund.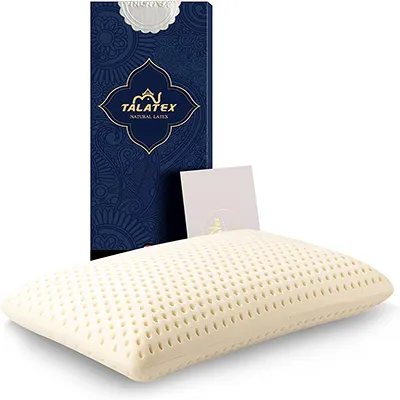 5. BEST ORTHOPEDIC: Evergreenweb Latex Neck Pillow
If you have sensitive skin…
Lhee Original Evergreenweb pillow is made with high-density latex and features special micro-perforations that improve breathability. In other words, it's pierced for better airflow.
In addition, the pillow is anti-mite, ergonomic and super comfy.
It also comes with an Aloe vera lining with essential oils and a 100% natural cotton pillowcase, so if you have sensitive skin – this one's tailor-made for you.
The cover is removable and machine washable, making it easy to keep clean.
And finally, since the pillow is not actually 12 cm tall, this is an actual latex pillow we can see being used by stomach sleepers. On the same note, we don't see it being high enough for stomach sleeping, but hey, there are all these other pillows made for them, so, take one for the team stomach sleepers.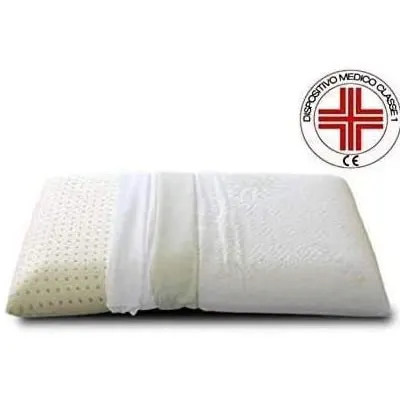 What to look for when buying latex pillow UK
Before we delve deeper, let's first take a look at what factors you should consider when buying a natural latex pillow. And, no, we won't discuss which rubber trees are best for latex manufacturing, but we will provide you with enough data to help you make an informed decision and possibly help you get rid of that pesky neck pain.
Hypoallergenic properties
Allergy sufferers love latex pillows, simply because they're naturally hypoallergenic. See, latex is a material that's resistant to dust mites, mould, mildew, and other allergens. So, if you're someone who's allergic to dust or mould, a latex pillow might be a good idea. But, there's a caveat.
Despite being naturally hypoallergenic, latex itself is an allergen for some. If you have a latex allergy, you should probably steer clear of these, as you could end up with an array of symptoms, anywhere from itching skin to sever difficulty breathing.
Just like memory foam pillows, the best latex pillows come in two forms – a single, solid piece and a bunch of shredded ones. While both types have their pros and cons, we personally believe that the solid ones are better since they provide more support and last longer.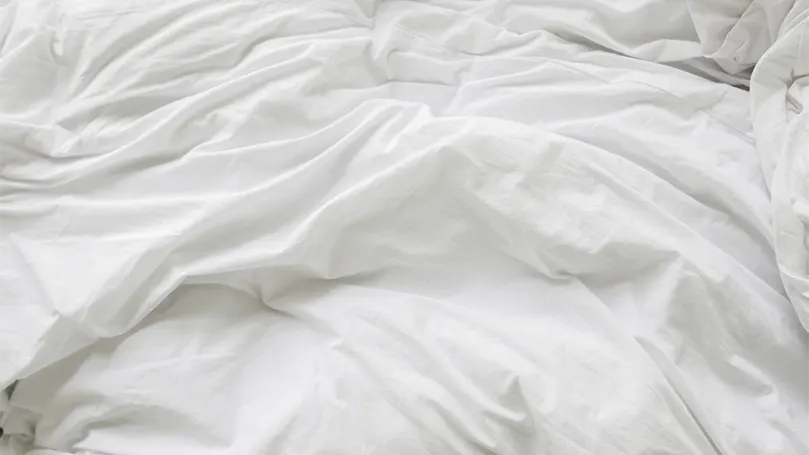 However, some people might find them too firm, which is why they often go the shredder route – whether it's organic latex or synthetic latex we're talking about. Basically, the differences are minuscule, yet noticeable, so it's up to you to decide which one is best for you.
As with any other pillow, the height, or loft, as some might call it, is important since it dictates how much support your neck and spine will get. But, it also depends on the sleeping position you prefer.
Essentially, if you're one of the many side sleepers, you'll need a higher pillow so that your neck is aligned with your spine.
On the other hand, if you're a stomach sleeper, a lower pillow is best since you don't need as much neck support and you can actually benefit from a low-profile cushion to prevent your neck from being twisted.
Furthermore, if you have neck pain, you might want to consider a pillow with an adjustable loft (that's usually where shredded latex comes into play) so that you can find the perfect height for you.
How firm a pillow is, is also important, as it contributes to the overall support it provides. While you might be tempted to go for the firmest pillow you can find, that's not always the best idea.
You see, a too-firm pillow can actually do more harm than good since it can put quite a lot of strain on your neck and shoulders. Conversely, a too-soft pillow won't provide enough support, which can also lead to neck pain.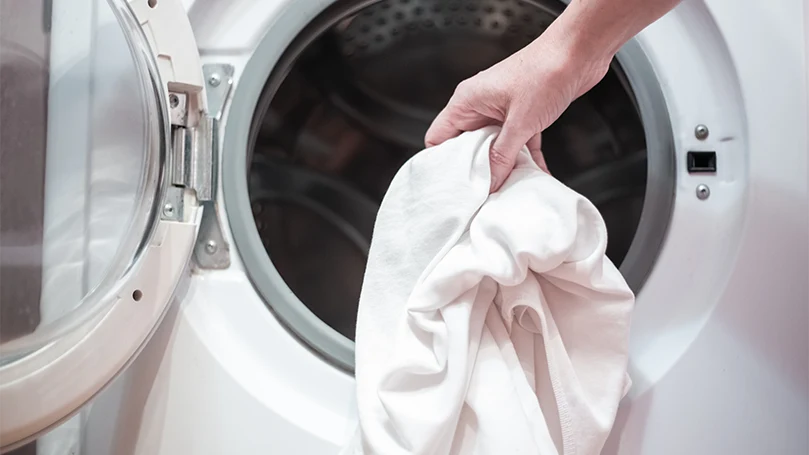 As such, you should aim for something in the middle – not too firm and not too soft. You want a pillow that conforms to your neck and head but doesn't sink down too much.
But, that's not where it ends. Support also has a lot to do with the shape of a pillow. An ergonomic latex pillow, for example, can do wonders for neck pain since it's designed to provide the perfect support regardless of its firmness.
With all that being said, how firm you want your pillow to be is a personal decision. A safe ground would be a medium-firm pillow since it should provide enough support for most of you.
If we're being perfectly candid, all-latex pillows aren't known for being too cosy and pressure relieving. But, that's why we have latex-microfibre or latex-foam pillows.
If you're looking for pressure and pain relief, these are your best bet. The way these are designed is brilliant. There's usually a latex core, providing the necessary support, wrapped in either microfibre or memory foam. The cosy pillow filling contours to your head and neck better, providing much-needed pressure relief while the sturdy core keeps your head in an optimal position.
In other words, if you have neck pain or migraines, a latex-foam pillow might be a good idea.
Switching over to the cool side of the pillow is something we all do, regardless of how hot it is outside. But, what if we told you that there's a pillow that can actually regulate its temperature and keep you cool all night long?
We're talking, of course, about latex pillows. Latex is naturally cool to the touch and it's also quite non-absorbent, so it doesn't retain heat. As such, it's perfect for hot sleepers who tend to sweat at night. What's even better is that most latex pillows are designed with holes in them, which aids in heat dissipation and air circulation.
What they also often boast is a cotton cover. Cotton is a naturally breathable fabric that allows air to circulate and prevents the build-up of heat. Combine that with the cooling properties of latex and you've got a recipe for a good night's sleep.
Furthermore, some cotton covers are also treated with specialised cooling agents that further improve their thermoregulation properties, but we're not talking about them here.
We've already partially covered this, so we'll keep it brief. Your sleep position will play a big role in what kind of pillow you need.
Side sleepers, for example, will need a higher and a firmer pillow to keep their neck aligned with their spine while stomach sleepers can actually benefit from a low-loft, soft pillow.
Back sleepers have it the easiest. A medium-height pillow should do the trick for most back sleepers, although they could pretty much get a good slumber on any latex pillow.
Tips for buying and using latex pillow UK
Before we meet our contestants, we wanted to take a moment and share a few tips with you, if that's alright.
First things first – don't dwell on the price. These things come at a cost – and a high one at that. But, as we always say, you get what you pay for. And, in this case, what you're paying for is quality, longevity, support, comfort, hypoallergenic properties and more.
Next up, look for environmentally-friendly sourced latex. Not all latex is created equal and some brands use subpar materials or cut down the wrong rubber trees.
Lastly, when it comes to maintenance – look for a removable, machine-washable cover. These are always the best, as they're easy to clean and you don't have to worry about shopping for a separate pillowcase.
We could probably give you a dozen more tips, but let's just cut to the chase – you're here to look at the products, not listen to us ramble.
The advantages of owning latex pillow UK
Tell us, what's the point of shopping for a pillow if you don't get anything from it?
With that being said, let us tell you about the benefits you'd get from owning a latex pillow.
First, when paired with memory foam or microfibre, it moulds to the shape of your head and neck, providing support and alleviating pressure points.
Secondly, latex is hypoallergenic and resistant to dust mites, mould, and mildew.
Third, latex is a durable, long-lasting material that will last you for years to come – provided you take care of it properly. And, when we say years – we mean years. Possibly over a decade.
Fourth, latex pillows are typically cooler than other types of pillows, making them ideal for hot sleepers.
And finally, your head, neck, shoulder, back, or even hip pain might just disappear And, did we mention that latex pillows are environmentally-friendly? So, they help both you and the planet as a whole.
So there you have it – five (six, really) advantages of owning a latex pillow. Well, the best latex pillow.
FAQs about your latex pillow UK
In the end, allow us to wrap things up by answering some questions on latex pillows, m'kay?
How long do latex pillows last on average?
This will depend. A budget-friendly latex pillow will likely sink and fail before the Una latex pillow will, but even those will last you a few good years. Probably more than a few.
Are latex pillows good for side sleepers?
Absolutely! They provide the necessary support to your neck, head, and shoulders and everything else a side sleeper might need.
Are latex pillows good for back sleepers?
Again, yes! They are. Just like with side sleepers, latex pillows will work wonders for back sleepers.
Are latex pillows good for stomach sleepers?
As long as they're low-profile, latex pillows are good for stomach sleepers. If they're too thick, however, they might cause more trouble than good.
Do latex pillows have a smell?
No more so than any other type of pillow. A new latex pillow might have a slight latex smell, but that will dissipate quickly.
Can dust mites live in latex pillows?
Nope! They can't. The same goes for mould and mildew. Or any other allergen for that matter.
How often should I replace latex pillows?
Ideally, every 4-6 years. But, as we said, a good latex pillow will last you much longer than that.
How do I wash my latex pillows?
You don't. You wash the silk, microfibre or cotton cover that comes with it. But the latex pillow itself is spot-clean only.
Who should use latex pillows?
Anyone and everyone! They are good for all types of sleepers, all ages, and all budgets. Just choose the one that fits you.
Who should not use latex pillows?
Well, if you're allergic to latex - stay away. Other than that, we can't think of anyone who shouldn't at least give them a try.