Best Storage Beds UK - Sleep Well & Store Your Stuff Conveniently
Are you looking to buy a new bed but have no idea where to start? A comprehensive guide of the best storage beds might just help!
Where do you store your precious possessions in the home? In the best storage beds UK has to offer, of course!
Having an organized and tidy bedroom is of great importance to many people, especially when you have a lot of things that need to be stored away. A storage bed can do the trick to keep your house as neat as possible by providing additional storage space for all of your belongings.
However, with so many options to choose from, it can sometimes be difficult to find out which one would suit your needs best. But, fear not. You will find the best storage bed for your needs within this guide.
Listing pros and cons, advantages and disadvantages, and much more, this article will give you all the facts and info you need to make an informed decision about which storage bed is best for you.
Let's begin!
Now, for the main event – our top seven picks for best storage beds UK market has to offer! 
IMAGE
PRODUCT
DETAILS

KEY FEATURES:

Type:

Ottoman

Material:

MDF, pine, ash, polyester

Sizes:

Double, King, Super king

View Latest Price

KEY FEATURES:

Type:

Ottoman

Material:

Wood, faux leather

Sizes:

Single, Double, King

View Latest Price

KEY FEATURES:

Type:

Platform

Material:

Pine

Sizes:

Single, Double, King, Super king

View Latest Price

KEY FEATURES:

Type:

Ottoman

Material:

Wood, polyester

Sizes:

Double, King, Super king

View Latest Price

KEY FEATURES:

Type:

Ottoman

Material:

Wood, polyester

Sizes:

Double, King, Super king

View Latest Price

KEY FEATURES:

Type:

Divan

Material:

Wood, polyester, chrome

Sizes:

Single, Small Double, Double, Super king

View Latest Price

KEY FEATURES:

Type:

Ottoman

Material:

Wood, linen

Sizes:

Single, Small Double, Double, King, Super king

View Latest Price
1. BEST OVERALL: Eve Storage Bed Frame
Transform your bedroom into beautiful, clutter-free heaven.
Eve Storage ottoman bed frame has an innovative, adjustable slatted base that provides excellent support, while supplying you with more than enough space to comfortably keep your blankets, pillows and other items that you don't want to clog up your bedroom, right under your mattress.
Available in pink and grey, the stylish, modern bed frame will mix and match with any master bedroom, and the 5-year warranty you'll get with this one will ensure that you keep mixing and matching for a long time.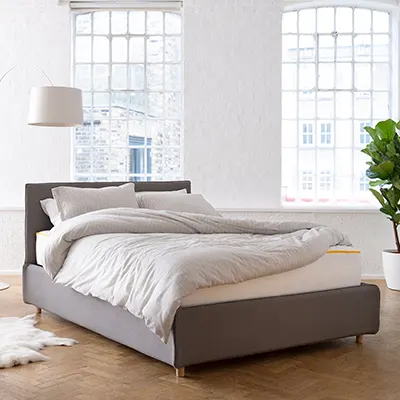 Adjustable slatted base
Very good build quality
Durable opening mechanism.
Not available in Single size.
2. BEST VALUE: Home Treats Ottoman Bed
The best price-quality ratio pick with smooth-working pistons and bunch of a storage space!
Ottoman Bed from Home Treats creates a perfect combination of form, function and price with its attractive design, multi-purpose storage compartment, and high-quality wooden slats for that much-needed support and comfort.
Upholstered in faux leather, this black ottoman bed frame powered by gas pistons should be a good match with any style and size of the bedroom. Even if you're dealing with tight space – storage bed such as this one will come in handy.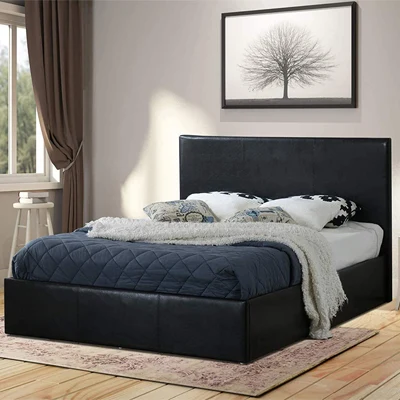 Easy and hassle-free assembly
Incredible value for money
Available in Single size.
Faux leather might be hard to maintain.
3. UPGRADE PICK: Made Kano Storage Bed
 It resists time, stains and moisture – all thanks to pure pine wood.
Want a contemporary and sturdy piece of furniture for your bedroom? Want some storage space that comes with it? Looking for the best craftsmanship that keeps the integrity of the wood at the highest standards possible? Then take a look at the Made Kane.
The Platform Storage Bed comes in multiple sizes and can be put in any bedroom in the world. With two drawers on each side and a sleek little shelf on the front, this platform storage bed with drawers will not only store your blankets and pillows – it will do it in style.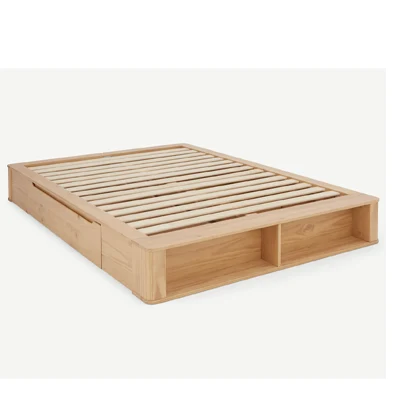 Solid pine wood construction
Modern and contemporary at the same time
10-year warranty and 30-day trial.
Single doesn't come with storage unit
Quite low to the ground.
4. BEST MODERN: Happy Beds Yorkie Grey Ottoman Bed
A luxurious bed with beautiful grey upholstery and generous storage ability.
Stylish and practical – the Happy Beds Yorkie Grey Ottoman Bed is designed for convenience and style. Designed for contemporary homes and small bedrooms lacking floor space – this modern ottoman comes with sturdy solid wooden legs and a striking, buttoned headboard wrapped in a dark grey polyester upholstery.
The Happy Beds' ottoman bed allows you to store anything you want with ease. The large storage space is perfect for storing bright and colourful bedding, clothes, or favourite pillows or duvets. Keep things perfectly organized while saving up a lot of space.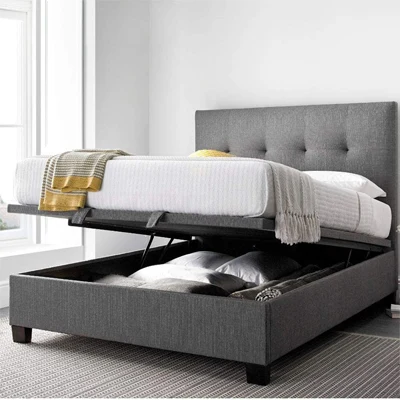 Large storage underneath
Slatted, well-ventilated base
Durable opening mechanism.
Not available in Single size.
5. BEST LUXURY: Happy Beds Walkworth Ottoman Storage Bed
Luxurious bed frame with great functionality and contemporary style.
For a masterful combination of style and practicality, the Walkworth Ottoman Storage Bed has all the bells and whistles you expect from an exceptionally-built storage bed.
Just like our other ottoman storage beds on our list, this one's perfect for your tight spaces and small bedrooms seeing how much hidden storage and extra space you get with this one. Gas piston-powered lifts will make storage access as easy as ever, and the padded, upholstered headboard will make resting on this bed feel like a day at the spa.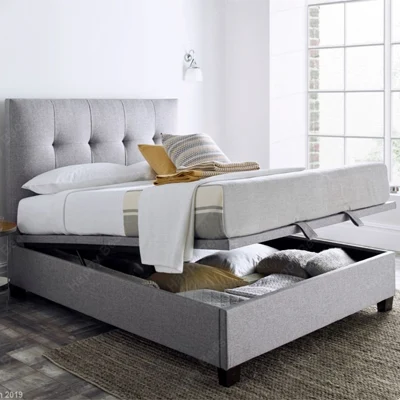 Luxurious bed made to last
Modern and sleek design
Durable easy-access opening mechanism.
Not available in Single size.
6. BEST DIVAN: Bed Centre Ziggy Divan Bed
Who knew riding on chrome would be so divan?
Available in black, grey, light grey, beige, pink, and plum – the Ziggy divan storage bed with drawers will match any bedroom you put it in. Equipped with two drawers, this divan bed is a fantastic choice for those in need of a moderate amount of bed storage but don't want to be bothered by faulty pistons often found in ottomans.
To top things off, the Ziggy comes with a fully upholstered, diamond-stitched detailed headboard that's 32 inches tall. And, if that wasn't enough to turn your head – we're sure that chrome feet certainly will.
And, if none of that does it for you – you'll get a medium-firm pocket sprung mattress alongside this one. All in all, this might just be the best divan storage bed you can find.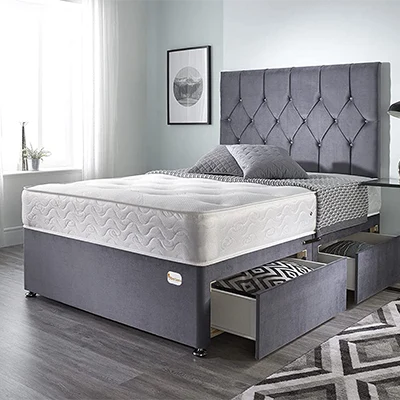 Available in small sizes too
Modern and sleek design
Comes with a pocket sprung mattress.
 
Not available in King size.
7. BEST OTTOMAN: Aspire Beds Ottoman Bed
Designed to offer style, functionality and comfort – all in one spot.
The Aspire Beds Ottoman Bed is a beautiful, useful piece of furniture for your bedroom. If you're looking for a storage bed frame to stow your blankets, pillows or anything else in, look no further – this bed has a storage compartment that sits underneath the slatted base.
Available in three colours and five sizes – this bed frame is as versatile as one could get. From the Single, all the way to Super king size storage bed – this one will fit any bedroom, relieving you of clutter and giving you some extra floor space.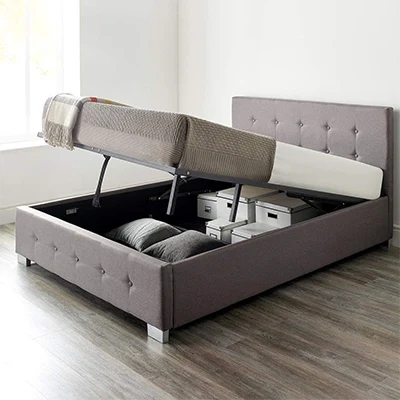 Two brightness modes
Sensor

Energy efficient.
In some cases not bright enough
What to look for when buying the best storage beds UK
Now that we've gone over the types, we wanted to make you familiar with some of the most important features of storage beds, so you can understand what to look for, but also see why we chose the beds we chose – once we get to them.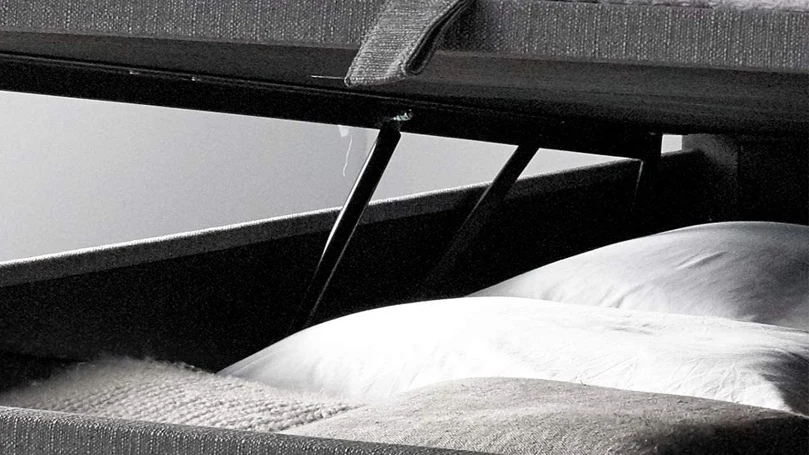 Generally speaking, there are three types of storage beds that we get to choose from – divans, ottomans, and bed frames with drawers.
A divan storage bed is one of the most popular bed frames. Divan beds can, but don't have to come with headboards, making them a bit hard to differentiate from an ottoman just by looking at it.
The thing about storage divan beds is that they come with storage drawers. Those drawers could be big or small, on both sides, on one side, or even in the front. The storage capacity will depend on the size of the bed frame.
Ottoman beds are probably the most popular option for storage beds for one simple reason – they offer the most storage capacity.
An ottoman bed is a bed with a large storage unit that is accessible by lifting the mattress base of the bed – usually a sprung slats base. The inside of the storage unit should be pretty spacious, and hopefully with a solid, wooden base.
Ottomans can come with "built-in" sleeping surfaces, but we would always look for just a frame, and get the mattress separately.
Beds with drawers are the third and final type.
They come in various shapes and sizes – from small, bunk beds with pull out drawers all the way to Super king size platform beds, or even trundle beds – if you decide to convert the drawer in to storage space instead of a spare bed.
Room's size & available space
Room size is a significant factor when choosing the right size storage bed.
Your bed has to be able to fit the bedroom without bumps or making it uncomfortable for you to move around freely – so make sure that you have lots of available space around it.
You shouldn't get a storage bed that will take up a lot of room in your bedroom as you will end up feeling constricted and unable to freely move around, which will then kind of defeat the purpose of getting a storage bed in the first place. If there's room for a double bed – get a double bed. Don't shop for the King-sized one. It just won't work.
People who sleep on a storage bed & their bodies
You know what is also kind of important to consider when shopping for an ottoman storage bed? You. Or anyone else that might sleep on it – with or without you.
Even though most of these bed frames come without a mattress, there are other things to take into consideration, too. Things like base and maximum weight capacity.
These two will play a large role in how comfortable, and possibly more importantly how durable will the storage bed be. So, double-check these next time you go shopping.
When shopping for an ottoman storage bed, you will want to make sure you get one with a quality opening mechanism.
Gas pistons are the ones that usually break a lot before your bed does, so what was once an easy, effortless task, might just become a powerlifting session every time you want to change your sheets.
So, make sure you go with a frame with high-quality gas pistons, and avoid cheap spring-loaded mechanisms. Those won't last six months.
You're yearning for a clutter-free bedroom which is why you're buying a bed frame with a storage unit. Since that is the case, you'll want to make sure you maximize space by going with a bed with the most capacity available. That is if that's what you're going for. If you don't need as much, a  simple drawer bed will do.
However, there's another thing to keep in mind and that's the base of the storage unit.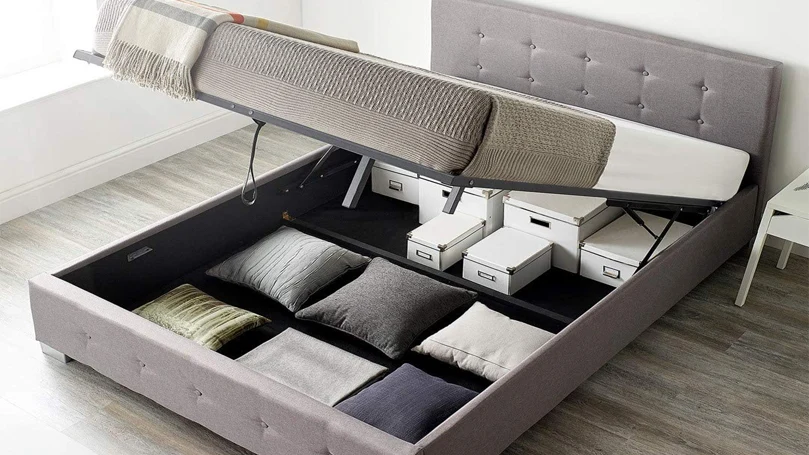 The base should be reinforced and firm. Otherwise, as soon as you load that thing up – you're going to end up with some extra space. Even though that sounds good, it's not. That was just a nice way of saying your base will collapse under pressure and will end up on the floor.
Also, avoid cloth bases if you plan on keeping a lot of stuff in your bed.
Finally, we feel like it's safe to assume that you'll want your new bed to look good, right?
Well, fortunately for you, storage beds aren't just about practicality, functionality, and space-saving – they also look good.
So, feel free to consider the actual design of the bed. After all, it is your bedroom you're furnishing – why wouldn't you want it pretty?
Just make sure to prioritize the feature you find most necessary. If you do, you won't have a problem finding a perfect bed.
Tips for buying and using the best storage beds
Before we get into our picks, we want to share a few tips and tricks for buying and using storage beds.
First up, you'll want to set a budget. Bed frames can be bought for as little as a hundred pounds, but they could also cost you well into four figures. By setting the budget, you'll avoid three things – overspending, falling in love with something you can't afford, and searching endlessly for a perfect bed frame.
Next up, you'll want to prop the base of your storage unit, no matter how high-quality it is. Bases are generally made from MDF, and no matter how thick, MDF will break under constant pressure. So, put something underneath your bed to reinforce the base so that it doesn't sag and eventually collapse.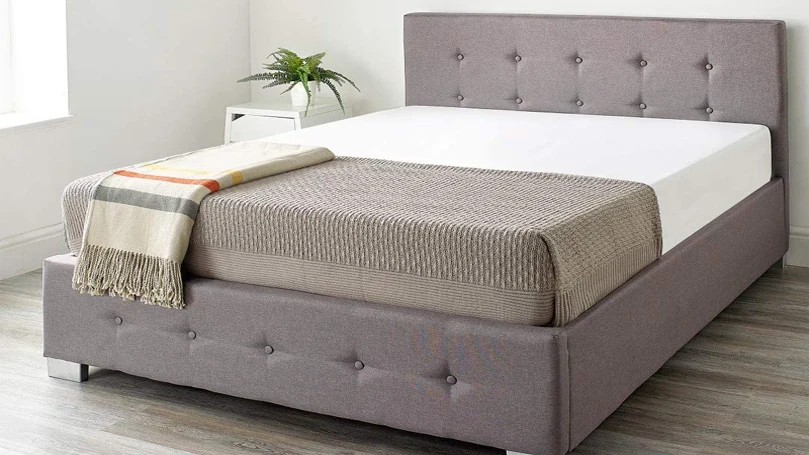 Finally, don't forget to buy a good mattress. No matter how good the bed frame is, it's basically worthless without a good mattress. Now, we know that finding a good mattress can be hard and overwhelming, but don't worry – we have plenty of guides like this one where we help people like you find their perfect mattress. Feel free to check it out!
Set a budget
Reinforce the storage unit base
Get yourself a high-quality mattress.
The advantages of owning the best storage beds UK
There are three main advantages that come from owning the best storage bed.
First of all – you get extra storage space. Whether you go for drawer storage or classic, ottoman storage, you will get to save space and reduce clutter in your bedroom, just by placing some of the things inside of your bed.
Next up – you get to choose your own mattress. You could get a storage bed that comes with a mattress, either separately or as a part of the bed, but that's not common anymore. Instead, you get to purchase the frame you like, without compromising on mattress quality.
Finally, you get to save money. You can get a Super king size storage bed and save yourself the cost of shopping for a separate storage unit like a dresser or a mini closet. All of that extra stuff will fit inside of your bed, and you'll even have some extra room for a bedside table.
Extra storage space
Choosing your own mattress
Saves money.
FAQs about best storage beds in UK
Before we wrap things up, allow us to clarify a few common misconceptions about storage beds by answering some FAQs.
Which beds are the best for storage?
It all depends on how much extra space you need, but generally speaking, ottoman beds should be your go-to choice.
Are Ottoman beds good for storage?
Yes. As we said, ottoman beds are often considered the best choice for a storage bed.
How much weight can an Ottoman bed hold?
It depends, but generally speaking, most ottomans will handle upwards of 300 kilos.
It is not uncommon for ottoman beds to break. Oftentimes, it is the gas lift hydraulics and the storage space bases that break first.
Can a mattress be too heavy for an Ottoman bed?
It could be, but that is not a common occurrence.