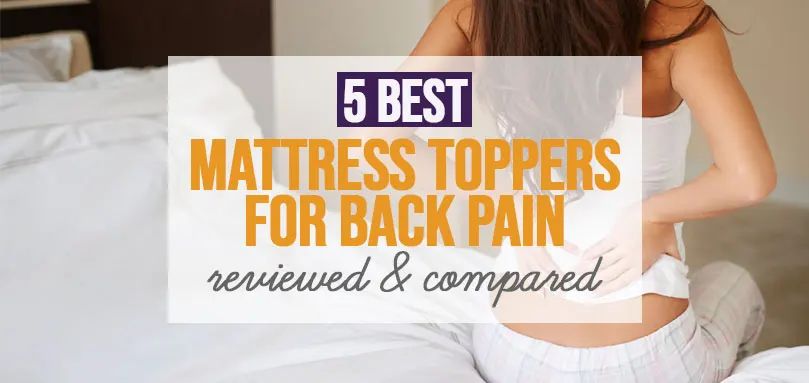 The 5 Top Rated Mattress Toppers for Back Pain in 2021
Back pain can hinder your ability to function throughout the day. Maybe you over strained yourself during a workout, or working at your job. But if the pain persists even if you take precautions and rest more, maybe it's time to take a look at your mattress. Many people don't realize that a lot of discomfort you feel both during the day and while asleep is because of the mattress quality. Now, buying a new mattress can be tricky, and not to mention expensive. That's why it's much better to find a mattress topper. A mattress topper is designed especially for back pain and relieving pressure in important areas of your bod, making sure you sleep uninterrupted the whole night. So, let's find out which 5 mattress toppers are best for back pain and let's relieve back pain!
IMAGE
PRODUCT
DETAILS

KEY FEATURES:

Material:

Gel-infused memory foam

Straps:

Yes

Thickness:

5 cm

Support:

5/5

View Latest Price

KEY FEATURES:

Material:

Foam

Straps:

Yes

Thickness:

5 cm

Support:

4/5

View Latest Price

KEY FEATURES:

Material:

Memory foam

Straps:

No

Thickness:

7 cm

Support:

4/5

View Latest Price

KEY FEATURES:

Material:

Memory foam

Straps:

No

Thickness:

5 cm

Support:

5/5

View Latest Price

KEY FEATURES:

Material:

Foam

Straps:

Yes

Thickness:

7 cm

Support:

5/5

View Latest Price
How to choose the best mattress topper for back pain?
It is of utmost importance to pay attention to the characteristics of the mattress topper such as thickness, firmness, size, material, your preferences, your weight and height and the like. Also consider what your sleeping position is and where your back pain occurs.
Only in this way can you buy the best mattress topper for back pain.
Thickness is one of the main factors that affect how you will sleep on a mattress topper. Mattress toppers usually vary between one and 4 inches thick and the thickness can influence the pressure points.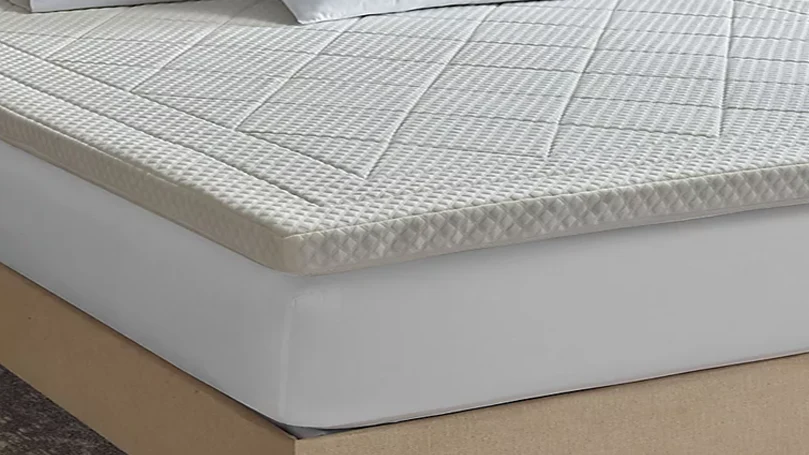 The thinner the topper, the less difference you will feel compared to sleeping only on a mattress and vice versa. For all those who experience back pain, it is best to buy a thicker topper because it will relieve pressure points. Thickness plays an even bigger role in back sleepers than for example stomach sleepers.
Some consumers prefer soft and some firm toppers and this is based on personal preference. But for back pain it is not recommended to be too soft. It is even possible that if the mattress or topper is too soft and led to the appearance of back pain. Although you feel very comfortable, it will not affect your spine well.
Of course, it should not be as hard as stone, but you should aim for the golden mean. When choosing he thickness, or firmness you should also think of your sleeping position. If you are a side sleeper, you can choose a little softer, due to the pressure on the hips and shoulders that directly affects the back pain.
It is very important to accurately measure your mattress before buying a topper for back pain. You will find mattress toppers in different sizes, and you need to buy one that fits your mattress perfectly. Due to the large supply on the market, this should not be a problem.
However, if you shop online, there may be small deviations in size that will not suit you. That is why it is often the best option to buy a topper from the same manufacturer as the mattress, because then you can be sure that it will fit perfectly.
Whatever you buy, the material from which the item is made will significantly affect the features as well as the service life, and the mattress topper is no different. The most important thing is to make sure that mattress topper is made of quality and durable material, and also that it has certificates that no dangerous chemicals for your health have been used.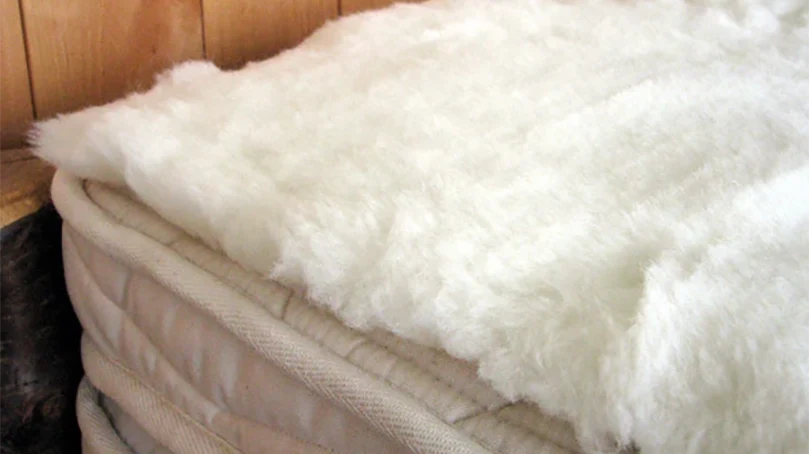 Although at first it may seem that a topper made of low-quality material is equally comfortable, it will lose those characteristics very quickly, unlike high end products. It is especially important for back pain to choose the top-quality memory foam or polyfoam, as latex mattress toppers might not be the first pick. Down, feather and wool mattress topper options are too soft for back pain. Therefore, you should opt for a firm mattress topper. In addition, natural materials like cotton or bamboo do not transfer body heat that much so you stay cool while you are treating your back pain.
Your weight is very important for choosing the best mattress topper for back pain. If you weigh over 90 kilograms, and especially if it is over 100 kilograms, you have to choose a firm topper, otherwise you will sink too much and then your back will hurt even more.
If you weigh less than 60 kilograms, then soft is a better option, because even the best mattress topper will not allow you to sink at all and you will be uncomfortable and suffer from back pain. Gel infused memory foam showed good results in heavy weight mattress toppers so you might want to consider this.
Our top picks for mattress toppers for back pain
These five products are our favourites and we are sure that at least one of them will fit your needs and give you more comfort with your existing mattress. Let's take a look at the best mattress toppers.
Panda Bamboo Memory Foam Mattress Topper
Panda good for all sleeping positions; great for relieving pressure in the back and hips! On top of that it's hypoallergenic, made from natural materials, eco-friendly, and most importantly, comfy and affordable! We tend to give extra points to all manufacturers who care for their customers' night's sleep and the environment, and Panda is definitely one of them. With a 100% bamboo rayon cover, you'll sleep comfortable without irritated skin. The cover is breathable, removable, you can wash it in a washing machine and can keep any bacteria and dust mites at bay. The topper itself is made from 3rd generation memory foam which offers superior comfort and a natural spine alignment, no matter which position you sleep in. You can check the review of Panda mattress topper.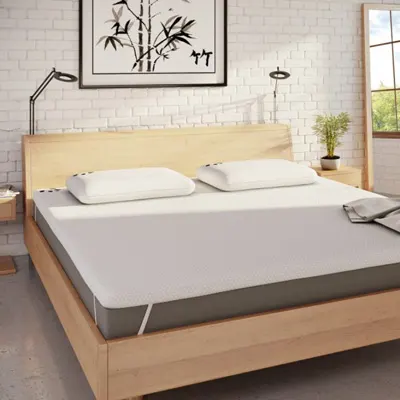 Support
Eco-friendly
Good for hip pain treatment
Standard 100 by OEKO-TEX.
Bamboo
Can get a bit hot
Only one colour.
One of the best mattress toppers is Eve mattress topper, made out of four layers: cover, breathable cooling layer, supportive base layer and underlay. Due to the different layers, it is comfortable, supportive and cooling at the same time. Breathability is certainly something we don't see often with mattress toppers that have foam in them, but Eve has managed to produce such a mattress. The temperature regulation is at the high level so you won't get hot on your existing mattress.
It is available in 4 different sizes, and all you need to do is put it on the mattress and sleep comfortably. Eve products fall into the premium range and are therefore not cheap, but they are very durable and will last you much longer than a three-year warranty. You can check our Eve mattress topper review as well for more information.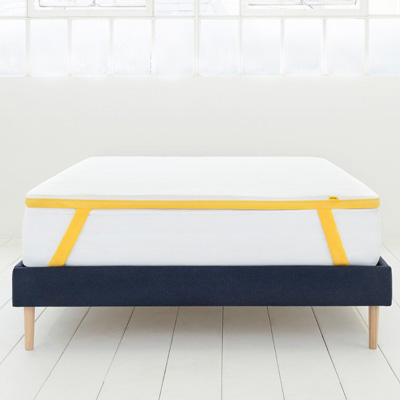 Top quality choice for aches and pain
Sturdy straps
Cooling properties and temperature regulation
Made in the UK.
Off-gassing
Not the primary choice for hot sleepers as it may happen that body heat transfers
A bit pricey when compared to similar products.
Visco Therapy Mattress Topper
With 7 cm thickness, it will definitely help with pressure relief and minimize back pain. The Visco Therapy mattress topper comes with a removable cover also, which is very easy to clean. Due to its thickness, the memory foam mattress topper will need some more time to retain its original shape. You might have to be a little patient, but it's definitely going to be worth it. Whether you have chronic pain or arthritis, it's going to minimize it and allow you to sleep comfortably the whole night. The mattress topper is very durable, it will last you for years to come without losing its original shape and benefits. The smell is barely present and not at all unpleasant – smells a lot like a new mattress, instead of something chemical-like.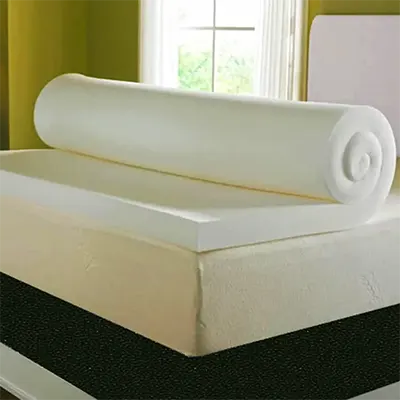 100% memory foam

Zip off, dry cleanable double jersey cover

Natural materials

Made in the UK.
Off-gassing
Not best for hot sleepers
One size.
RECCI Memory Foam Mattress Topper
The manufacturer of this topper certainly had in mind all the people who suffer from back pain. Made of 100% pure memory foam that provides fantastic support and adapts to any body shape. In this way, it will affect the pressure relief in all joints, which will ultimately lead to the cessation of back pain. Therefore, there won't be a popular toss and turn problem. This memory foam topper has a washable cover to make it easy to maintain, and the cover is also highly breathable and absorbs moisture because it is made of bamboo. It is very durable and just in case, you can count on 10-year warranty.
Support
Washable cover
Good pressure relief & for hip pain treatment
Durable.
No straps
Only one colour
Off-gassing.
The Simba Hybrid Topper has as many as 3 layers inside, which is something that many mattresses do not have. The base layer is there to give firmness, the aerocoil layer along with the base layer provides support, and the open-cell Simba pure layer is cooling and breathable, thanks to cooling gel.
Breathable sleep surface is on top and is very soft. Simba products are so cooling that even hot sleepers will sleep comfortably on them. Anti-slip base plus wriggle-free straps guarantee that this topper will not move even a millimetre during the night. This memory foam topper is top quality, will probably last you for a decade so we can say freely that this topper is a great choice!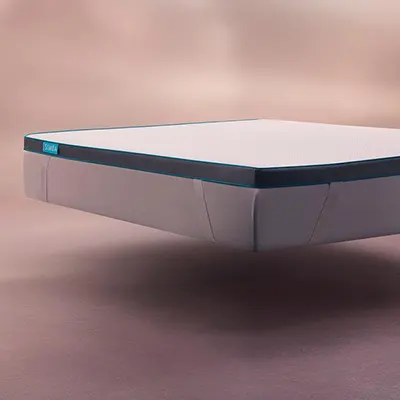 Cooling
Great for hip pain treatment
3 layers
Soft sleep surface.
One of the most expensive
Only one colour
Bounce.
What are the advantages of the mattress toppers for back pain?
Back pain is a very serious problem that can certainly be alleviated, if not solved, by using a mattress topper for back pain. In addition, getting the best mattress that suits you will also reduce your issues with the back pain. As a result, the position of the body during sleep will reduce the pain, and the body posture will be improved. Of course, mattress topper for back pain will provide you with all the benefits as all other toppers, like cooling features and quality sleep.
Back pain can be caused by an injury or damage to the spine, but also by sleeping in the wrong position. The right mattress topper can help with back pain problems of any cause. The topper will provide comfort to your spine and whole body.
What you should consider when choosing a mattress topper for back pain is the position in which you sleep. Because different one fit side sleeper and stomach sleeper for example. Then when you choose the right one according to your sleeping position, back pain will be relieved due to proper spine alignment.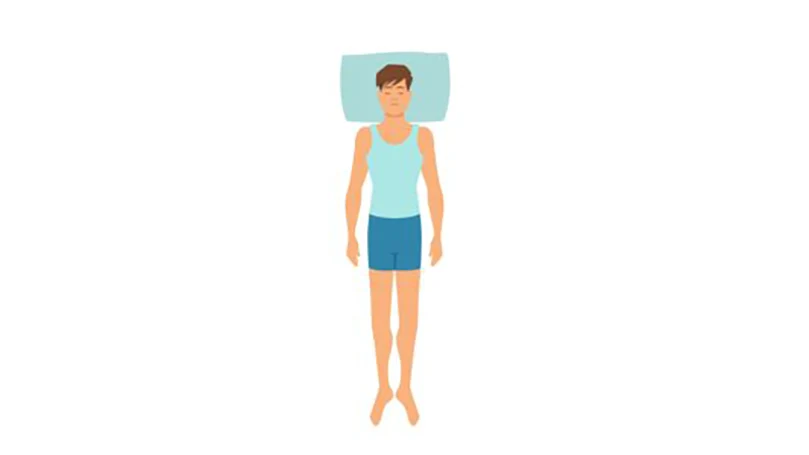 Many people think that the spine is the only culprit for back pain. However, it can be both hips and generally irregular body posture.
As soon as one part of the body is not properly aligned, it will affect the rest of the body, and most often the spine. Due to its characteristics, the mattress topper for back pain will have a positive effect on improving body posture and thus comprehensively help a person get rid of back pain.
Back pain is not the only reason why you need a mattress topper. Many people have trouble falling asleep and maintaining sleep because they are hot, sweaty and all that irritate them.
Many mattress toppers have cooling features that will keep you cool all night. Cooling features are affected by the material from which the topper is made, as well as the special layers that are responsible for it. And also, breathability plays a big role.
If you do not sleep well, it will affect all areas of your life. You will be tired, you will feel a lack of concentration and energy, your immune system will be weak and so on.
And insomnia is a common problem nowadays, so you have to provide yourself with perfect sleeping conditions. A mattress topper can play a crucial role in this as it will give you the softness or firmness you are looking for and thus help you sleep well.
Tips for buying and using mattress toppers for back pain
You need to make sure that back pain is your primary problem and that you choose a mattress topper accordingly. Of course, it is also important whether it has cooling properties, whether it is made of top-quality materials and the like. But the level of support and pressure relief is what you need to pay attention to first.
Also, consider how much the current mattress suits you. If you are generally satisfied with the performance, buy a thinner topper, and if you want to completely change the feeling while sleeping, then choose a thicker topper.
Support and pressure relief are the most important features when you have back pain
Thicker topper will change the feeling you have on your mattress more and vice versa
Maintain it regularly to prolong its service life.
So, this was the Sleep Advisors' top 5 list of best mattress toppers for back pain. Whether you're looking for something for pain relief, or just something to make your mattress more comfortable, you've come to the right place. It's dozen times cheaper to get a memory foam mattress topper which will protect your mattress from everyday wear and tear, than investing into a new mattress. It will last longer, it will feel newer, and it's going to be comfier. In our opinion, it's a win-win. Sweet dreams!
FAQs about your new mattress toppers for back pain
If you have any more questions regarding your new mattress topper for back pain, you can find the answer to many more questions in the FAQs section. If you believe we did not answer something on the best mattress topper for back pain, feel free to ask us.
Are memory foam mattress toppers good for my back?
Yes, memory foam mattress toppers are great for your back because they will give you support and pressure relief.
What type of mattress topper is the best for lower back pain?
Memory foam, polyfoam and latex mattress toppers are best because of the high level of support.
Is there any difference between a mattress topper and a mattress pad?
Mattress topper is thicker than the mattress pad and the topper is almost like a new mattress. The pad is great if you need a small upgrade.
How often should I change my mattress topper?
You should change it every 4 or 5 years.
Do I need to rotate my mattress topper?
It is advisable to rotate your mattress topper to avoid dents.
How do I clean my mattress topper?
You can mix water and distilled white vinegar in a spray bottle, vacuum it and wash the cover.