We all know that a good night's sleep is important for our overall health and wellbeing. But sometimes, no matter how hard we try, we just can't get comfortable enough to drift off into a blissful slumber. If you're struggling to get a good night's sleep, it might be time to invest in the newest Emma Sleep UK addition – Emma Flip mattress topper. However, to truly figure out if this Emma mattress topper is worth your hard-earned cash, we put it to the test. And, here are the results of our Emma Flip topper review!
Who is Emma Flip topper for?
Emma Flip topper, like most mattress toppers, is designed for people who are struggling to get a good night's sleep. It doesn't matter if you're a light sleeper or you have trouble falling asleep in the first place – the Emma Flip can help.
 But how? What does Emma Flip topper offer?
Emma Flip topper offers two different sides for different sleeping experiences. One side is made with two foam layers. 
One's ultra-breathable Airgocell® foam, which is perfect for people who tend to sleep hot. The other side is made with pressure-relieving HRX ZeroGravity foam, which is ideal for people who need a little extra support and cushioning.
Add a header to begin generating the table of contents
What do we use this product for?
The Flip seems to be designed for pretty much everyone, but both of us know better – nothing's designed for everyone. So, in light of that "surprising" revelation, let's just take a brief look at who is the Flip topper actually for.
The Flip is for:
SIde, back, and stomach sleepers.
Sleepers which tend to get hot during the night.
Folks that struggle with allergies – seasonal or otherwise.
Ill-fated souls whose mattresses are old and dingy.
Restless sleepers and their unfortunate partners.
Ladies and gents that struggle with back, hip, shoulder or joint pain.
That about covers it all!
Moving on…
Features you should know about Emma Flip topper
There's no doubt about it that Emma has designed a high-quality mattress topper. But, just saying something's high-quality doesn't really mean much.
So, in this section, we're going to guide you through the Emma Flip, step-by-step, layer-by-layer, and feature-by-feature.
By the time you're done reading this, you'll be more than aware of what makes this topper different, and also, what were the things we mostly focused our attention on while testing for this Emma mattress topper review.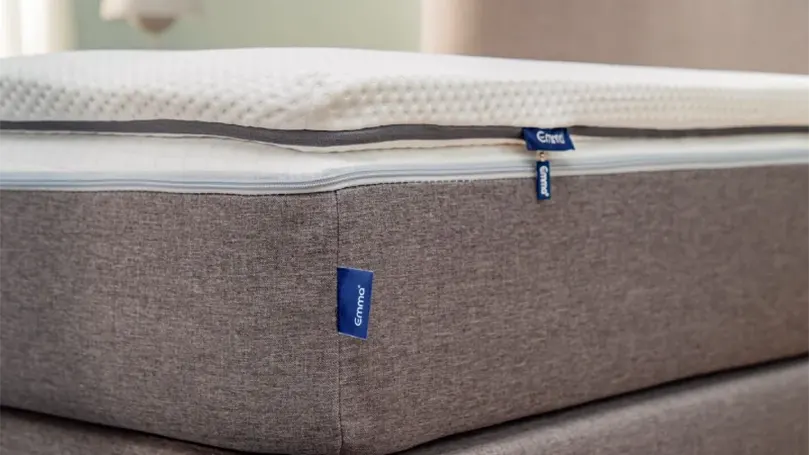 This one's the main selling point of this topper – two firmness options. By flipping the topper over, you can go from a pressure-relieving, soft sleeping surface to a slightly firmer but more supportive one.
In other words, the two options are – soft and medium-firm.
Emma promises that the topper will provide you with the same kind of support and comfort no matter which side you choose, but we'll get into that later. For now, just know that by simply flipping the topper over, you'll get to choose between soft and medium-firm support and comfort.
Emma claims that the HRX ZeroGravity foam "has got your back", but what does that mean?
Well, the ZeroGravity foam is designed to provide you with the support you need while relieving pressure on your lower back, hips and shoulders. This way, you should be able to sleep in any position without having to worry about pain or discomfort.
However, the main thing about the HRX Zero-G is that this one's the firmer option. So, if you're a bit heavier or your prefer napping on your tummy, you're probably better off on this side.
Breathable Airgocell foam
Claiming that the "Airgocell technology offers unbeatable breathability and temperature regulation" is kind of a mighty statement – even for Emma.
But, in all fairness, Airgocell is a type of foam that's designed to be both breathable and temperature-regulating. We've encountered it earlier with Emma mattresses, so we know it gets the job done. So, if you're the type of person that gets hot at night, this side of the topper should be perfect for you.
Of course, seeing how this is a double-sided topper and the HRX foam's the medium-firmer one – this side is the one that'll offer much more cloud-like, soft support and comfort.
Suitable for all sleeping positions
This is one of those "too good to be true" claims, but we're happy to report that it's mostly true. After all, it's just a topper, and just like with any other topper – most of the "heavy lifting", or in this case supporting, is done by the underlying mattress.
In other words, Emma Flip topper is suitable for all sleeping positions, but it does have its limits. For instance, here's what you can expect if you pair the Flip with a medium-firm mattress like Emma Original mattress – here's what you can expect.
If you're a stomach sleeper and you weigh more than 100 kg (230 lbs), you might want to look for another topper. The same goes for side sleepers that weigh more than 200 lbs. After all, this is just a topper and it's 5 cm deep. It's not magical.
Other than that, Emma Flip should provide you with the support and comfort you need no matter which position you sleep in.
Removable & washable polyester cover
The cover is made from a blend of polyester and elastane (98% polyester and 2% elastane), and it's both removable and washable. In other words, you can take it off and put it in the washing machine whenever you need to. Just set the dial to 40°C and a gentle cycle.
As for the feel, the cover is soft to the touch and quite stretchy. Also, it's hypoallergenic, just like the rest of the product, so that's a plus for those of you that struggle with dust, pollen, or any other common allergens.
On the other hand, Emma Sleep strongly urges you to air dry the cover. In other words, don't put it in a tumble drier otherwise you'll probably end up with a shrunken cover that doesn't fit anymore.
As for the rest of the maintenance of the super-silky-soft cover – don't bleach or iron it.
10 years warranty & 100-night trial
Like most of their other products, Emma offers a 10-year warranty on Emma Flip. So, if anything happens to it during that time – you're covered. Also, giving a 10-year warranty on a 5 cm thick piece of memory foam speaks volumes about the quality of this thing. So, props for Emma!
As for the trial period, you get 100 nights to test out the product and see if it's a good fit for you. If not, no problem – just contact customer service and they'll help you arrange a return.
Emma Flip has an OEKO-TEX certificate which means that it's free of harmful chemicals and it's safe for you to use. So, if you're worried about any potentially harmful substances or anything like that – don't be. The Emma Flip is as safe as they come.
Review of Emma Flip topper
Now, let's take a look at our Emma Flip topper review. First off, let's start with the build quality.
Emma Flip is made from high-quality materials and it's very well put together. The all-white cover is soft and stretchy, and the black zipper is perfectly positioned so it doesn't bother you regardless of the way you flip it. Also, the sort-of perforated design of the cover feels really good against the skin, although you won't feel it under the covers.
As for the comfort, Emma Flip is one of the most comfortable toppers we've ever tested. It's perfect for all sleeping positions, and it does a great job of alleviating pressure points. Also, the memory foam is really good at conforming to your body and providing the support you need, even at just 5 cm.
Now, one of the things we've noticed, and we'll touch on that a bit more, later on, was the "difference" in firmness when you flip the topper over. It's barely noticeable. Sure, at first, it does feel like you're lying down on a different topper, but the feeling goes away rather quickly. As soon as your body settles into the topper, it kind of feels the same.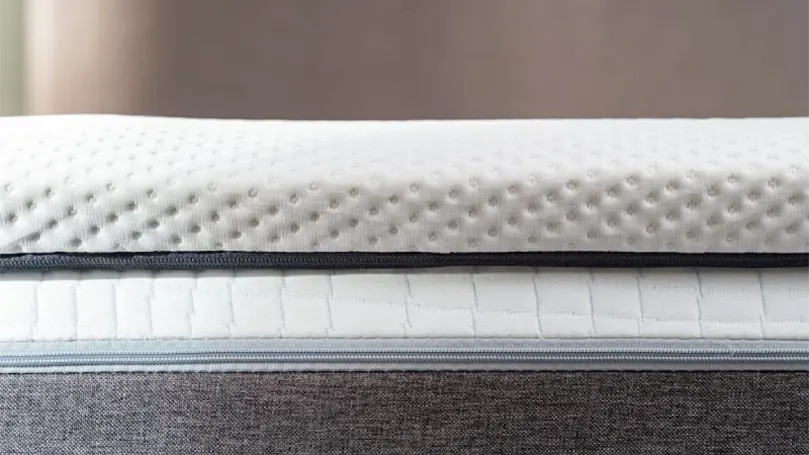 As for the breathability, Emma Flip does a decent job of keeping you cool and comfortable throughout the night. The memory foam doesn't trap heat, regardless of the side you sleep on, and the all-white cover is also quite breathable so it doesn't make you sweat. However, is it the coolest topper ever, as Emma claims? No, not even close.
Finally, let's talk about the value. Emma Flip is very fairly priced, especially considering the quality of the product. So, if you're looking for a high-quality topper that's also not too expensive – the Emma Flip is a great option.
Size: Double, King, Super King
Material: Memory foam, Elastane
Cover material: Polyester
Thickness: 5cm
Firmness: 4.5/10 & 5.5/10
Support: 6/10
Removable cover: Yes
Hypoallergenic: Yes
Warranty: 10-year warranty
Trial: 100-night trial
Care instructions: Machine-washable cover at 40°C. Do not bleach, iron, or tumble dry.
What we like about Emma Flip mattress topper
If you're on the lookout for a very cosy topper – the Flip should be at the top of your list
The lack of off-gassing for an all-foam product is very surprising. Sure, there's a bit of odour, but nothing too harsh
This one's truly one of the most efficient toppers when it comes to alleviating pressure and pain relief
If you're looking for a topper that's going to stand the test of time – this is the one
A 10-year warranty is not something you often see when it comes to toppers. Panda mattress topper comes with one, but still, you don't see this every day.
What we didn't like about Emma Flip mattress topper
The differences between the sides in terms of firmness, comfort and support are minimal and barely noticeable after a while
The topper isn't hot by any means, but it's far from being as cool and breathable as advertised
Since it's double-sided, there are no anti-slip bottom or elasticated straps on this one, so unless you have a fitted sheet – expect this one to move around
What's the point of having a double-sided topper if you can't get two Single-sized ones so both you and your partner can choose the side you prefer? We'd really like to see this one in Single.
The common problems with Emma Flip topper & how to solve them
There aren't many problems with this topper, but there are a few things that you could solve with just a few tricks up your sleeve.
Flip topper isn't smelly, but if you have a very sensitive and keen sense of smell – you might have trouble with it. However, it's nothing too bad and it should dissipate within a few hours.
If you'd like to make this one a tad more breathable and a smidge cooler, we'd suggest investing in bamboo sheets.
If you'd like to prevent this one from moving around your bed as you toss and turn during the night, we suggest investing in a tightly fitting fitted cover. Or, just DIY some straps to put around the corners. Either will do.
What makes this Emma mattress topper special & unique?
The main selling point of this topper is definitely its double-sided design. However, since we've established that the differences are marginal, at best, we're going to have to say that what makes this one special is its longevity and durability.
Most toppers last about two to three years until they go flat and you have to replace them or just get a new mattress at that point. Flip does not. Flip will last you about as long as an average mattress will.
Now, we're not so sure whether you'll ride this one out until the warranty's done, as that depends on more than one factor, but we're absolutely positive that this one will last you for a better part of the decade.
Another thing we'd like to mention is the pressure-relieving properties this one offers. In a word – they're astonishing. Emma UK really knows how to make quality foams.
Finally, a 10-year warranty and a 100-night trial. Wow. You don't get this for most mattresses. Great job Emma.
How did we test the product?
We put this topper on top of several mattresses and through a series of tests, all designed to assess different aspects and features of the product. We've done our best to be as objective as possible, but keep in mind that some of the things we mention are subjective and your experience might be different.
First and foremost, we wanted to see how comfortable and supportive this one is. So, we slept on it for about a week, testing both sides. The results? We were very pleased with the level of comfort this topper provides. It's not too soft, not too firm – just right. But, as we also mentioned, not too different.
Next, we wanted to check the pressure relief properties of this Emma topper. To do that, we used a pressure mapping machine called our bodies and compared the results to those of other toppers and mattresses. The results? This one is definitely on the top when it comes to alleviating pressure and pain relief.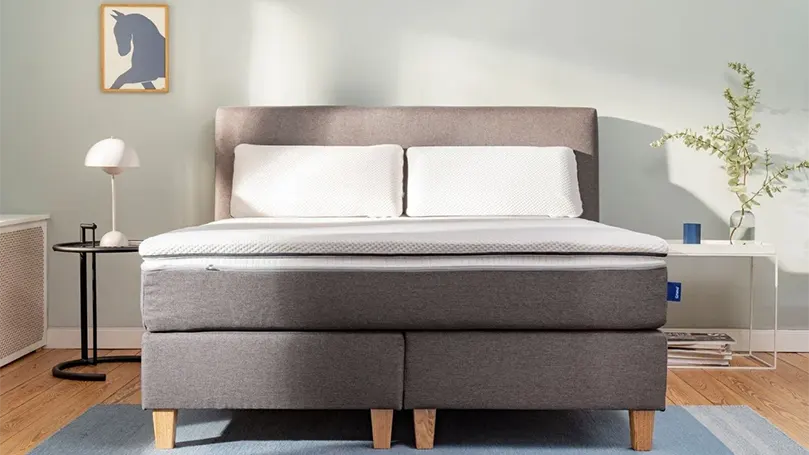 We also wanted to see how well this topper fares in terms of temperature regulation. So, we took to our trusty thermometer and adjusted the temperature in the room. The results showed that… Well, we already told you. It's not as stellar as advertised, but you'll sleep cool.
Finally, we wanted to test the longevity and the durability of the Flip using our mighty roller. As expected, after simulating long-term use, we've concluded that this one will last you a long, long time.
And, that was it.
Overall impressions of the product after the testing
After using the product, we can say that it's a really, really good topper (dare we say great?) and it does exactly what it's supposed to do. It's comfortable, supportive, breathable, and durable. However, it's not the perfect mattress topper and there are a few things that could be improved.
Most of the important stuff is done correctly. From our experience, the topper reverts back to shape once you get up and it doesn't sink or form dips. It handles movement perfectly, especially if paired with the right mattress. It cradles you gently, following your body's curves, and offers stellar pain and pressure relief. In other words, as far as performance goes – it's 10 out of 10. Brilliant.
One thing we did find interesting is that the Flip works best with a firm spring mattress. This pairing makes your sleeping surface supportive, breathable, and very cosy.
On the other hand, it's the "small" things that annoyed us.
First of all, you can't really expect a major difference in firmness when you have a 5 cm profile with two separate layers at 2.5 respectively. One's definitely going to affect to a point where the differences will be minuscule.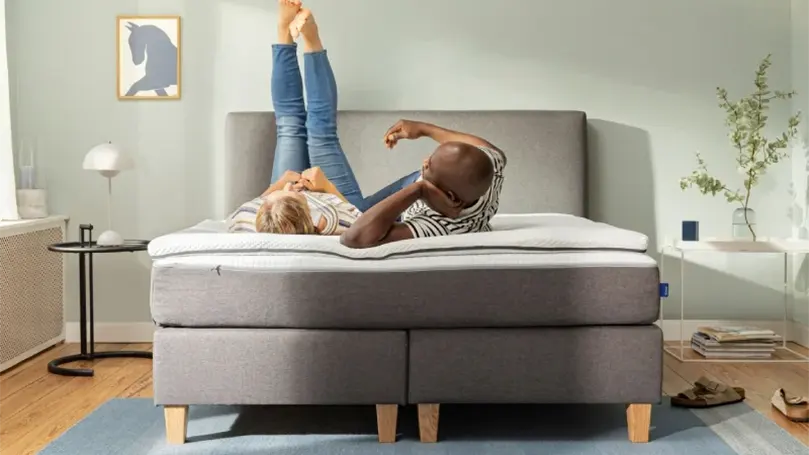 Also, why wouldn't you make this one in Single? If the whole thing's about adjusting the firmness to your liking, why wouldn't you make the topper in Single, so that the couples can mix and match the toppers for the ultimate sleeping experience? We just can't wrap our heads around that one.
And finally, the lack of straps and the anti-slip bottom is kind of annoying. To be clear, this one won't slide around your bed – it'll stay in place if you lie moderately still. But, as soon as you start vigorously moving around (which is most couples do on a semi-nightly basis if you catch our drift) – the topper will move and you will have to put it back into place before you drift away to sleep.
Overall, we'd give this topper a ten if it weren't for these oversights. But, since they're there to stay – an 8.5 out of 10 from us.
FAQs about your Emma Flip topper
In the end, we wanted to answer some FAQs just to double down on some things and perhaps cover a few items we didn't mention.
Is Emma Flip topper hypoallergenic?
Yes. Emma's Flip is hypoallergenic and it won't cause any allergic reactions or harbour any allergens..
Is Emma Flip topper waterproof?
No. If you want to waterproof your bed you're going to want to buy a mattress protector.
Can I flip Emma Flip topper to use a firmer side?
Yes. That's exactly how you're supposed to use it.
How do I maintain and care for my Emma Flip topper?
The only thing you have to do is remove the cover and put it in a washing machine at 40°C. Once it's done, air dry it and zip it back on.
Is Emma Flip topper good for all types of sleepers?
Yes. When paired with the right mattress, the Flip is good all types of sleepers.
Should couples use Emma Flip topper?
Absolutely. The motion isolation is great, and since it only comes in Double, King and Super king, we're guessing couples will be the ones mostly using it.
How do I remove and attach the cover from Emma Flip topper?
The cover's easily removable. You just have to unzip it and take it off. To put it back on, just reverse the process.