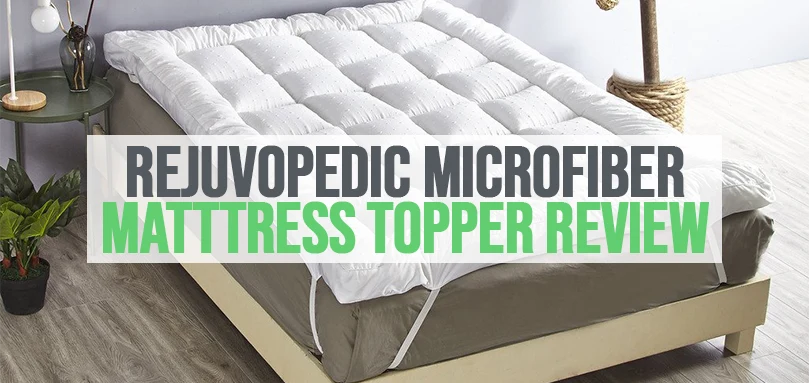 Rejuvopedic New Microfiber Mattress Topper Review
There are situations when your usual mattress isn't giving enough support or comfort. If you're really tired, so much that you become overly sensitive, it's very hard to find a perfect combination of softness, comfort and coziness to make you fall asleep quickly and soundly. Sometimes, your mattress needs an extra layer to provide the necessary comfort. Enter the Rejuvopedic New Microfiber Mattress Topper. 
The topper market has exploded in the past few years. Going through the tons of different models offered by producers is a tall task. Rejuvopedic offers a high-end mattress topper that makes us wonder – is it really worth it? If you are looking for a quality buy, consider this review – it might be just what you're looking for.
Add a header to begin generating the table of contents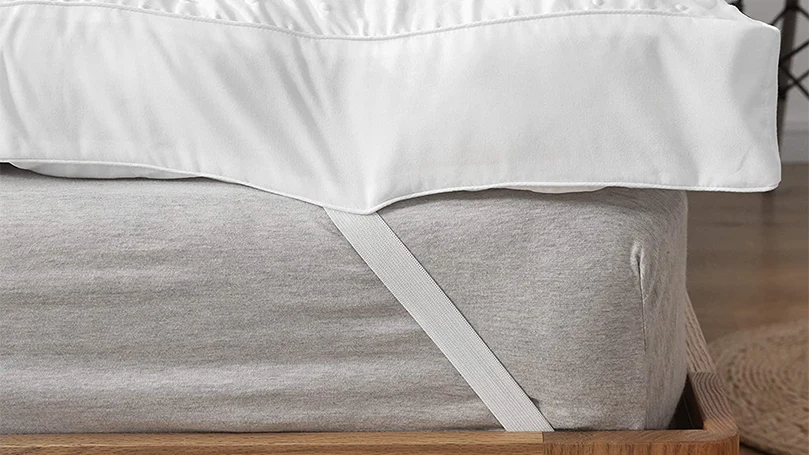 Rejuvopedic is a company that focuses on smaller beddings. They specialize in crafting covers, toppers and pads. Their products are generally well received and focus primarily on offering a premium sleeping experience. In their production line you can see mattress toppers, pillows, duvets, covers and all kinds of top layer bed gear. Their products are fared well on Amazon, with the average grade above 4,5, and their most expensive items are around 40 £.
About Rejuvopedic New Microfiber mattress topper
Rejuvopedic New Microfiber Mattress Topper is a new double bed size microfiber mattress topper, with new 3D massage bubbles fabric, box stitched 230 TC cover and elasticized corner straps. This supreme microfiber topper is made of the finest materials available. The Double Bed Size Microfibre Mattress Topper offers a specific feel due to the 3D bubble fabric. It is easy to set-up due to the elastic straps on each corner side. Hopefully, if you have a thinner mattress it won't look as messy on the corners as in their featured image.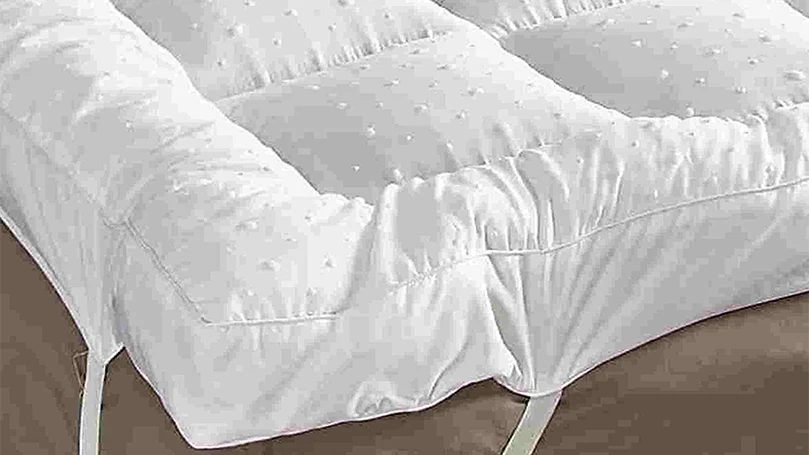 Rejuvopedic New Microfiber Mattress Topper is made from soft and comfortable microfiber. The filling is made out of Microfibre that has non-allergenic properties. This provides gentle but ample support. Additionally, it is dust mite-proof. New improved premium 3D fabric gives a massaging effect. It even has massaging bubbles, which amp the said effect. High filling content produces generous loft and gives the topper that sumptuous cozy feel. There are also elastic straps on all corners to provide a good fit. The filling is very cozy and soft.
The only issue with it is that it is very good at retaining heat – so it might be better for winter use. The fabric conforms to all furnishing and anti-fire regulation. The whole topper is washable which makes it very easy to manage and maintain
Rejuvopedic New Microfiber Mattress Topper is filled with the soft and comfortable microfiber. Add to that the structure of the cover, which is box stitched so every box is giving the feedback by itself. The corners of the New improved premium 3D fabric to give a massaging effect while you sleep. The massaging bubbles assist in giving a more deep-felt sleep. High filling content produces generous loft and gives the topper that sumptuous cozy feel. It's great for back and side sleepers. 
While being thick for about 5cm, which is noticeable, the topper seems to be intended for comfort rather than support. There are no rigid parts to it, or anything that can make you say: "This will improve my sleeping posture." This doesn't mean support-seekers should avoid this topper. A pillow or mattress with such properties can compensate. However if you're looking for a topper which specifically provides that – avoid it.
Rejuvopedic New Microfiber Mattress Topper is comfy thanks to its structure and materials. It has generous loft and provides that cozy feel you need when sleeping. Bubbles fabric adds to the comfort by creating a massage effect. It's absolutely fine for elders, since it will give them comfort without contorting.
In other words this topper is made with comfort in mind. Very bouncy and soft. After prolonged use it does fall flat, but that is quite expected. The 3D bubbles give it a somewhat unique feel – although after some use it tends to feel ordinary again and the bubbles lose in impact due to ware and tare.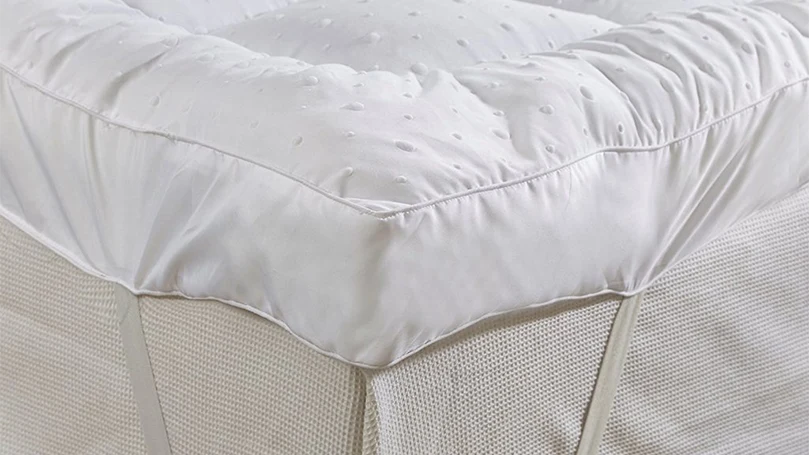 The palm test showed it bounces back in the initial shape very quickly, thanks to the box stitches which isolate the parts of the topper. Microfibers are exceptionally durable, albeit being soft and cozy. It's great for lying down, also good for sitting and it's sturdy enough to endure two people on top of each other. For a topper it's reasonably bouncy, but not noticeably so. The microfibre filling helps with this. Still, this is a topper and we have to place reasonable expectations. If bounciness is something you value and have to have – consider this topper with a bouncy mattress.
This is the weak spot, the Achilles' heel. The material retains heat like a steam engine. If you want to save on your electric bills, I'd strongly recommend it. Enjoying an inferno hot slumber is something I do honestly enjoy, but I feel like it is an opposite for the general public. If you are living anywhere outside cold areas – you might want to avoid this topper only due to this fact.
The upside of the microfiber fabric is its ability to wick moisture. This means that it is both extremely absorbent and dries quickly. For this reason, it is used to make clothing—like those worn by athletes, but also makes it great for linens, because it does not stain easily.
I haven't noticed anything funky or smelly about the product. To be expected, due to no memory foam or latex that carry such smells. Bed sheets made from microfiber are breathable, light, longer lasting than natural fibers and easy to wash. And, because the fabric can be woven so tightly to make pillow and mattress covers, it is great for those with allergies because dust mites are easily trapped. Rejuvopedic New Microfiber Mattress Topper is also thin enough not to retain any moisture, so there's almost no smell at all.
Even though the topper is washable, it is unreasonable to think that it will last more than a couple of years. Toppers tend to ware out faster than mattresses. If you can have 2-3 years of quality sleep on it without it falling flat – you've completed the product use.
Microfiber fabrics are generally lightweight, resilient or resistant to wrinkling and have a luxurious drape and body, retain shape and resist pilling. They are also relatively strong and durable in relation to other fabrics of similar weight.
Its thin weaved and firm structure makes it highly wind and water resistant, yet porous enough for the material to breathe. Tears and other damage are unlikely to happen until way after you've purchased it due to frequent use.
For a specific kind of people that can reap the positives and ignore the negatives – we would recommend this product. However, the price tag (50 GBP) may be too much for the picky ones, so for them I would recommend getting it on a sale. The current price (discount) for Rejuvopedic New Microfiber Mattress Topper is 29.99 £, which is an extremely good deal for a product of this quality and durability. The only available size is Double Bed, which is 135cm x 190cm + 5cms thick.
| | |
| --- | --- |
| MATERIALS | Box stitched microfiber with bubble 3D fabric |
| SMELL | Almost none. |
| PRICE – QUALITY RATIO | It's okay. |
Rejuvopedic New Microfiber Mattress Topper has a 40% discount at this moment. It's initial price was 49,99 £. You can also buy a used topper for 24,99 £. The Rejuvopedic products are sold and shipped by The Linen Depot, which is apparently their higher rank company. There is a return policy of 30 days from delivery. In case the product is faulty or not as advertised, you are entitled to a refund, replacement or repair – free of charge.
Rejuvopedic New Microfiber Mattress Topper is really good product, made from high grade microfiber. Its structure and materials provide good support and comfort. The topper is comfy, warm and made out of quality materials. It is washable and easy to set-up. However, it can get too hot and the topper can feel a bit flat after frequent use. The longevity and really neat price puts this product in the line of the better on the market, so if you want to upgrade your mattress a bit, this would be very appropriate topper to do so.