Can You Wash Mattress Topper At All?
Can you wash mattress topper? Well, let's find out together.
Washing a mattress topper is certainly no easy task. In fact, it's probably one of the most daunting tasks known to man. But don't fear – for we are here to guide you through it! All jokes aside, we're certain you're probably wondering – can you wash mattress topper at all and do you even have to do it?
Well, you have to. But, can you? That depends. What it depends on, we'll figure out in just a second.
But, for now, sit back, get your reading glasses, read carefully and then, and only then, gather your supplies and get ready to tackle this beast of a project. It's going to be tough, but with enough determination (and maybe some cursing), you'll get through it!
Add a header to begin generating the table of contents
First things first - determine the type of mattress topper
The first thing you'll have to do is figure out which mattress topper filling is within your topper. Why? Well, there are plenty of excellent mattress toppers that aren't quite the same. Some of them are fully machine-washable – others aren't. Some come with removable covers – others don't. You get the gist.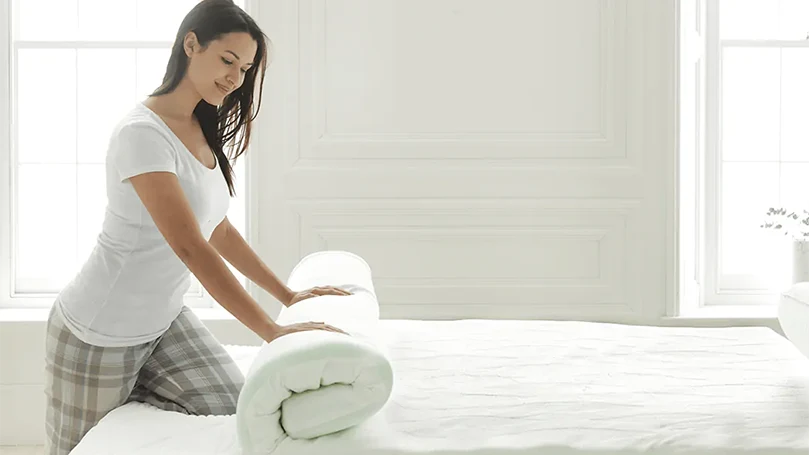 If you own a vinyl mattress topper, congratulations! You can machine-wash it! All you have to do is take off the cover (if it has one) and put it in the washing machine on a gentle cycle. Don't forget to use cold water and a mild detergent. You can also hang-dry it or leave it flat to air dry. Just remember to flip it if you're drying it flat so you can dry both sides equally.
If you don't have a cover for your vinyl mattress topper, you can buy one. This will make cleaning mattress toppers a lot easier in the long run. You'll still have to wash the topper itself, but it is always easier to wash a cover or a mattress protector than an entire topper.
As you can probably guess, you can easily wash a cotton mattress topper. Although, if we're being quite honest – we're not quite sure why you would ever buy a cotton topper. They're not as comfortable or supportive as other types and they tend to absorb moisture (which is the last thing you want in a mattress topper).
But, if you did buy one – or if you were gifted one – don't worry. You can machine-wash cotton mattress toppers on a gentle cycle with cold water and mild detergent. You can also tumble dry it on low or air-dry it.
Eggs-crate mattress topper
An egg-crate mattress topper is a type of foam topper that is used to increase comfort and support. The cells in the egg-crate design help to contour to the body, which can be helpful for those who suffer from chronic pain. However, those contours are also perfect for dirt and debris build-up.
Unfortunately, egg-crate mattress toppers cannot be machine-washed. However, they can be spot cleaned with a mild detergent and a damp cloth. You can also use a vacuum cleaner them or use a steam cleaner to clean them if the instructions allow you to do so.
Feather and down mattress toppers are some of the most popular types of toppers on the market. They are often made with natural materials like goose feathers and down, which makes them incredibly soft and comfortable. They are also known for being quite durable.
However, feather and down toppers can be a bit difficult to maintain. The feathers and down can easily become matted if they are not maintained properly. And, if the topper is not dried correctly, it can become mouldy.
But, with all that in mind, these toppers can be washed in a regular washer most of the time, just make sure you keep the temperature low and cycle on gentle. And oh, make sure you have a washing machine that can fit an entire mattress topper.
As you can probably guess – you can't machine wash a memory foam mattress topper. In fact, you should never machine wash a memory foam topper. The heat and water will irreparably damage the foam and make it suitable for garbage only.
Fortunately, memory foam toppers are not difficult that clean. You can simply spot clean them with a mild detergent, baking soda and a damp cloth or a spray bottle and white vinegar mixed with lemon and water. Just make sure you don't get the topper very wet. There's only so much you can do with paper towels.
What's even better is that since they're not machine-friendly, memory foam mattress toppers often come with removable covers that are.
So, all you'll have to do is remove the cover and put it in a washing machine. Most of the time, 40°C and a gentle cycle will do the trick and you'll once again sleep on a fresh and clean topper.
Wool is a natural fibre that is often used in bedding because it is so good at regulating temperature. It can keep you cool in the summer and warm in the winter. And, because it is a natural fibre, it is also quite durable and easy to keep clean.
Wool mattress toppers can be machine-washed on a gentle cycle with cold water and a wool-safe detergent. You can also tumble dry them on low or air-dry them. Just make sure you give them a good plump after you're done.
What is a hybrid mattress topper made of?
Now that we've covered most of the standard mattress toppers, it's time for us to visit another type – hybrid mattress toppers.
A hybrid mattress topper is made with a combination of different materials. The most common combination is memory foam and mini springs, but you can also find them with latex, wool, and cotton. Combinations are essentially endless.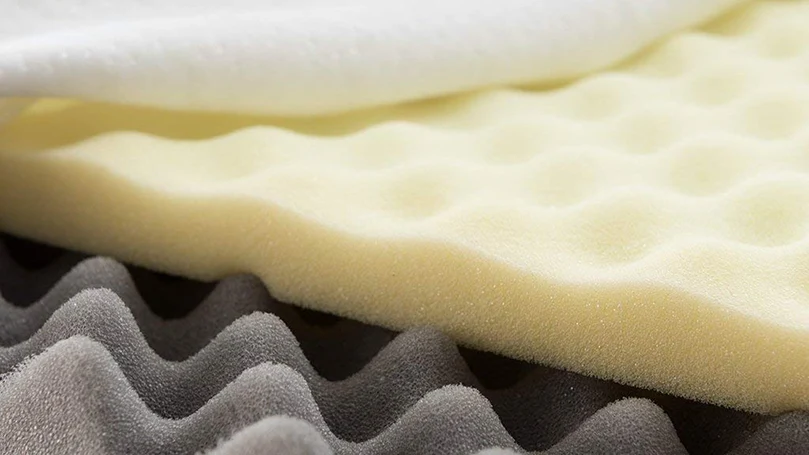 The benefit of a hybrid mattress topper is that it combines the best features of each material. For example, a memory foam and latex topper will be soft and supportive like memory foam but will also have the breathability of latex.
Just like with any other type of mattress topper, you should always check the care instructions before you wash it. But, in general, hybrid mattress toppers come with removable covers that can be machine-washed on a gentle cycle with cold water and mild detergent. Most of them will also be tumble-drier friendly, and even if they're not – cover air dry in no time.
Now that we've gotten over all the types of mattress toppers, it's time for you to gather some cleaning supplies. Based on the information we've given you, you will gather some of the following:
Water
Mild detergent
White vinegar
Baking soda
Lemon
Spray bottle
Damp cloth
Sponge
Vacuum cleaner
Washing machine
Since we're absolutely positive you know how to work a vacuum or a washing machine, we'll skip those two, and give you an example of you can use some of the other supplies to wash your topper.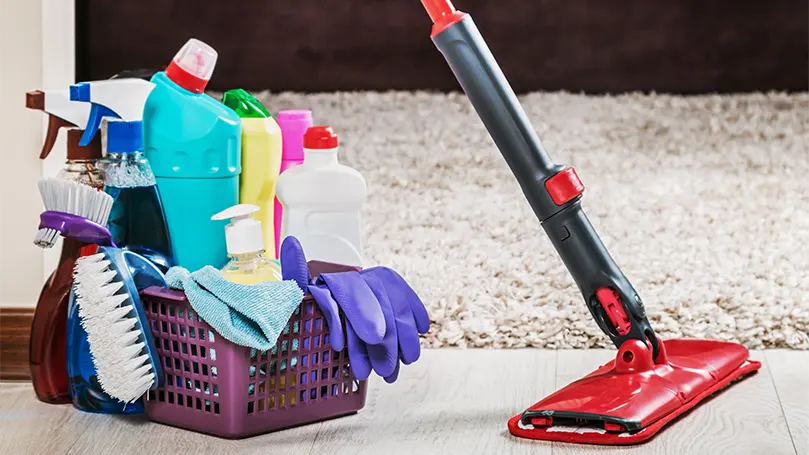 If your topper is stained, dirty, or just smelly, you can use a damp cloth and some mild detergent to spot clean it. Just make sure you don't get the topper too wet. You can also use a little baking soda (or vinegar, although not together) if the stain is particularly tough. Just mix it with some water with baking soda to form a paste and apply it to the stain. Let it sit for a few minutes and then gently wipe it all off.
Also, don't coat the whole topper at once. Clean it bit by bit. That way, you'll avoid two things: soaking the topper and letting the detergent or other cleaning solution dry before you get to the end.
Check the manufacturer's care instructions first
Now, our tips are pretty handy and are pretty spot on – don't worry about that. However, there are always some exceptions to the rule. Some feather and down toppers won't be machine washable and some topper covers can't be tumble dried.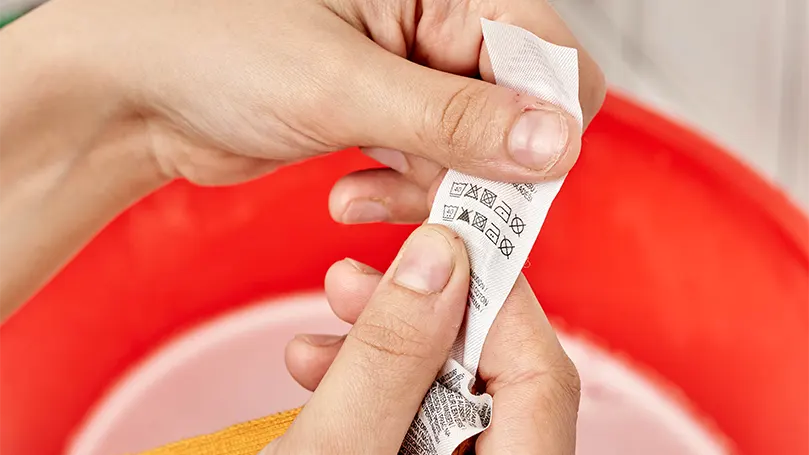 To avoid those mistakes, always check the manufacturer's care instructions first. Rather than relying on general tips, you will be able to tell you for sure whether or not you can machine-wash your topper and what water temperature, detergent, and cycle to use.
How to remove odour from mattress topper?
If you notice that your topper is starting to smell, there are a couple of things you can do about it.
First, you can try spot cleaning it with a little bit of white vinegar or lemon juice. Just remember not to soak the topper or coat it in either one of those liquids – a little goes a long way.
If the odour persists, you can also sprinkle some baking soda on the topper and let it sit for a few hours before vacuuming it up. That should do the trick.
If, on the other hand, you've noticed that it isn't the topper itself, but rather a cover that's smelly, you can always machine-wash it (if the fabric allows it). Just make sure to use a mild detergent and a gentle cycle.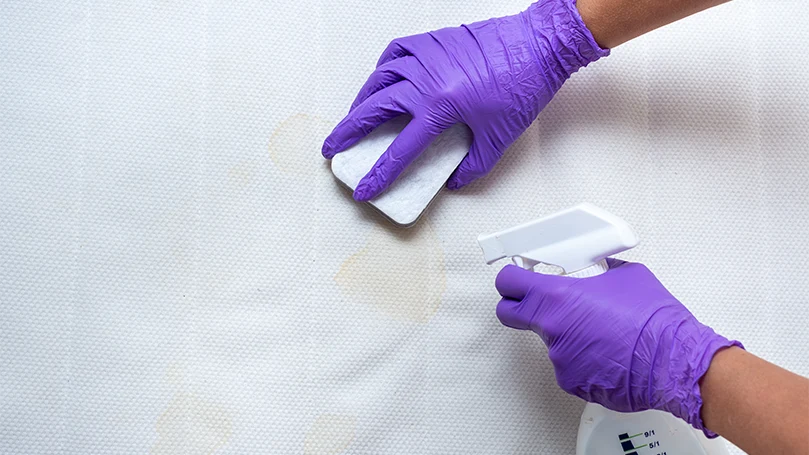 On the other hand, to keep your mattress topper in tip-top shape and odour-free, there are a couple of things you can do.
First, make sure you vacuum it regularly. That way, you'll get rid of any dust mites or debris that might be lurking in the topper making it smell.
Second, if your topper is made with natural materials (wool, cotton, etc.), you can air it out every now and then. Just take it off the bed and let it hang out in the fresh air for a bit.
And finally, don't wait for the topper or the bedding to turn yellow or start smelling – wash it regularly. There's no better way to get rid of the annoying smell than not allowing the smell to build up in the first place.
2 easy maintenance tips that will prolong the life of your mattress topper
On a related note, we wanted to give you a few tips that you can easily do to ensure your toppers stay fresh, clean and in good shape for a really long time.
The first one is to vacuum it every week. No, we're not joking. Just like you need to vacuum your bedroom on a regular basis, the same goes for your topper.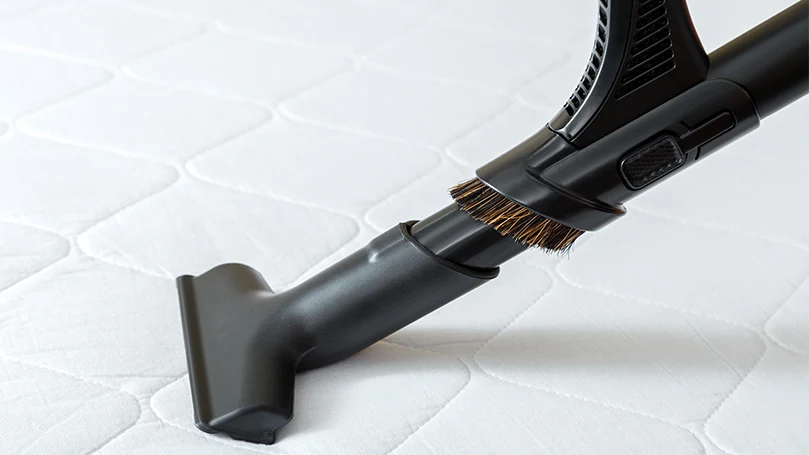 Plus, it only takes a few minutes and it's really easy to do. Just make sure you use the right attachments (a soft brush attachment is best) and go over the topper gently.
Get a mattress topper cover
If your topper doesn't come with one – get or make one. A mattress topper cover will protect your topper from spills, stains, and general wear and tear. Plus, it's a whole lot easier to wash a removable topper cover than the actual topper.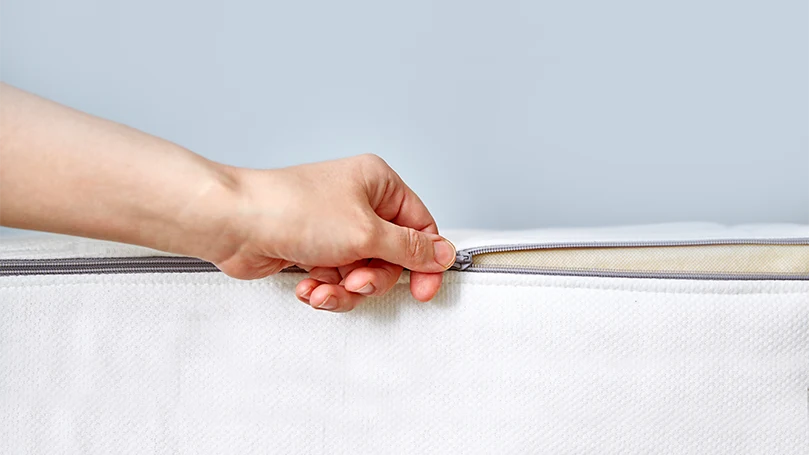 And, if you don't want to spend money on buying a topper cover – you can make one. It'll take some time, but this fun DIY project might be more interesting than you expect.
When is the time for a new mattress topper?
Finally, we wanted to touch on the subject of when is it time for a new mattress topper. The truth is, there's no definite answer.
It all depends on how often you use it, how well you take care of it, and what type of topper you have. For example, a premium quality wool or memory foam topper can last for years, maybe even a whole decade, while a low-quality topper might only last for a few months before it gets all bumpy.
In general, though, we would say that if you start noticing lumps, bumps, or an overall decrease in comfort – it might be time for a new one.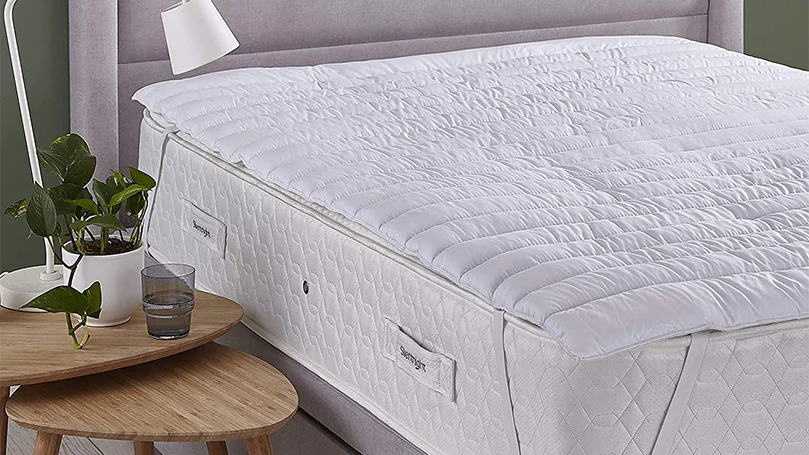 How to wash a mattress topper in three steps?
In the end, the only thing left to do is for us to let you in on the simplest, most straightforward way to clean any mattress topper. And, if you're lucky, this three-step process could very well prove to be a two-step one.
So, let's check it out!
Remove the topper from the bed and vacuum it
The first step is pretty self-explanatory. Remove the topper, grab a vacuum and give it a rough clean.
If your topper cover is removable, machine-wash it
This is an optional step. If there's a cover – wash it. If there isn't one – move on to step number three.
Now, deep cleaning a topper is a time-consuming process – but it's worth it in the end. We won't get into too much detail because we've done that already, but trust us – you'll love the results.
So, there you have it! Everything you need to know about washing a mattress topper. Just remember – the key is to do it regularly and not wait for the topper cover to turn yellow and start smelling!