Best Cot Bed 2022 : Ensure Your Toddlers And Children A Safe & Comfortable Sleep
The best cot beds are long-lasting and are a very useful addition to any nursery. We will break down the most important features as well as the best models on the UK market.
There are a lot of different types of children's beds on the market. Some of them, like Moses basket, are a great choice, but they will serve you for a very short time, only the first few months. 
On the other hand, you can buy a cot bed which is a real investment. Once you buy a cot bed, you know you have a bed for your child until the age of about five. Make sure you don't get confused with the differences of a cot and a cot bed.
Of course, in order to buy the best cot bed that will serve you for years, you need to analyze different things, and also look at the best models on the market. Only then will you be able to make the right decision which one to buy.
Add a header to begin generating the table of contents
Our best cot bed picks in 2022
After analyzing all the things to consider that we wrote about and after testing the different models, we came to the following 7 models of cot beds. All these models proved to be the best in certain categories, and also met the general standard of quality and safety. Also they are produced by reputable manufacturers.
IMAGE
PRODUCT
DETAILS

KEY FEATURES:

Material:

Pine wood

Storage:

Drawer

Dimensions:

124 x 65 x 90 cm

Mattress:

Yes

View Latest Price

KEY FEATURES:

Material:

Wood

Storage:

No

Dimensions:

147 x 77 x 100 cm

Mattress:

No

View Latest Price

KEY FEATURES:

Material:

Pine wood

Storage:

No

Dimensions:

105 x 58 x 91 cm

Mattress:

No

View Latest Price

KEY FEATURES:

Material:

Wood

Storage:

Yes

Dimensions:

160 x 77 x 99.8 cm

Mattress:

No

View Latest Price

KEY FEATURES:

Material:

Oak wood

Storage:

Yes

Dimensions:

160 x 77 x 99.8 cm

Mattress:

No

View Latest Price

KEY FEATURES:

Material:

Engineered pine wood

Storage:

No

Dimensions:

144 x 87 x 95 cm

Mattress:

No

View Latest Price
BEST OVERALL: Jacob Wooden Baby Cot Bed
Jacob Wooden Baby Cot Bed will give you everything you need from cot bed.
This cot bed is marked as Amazon's Choice which is the first indication that many customers were satisfied with what they got.
Made of very durable pine wood, which is an excellent and ecological choice of materials. With the help of a wooden barrier you will make a toddler bed out of it. There is a drawer where you can store various things for children.
There are teething rails so that the child does not hurt his teeth and gums. It is suitable for children from birth to approximately 3 years. Item dimensions L x W x H: 124 x 65 x 90 centimeters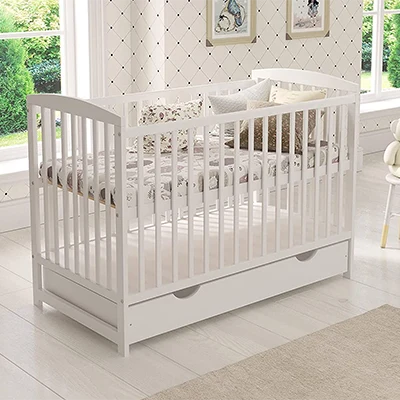 Material: Pine wood
Storage: Yes
Mattress included: Yes.
Motion isolation
Removable cover
Free mattress
12 months warranty 
Trial of 200 nights guarantee 10 years.
Smell of paint once unpacked.
BEST PREMIUM: Cameo Stone White Wooden Cotbed
If you want a premium product, Cameo Stone White Wooden Cotbed is your choice!
The manufacturer emphasizes that it is made to meet the highest British standards, so we choose it as the best premium cot bed. It is made of the highest quality wood, which guarantees longevity. 
There are 3 adjustable mattress heights, so it will not be difficult for you to put and return the baby back to bed. It has a very simple and yet effective design, so it will be easy for you to fit it into your interior.
Dimensions are 100 cm x 147 cm x 77 cm. A mattress that is not included can be a maximum of 140cm x 70cm.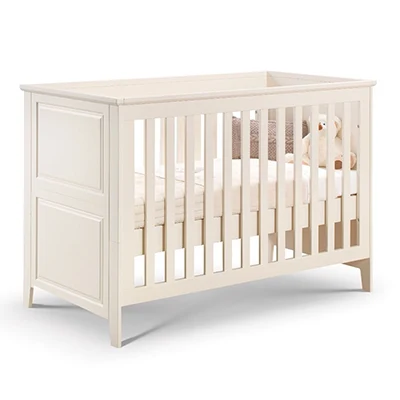 Material: Wood
Storage: No
Mattress included: No.
Premium quality
3 adjustable mattress heights
Easy to assemble
Classic design.
May be more expensive than some other products in this category
Doesn't have a drawer.
BEST SPACE SAVING: Kinder Valley Sydney Compact Cot
If you are limited by space, you will probably manage to fit Kinder Valley Sydney Compact Cot even in a very small room.
If your nursery is very small, you may want to consider giving up a cot bed. Made of pinewood and painted white which gives it a classic design. It has many similarities with larger models, and is very compact.
Adjustable base heights will allow you to change the baby's position according to needs. There are teething rails so you don't have to worry about the baby getting hurt. 
Due to its small size and simple design, it is ease to assemble. This model has dimensions of only 105 x 58 x 91 cm.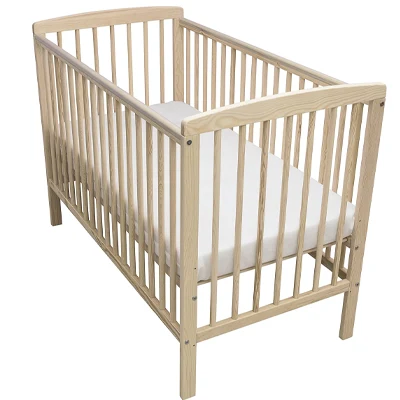 Material: Pine wood
Storage: No
Mattress included: No.
Small
Ease to assemble
Adjustable heights
Teething rail.
Doesn't have a drawer
Too simple for some people.
BEST WITH UNDER DRAWERS: Tutti Bambini Roma Wooden Sleigh Cot Bed
Recommended one if you need extra storage space along with great cot bed. 
This toddler bed suitable up to 4 or 5 years, just requires you to determine the right size of the child and the bed. It has teething rails on both sides and is very durable.
Made of solid wood, it has a great design that is simple, and yet it is sure that everyone will notice it. 
It has an adjustable mattress base, and you can reshape it to be a cot bed, junior bed and sofa bed. You can choose between two available sizes: 120x60cm and 140x70cm.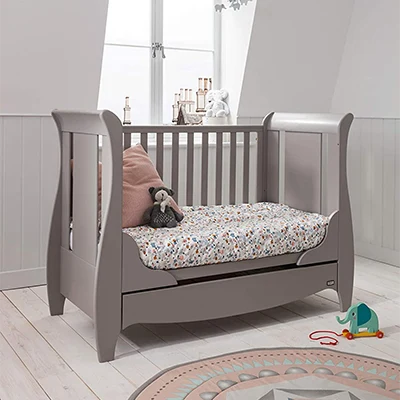 Material: Wood
Storage: Yes
Mattress included: No.
Big drawer
Nice design
Durable teething rails
Adjustable mattress base.
May be more expensive than some other products in this category
Complex assembling.  
BEST LUXURY: Obaby Stamford Sleigh Luxe Cot Bed
Enrich your nursery with this luxurious piece of furniture.
This very luxurious model is available in many different configurations. You have to buy mattress measuring 140 x 70cm to fit in this cot bed.
You can adjust the mattress height to your needs and transform it into several types of beds. Even when your child becomes too big for him, you can make a kind of sofa out of this cot bed. It also has a drawer.
It has a 5 year guarantee which is an indicator of top quality. You don't need to worry about durability! Dimensions are 99.8 (H) x 77 (W) x 160 (L) cm.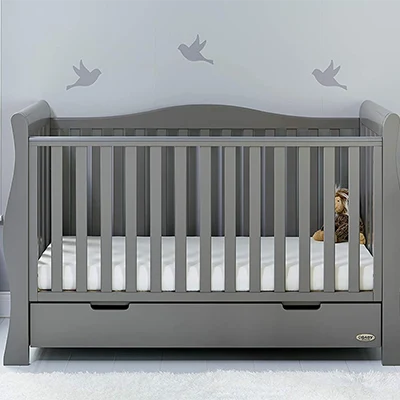 Material: Wood
Storage: Yes
Mattress included: No.
Luxury design
Quality
Adjustable
5 year guarantee
Drawer storage.
May be more expensive than some other products in this category.
BEST 3 IN ONE: Rio Wooden Cot Bed
Get a cot bed, toddler bed and changing pad all in one.
If you don't have a very large nursery, you probably won't have the space to put a changing table next to the cot bed and closet as two essentials.
But you don't have to sacrifice that, because this multifunctional cot bed will give you a changing table at the same time. However, it is certainly significantly less than having a separate changing table. 
The top changer will be securely attached to the edges of the bed and will give you a stable surface. It has an adjustable base that you can place in three different positions. Item dimensions are L x W x H 144 x 87 x 95 centimeters which makes it one of the larger cot beds.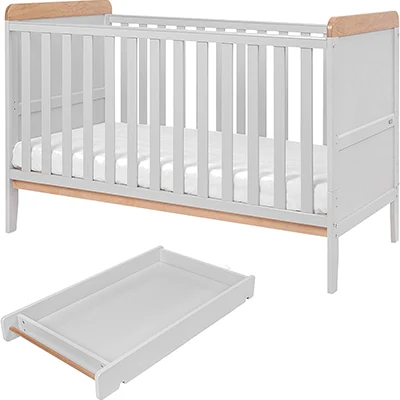 Material: Wood
Storage: No
Mattress included: No.
Cot bed an changing table all in one
Adjustable base
Suitable up to 6 years
Simple, yet nice design.
What to consider when buying the best cot bed?
Parents usually start planning their child's life from the moment of conception. That means starting to think about your baby's needs. One of the primary is a place to sleep. To make sure you buy the best cot bed, don't forget to consider essentials that every good cot bed has. Also, you need to consider the following factors we break down for you.
If you do not have a problem with assembling furniture parts, you should not have problems with assembling a bedside crib either. However, pay attention to the way it works.
Assembling cots and cot beds generally involves two things. Some models also have additional storage. This can be very useful, especially if you plan to place it in a smaller room.
Pay attention to the protectors that come with the furniture, because it is very useful for small babies. Depending on your needs and model of bed, you may need to buy additional pieces. So it would be best to research the specifications of the model you like in detail.
You'd be surprised how much children love to nibble on the cot bed railing with their teeth. In that case, it is best to look at models that have a higher fence or a toddler bed guard, because that way children will not be able to do that. Although most cot beds are not designed for chewing, you can find models that have a teething rail.
In this way, children are prevented from chewing the edge of the side of the crib and thus destroy the paint and wood chips. Please note that these protections cover only the upper edge of the side of the crib. However you adjust the furniture to the child's age.
It is normal for a child to need to chew things and that starts with teething. This is typical for children who have turned six. You will notice this phase when the child starts chewing fingers, toys, etc.
The changing table can take up a lot of space. For example, if you have a small room, you probably can't afford this piece of furniture.
So, it would be good to skip this step because in addition to taking up space it can also be quite expensive. That is why more and more parents are opting for a top changer lately.
This is one example of efficient use of the space in which your baby will stay. However, if constantly installing and removing the top changer sounds tedious and you have enough space, then you do not need it.
Extra drawers are a practical addition that make compact cot bed. High-quality production of an additional drawer gives additional space under the cot, suitable for displaying clothes, bedding or toys.
Many drawers are not fixed, they can be easily moved with the help of wheels, so you can move them with ease. So, if you want to save space and get extra storage then keep drawers in mind. We must not ignore the fact that babies are clumsy and that is why there are never enough new sheets, blankets, pillows and other things.
That means you just have to have plenty of storage space. In that case, you would welcome a little extra space for all the spare items you will definitely need.
Mattresses are made of different materials. The most important thing for babies is that he has good support, that it is not too soft or too hard. To choose a product that follows strict safety standards, pay attention to the choice of quality mattress. Also, pay attention to the mattress base positions – as baby grows, you will need to expand the cot bed as well as to get a bigger mattress.
Nevertheless, this is one of the items that parents choose carefully, because a comfortable and healthy sleep is necessary for the proper development of the child. Also, sometimes cot bed mattresses are sold separately.
That is why these types of mattresses are made especially for babies in accordance with their developmental needs. In addition, what makes a mattress good is also a matter of characteristics. Consider price, comfort and durability. It is very likely that your baby will sleep in his crib until the age of three.
If you've never assembled it before, it can be tiring for you. We have to admit that it is not so easy to assemble a stylish cot bed, especially if it comes with a lot of additional partitions and other functions.
What makes the whole thing even more difficult is your pregnancy, because if you plan to do this during that period, you have to be careful. This process involves a significant amount of bending and lifting.
A robust cot bed will ensure enough stability, however, the process of assembling can be difficult. So try to find cot beds that are robust enough but easy to install or have user manuals that are easy to interpret. So, newer models can be assembled within minutes and you don't need tools for that. All you need to do is find one such model and follow the instructions carefully.
Bedside cribs vary in size and that is why it is important to check if they will fit in the desired room for your sleeping child. This means that you should check how much space cot bed leaves for moving, although it may fit the size of the room.
Child safety standards say that you should sleep with your baby in the same room for the first six months. So think of all the rooms in which the baby should sleep.
Also pay attention to the height adjustment that should be adjusted to the baby's growth. This feature usually allows three positions. For example, when your baby is small, the lowest and safest position is used. After a certain time, the position changes in accordance with the baby's movements.
Tips for buying and using best cot bed
The cot bed has a number of advantages over cribs that do not have removable sides and a top plate. One of them is that it will last you years longer than a regular bed. However, its duration will also depend on the child's weight, the time the child spends in it, etc.
In that case, you must not neglect all the factors that affect its quality. Some cot bed features make babies safer to sleep on than others. Also pay attention to the price-quality ratio and everything else. It's worthwhile spending time choosing the right one for you and for them.
    Every good cot bed must meet safety standards
    The cot bed should be compatible with the dimensions of the room
    Practical features to look out for are the sides and adjustable height, designed to fully suit parents and babies.
Advantages of owning the best cot bed
If you buy a best cot bed, it will bring you many benefits. First of all, you will know that your child has a comfortable place to sleep. Also, it will take you a long time because it can be adjusted to the age of the child.
It has security features such as teething rails, and many models are multifunctional so they have a drawer, changing top, adjustable heights and similar. Also, they all have a modern, yet classic design, so you will easily fit the best cot bed into any interior.
Cot bed is long term investment because you will have bed for kid since birth until 4 to 6 years old
Many models have drawers so extra storage space available
Cot bed will fit nicely into design of every nursery.
There are numerous questions people ask when they are about to buy new cot bed. Things which interest them mostly are when they should buy cot bed, for how long they can use it and similar. Also they wonder would they be able to assemble it on their own or they will need help. You can find all the answers in our FAQs section.
When should I buy a cot bed?
You can buy it as soon as the baby is born.
Can I get a bed that I can use later for a grown up child?
You can get a bed which will last you for years, because it is intended for children up to 5 years of age.
Is it easy to assemble a cot bed?
It depends on the specific type, so it can be both easy and mildly challenging.
How long does a cot bed last?
Cot beds on average last from 2 to 7 years.
Does a cot bed come with a mattress?
This solely depends on the seller. Make sure you check this information before making a purchase.