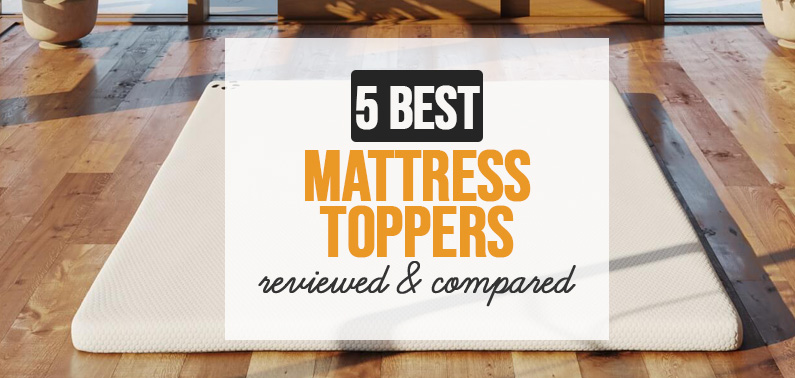 5 Highest Rated Mattress Toppers in UK in 2021
It's time for another Top 5 List! This time we have 5 high-quality mattress toppers competing for the first place. They all come from great and famous companies and they are all made to your mattress's best friend. But only one has all of the traits that can turn any mattress into a perfect one!
What are those traits, you ask? Well, we are more than glad to share them with you! Let's find out what are the qualities of a great topper. And, of course, let's find out which topper is a winner!
IMAGE
PRODUCT
DETAILS

KEY FEATURES:

- Good value

- Support level

- Comfort

- Breathability

- Hypoallergic, natural and eco-friendly materials

View Latest Price

KEY FEATURES:

- Comfort

- Support

- Breathability level

- Choice of materials

View Latest Price

KEY FEATURES:

- Breathability

- Price-quality ratio

- Easy maintenance

- Stitching

View Latest Price

KEY FEATURES:

- Creates a cozy effect, great for colder months

- Diamond stitching – boosts endurance

- Easy to remove and put back

- Easy to maintain

View Latest Price

KEY FEATURES:

- Level of support

- Price-quality ratio

- Responsiveness to pressure and weight

- General comfortability

View Latest Price
Traits to look for in a mattress topper
Mattress topper is usually faced with a very difficult task: transforming any mattress into a comfy one. Sometimes the role of the topper is easier, it just needs to be a soft top layer. Whatever the case may be, a topper needs to satisfy many important standards.
Of course, buying the right mattress or the right pillow is a lot harder than buying the right topper. Still, it doesn't mean that finding the right topper is easy. There are many things that you need to have in your mind when choosing a mattress topper. So, to make things easier for you, we are going to list all of those important things right now. From the crucial ones to the less important ones, here are all the things that a quality mattress topper has:
Materials that are pleasant to touch – Good choice of materials is crucial for a mattress topper. This goes both for inside layers, top layer and the cover. Top layer needs to be especially gentle and feel pleasant on the skin.
High breathability – So, this is the same as with any mattress. A topper needs to be breathable. This is more a matter of health than of comfort.
Hypoallergenic materials – This doesn't have to be a must. Many people are not prone to allergies. But, going for hypoallergenic products is always a safer option.
Easy maintenance – Topper needs to be clean and fresh. Again, this is a matter of health. So, things get a lot easier if you have a topper that is easy to wash, air and dry.
Perfect weight – Toppers that are too heavy or too light usually interfere with supportiveness and comfort of your mattress in the wrong way.
Softness and comfort – A great topper can turn any mattress in a comfortable one. Same way, a bad topper can ruin any mattress, no matter how comfy it already is. So, this is maybe the most important thing. A quality topper needs to be soft, comfy and responsive.
Supportiveness – This is not a job only for a mattress. Toppers also play an important role in supportiveness level that neck, spine and hips receive.
Materials that prevent slipping – Nobody wants a slippery topper!
Eco-friendly materials – This is not a must, but it's a nice additional quality feature.
So, these are the traits that toppers from our Top 5 List have. But, only one has them all. Do you wonder which one is the winner? Let's find out!
The Top 5 UK Mattress Topper List
1. Panda mattress topper
Panda wins this competition! Let's see why!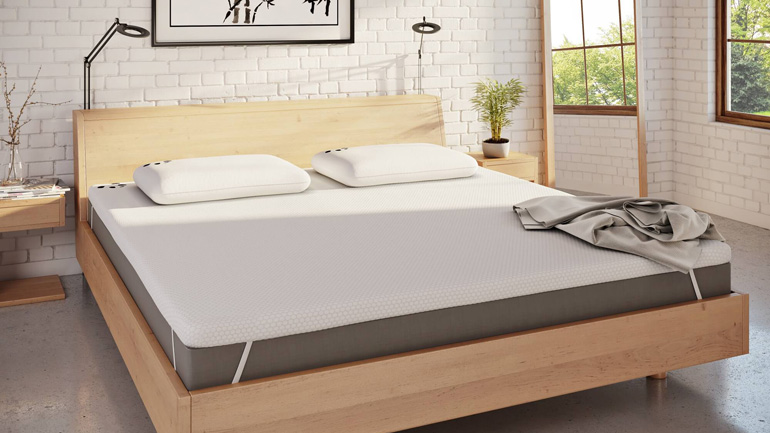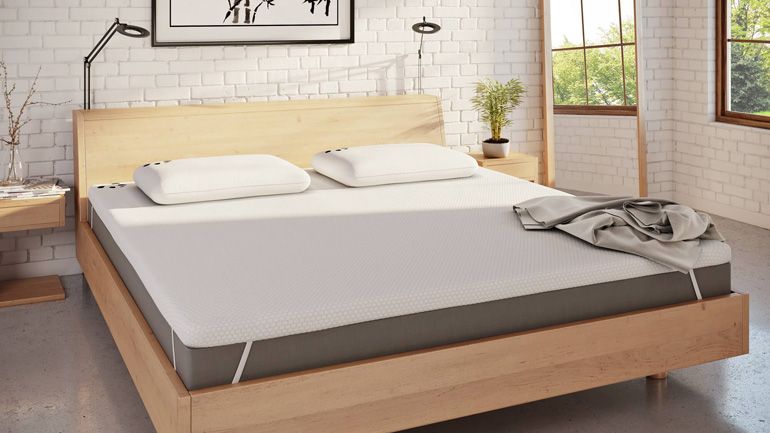 PROS
Comfort
Support level
Hypoallergic, natural and eco-friendly materials
Breathability
Pleasant to touch
Smart design
Thickness
Price-quality
CONS
We can't really name a downside here. Some may not be satisfied with the level of thickness or general sensation that this material composition gives. But, all these things are a matter of personal taste. There are no "objective" downsides to this product.
Panda mattress topper comes at an amazing price and you can order it on their website anytime. If you're interested in this product and want to learn more, make sure to check out our review in which we analyze it in-depth – see if this top-notch mattress topper is the right for you.
Our full review of Panda Mattress Topper can be found here!
2. Eve mattress topper
Its nothing out of the ordinary for Eve to be among the best again. Eve products tend to finish these Top 5 Lists always in great places. This time, a silver medal for Eve!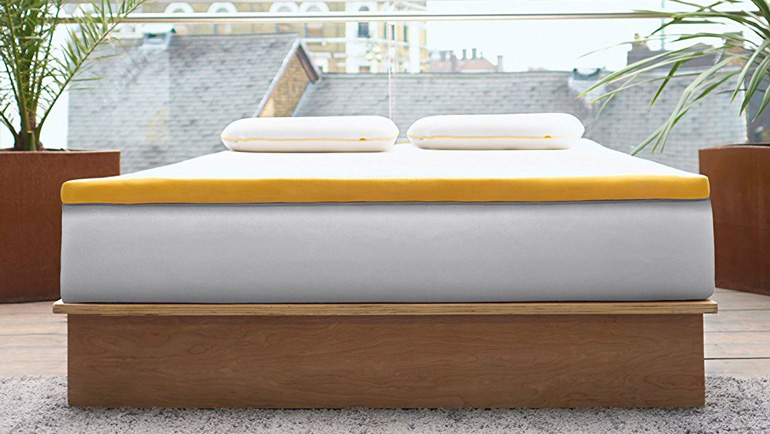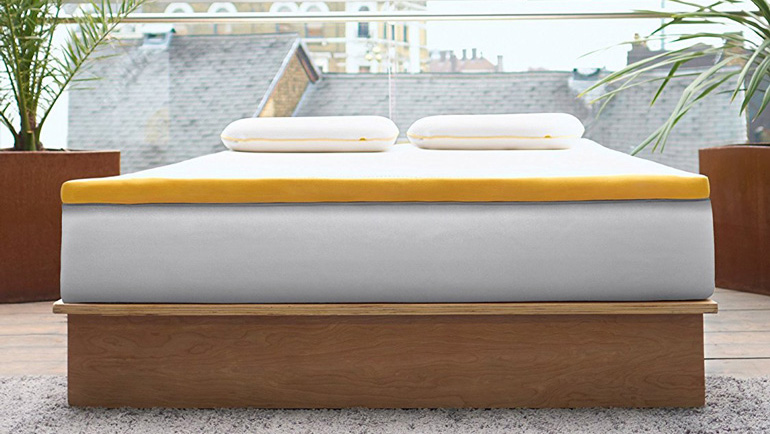 PROS
Comfort
Support
Breathability level
Choice of materials
Maintenance
CONS
Price – it's the only downside. We're not saying it's overpriced per se, but you'd have to save up a little if you'd like to add this to your eve collection.
As with all the products, we have an in-depth review of Eve Mattress Topper in which we explain in detail how the product works and if it's worth your money. In any other case, you can visit their website and order the eve mattress topper online – you're eligible for a free trial so you can judge it yourself, too!
3. Silentnight Airmax mattress topper
Now we are getting to more serious competitors here. We are entering the top 3 and the things are getting pretty hot. Or, actually, cool since we are dealing with highly breathable Silentnight Airmax Mattress Topper.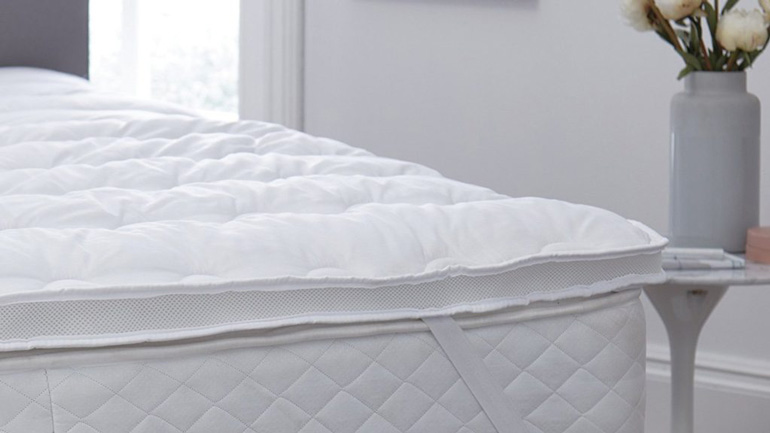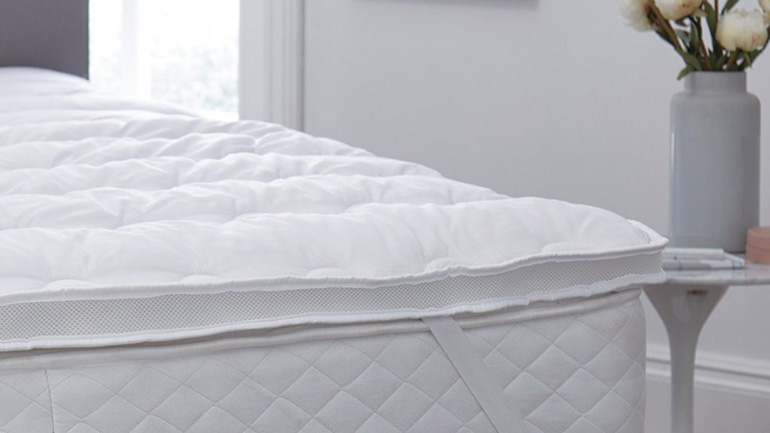 PROS
Breathability
Price-quality ratio
Easy maintenance
Stitching
Comfort
CONS
This topper is really affordable and has an elegant design – if it looks appealing, make sure to check out our full review of Silentnight Airmax mattress topper.
4. Rejuvopedic new microfiber mattress topper
This topper has a lot of promising traits. But what are the cons?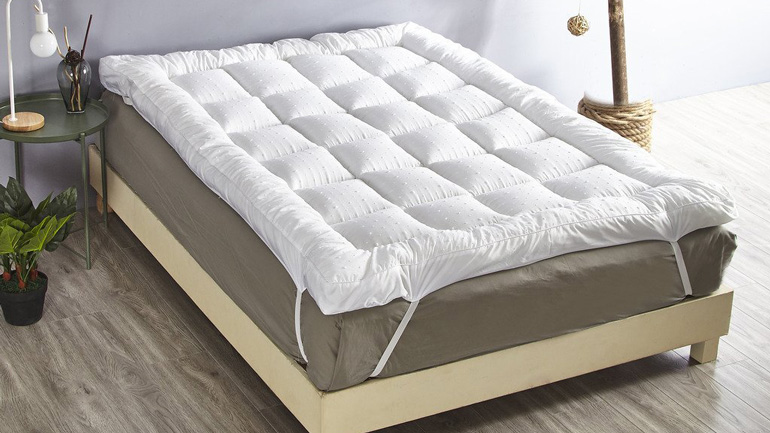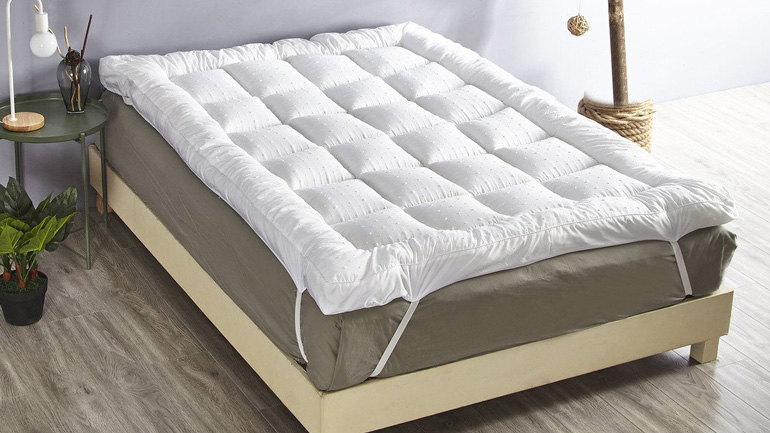 PROS
Creates a cozy effect, great for colder months
Diamond stitching – boosts endurance
Easy to remove and put back
Easy to maintain
Pleasant material
Nice design
CONS
Responsiveness level
Flatness
If this is not convincing enough you are free to read our full review on this product. However, if you think this mattress topper is the best for you you can also order it on Amazon by following the link in the image below.
5. Memory foam mattress topper – Southern Foam
We begin our list with this comfy topper. Let's learn about its upsides and downsides!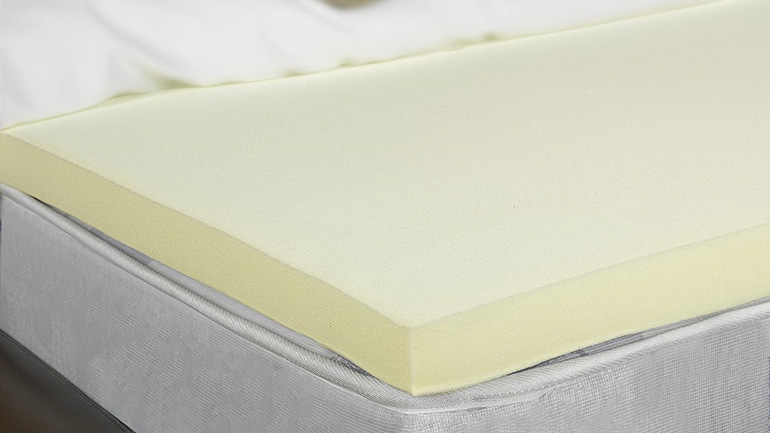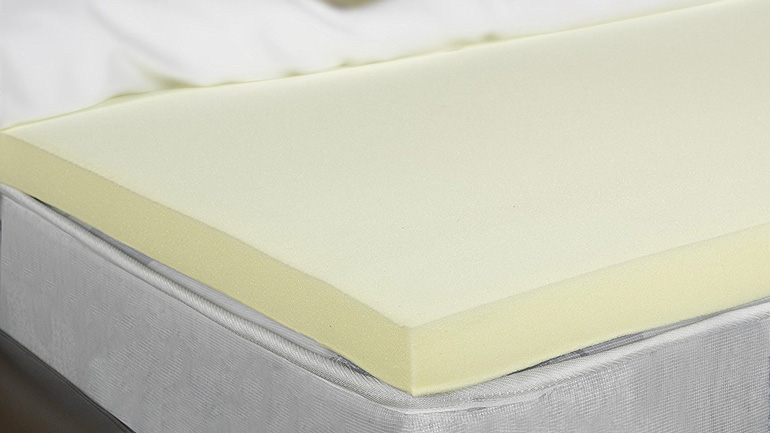 PROS
Level of support
Price-quality ratio
Responsiveness to pressure and weight
General comfortability
Covers are easy to maintain
CONS
Breathability level
The material is not suitable for everyone
If you'd like to check out a full review of Southern Foam mattress topper, follow this link! As for purchasing this topper, you can buy it by clicking the button below.
Why should you buy a mattress topper?
A mattress topper is not a necessity, but it can greatly impact how you sleep at night, if you choose the right one. It adds another layer of comfort to your existing mattress, serves as a mattress protector and you can move it easily in case you move around much. These are all some of the benefits you can get from buying a mattress topper, so let's make a comprehensive list, shall we?
A mattress topper is a great new layer of comfort you can add to an existing mattress.
In case you change locations, or if you're travelling somewhere for a long time, you can use your mattress topper over any sleeping surface to feel right at home.
A mattress topper can also protect your existing mattress from wearing out earlier. You are essentially elongating the lifespan of your mattress, which is the idea, because it's a pretty large investment indeed.
In case your old mattress started wearing out and your are feeling the consequences of it, but still don't have money to replace it, you can get a mattress topper for way less money which can serve as a substitute. Of course, until you have enough money to buy a new mattress.
A mattress topper is a great way to 'modify' your existing mattress. If it's too soft, you can get a mattress topper made of dense memory foam, or vice versa – if your mattress is too sturdy, you can get a synthetic/duck feather or down mattress topper to add an extra bit of fluffiness.
Mattress toppers generally collect less dust, are less prone to getting dust mites and are overall hypoallergenic.
Depending on which material you choose, you can get a mattress topper which can keep you cool or warm at night, depending on your preferences. Also, don't forget that there are many models which have a temperature regulating feature which is awesome for couples with different sleeping habits.
And finally, mattress toppers come at reasonable prices and are easy to use and clean.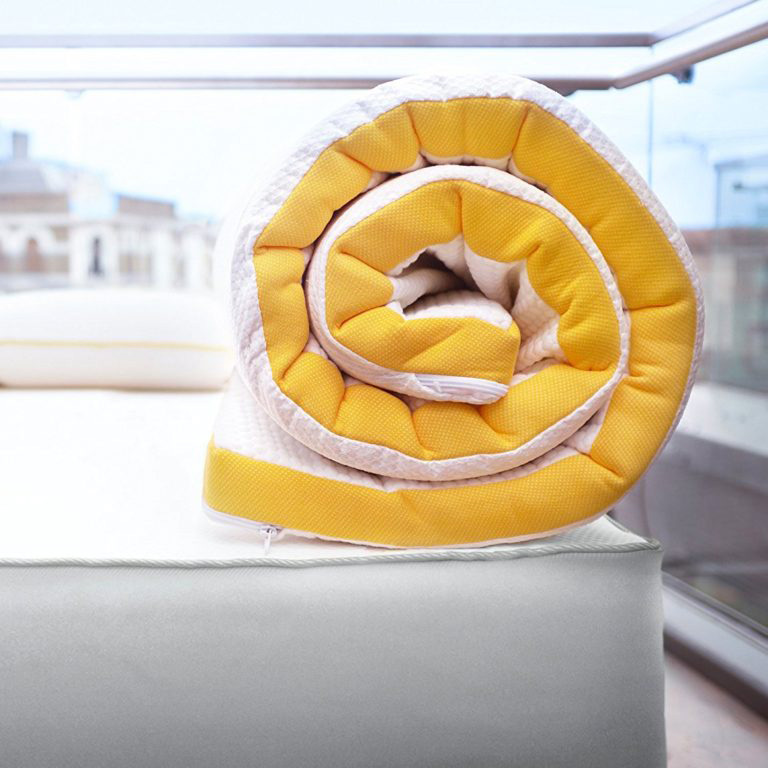 What's the best price range for a mattress topper?
The usual prices for mattress toppers range from $20 up to a couple of hundred bucks. However, that all depends on the kind of technology that is used in the production of the topper and the kind of materials used in it as well. For example, a good bamboo mattress topper (or any kind of sleep gear) is fairly difficult to produce in a natural, sustainable and toxic-free way, that it definitely has to end up on the higher end of the price range.
However, as we mentioned, toppers are not a necessity, so in case you just need a cheap way of making your existing mattress become even more comfier, you can definitely spend from about $50 to a $100 without feeling like you threw your money away. Of course, we always recommend buying a topper which will definitely be worth the money and not be a disappointment. This means that if you have the means, do please invest in a higher-quality topper, because they are safer and definitely way comfier than some off-brand or suspiciously cheap toppers.
What kind of toppers are there?
There are many kinds of mattress toppers you can buy in shops and online. They vary in size, materials and other extra features. Some of them included are: easy-to-remove covers, temperature regulating features, gel infused toppers, and many many others. As for the materials, you can look for:
| | | |
| --- | --- | --- |
| Material | Upsides | Downsides |
| Synthetic/Polyester | Easy to maintain, hypoallergenic, adds a soft layer to the mattress, cheap. | No temperature regulating features, may give off a sinking feeling to some users. |
| Feather/down | Extremely soft and comfortable. easy to find and is moderately priced. | It's best not used on an already soft mattress, may overheat, some may be allergic to natural down, but there are synthetic down versions. |
| Wool | Also adds a nice comfort layer, long-lasting topper, easy to wash, doesn't overheat. | Doesn't conform to the shape of the body as much as memory foam does, requires frequent fluffing, may have odour, and it's also hard to find and expensive. |
| Memory foam | One of the comfiest and most popular materials for mattress toppers with various price ranges so you can definitely find one which suits your pocket. | Chemical smell may be present at the beginning, tends to overheat, and depending on the thickness may feel like too soft or too sturdy so you have to find the right balance. |
| Latex | Great for people who love to sleep on harder surfaces, helps with back and neck pain, very breathable, doesn't overheat, very durable. | Its weight is heavier than other types, it's not easy to clean, and also, it's very rare so the price range is up. |
| Bamboo | Hypoallergenic, comfortable, durable, sustainable and eco-friendly. | A little more expensive, very few companies manufacture them. |
Conclusion
This is not a first time that Panda product wins our Top 5 Competition. It seems that choosing bamboo as the main material was really a way to go. This material showed to be very pleasant, resilient and highly hypoallergenic. Plus, Panda's products are designed with creativity and care. So, we can say that these products are a combination of what's good from nature and what's good from our technology.
But, don't forget, it's hard to enter our Top 5 Lists. That means that all of the toppers that ended up here are great. Panda Mattress Topper showed to be the best, but this doesn't mean that some of the other toppers from this list wouldn't bring comfort to your bedroom. As a matter of fact, we are sure that all of them would. Plus, there is always a matter of personal preference and budget. So, even though Panda won our competition, you would maybe prefer Eve or Silentnight. You can't really go wrong with any of them.