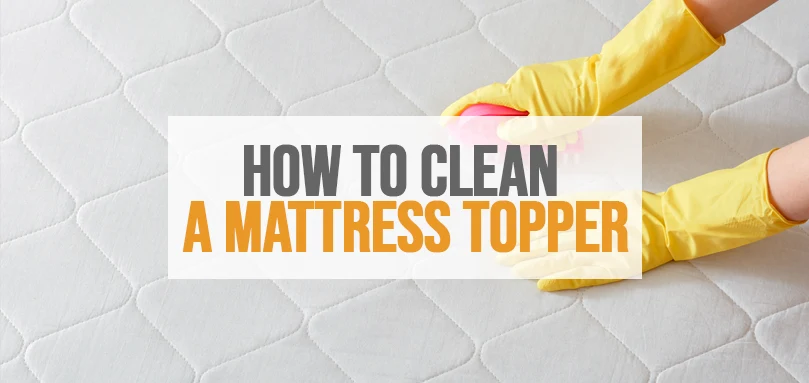 How To Clean Mattress Topper Properly?
Did your new mattress topper lose its shine and pleasant smell? If it did – don't worry. With our tips on how to clean your mattress topper, you'll get it back to as good as new in no time!
Second only to a good mattress, a mattress topper is one of the key components in maintaining healthy sleep. A mattress topper is so great that it can transform a mediocre mattress into something more than passable, but what's even better is – it can transform a good mattress into a great one. On top of that, you can make the entire surface more comfortable and increase the level of support.
However, like any other thing we sleep on – it gets dirty and it will require washing. Fortunately, unlike mattresses, a mattress topper isn't too hard to clean. It all depends on the type of mattress topper you have, but in general, there are some basic techniques and tricks that you can apply to almost every mattress topper to keep it squeaky clean for a long time.
So, without wasting any more of your time – let's get right to business. Here's a quick info on how to clean a mattress topper and generally keep your bedding in the good condition.
Mattress topper basic cleaning
First things first – let's start with the basic cleaning techniques and things that you can do from your own home. For starters, we'll keep it simple, because in most cases, this is the only thing you'll do, with the exception of an annual deep cleaning, but more on that later.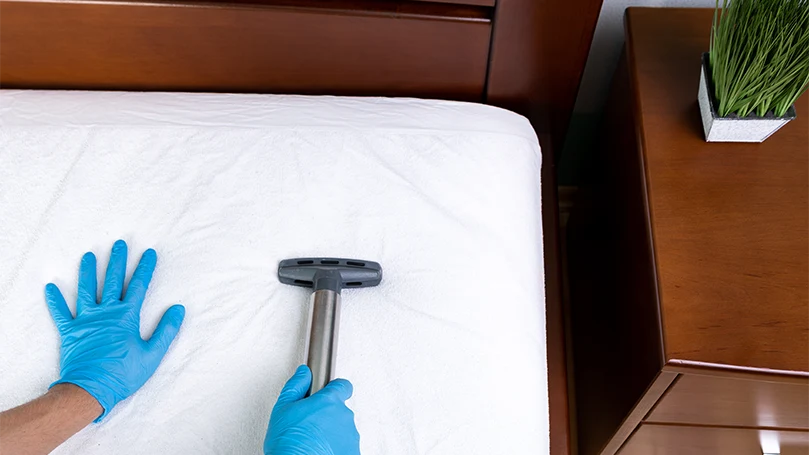 The first thing to do before washing is actually assessing how dirty the mattress topper actually is. Is it too dirty that you need to buy a new mattress topper or you can clean it? If the topper is fairly clean and you just need to freshen up – even some of these basic cleaning methods might be too much. Be that as it may, let's check out a few basic methods on how to clean a mattress topper.
Remove bedding and wash it
The easiest and the most obvious method to cleaning a mattress topper is to remove the topper cover and give a good, thorough cleaning in the washing machine. Just make sure that your removable cover is machine washable. You'll want to clean the bedding at least once every two weeks, to maintain a clean, healthy environment for you to sleep in as bedding can be a great place for dust mites or dust.
Remove a topper from a mattress
To begin cleaning the actual mattress topper, you'd first have to detach it from the mattress. The reason why you're removing the topper is that you will have to clean both sides, and you can't do that while the mattress topper is on the mattress.
Also, be very careful with the memory foam mattress toppers because thin foams can easily rip and damage, and that's the last thing you want to do.
Vacuum the mattress topper
After you've removed the topper from the mattress, you'll want to give a thorough vacuuming. Once again, you'll want to be careful with the vacuum cleaner, as you don't want to damage the foam or the filling. Naturally, you'd vacuum both sides.
Sprinkle baking soda over the topper
To remove stains and really clean the mattress and remove all the dirt and smell from it, you'll want to sprinkle a thin layer of baking soda all over the mattress topper. Don't overdo it. The mattress topper won't be cleaner if you add more baking soda.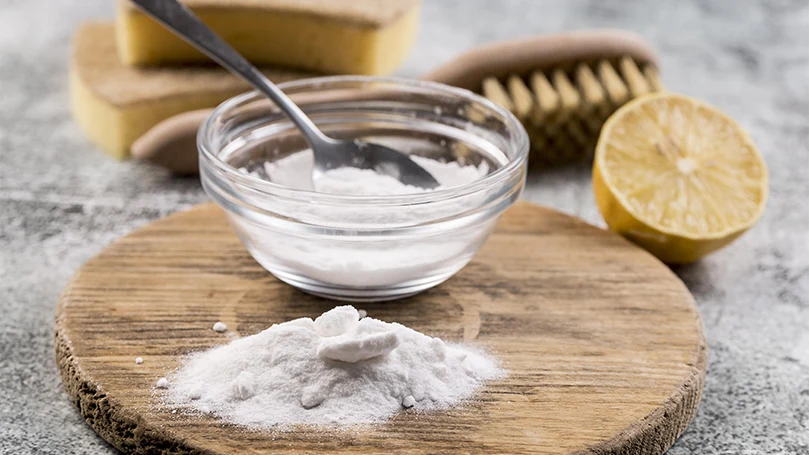 Once you've sprinkled baking soda all over the topper, you'll want to leave it out for about 8 hours. This should be more than enough for baking soda to do the trick.
Once you have waited for the 8 hours, once again, you'd grab the vacuum, only this time to remove all the baking soda that's been sitting there. Do it thoroughly, as you don't want any baking soda to stay there.
Flip it and repeat the process
After you're done, repeat the process for the other side of the memory foam mattress topper. This whole process could take about a day or two, but no more than an hour of active cleaning to remove stains will be needed. Repeat the process as well in case you notice a bad odor is still there.
Mattress topper deep cleaning
In some instances, however, a regular baking soda cleanse just won't cut it. If the mattress topper hasn't been cleaned in a while, or if you have spilled some juice or any other liquid all over it by accident – you will need to resort to some other methods. In addition, the detergent won't be able to clean the unpleasant odors in your memory foam mattress topper.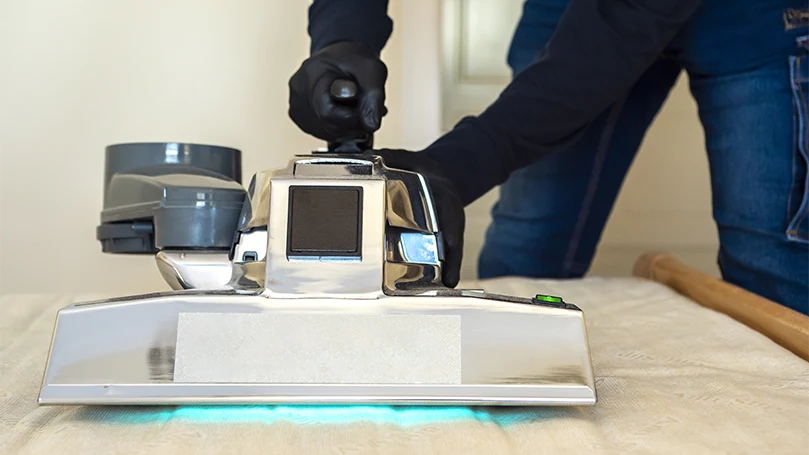 Remove remaining liquid from a topper
Spills and liquid create stains and unwanted moisture that should be washed ASAP. Naturally, once again, you'd first remove the covers and throw them into a washing machine. But besides that, if the reason for deep cleaning is an accidental spill – you'll want to try and dry out all the extra liquid from the topper. You can use a paper towel for this as paper towel is not expensive and is great for removing excessive liquid. Some mattress toppers won't be adequate for washing machines and using the detergent. Therefore, you will need to get a proper solution instead of a regular detergent and perform spot cleaning to remove stains and remove excessive liquid.
If liquid soaked the topper, sprinkle baking soda
In case the topper has soaked up the liquid, spread baking soda all over it. This should get rid of all the excess liquid and help you proceed further. Remember to remove baking soda after the topper dries out.
Mix distilled white vinegar and cool water and spay the topper
If you want to clean a memory foam topper, grab a spray bottle and mix equal parts vinegar and cool water to spray over the stained area. Instead of laundry detergent, you can use whichever vinegar you want, as long as it's white. Just make sure you don't soak the topper. Keep your topper dry as much as possible.
Blot out the excess liquid
If you did overdo it with water and vinegar – don't worry. Just grab paper towels or any other fabric and wipe off or blot out the excess liquid gently. We highly recommend paper towels as paper towels are not expensive and are used easily.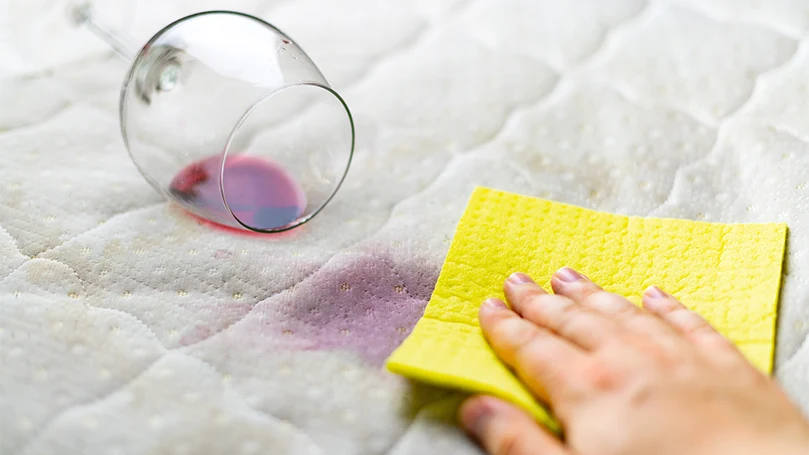 Sprinkle baking soda over the topper
After the water and vinegar have dried out, sprinkle the topper with a generous amount of baking soda, and once again, leave it there for 8 hours. Additionally, before sprinkling additional soda, you can remove the baking soda using a cloth soaked in cold water.
Once the eight hours have passed, grab a vacuum and gently, but thoroughly, vacuum all the baking soda from the topper.
If there are any other stains, repeat the process
If there are any remaining stains after you've deep cleaned your mattress topper, feel free to repeat the process again. If it doesn't work out the second time – the damage is done. The stain will remain, though you may be able to remove the odors from your bedding and mattress toppers.
Naturally, before using the topper again, you must let it air dry entirely. A wet topper could quickly become mouldy and infested in case you don't air dry it, which is not something you'd want. Ultimately, you should let topper to dry in the direct sunlight. The direct sunlight will dry it out completely while killing gems.
What cleaning solutions/agents can I use for cleaning mattress toppers?
For some easy or not so easy removable stains, you don't have to wash the entire topper. You could just deal with the stain and then just clean your topper when you would regularly clean it.
In those instances, you may need to take a slightly different approach. Here's how.
Hydrogen peroxide can be a good choice if you're dealing with some stubborn stains that can't be removed with soap or vinegar. Keep in mind, hydrogen peroxide is quite abrasive, and it can bleach your topper, so use it carefully and only use it when absolutely necessary.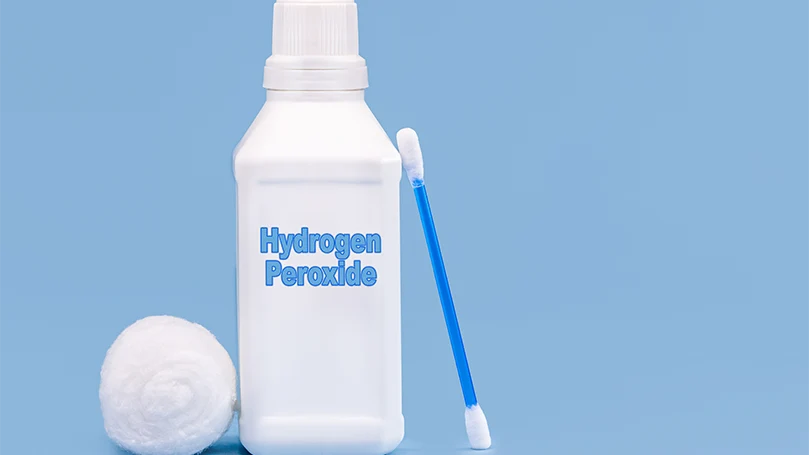 Mild dish soap can be quite effective in removing stains from mattress toppers, though people think first of laundry detergent. Mix in a little amount of dish soap with warm water (avoid cold water) and create a foamy mixture for your foam topper. You'll only want to use the foam to clean the topper, as you want to avoid soaking the topper with water.
As long as you're using white vinegar, you can use any kind to try and remove some stains from your sleep surface. Mix in equal parts of water and vinegar in a spray bottle and gently spray it all over the stained area to help clean it up.
Once again, if you need to remove some stubborn stains, you can use commercial enzyme cleaners. There are commonly used for biological stains such as blood or urine. These aren't abrasive as hydrogen peroxide but are also very effective. They can be bought in most stores.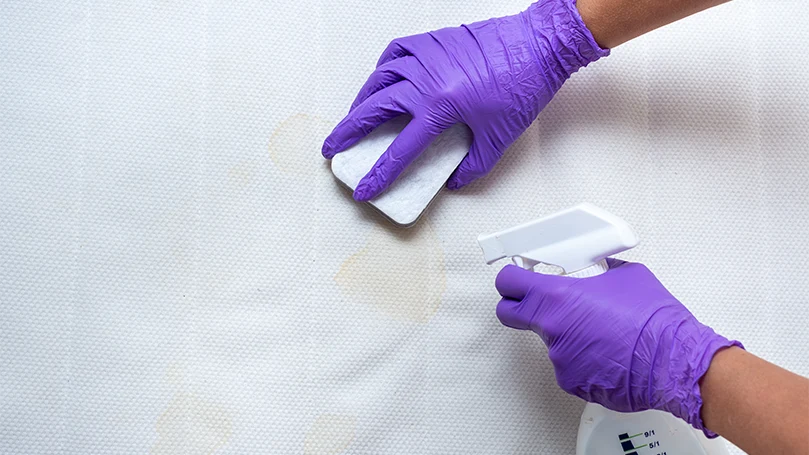 FAQs about cleaning mattress topper
In the end, we wanted to answer some frequently asked questions about cleaning mattress toppers. We thought it would be a good idea to end this with some helpful, straightforward answers to some common questions.
How do I clean urine from my mattress topper?
You can clean urine from your mattress topper either with an enzyme cleaner or with a mixture of dish soap, baking soda and hydrogen peroxide. it is better to use a specialized solution for this type of cleaning.
What cleaning solution can I use for my mattress topper?
There are various cleaning solutions you can use to clean your mattress topper - just make sure they work well with each other. For instance, baking soda and hydrogen peroxide work really well with each other, but neither of them should be mixed with vinegar. Don't forget to follow the instructions for care.
Why do mattress toppers turn yellow?
Mattress toppers turn yellow for a number of reasons, but most commonly, they turn yellow due to stains from skin oil, dead skin, dirt or sweat. Getting a mattress protector or often washing the cover should do the work.
How often should I clean my mattress topper?
You can clean the cover as often as you'd like, but a topper itself should be cleaned every two to three months, depending on how often you use it. If you have odor problems, you will need to perform deep cleaning.