10 Beds For Small Rooms That Won't Take Too Much Of Your Space
Fitting a bed in a small room can be troubling, but with these space-saving beds – you won't even notice your room is small!
Not everyone has the luxury of a large bedroom. Some of us have to rely on space-saving solutions to make our small bedrooms as cosy as possible. On that note, we've decided to present you with 10 beds for small rooms that won't take too much of your space.
What we're also going to do is to offer you some great tips that will transform your small space into a lovely, comfortable bedroom – whether we're talking about a kids' room, master bedroom, or guest room.
So, let's not waste any more of your time and let's get straight to these ten pieces of space-saving furniture, and some additional tips.
Strictly Beds & Bunks with sprung mattress
Bunk beds are a perfect solution for a small kids room because they allow you to use the extra space for something else – like a desk or a closet. This loft bed, made from the finest Scandinavian pine, will fit pretty much any bedroom due to its natural look and feel. With two ladders leading up to each bunk bed, this one will not only stop your kids from fighting over the top bunk but will also make them exercise a little bit. And oh, did we mention that you can also get it with an open-coil mattress?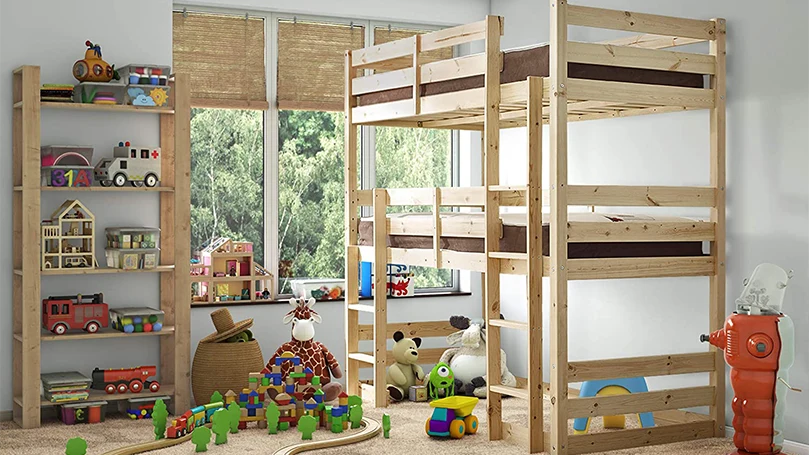 Direct Furniture Suppliers 4ft white ottoman
If you're tight for some additional storage space, this ottoman bed has got you covered. Get this lovely, ottoman bed in white, black, or brown, and with or without a mattress, and place it against the wall of your bedroom. That way, you'll have more than enough room to move around, and the storage unit inside the bed will be a great solution to your storage issues. Keep your beddings, duvets, blankets, or even clothes inside of your bed and never again worry about a closet not fitting in your bedroom. Also, the contemporary design of this one should be a solid fit for pretty much any bedroom.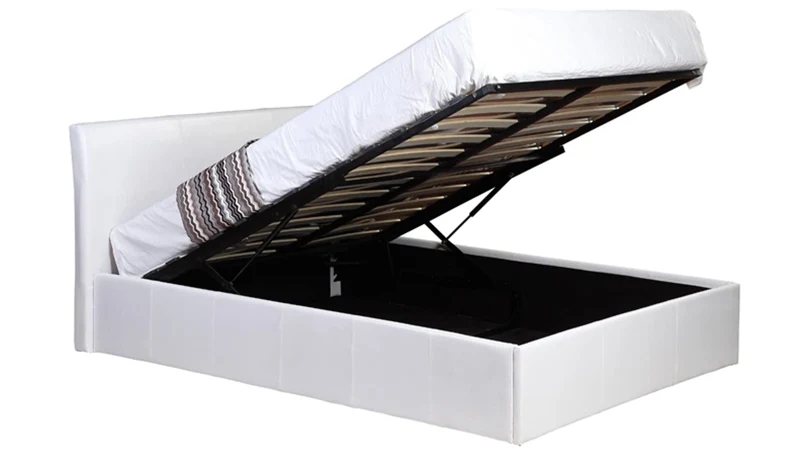 Silentnight Hatfield Memory Foam 2 Drawer Divan
This sleek divan bed is the cure for small spaces. This space-saving bed with a high-quality memory foam mattress is available in 24 different colours. If you can't find a way to match this mattress to your bedroom – we don't know what to tell you. You know what else is impressive about this one? You can get with two or four drawers, no drawers, a mini-drawer, as a half-ottoman or as a full ottoman bed, and more. Honestly, a bed like this is an absolute lifesaver for a small room. Put it in a master bedroom, kids bedroom, or even a small guest room – it'll fit any room perfectly.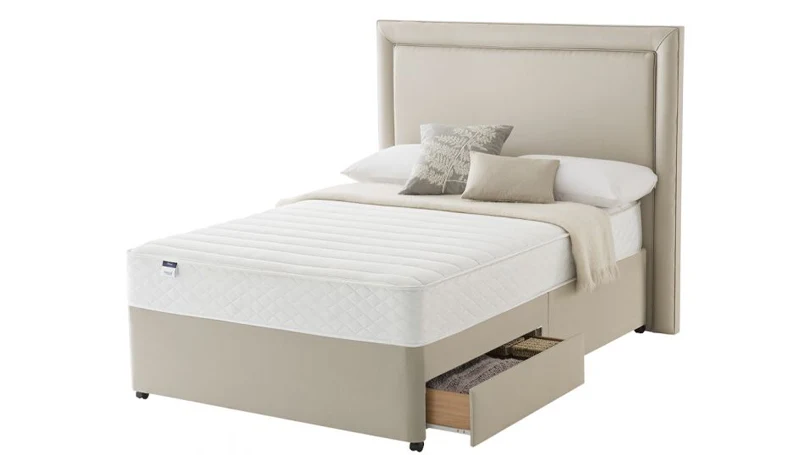 Silentnight Mirapocket Latex 1400 2-Drawer Divan Bed
A majestic bed with a latex mattress such as this one is a perfect bed for a modern, small bedroom. It won't take up a lot of room space and it will match any decor perfectly. Just imagine this one sitting next to a window, looking over the city from your small flat. Idyllic, isn't it? Just like our previous pick, this one also comes with loads of different options for storage, so don't worry, you won't have to think about fitting a closet in the bedroom. Also, once again, you get to choose from 24 colourways, but if you want our advice – go with the Midnight. It's just so lovely!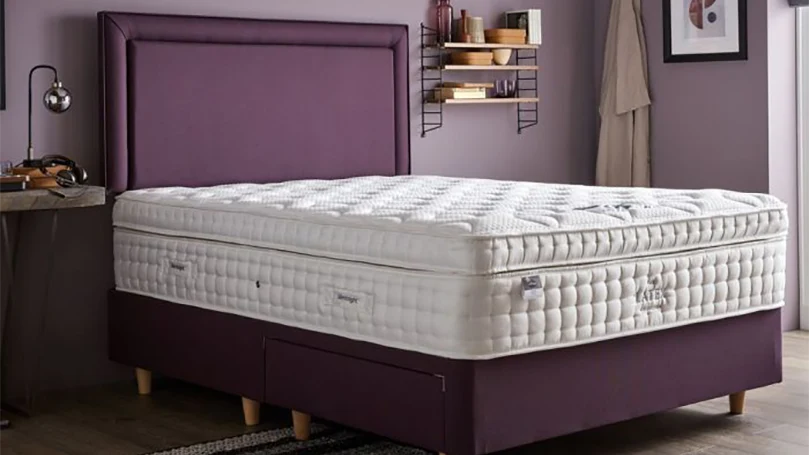 Buxton Pine Wooden Guest Bed Frame
This pinewood space-efficient wonder is a twin bed in a body of a single. Two beds in one. Sort of. When folded, this one takes up (almost) less floor space than a murphy bed, but when you pull the bottom portion out – you'll get yourself a nice bed that two can comfortably sleep on. This is a great alternative to a pullout bed or a sofa bed, although unlike those, this one won't fit a living room. This one's more tailored towards a tiny room and awkward spaces that can take advantage of a bed like this.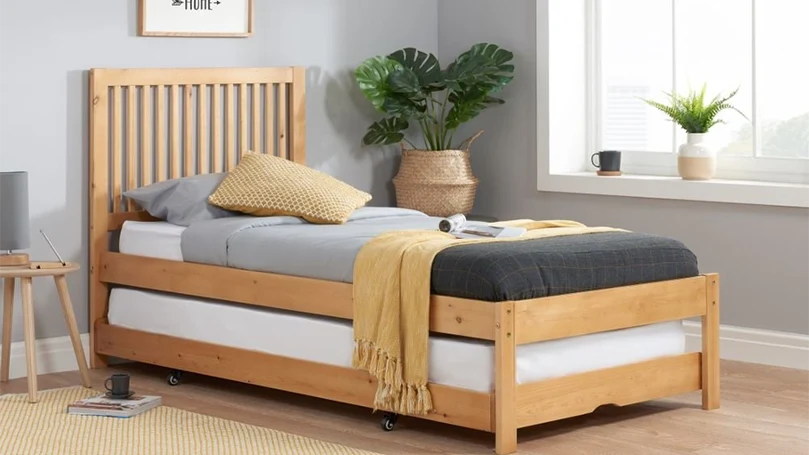 Arctic Grey Wooden Low Sleeper 4 Drawer Storage Bed Frame
This bed is an absolute king when it comes to small space-saving storage having beds. A perfect bed to place next to a wall and have all that extra floor space you would've otherwise wasted. The space beneath this one is a virtual closet. Four large drawers and a cabinet? Wow. Honestly, you probably couldn't fit this much stuff in an ottoman queen bed. Available in grey and white, this one feels like it belongs in a modern room, but with great bedding – we can see this one in a lot of rooms.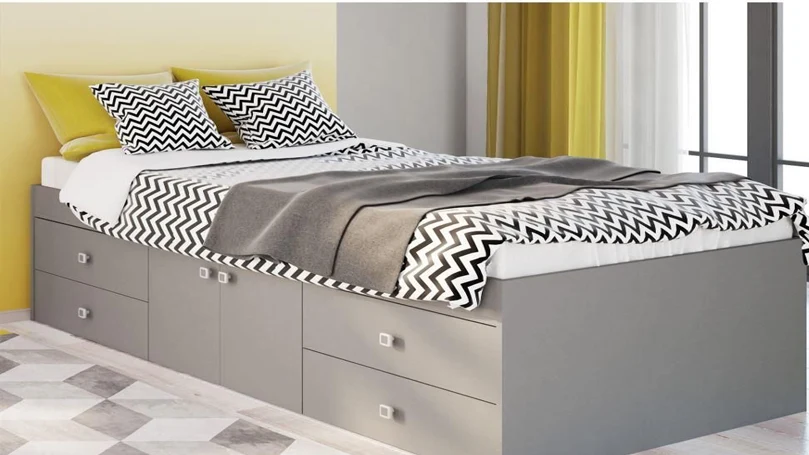 Orion White Wooden Storage Bunk Bed
Kids' rooms around the world are crying over this loft bed. This is a bunk, bookshelf bed with built-in storage space – what more could you possibly need? Designed to fit next to a wall, this one will save as much space as possible, leaving your little rascals with extra space for playing and messing around. They can put their toys inside of a built-in drawer, and leave their books on the storage shelves when they're not playing or studying. Pair this one up with a cute desk, a fluffy carpet, and you have yourself a fully equipped kids bedroom.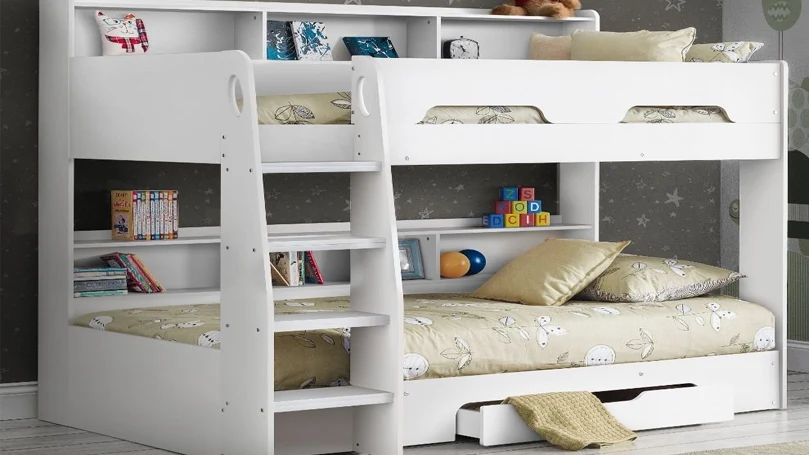 Jay-Be Jubilee Folding Bed with mattress
This bed is so tiny it could fit underneath a platform bed. Ideal for storing it away – this bed folds up in half to save space. You can toss it behind a closet, put it underneath the bed, or just keep it in the corner of the guest bedroom, and have them unfold it once they are ready to go to sleep. Oh, it also comes with a mattress. Don't worry about storing the mattress once you fold the metal frame – just keep it in there.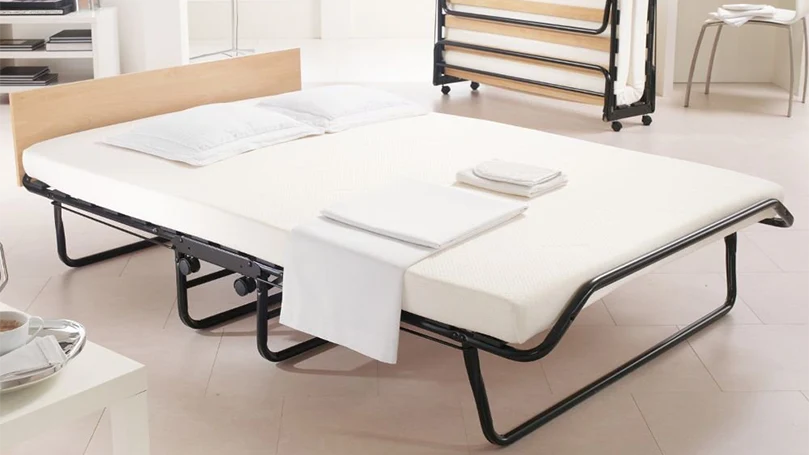 Captains White Wooden Guest Bed
If you're really pressed for storage space, a bed like this really comes in handy. This small, compact bed frame comes with a ton of storage space – three regular drawers and an additional large one. The wooden frame of this bed makes it suitable for pretty much every small room out there, whether you get it in white or pine. Either way, it'll match your decor and save some space. But, check this out! The top, larger drawer, could also be a bed. Just toss a mattress inside of it, pull the drawer out, and you'll have yourself two single beds inside of one. Stackable beds at their finest!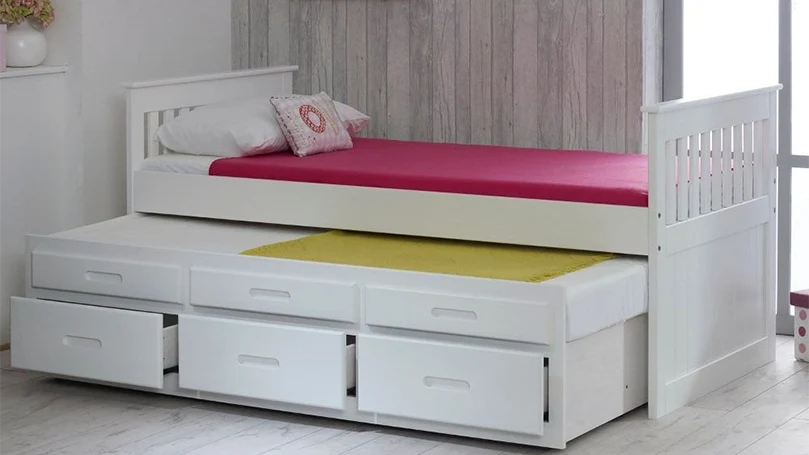 Metro Wooden Folding Guest Futon Brown Mattress
It's not a sofa bed, but this folding futon can be a great solution to several of your problems. Keep it in a guest room or a living room even – a futon like this can be a great solution when you need some seating area during the day, but also a bed later in the evening. In terms of space-saving, this is one of the best beds, if we could even call it that, that we've come across. As far as we're concerned, everyone should have this futon, whether they need the extra space or not. And, get it in Cream and add an accent pillow to it – it will look so good with the natural pine body.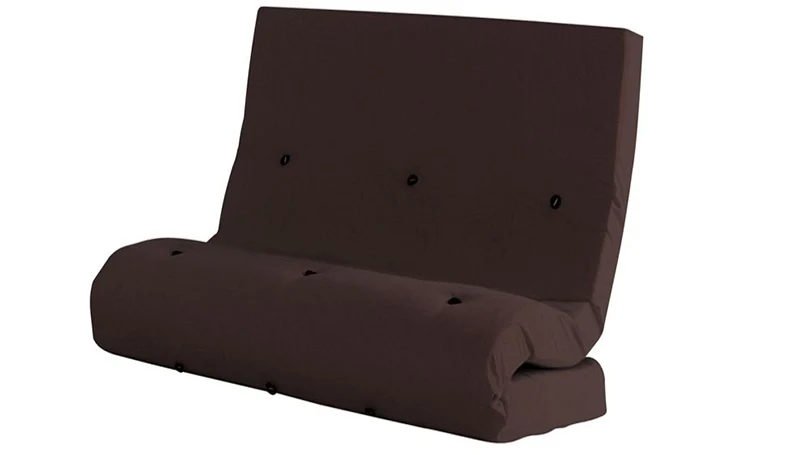 So, what do you think? Do these ten space-saving beds feel like they belong in your small room? We certainly feel so. If anything else, they're a much better option than an air mattress you'd blow up every time guests come around.
One final space-saving tip – always keep your beds next to a wall. If you get a single, don't just lay it across the middle of your room – that doesn't make any sense. Put it next to a wall and leave some extra room for other furniture. Apart from that – knock yourself out! We're sure you'll do a great job!