Virage Ottoman Upholstered Bed Frame Review
The mattress always gets all the credit for a good night's sleep. Although the mattress is the most important in combination with the pillow, put the mattress on the floor and try it. You will find that it is nowhere near as comfortable and supportive as it is when placed on a bed frame. Many do not know the importance of the bed frame and think that its only role is aesthetics, which is just one of many roles. We consider bed frame to be the most important type of bedroom furniture. Find out everything about Virage Ottoman Upholstered bed frame in a review by The Sleep Advisors.
Who is Virage Ottoman Upholstered bed frame for?
It is simpler to tell you for whom this product is not. Virage Ottoman Upholstered bed frame is not for those who need a single bed frame. For everyone else this bed frame is potentially suitable. It is supportive and stable.
It looks very nice and provides you with storage space, so Virage Ottoman Upholstered bed frame is great choice for a large number of customers.
What do we use this product for?
We use this product for support. It is essential that the mattress is on a stable and supportive surface in order to be able to provide all the performance that the mattress manufacturer advertises and that is why you decided on that mattress in the first place. We use this bed frame also for extra bedroom storage.
We use it for stability.
We use it for support.
We use it for modern design.
We use it for storage.
Features you should know about Virage Ottoman Upholstered bed frame
This is the part of the review where we analyze individual features of the product in more detail. We will first focus on the base and underbed storage, and then you will be able to learn more about upholstery, colours and other important characteristics.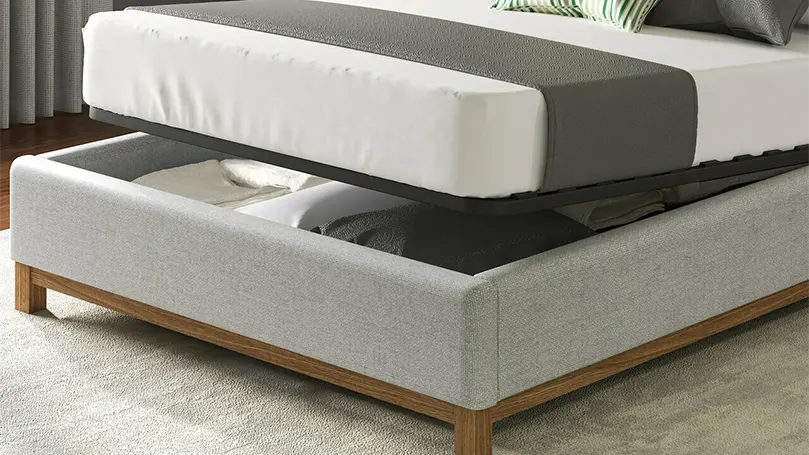 You will very rarely see the base of the bed, in this case the sprung slats that make up the base. You will only see them when you assemble the bed and after that when you flip and rotate the mattress. But you shouldn't forget how important they are. Slats are key to a comfortable night's sleep. This bed frame features sprung slats that are an upgraded version of traditional slats.
They have a different shape, which you will notice by the upward curve. Thanks to this upward curve slats have similar characteristics as springs and hence the name. Due to flexibility, this type of slats not only affects the quality of sleep, but also makes the mattress last longer, because slats absorb movements and reduce wear and tear.
Ottoman bed with underbed storage
You always need more storage space, especially for things like winter duvets and spare bedding. That is why the Ottoman bed frame is one of the most popular types of beds on the market since it is ultimate space saver. Ottoman beds are also called storage beds because of the Ottoman underbed storage space.
Under the mattress and slats you will find storage where you can store all those things that you do not use often. Since the gas hydraulic system is very durable, you can also put away things that you use more often because it is easy to get to storage, and the system will work for a long time.
We believe that you will instantly fall in love with the upholstery of this bed frame. It looks nice and makes this bed sleek. We couldn't find anywhere what material was used for the upholstery so we contacted Bensons for Beds support.
Kudos to the guy from support who was very kind and answered our question quickly. He informed us that the material is a blend of cotton polyester. It is a fine material, which is usually very durable.
Two colours are available – Gray and Oatmeal. Both colours are very light, especially gray. These are elegant colours that should fit well into any interior. However, it would be good if Bensons for Beds offer another colour, some which is a little different from these two, just in case if some customer has a different bedroom in mind.
Bed frame is a bulky and expensive product that you do not want to change soon. That is why it is important to buy a quality one and check if it comes with a warranty. Generally a bed frame made of high-quality wood, metal and fabric should have no problems with durability, but better to be safe than sorry. This bed frame comes with a 5-year warranty which is adequate and gives you a piece of mind.
Virage Ottoman bed frame requires self-assembly. There is no option to have a delivery team assemble a bed frame for you. But don't worry, assembling this product is rather simple. All you need to do is follow the instructions that you will receive and have basic tools. Also, our recommendation is not to try to assemble it yourself because you probably won't succeed. You need at least one more person to help you because there are a lot of parts and most of the parts are heavy.
Review of Virage Ottoman Upholstered bed frame
Virage Upholstered Bed Frame is an Ottoman bed frame available in three sizes – Double, King and Super King. Wooden base is made of ash which is strong and dense wood, but lighter than oak. Sprung slats contribute to comfort and provide support, as they are flexible and adapt to your movements. This is why they are much more forgiving to the mattress than classic slats. The gas hydraulic system raises and lowers the bed without having to move the mattress to reach large under bed storage where you can place even a suitcase. The bed is slightly raised to make it easier to clean the underneath.
It is upholstered with a blend of cotton polyester, and you can choose between two neutral colors – Gray and Oatmeal. Warranty is valid for 5 years.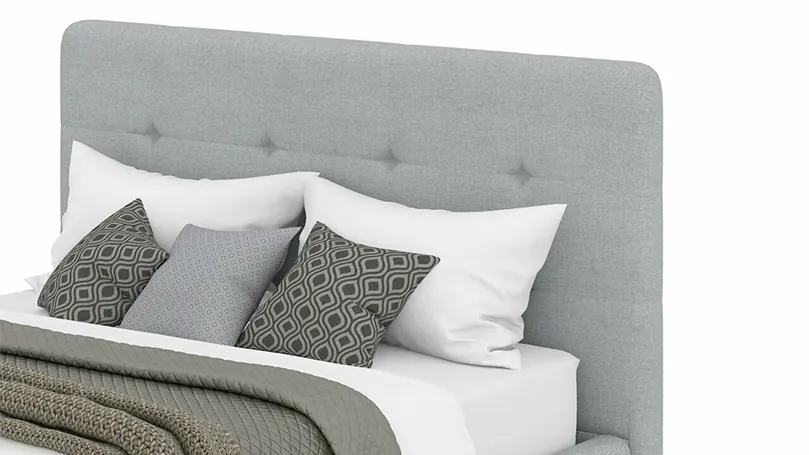 Type: Ottoman
Size: Double, King, Super King
Colour: Grey, Oatmeal
Base: Sprung slats.
What we like about Virage Ottoman Upholstered bed frame
No matter how much you toss and turn in your sleep, this bed frame will remain stable
It looks very nice and elegant in both available colours
Plenty of storage space that you can reach thanks to the high-quality gas hydraulic easy access system.
What we didn't like about Virage Ottoman Upholstered bed frame
Although not the most expensive, it falls into the category of more expensive Ottoman bed frames on the UK sleep market
If you need a single size, look for another bed
You have to assemble it yourself, which some customers may find challenging if they have never done it and do not have the tools.
What makes this product better than some other similar ones?
When you look at the reviews on Trustpilot you will see that there is only one 1-star review and no 2-star reviews, so that speaks volumes about the quality of this product. We also hardly have any criticism, so all this overall makes Virage Ottoman Upholstered bed frame better than some other similar ones. If we have to single out a few things, it is the quality of the wood and materials used for the upholstery, as well as the fantastic gas lift system. We believe you will not regret paying 450£ or more for this great bed frame because it will provide you with excellent sleep and storage for many years.
How did we test the product?
As you might expect, shipping is free. On the website you will find that free delivery is available in approximately 1 week. That is accurate information, at least from our experience.
After the bed frame was delivered to us, we first checked each part before assembling it. We recommend that you do the same, because if you notice a defect of any part, you can report it. But if you notice this only when you assemble it, the manufacturer may consider that you have damaged it during assembly. Assembling is easy and shouldn't take too much time when two people are doing it.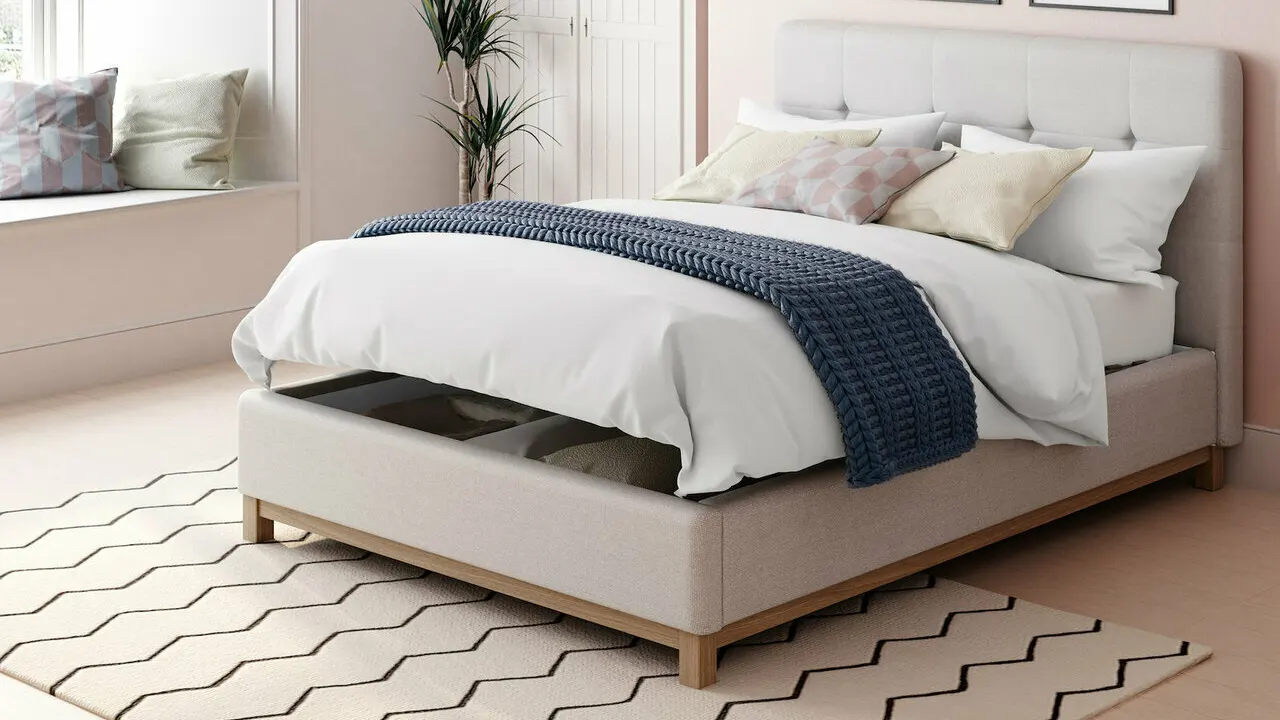 We immediately noticed that the Virage Ottoman Upholstered bed frame is very stable, even when you raise the base to get to storage. We tested different types of mattresses on it and had no problems at any point. After more than 10 days of testing we were ready to write this review for you.
FAQs about your Virage Ottoman Upholstered bed frame
Finally, find out the answers to frequently asked questions.
Is Virage Ottoman Upholstered bed frame good for all types of mattresses?
Yes, Virage Ottoman Upholstered bed frame is good for every type of mattress.
How do I clean my Virage Ottoman Upholstered bed frame?
You can spot clean it if necessary and vacuum it time to time.
Is Virage Ottoman Upholstered bed frame made of wood only?
It is made of solid ash wood, but you can also find metal as part of Ottoman mechanism and fabric for upholstery.