OTTY Bed Frame Review - A Versatile & Eco-Friendly Bed Frame
The importance of the bed frame is often overlooked because a large number of customers believe that the bed frame does not play a big role in the quality of our sleep and that the mattress is the only thing that matters. This is completely incorrect, as the bed frame also has a big impact on comfort and support. Here is your review of OTTY Bed Frame by The Sleep Advisors.
Who is OTTY bed frame for?
OTTY bed frame is a very versatile product and that is why we cannot say that there is someone to whom it will not suit. OTTY points out that this bed frame can be used with a memory foam, hybrid mattress or any other mattresses on the market that is the right size, so it is not necessary to have one of the mattresses that OTTY has in its offer.
On top of that, it is environmentally-friendly product which gives it even more value. Therefore, it is the perfect pick for those who want to ensure themselves eco-friendly furniture that will last long but also protect our environment. 
Add a header to begin generating the table of contents
What do we use this product for?
We use this product to provide ourselves with the perfect night's sleep. OTTY bed frame will give you the necessary support and stability to make you comfortable and to be able to feel the full potential of your mattress. Also, we use OTTY bed frame because it is not hygienic for the mattress to be on the floor, and using a bed frame reduces the wear and tear of the mattress, which is another benefit. To summarize – this product is great for sleepers who want a bed frame that is:
An eco-friendly
Stable & sturdy
Highly supportive and comfortable
Well-versatile for all types of mattresses
Long lasting & free of toxic substances.
Features you should know about OTTY bed frame
Construction and headboard are the most important features of any bed frame, so OTTY bed frame is no exception. We will tell you a more about those two features, and we will also mention 5 year warranty.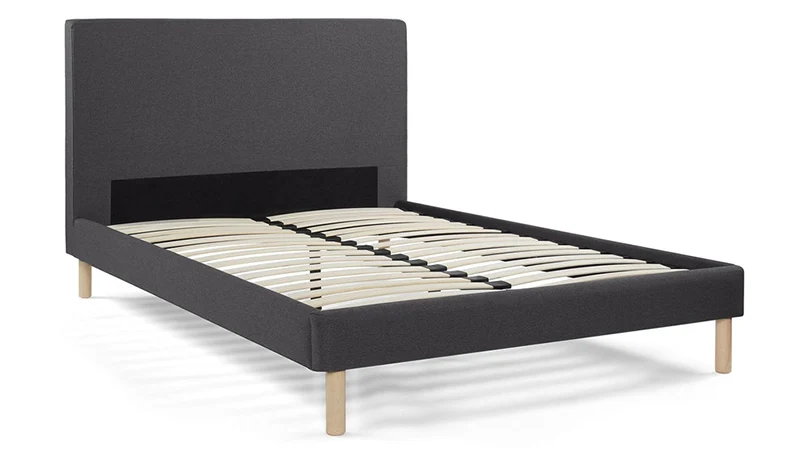 At the beginning of this review we told you that the bed frame has a big impact on support and stability, and the part of the bed frame that actually has the biggest impact on your sleeping experience are the wooden slats.
The wooden slats on OTTY bed frame are set horizontally and are made of environmentally-friendly rubberwood, as is most of the rest of this bed frame. Wooden slats give great support to the mattress, and this is transferred to the support that the mattress provides you. Also, you will notice extra bounce thanks to wooden slats.
Polyester luxurious headboard
The headboard is sleek and simple, as is the rest of this bed frame. It is made of quality polyester which is very durable and will last you a long time. That is the most important thing for a headboard because it is most visible part of the bed, so wear and tear would be very noticeable. The only colour available is dark gray, which is certainly a good choice when only one colour is available, because dark gray will easily fit into any interior.
OTTY guarantees that their products are of very high quality and will last you a long time, and they confirm that claim by giving you a 5 year warranty. Any damage that happens during those 5 years, and are not a direct consequence of your negligence, means that you will get a brand new bed frame from OTTY. OTTY deserves praise for the duration of the warranty period which is usually shorter.
OTTY bed frame is a quality, eco-friendly bed frame of simple, yet luxurious design. The bed frame is made of rubberwood and enhanced by strong metalcore. Thanks to the combination of metalcore and rubberwood, the bed frame is very sturdy and will never wobble when you move while you sleep. Unlike OTTY Ottoman bed frame, this one does not come with a storage space, which is the only real drawback.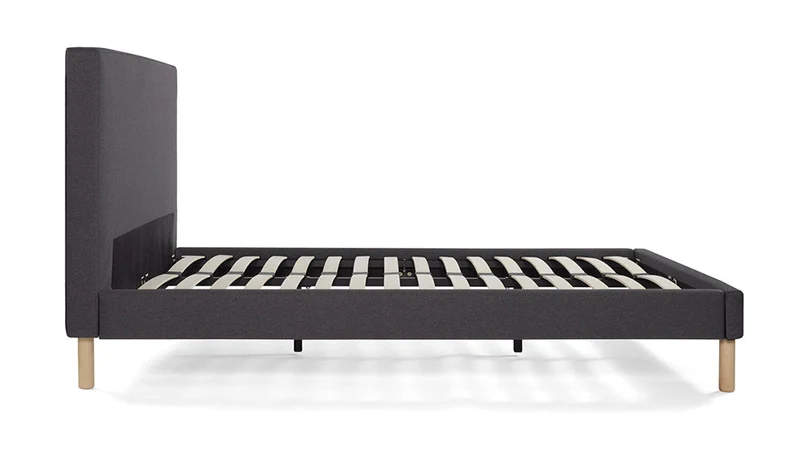 The headboard is made of dark gray color polyester. You have a 30 day trial and a 5 year warranty.
Type: Standard
Material: Rubberwood
Available sizes:

Single, Double, King, Super King

Weight limit: /
Trial: 30 days 
Delivery: Premium 
Warranty: 5-years 
Slat type: bow slats 
Assembly service: Self-assembly.   
Sturdy
Support
5 year warranty.
Only one colour
No storage space
Rubberwood is not premium material.
What we like about OTTY bed frame
OTTY bed frame is sturdy and provides great support
The eco-friendly materials used are great
5 year warranty and 30 day trial period for peace of mind.
What we didn't like about OTTY bed frame
It would be good to have at least one other color available
Expensive considering that rubberwood, metal and polyester were used to make this bed frame
It is relatively low, which means you have no storage space.
Consider OTTY Pure Hybrid Bamboo & Charcoal mattress if you are buying OTTY bed frame
OTTY Pure Hybrid Bamboo & Charcoal mattress has 6 different layers, some of which are responsible for cooling and breathability, and others for support and firmness. 
Support is great on the entire surface of the mattress, and bamboo enhances breathability and wicks moisture away. It is hypoallergenic with minor off-gassing issues. 
If you an advocate of the  environment-friendly products, this is your pick to consider today.
We highly suggest you checking this OTTY mattress review to assure yourself that this OTTY hybrid mattress is the right choice for you.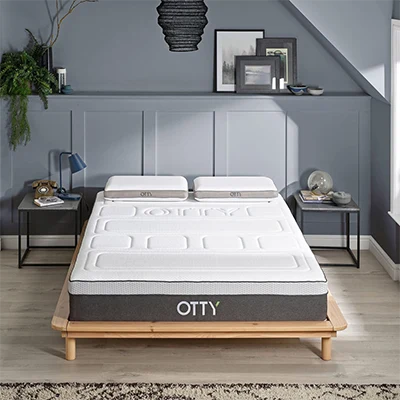 Comfortable
Hypoallergenic
Support. 
No side handles
No removable cover
Off-gassing.
What makes this product better than some other similar ones?
We can say that it is difficult to single out something special that separates one bed frame from another, if we are talking about quality bed frames that OTTY bed frame certainly is. We surely liked how supportive it is and long duration of the warranty, which definitely sets it apart from some other similar products. It is suitable both for memory foam mattress as well as hybrid mattress so we can say that this OTTY Sleep bed frame is highly versatile. Therefore, we suggest you checking our OTTY hybrid mattress review to make sure which mattress is going to be your idea pick.
How did we test the product?
If you already have a mattress before buying an OTTY bed frame, it is important to measure it to know if you are buying the right size. OTTY bed frame is also compatible with mattresses from other manufacturers. Ordering is easy, and the bed frame will be delivered to you in 3 to 5 working days. Delivery is safe, with the highest of hygiene standards and protection in place. You can choose to pay the full amount immediately or in installments.
When OTTY bed frame arrived, we had to assemble it first, as you will have to, so you're probably wondering if it was complicated. Don't worry, it is very easy to assemble OTTY bed frame because it will come in 3 parts, and you will get all the necessary instructions so that assembling the bed frame will not take longer than an hour if two people do it.
After we successfully assembled it, we tried it with both OTTY mattress and with a mattress from another manufacturer. Both are fit well, and we conducted an overnight test with both. Overall we are very pleased with the support provided by the bed frame as well as being very stable. It was comfortable in both cases, with both  OTTY mattress and the mattress from another manufacturer.
FAQs about your OTTY Bed Frame
Customers often have questions about whether OTTY Bed Frame comes pre-assembled or they have to do it themselves and whether it is very complicated. We will answer these and other questions in our FAQs section.
Does OTTY bed frame come assembled?
No, OTTY bed frame does not come assembled and it comes in 3 parts.
Can I assemble my OTTY bed frame?
Yes, OTTY bed frame is self-assembly and you will get all the necessary instructions to assemble it quickly and easily.
Does OTTY bed frame offer a trial period?
OTTY gives you a 30 day trial period so you can be sure it suits you and you want to keep it.
Is OTTY bed frame good for firmer mattress?
It is good for all memory foam mattresses and hybrid mattresses with different firmness levels.