OTTY Ottoman Bed Frame Review - A Convenient Bed Frame For Storage
If you want a bed frame that can easily store all your sheets, duvets, and extra pillows – maybe you could try OTTY Ottoman. This elegantly designed, deep grey bed frame promises to be a welcome addition to any bedroom; however – is it worth it? Well, let's find out!
Who is OTTY Ottoman bed frame for?
OTTY Ottoman bed frame is for all those people that need some extra storage room in their bedroom, but also, OTTY Ottoman bed frame is for those in need of a quality bed frame. What also makes this bed frame special is the elegant design and deep grey colour, making it suitable for almost any bedroom out there.
Add a header to begin generating the table of contents
What do we use this product for?
Aside from using this slatted-base bed frame as a base for your mattress to rest on, we would also use OTTY Ottoman to store all the extra stuff we have in our bedroom. The storage space you get with this one is quite imposing, so not only will you have the room for all the extra bedding – but you will probably have some extra space left.
Features you should know about OTTY Ottoman bed frame
Before you go out and buy OTTY Ottoman bed frame, we must inform you of the key features and characteristics of this one.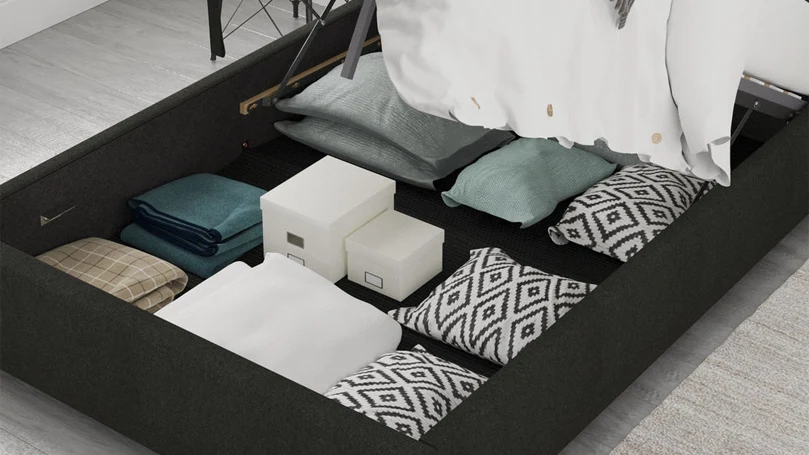 Spacious and 34cm deep storage space
The main selling point of OTTY Ottoman bed frame is quite apparent – it is the 34 cm deep ottoman storage space. This bed frame is most definitely a brilliant solution if you're tight with storage space.
This 34 cm deep ottoman storage space is easily accessible and can hold a lot of your stuff. For instance, if you were to get a Super King-sized OTTY Ottoman bed frame – you'd get an entire cubic meter of storage space. To put that into perspective – a single cubic meter can hold 1000 litres of water, which means it'll be more than enough to store some duvets and blankets.
The wooden headboard covered with dark grey polyester upholstery is certainly a central piece of the entire bed frame. It is elegantly designed – giving out a contemporary feel, as OTTY Sleep calls it. The thin, subtle lining going across the wooden headboard splits it into equal parts, giving it a simple, elegant look, while also helping keep the soft padding evenly distributed and in place.
The headboard stands 111 cm tall from the floor, and it is quite sturdy. So, even if you don't keep your bed right next to the wall – you should have no problem leaning on and resting your head against it while relaxing in the bed.
One of the main issues with the bed frames that come with storage space are the hydraulic struts supporting the weight of the mattress and the metal frame while accessing the storage unit.
The hydraulic struts in this one, fortunately, work like a charm. They will easily support a mattress up to 40 kg in weight without any assistance from you.
Review of OTTY Ottoman bed frame
Now, let's take a look at the final review.
First of all, OTTY Ottoman bed frame by OTTY Sleep looks incredible. There's just something about the classic design and this deep grey that speak volumes to us. Some people may prefer something a little bit more rustic or perhaps flashy – but we do appreciate the elegant, minimalistic approach.
Next up – the ottoman storage space. What's there to say about it? The base of the bed frame is quite solid and durable, so you shouldn't worry about it breaking under pressure. The hydraulic struts are high-quality. And finally, there is so much space down there – it's impressive.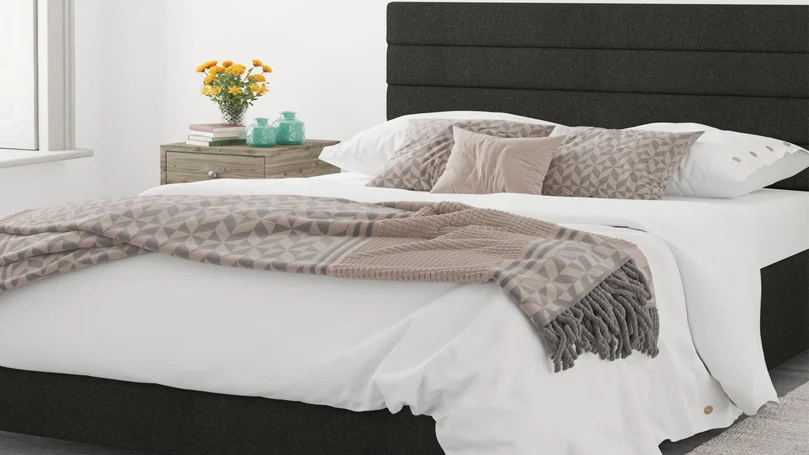 Now, for the important part – the slatted base. This is a sprung slatted base bed frame, which is pretty standard. However, what is not standard is the clearance between the slats. It is a lot more than the industry recommended 7 cm. Sure, the sprung slats are high-quality, bouncy and durable, but the gap between them will make your mattress feel noticeably softer and less supportive than it actually is.
On the bright side, you do get a 30-day trial with an OTTY Ottoman bed frame, so you will get to test it out and see if it works for you.
Our final verdict would be that this is a solid bed frame. However, at this price point – you can probably get a better one.
Material: Rubberwood
Type: Slatted bed frame
Size: UK Single, UK Double, UK King, UK Super King.
A lot of storage space
Contemporary, yet classic design
5-year guarantee and a 30-day trial.
Sprung wooden slats are too far apart
Not the best value for money
Somewhat hard to assemble.
What we like about OTTY Ottoman bed frame
Storage space – there's just so much of it
You can get it in Single size
It should easily outlast the 5-year warranty.
What we didn't like about OTTY Ottoman bed frame
Even though the sprung slats are well-made – they're just too far apart
Unless you pay £10 or £40 for the delivery – you will have to carry the bed frame from your main door to the bedroom you want it in
Like with any ottoman bed frame – assembly is a bit of a drag.
What makes this product better than some other similar ones?
The thing that really separates OTTY Ottoman bed frame from all the others has to be the sheer volume of storage space you get. Naturally, the volume of storage space will vary from size to size, but even at Single – you'd still get half a cubic meter of storage space which is more than enough for most people.
How did we test the product?
To test OTTY Ottoman bed frame – we first had to get our hands on it. We ordered it from the OTTY website, and we opted out for the free delivery. It didn't make sense for us to pay for premium delivery just for the bed frame to be delivered to the room of choice. However, if you live in an apartment building, keep this in mind – if you don't' pay for the premium delivery (10 or 40 pounds, depending on the option), you will have to carry the bed frame to your apartment on your own.
After we've unpacked the bed frame, we noticed that it came in three parts, so before we could begin testing it – we had to assemble it first. The assembly wasn't as hard as it was boring, but we got through it.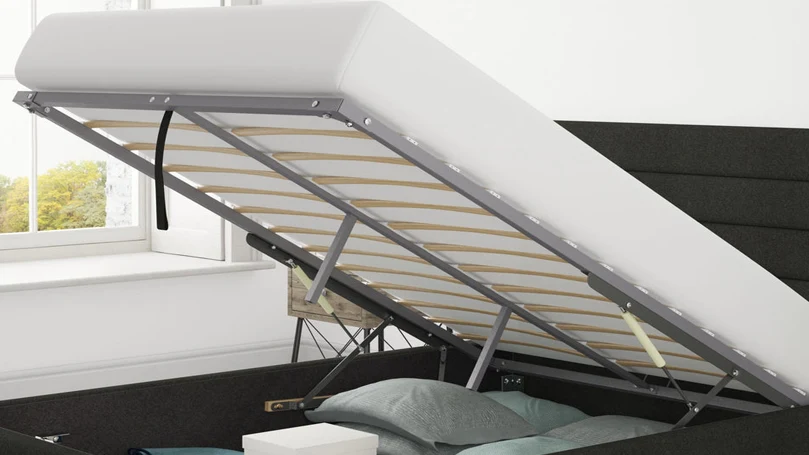 The first thing that caught our eye wasn't the storage space – it was the clearance between the slats. It was a lot more than 7 cm, and as we've expected, that made our mattress feel softer and less supportive, and we did use OTTY Pure Hybrid Bamboo & Charcoal mattress, so you could say it was a compatible match.
As far as the rest of it is concerned – everything felt right. The design was great, the struts were pretty quiet and seemed very durable, and of course – we had storage space for days.
FAQs about your OTTY Ottoman bed frame
In the end, let us wrap things up by answering some questions about OTTY Ottoman bed frame.
Can I use other mattresses for my OTTY Ottoman bed frame?
Yes. You can use any mattress with the OTTY Ottoman bed frame.
Do I have to assemble OTTY Ottoman bed frame on my own?
Yes. The OTTY Ottoman bed frame comes in three parts, and it is up to you to put them together.
How do I clean my OTTY Ottoman bed frame?
You can either vacuum your OTTY Ottoman bed frame or gently clean it with a damp cloth and warm water if you happen to stain it.
Is OTTY Ottoman bed frame suitable for storing bigger items like duvets and pillows?
Yes, it is suitable for storing items since it is an ottoman bed with a storage space.