10 Night Light For Kids To Help Them Sleep Peacefully
Making a comfortable sleeping environment in child's bedroom is an imperative for every parent. Specially designed night lights will create a perfectly calming atmosphere where the child will fall asleep easily, and also will not be frightened if he wakes up in the middle of the night.
You must remember how you were afraid of the dark when you were a child. Some adults have never fully overcome that fear. Babies are not scared of the dark. But sometime after the child turns two, the fear of the dark begins to develop. Of course, not all children are afraid of the dark, but most are.
Psychologists and other experts believe that the reason why babies are not afraid of the dark, but older children are afraid, is that the brain develops, and therefore fear of harm is starting to appear in their minds. Dark place can look potentially harmful, especially as a child's imagination develops. 
That is why many children do not want to sleep in complete darkness, but they also cannot fall asleep if the light is on. Fortunately, there is a solution to this – night lights. Also, night lights are very useful for parents when checking their children, that they do not have to turn on a light or a flashlight and thus risk waking the child.
Add a header to begin generating the table of contents
Why do kids love night lights?
Certainly, the main reason why kids love night lights is because they feel safe, especially when we tell them some of the bedtime stories. This type of lights creates a soothing atmosphere, ideal for falling into restful sleep. But that's not the only reason why child will be thrilled when you buy him or her a night light.
Night lights are very nicely designed and you can find a model just to the taste of your child. Different colors, motifs and all other features are available, so you will find exactly what you are looking for. Also, there are additional features such as sound effects that will be very interesting to the child.
Our top 7 night lights for kids
Since we know that it will be difficult for you to decide on the best night light, because there are so many of them on the UK market, we have done the homework for you. Our test team tested the following models in detail. We checked every feature and everything else that would be of interest to customers, so you can read a short review, as well as pros and cons for each of the models we singled out.
IMAGE
PRODUCT
DETAILS

KEY FEATURES:

Remote control:

Yes

Batteries:

Yes

Alarm:

Yes

Charging:

USB

Sound:

No

View Latest Price

KEY FEATURES:

Remote control:

Yes

Batteries:

No

Alarm:

Yes

Charging:

220V

Sound:

Yes

View Latest Price

KEY FEATURES:

Remote control:

No

Batteries:

Available

Alarm:

No

Charging:

Batteries/220V

Sound:

No

View Latest Price

KEY FEATURES:

Remote control:

No

Batteries:

Yes

Alarm:

No

Charging:

Batteries/220V

Sound:

No

View Latest Price

KEY FEATURES:

Remote control:

No

Batteries:

Yes

Alarm:

No

Charging:

Batteries

Sound:

Yes

View Latest Price

KEY FEATURES:

Remote control:

No

Batteries:

No

Alarm:

No

Charging:

Light socket

Sound:

No

View Latest Price

KEY FEATURES:

Remote control:

No

Batteries:

Yes

Alarm:

No

Charging:

Batteries

Sound:

No

View Latest Price
Tommee Tippee Penguin Night Light
Tommee Tippee Penguin Night Light is not just great night light, but it also has portable part, which is ideal for night-time bathroom visits.
The designers of this night light paid attention to every detail. It looks very nice and every child will love the penguin. The light it gives you is very pleasing to the eye, a warm shade, and is also dimmable, which means you can adjust the brightness. 
You can adjust the light either when the egg is in the base or when you take it. Egg light is removable from the penguin base and is made of silicone, so it is lightweight and so even very young children can carry it while going to the bathroom at night. 
No batteries are needed, but the egg will charge when you return it to the base, which is charged via a USB cable. A portable egg can be lit for up to 10 hours, which is more than enough, as you will usually only need it for a few minutes.
Portable light
Lightweight
Dimmable. 
Hatch Baby Rest Sound Machine
This multi-functional device is much more than just night light.
You'll probably first notice that the Hatch Baby Rest Sound Machine is almost twice as expensive as all the other night lights we've recommended, but there are reasons why it is more expensive. You can choose the colour of the light you want, there are over 10 available colours available, so you will find one suitable for every occasion. 
Also, brightness is adjustable. Plus, choose sounds and adjust the volume. You will do all this using the Hatch Baby Rest app that you can download on Google Play and App Store, and your phone must be updated to iOS 11 or higher or Android Lollipop or higher.
 Also, you can automatically program it when to turn on and off, and it can be controlled manually if necessary. It is suitable from birth all the way to the primary school, because it has white noises for newborns, nightlight for toddlers and alarm for children who go to school.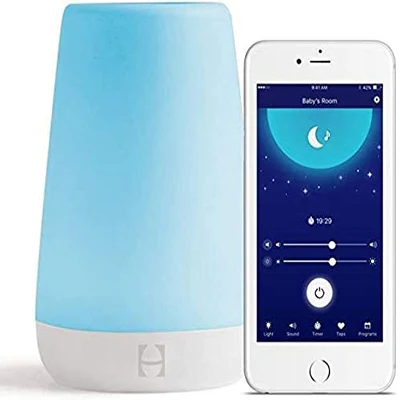 App
White noise
Adjustable
High level of customization. 
Price tag might be higher than some similar products in the same category.
Integral Night Light has an unusual design that fits perfectly in the nursery room and the room where a toddler sleeps.
Integral Night Light does not look like a classic night light, but it will give you everything you need. It has a lot of great features, and the feature that makes it stand out is the touch bar, thanks to which you can adjust the glow light level with your finger. 
It also has a 60 minute auto off timer setting and a little colored locator signal for the ON button to easily locate it in the dark. It is very small so you will definitely have room for it. 
It is USB powered, and has built-in USB output to charge devices such as smart phones and tablets, which is very useful when standing next to your bed.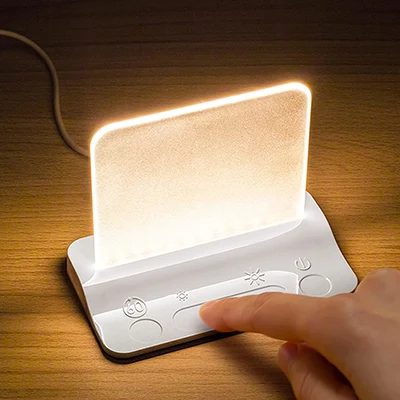 Timer
Good for nursery 
Affordable.
Mi Motion Activated Night Light 2
Natural warm white light will turn on when you walk past it.
Mi Motion Activated Night Light 2 is a great night light for a children's room, but also for any other room due to its universal design. It has a very large detection range of 120 degrees and the detection distance is 0-6 meters in front and sideways is 0-2.5 meters. 
The 360-degree rotating head allows you to install it anywhere. In addition to the motion sensor, it also has a light sensor to activate only when it is dark and not during the day. Two levels of brightness are available to you. 
The lamp is independent of the body, so you can easily take the lamp when you need it, and then attach it back to the base with the help of a magnet.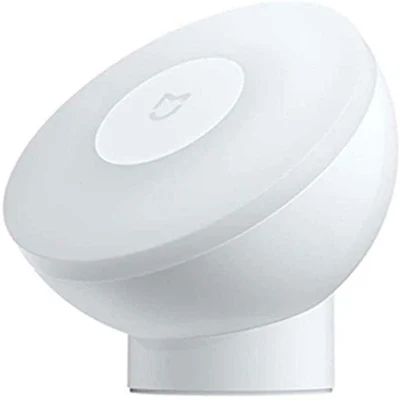 Detects movement
360° rotating head
.Brightness sensor
Not a design that will kids like a lot.
Baby Musical Night Light will help you soothe your baby.
This night light looks like a plush toy, but with significantly upgraded features. Relaxing sounds will calm your baby and help it fall asleep very easily and quickly. 
Also, it illuminates the room by projecting a starry sky. It changes colors to attract your child's attention and so that you can leave the room unnoticed, and then the baby will fall asleep. 
10 nursery rhymes are available, as well as birdsong and heartbeats. You can attach night light to the cot since it has a hook. It is covered with velvet and looks very luxurious, so it is a great choice for a gift.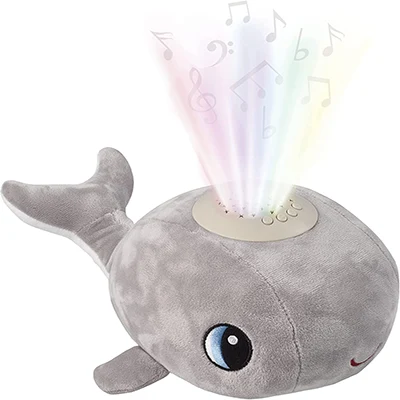 High-quality plush material
Projector

Volume control.
A price tag might be higher when compared to similar products.
You can attach Gro Company Night Light both to the ceiling and bedside lamp.
This night light is added to an existing lamp. You should remove the bulb, add Gro-light and then re-attach the bulb. 
Then the first click will turn on Gro-light and the second click regular bulb. This way you will be able to check on your child without waking him up, and you will also provide him with night light. There is a dial on the back of Gro-light that serves to adjust the brightness. 
It comes in either Bayonet (B22) or Edison screw (E27). It is suitable for both ceiling and bedside lamp. Energy efficiency is great, especially when using LED bulbs.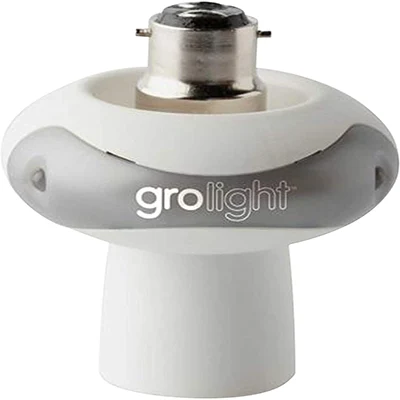 Adjustable 
Easy installation 

Energy efficient – low-cost. 
No advanced features available. 
When you shop this night light, you get a 3-pack so you can illuminate more rooms.
You can place them wherever you want because the 3 AAA batteries (not included) are power source, so the socket doesn't have to be close and the lights are mounted with screws. 
You can also change their place if you need to. Two brightness modes are available, low and high, so you can set the ideal amount of glare-free lighting. 
The light sensor detects when it is dark and then the motion sensors turn on which detect your movements and turn on the light as needed. The sensor detects motion within a 120 degrees angle.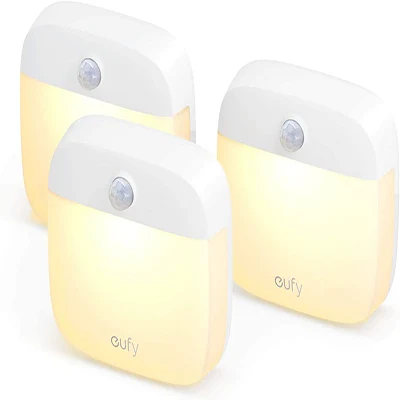 Two brightness modes
Sensor

Energy efficient.
In some cases not bright enough
What to consider when buying a night light for kids
It is not enough just to know the night light models of our choice, but you should also know what are the most important features to consider when buying a night light for kids. You should be familiar with that to understand how we selected above-mentioned models, and also to know how to choose the best one.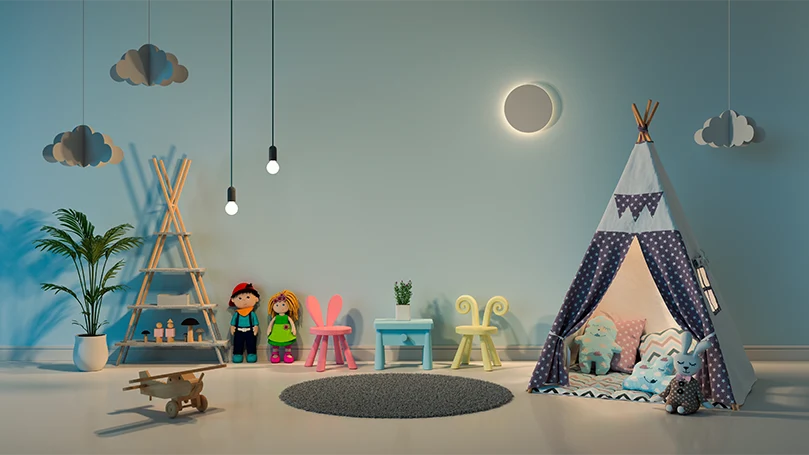 Many night lights have speakers, so this device becomes multifunctional in that way. Thanks to the speakers, you can play music to your child, which will calm him down even more. Or you can play autonomous sensory meridian response (ASMR) sounds that many people really like.
Music and pleasant sounds have been proven to reduce stress levels, relax the brain and prepare it for sleep. Also, playing the same songs every night will create a very positive routine, so as soon as the child hears these songs, he will start yawning and fall asleep in the next few minutes.
Night lights can also be small projectors. Those devices that have a projector will make the ceiling of the children's room a starry sky or something else, depending on the available options. In addition to creating a beautiful atmosphere, it will also be very interesting for the child and will calm him down if he wakes up in the middle of the night, instead of starting to cry. Some devices have only one option, for example the starry sky, and some give you the ability to change the projections, so those devices can create the effect of the ocean, forests, animals and so on.
There are so many different night lights on the UK market that you will almost certainly be able to find exactly the model you or your child want. Whether you want an animal-shaped night light, with motifs from your child's favorite cartoon or something else, it's all available on the market.
What differ are the dimensions and types. Night lights are usually small in size, but the more features they have, the bigger the models. Make sure the model you want to buy fits the size of the shelf where you will put it. There are models made of hard plastic and similar materials, as well as plush models, which is also a significant difference in design.
This is of course the most important feature. The first thing you need to decide is what color you want the light to be when you buy night light. Most models today allow you to change several colors, but you should opt for those that have warm colors. There are several studies that have confirmed that warm colors are better for the bedroom than cold ones. The choice also depends on the preferences of your child, if he is older and has a developed opinion.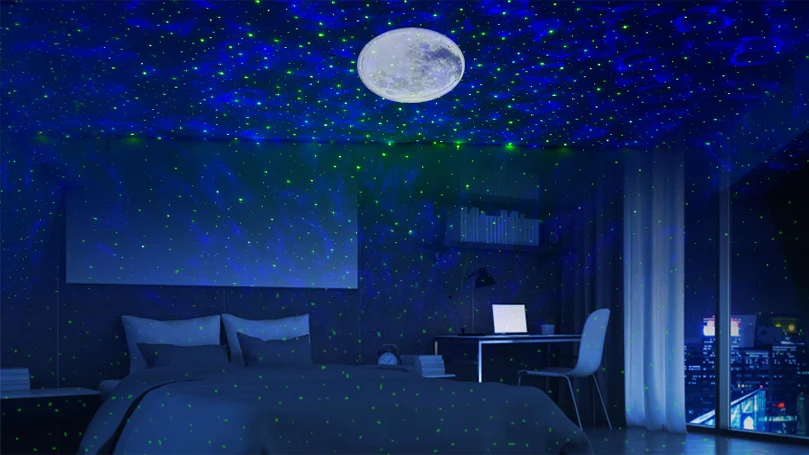 Brightness is also a very important factor, because if the brightness is too strong, you will have to turn off the night light ones the child falls asleep. So choose or models with lower brightness, and it is best to choose the model that gives you the opportunity to adjust the brightness.
Timer is one very useful feature, especially in one situation. For example, if you know that your child has a sound sleep and is not prone to waking up often, then there is no need for the night light to be on all night. In that case, models with timers allow you to program when the light should go off without having to get out of bed and turn off the light manually. Very convenient, isn't it?
This will save batteries if it does not run on electricity and prolong service life. Some models also have a sensor, so it will turn off automatically as soon as daylight appears.
Upgrade night lights come with a handy remote control that is very easy to use, and even children as young as a few years old can use it and change the light, brightness or projection. There are models that have bluetooth, so instead of remote control, you can control it via your smart phone, which is another great feature.
Night lights are used not only by toddlers, but also by children who need to wake up for kindergarten or school. It will be very useful for them if the device has an alarm. Then they will be woken up every morning by their favorite song, and there are also models that will be wake kid up by audiovisual "performance". These are models that have both speakers and projectors.
The advantages of owning night light for kids
There are numerous advantages of owning night light for kids. The main advantage, of course, is that your child will be able to sleep peacefully and will not be afraid of the dark. And also the night light will not disturb his circadian rhythm as ordinary light would. In addition to these obvious benefits, night lights are also a great decoration.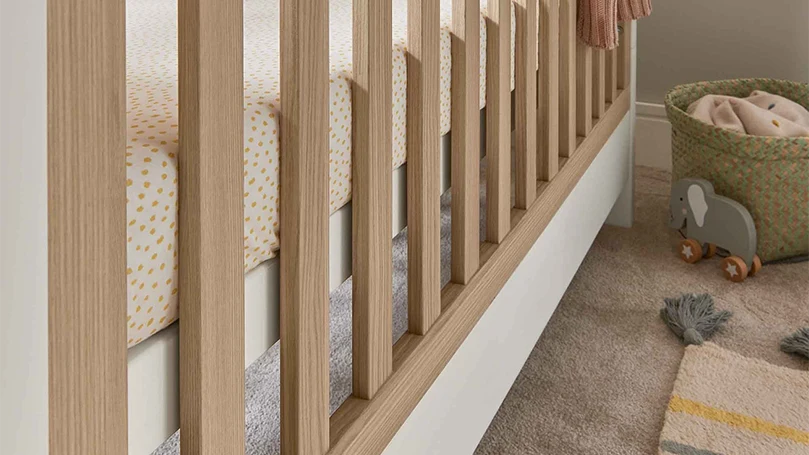 They look very nice even when turned off. And when turned on, they look even more attractive, especially those models that have projectors. The speakers allow children to listen to music and various soothing sounds before bed, as well as to wake them up in the morning with a favorite song. The best are those devices that allow you to adjust the brightness and have a timer as well as a light sensor.     
Thanks to night lights, children will fall asleep much easier.
If kids wake up in the middle of the night, they will not be scared, start crying and calling you, but they will be interested in what the night light projects and after a few minutes they will fall asleep again.   
Night lights also serve as an alarm.
FAQs about your night light for kids
At the end of this guide, we will give you answers to some of the frequently asked questions about night lights, to solve some more doubts you may have.
Should I leave the night light on for kids all night?
If it is not too bright, you can leave it on all night long, but once your child is sleeping you can try to turn it off and see the child's reaction.
What age should I introduce a night light at?
You can introduce it as soon as your baby is about 5 months old, but usually night lights are for toddlers and older kids.
Is night light bad for toddler?
No, it is not bad, on the contrary, night light will help toddler sleep better.
How long does a night light for kids last on average?
It depends on the quality of the product itself, but also on whether the night light is on all night or just until the child falls asleep.
Where should I place my night light for kids?
You should place night light somewhere near the place where the child sleeps, but not too close as it can wake him up in that case.
Are all Mamas And Papas Cot Beds the same size?
No. Cot beds from M&Ps come in various sizes.