Eve Spindle Bed Frame Review - A Luxury Bed Frame For Every Bedroom
The bed frame has multiple roles. In addition to having a big impact on how comfortable you will sleep, it also affects the overall look of your bedroom, because it is the largest piece of furniture next to the closet. Here is your Eve Spindle bed frame review by The Sleep Advisors where you will be able to find out all the features, pros, cons, alternatives and other things that are important to know about this bed frame.
Who is Eve Spindle bed frame for?
Eve Spindle bed frame is made for those who want a wooden bed frame. In addition to being very stable and durable, wooden bed frames are also visually appealing. Their classic look fits perfectly to almost any type of design. 
This is also the case with Eve Spindle bed frame which is made of solid oak, and it will last you a very long time and it will look beautiful in your bedroom.
Add a header to begin generating the table of contents
What do we use this product for?
We use this product to have a stable base for our mattress. By having such a stable and quality mattress support, the mattress will be able to give you the maximum of its capabilities. We also use it to beautify our bedroom and make it very elegant because of the Scandinavian style. So, in a nutshell, this bed frame is great for:
Getting more stylish design
Ensuring enough stability & comfort
Following Scandinavian design.
Features you should know about Eve Spindle bed frame
There are several Eve Spindle bed frame features that we want to tell you more about, so you know everything about the bed frame you are buying. And to help you fully understand the quality of this product. We will talk a bit more about its elegant Scandinavian style look, oak construction, as well as the other two important parts, which are 20 sprung slats and an angled spine headboard.
Elegant Scandinavian style
Scandinavian style is very easy to recognize because it is characterized by natural materials, simplicity and modern approach. Also, it's easy to see that Eve Spindle bed frame fits perfectly into the elegant Scandinavian style. At the same time stylish and practical. It gives a modern look to the space, but also a clean look. One of the points of the Scandinavian style is to create an uncluttered environment and in that way provide as much space as possible.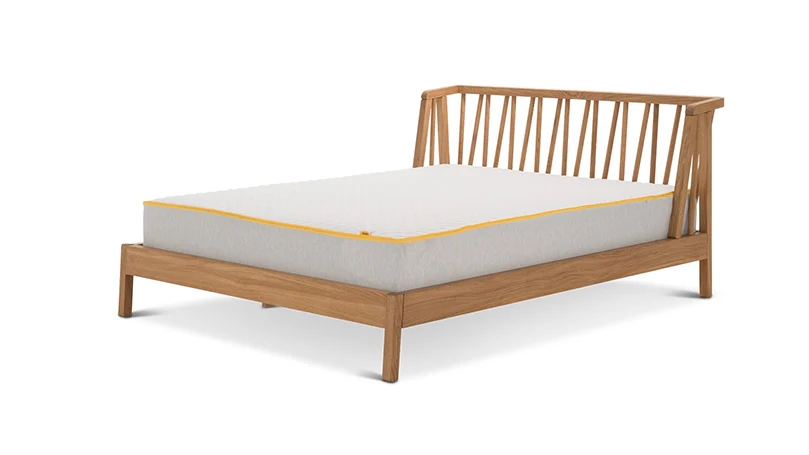 What is another characteristic of the Scandinavian style, as well as Eve Spindle bed frame is the eco-friendliness. Natural materials are used only so there is no harmful chemicals in the structure of this bed frame.
When you buy a bed frame, in most cases you will come across sprung slats and solid slats. Solid slats are a traditional option and solid slats are very firm and solid as their name suggests. All this gives firm feeling when you sleep and they are cheaper.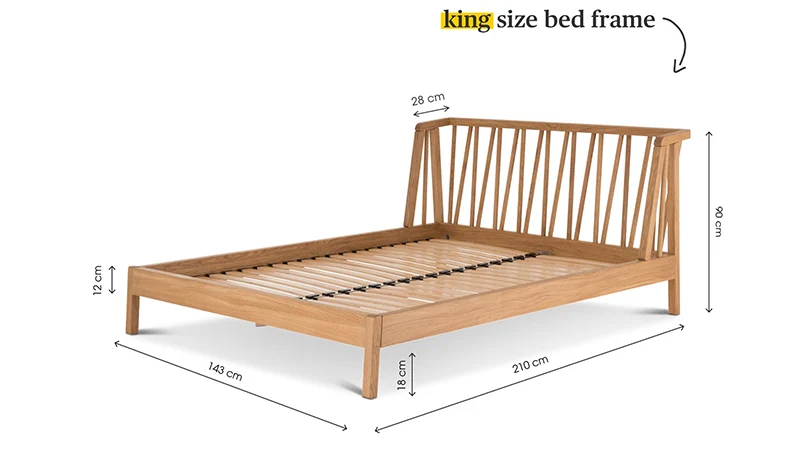 But they are certainly a less comfortable option than the sprung slats used for this bed frame. Sprung slats are flexible and will make you more comfortable sleeping. Since they are curved, it affects their flexibility and then the bed frame itself, and not just the mattress, will reduce the pain in the pressure points. In this bed frame you will find 20 sprung slats, which is a great number, because the smaller the distance between the slats, the more comfortable it is.
Oak wood is one of the materials most commonly used for bed frames, along with pine, walnut and mahogany. Oak is a type of hardwood that is scarce in Europe, and since it grows slower than pine trees, then it is also more expensive. However, it is often the choice for different types of furniture, even bed frames. Since it grows slowly, it is denser and therefore more solid and durable. Bed frame made of oak wood can last longer than a decade.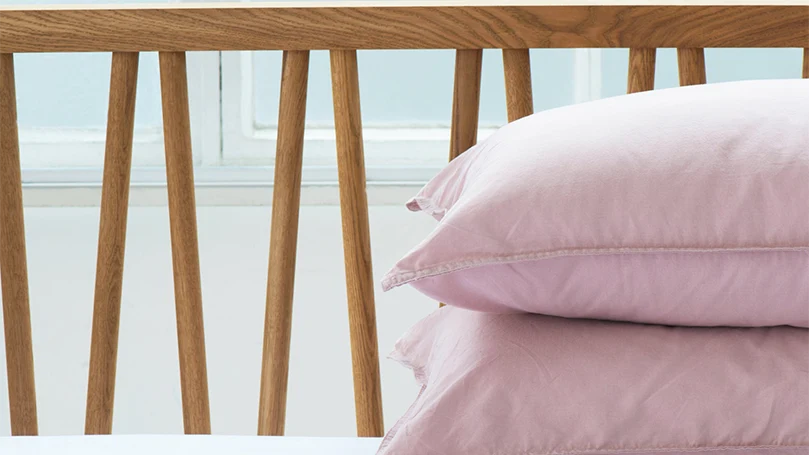 Also, it is very easy to maintain. All it takes is occasional cleaning and polishing. Eve Spindle bed frame is very solid, and you also have to know that it is quite heavy.
Angled spine headboard will delight all those who like to read a book or watch TV when they go to bed. At Eve, they decided to make this bed frame even more comfortable, so they added an angled spine headboard to have support for your pillow and head when you want to be slightly elevated.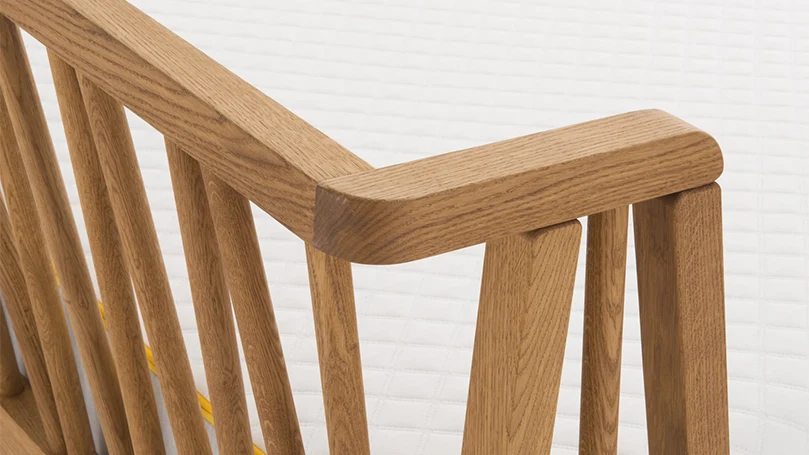 You will have a cozy feeling even more because of the headboard. Also, the angled spine headboard looks very nice and is made of the same solid oak wood.
Review of Eve Spindle bed frame
Eve Spindle bed frame is a bed frame made of solid oak wood. The quality of workmanship is at a very high level and in combination with durable oak wood it gives a product that will remain unchanged for years, maybe even decades. The base is made of 20 flexible sprung slats that will be shaped towards your body and mattress. That is why this bed frame is considered very comfortable.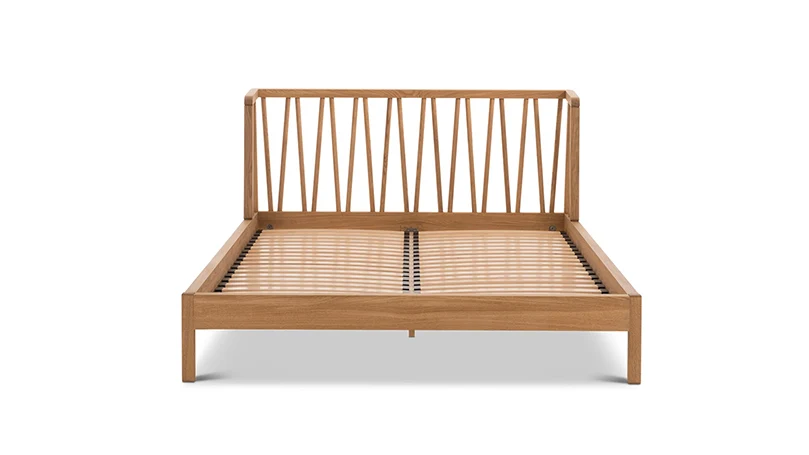 It comes in natural oak color and is also simple in design so it fits perfectly into the Scandinavian style. It has an angled spine headboard to make you even more comfortable when you want to read book before sleeping. It is very easy to maintain, and also assembly is not complicated. You get a 5 year warranty but it is unlikely that you will have problems with it for many years after the warranty expires.
Material: Solid oak
Type: Wooden standard bed frame
Size: UK Double, UK King, Super King.
Solid oak
5 year warranty
Quality craftsmanship.
No single size available
Only natural oak colour
You have to buy drawer separately.
What we like about Eve Spindle bed frame
Solid oak is an ideal choice for a bed frame because it is durable and stable
Elegant look that fits into the very popular, yet timeless Scandinavian style
It is designed in London and manufactured in Europe.
What we didn't like about Eve Spindle bed frame
One of the most expensive bed frames on the UK market
Natural oak is the only colour available
You have to assemble it on your own.
What makes this product better than some other similar ones?
Eve products generally stand out for their quality and belong to the premium range. The same is the case with Eve Spindle bed frame made of solid oak which makes this bed frame stable, comfortable, long lasting and has an expensive look.
How did we test the product?
Before we ordered the product, we had some worries about delivery, as the bed frame is significantly bulkier than duvet or mattresses.. Anyway, there were no problems. In addition to delivery being free for most areas, two-man delivery service will deliver the bed frame straight to a room of your choice, ready for you to assemble. This is very important because Eve Sleep will not leave your bed frame in front of the door, but will take it exactly where you want it to be.
When the delivery people left it with us, we first unpacked it and immediately noticed the quality of the oak wood which this bed frame was made of. Pleasant smell of wood was there. All parts look very solid and you can easily imagine how you will sleep comfortably and how the whole frame will be completely stable as you move during sleep. Then we approached the assembly, which was relatively easy.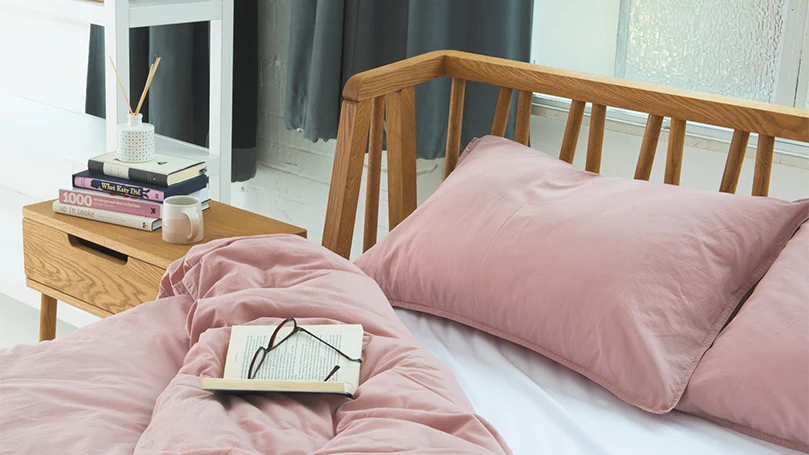 You will receive detailed instructions, as well as all the necessary parts, and since Eve Spindle bed frame is not a complex shape, you will not need much time to assemble it. However, you need to have at least one person to help you, because one man will probably not be able to assemble a bed frame in a reasonable amount of time. All screws and other parts are of the same quality as the wooden frame.
When we assembled it, we put on Eve Premium mattress and then we started the overnight test. We already knew the features of the Premium mattress, and we noticed that Eve Spindle bed frame further improved the quality of sleep. Also, it looks very nice and you will notice it right away.
Speaking of care, all you have to do is wipe with a non-abrasive dry cloth.
FAQs about your Eve Spindle bed frames
What most customers worry about when ordering a bed frame online is whether they will have the hard time to assemble it. They also wonder what type of mattress is suitable for the bed frame and whether they have to buy a new one or can use an existing one. Of course, customers also want to know if the bed frame is durable or they will have to buy a new one in two years. Find the answers to all these questions in our FAQs section.
Is it hard to assemble Eve Spindle bed frame?
It is not hard to assemble an Eve Spindle bed frame but we recommend that 2 to 3 people do it, not one alone.
What type of mattress is the best for Eve Spindle bed frame?
Eve Spindle bed frame is suitable for all types of mattresses, and some of the mattresses that Eve offers are perfect fit.
Is Eve Spindle bed frame durable?
Yes, it is very durable thanks to the solid oak from which it is made.
Is Eve Spindle bed frame suitable for all types of sleepers?
Yes, it is - it is firm enough for side sleepers, whereas it is soft enough to provide stomach/back sleepers with a comfort.
Is Eve Spindle bed frame considered to be a premium product?
Yes, it is a premium product due to Eve's high-quality materials and sophisticated methods of production. Therefore, the price tag might be a bit higher than what you are used to see.