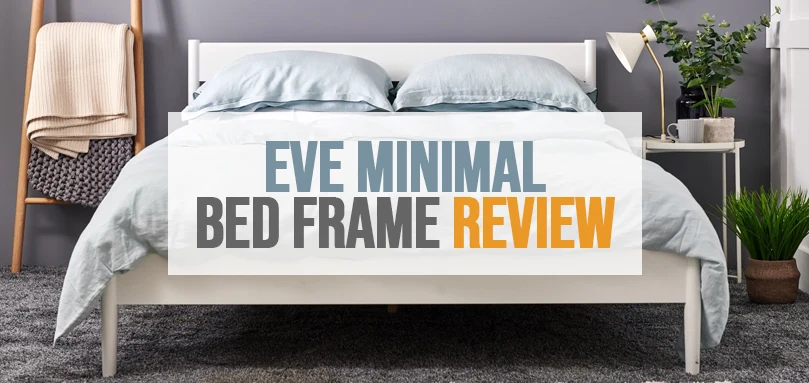 Eve Minimal Bed Frame Review in 2021 by The Sleep Advisors
If you are looking for a new bed frame to sleep on, you might want to consider Eve Minimal bed frame. It is a simple design bed frame with birch plywood slats as a base and will undoubtedly be a better companion to your mattress than a floor. Or will it? Let's find out!
Who is Eve Minimal bed frame for?
Anyone looking for a new bed frame should consider getting Eve Minimal as their first pick. A slatted base is always a good choice if you're looking to add some support to your mattress without compromising breathability, firmness or comfort in the process. In addition, this is the most affordable bed frame from this recognized company. It means that you know what you're buying and that the premium quality, support, comfort, and improved sleep experience are guaranteed with this shopping decision.
What do we use this product for?
A bed frame such as this is usually used when you want to improve sleep quality. Slats on this one are 3.6 cm apart, so you won't lose any firmness, but what you will get is improved stability and comfort. Also, keeping your mattress off the ground will not only make everything a lot more clean and healthy, but it will also improve the airflow and breathability of your mattress.
Features you should know about Eve Minimal bed frame
To better understand what makes this bed frame different from other bed frames, you have to understand all the features that come with it and that's what we're going to try and do now.
When it comes to the storage space with this one, well, there's no storage space. Eve Minimal is not a storage bed. However, it does come with some pretty tall legs, giving you just under 20 cm of room under the bed. This should be more than enough for you to store whatever you like under the bed, or as Eve likes to say, you'll be able "to stash everything but the kitchen sink" underneath this one.
20+ sprung birch plywood slats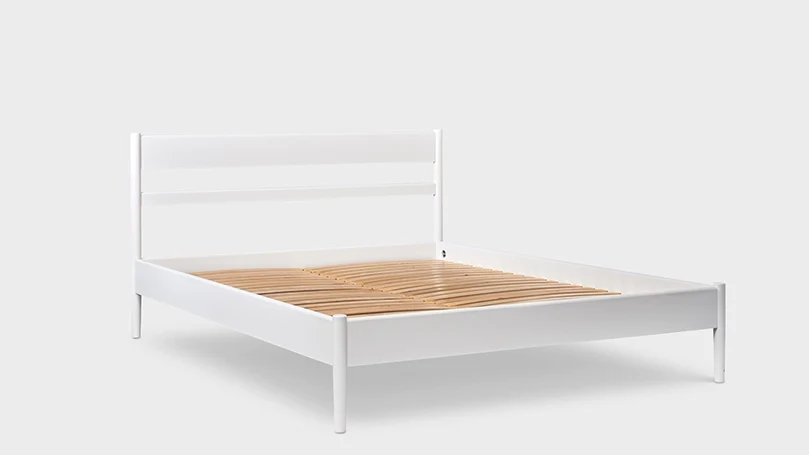 Eve Minimal bed frame comes with over 20 sprung birch plywood slats, depending on the size of the bed. What makes these slats unique is that they're sprung, meaning they are not flat. At first glance, this might look weird to you, but we assure you, this is done for a reason. This allows the slats to properly support your mattress with you on top of it.
The quality of the slats is excellent. They are completely silent during the night, they're easy to install and with only 3.6 cm between them – it'll feel as if you're laying on a flat base, only better. And oh, the flats come with Eve signature yellow webbing, which is a nice touch even though you'll never see the slats once the mattress is installed on top of them.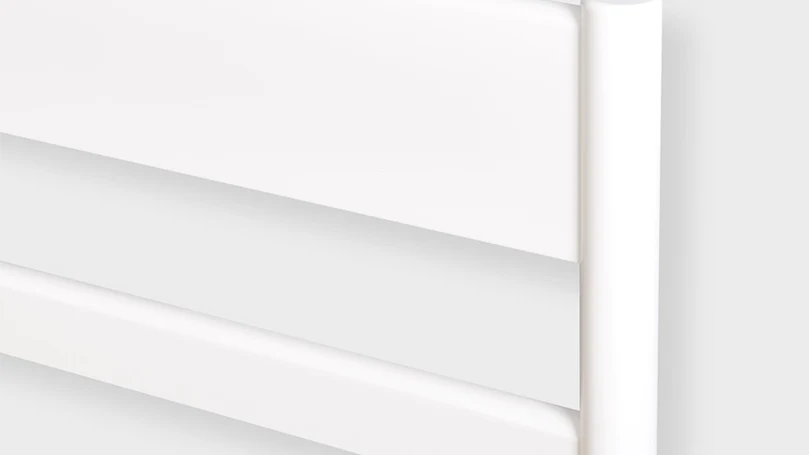 While the legs and the back rails are made from solid birch, the back and the sideboards are made from MDF. MDF stands for medium-density fibreboard and it is a specially engineered wood product made by breaking down hardwood or softwood residuals into wood fibres. It is denser than regular plywood and is far more durable.
With Eve Minimal, these MDF boards, alongside every other part of the bed frame except the slats, are coloured in white, completing the minimalistic look.
220 kg maximum weight capacity
Since this bed frame is made from quality wood and MDF and is standing on durable wooden legs, it can easily hold up to 220kg of body weight. Now, this is the maximum weight that Eve has tested, although we're confident that this frame could easily hold more than that.
Now, we tried pushing its limits, and it is solid and durable, but we wouldn't recommend you trying it because if you do it and you happen to break the slats or any other part of the bed frame – it won't be covered by the 5-year warranty Eve offers.
Assembling this bed frame was genuinely easy. Keep in mind, there were two of us doing it, but that doesn't change the fact that it's easy – it just makes the process easier. On that note, we would recommend you get someone to do it with you, as it'll be much faster and safer to do it in pairs.
The bed frame comes with all the necessary instructions and tools for assembly. The only thing you'll need is a Phillips screwdriver. There will be no drilling or cutting, just screwing the nuts and bolts in the appropriate holes and then rolling out the slats and voila – you're finished.
Review of Eve Minimal bed frame
Eve Sleep has a reputation of being a company that manufactures high-quality products with a hefty price tag and that's also the case with Eve Minimal. It is a very high-quality bed frame. It's solid and sturdy, it's quiet and it is easy to assemble. There's nothing much you could ask from a bed frame.
The wooden legs are very sturdy and solid, although not adjustable – in case you were wondering. Now, you could argue about it being "minimalist" with that headboard, but it's certainly not flashy. It is a well-designed, basic bed frame that will fit virtually any bedroom.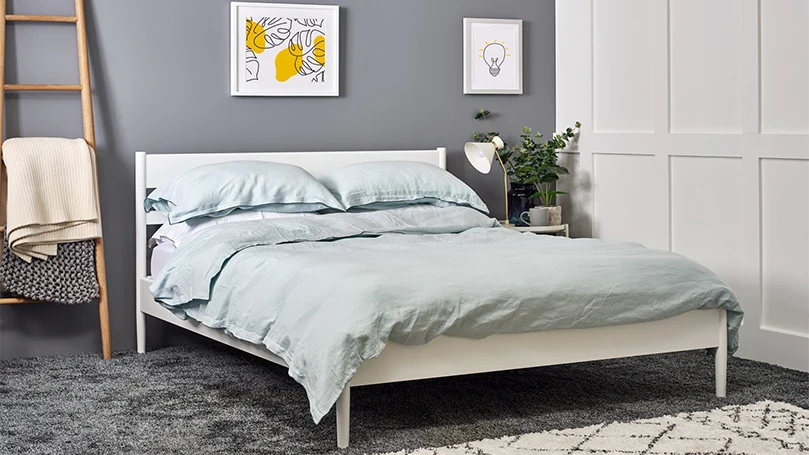 The bed frame comes in four different sizes corresponding to standard UK mattress sizes. The height of the bed is 19.5 cm off the ground in addition to the overall thickness of the mattress. The headboard sits at 90cm high and if you want to know if the bed frame will fit your bedroom – just add 8 cm to the width and length of the mattress as that is how much space this bed will take.
5-year guarantee
Easy assembly
Fast & free delivery.
No storage space
Only the UK sized mattresses fit perfectly
More expensive than similar products.
What we like about Eve Minimal Bed Frame
The simple minimalistic design and white colour can fit almost any room

Solid, high-quality parts and easy assembly

Compared to regular beds and sofas – the delivery is blazing fast.
What we didn't like about Eve Minimal Bed Frame
It's white, so it might be too hard to keep clean

It is very expensive, compared to similar products in the same category

It is pretty much only tailored to UK sized mattresses.
Consider Eve Hybrid mattress if you are buying Eve Minimal Bed Frame
If you want to find a perfect partner for your new bed frame – consider Eve Hybrid mattress.
Overall, this is a high-quality hybrid mattress offering both substantial support and remarkable comfort. This is a medium-firm mattress making it ideal for all kinds of sleeping positions. When paired with a slatted bed frame such as Eve Minimal – it becomes a perfect bed for side sleepers offering fantastic pressure relief and support.
Make sure to check our full review on Eve Hybrid mattress.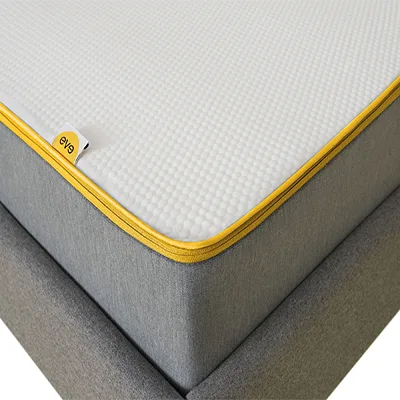 Suitable for all kinds of sleepers
Excellent comfort, support & durability
Removable, hypoallergenic top cover.
Sub-par edge support
Somewhat limited sizing options
Pressure relief could be better.
What makes this product better than some other similar ones?
If we had to pinpoint a single thing that makes this bed frame better than the others – we'd say it's clever craftsmanship. Everything about this bed frame speaks quality, comfort and durability, and we're confident that you'll be able to use this one well past the 5-year warranty.
How did we test the product?
To begin our review, we first needed to order the bed frame from Eve Sleep website. As we've already done this before, we knew what to expect, but here's a little breakdown for you.
The bedframe will arrive at your doorstep within three working days. A two-person team will deliver the bed frame to your house, but instead of dropping it off at the door, they will place the bed frame in the room of your choosing. As is often the case with Eve, the delivery was free, but even if there were some costs, they wouldn't be hidden from you, so – no worries there.
Now, the bed frame does not come preassembled, nor do the delivery guys assemble it, so you will need to get your hands dirty, figuratively speaking. Alongside the bed frame, you will also receive a set of instructions and all the necessary tools you'll need to assemble the frame. The only thing you'll need is a screwdriver and a helping hand.
The assembly in the case of Eve Minimal was, well, minimal. It didn't take long for us to put the bed frame together, as the instructions were perfectly clear. We've assembled the birch and MDF base, put the birch plywood slats in and it was time to give it a ride.
Accordingly, we've put our Eve Premium in the bed frame and as expected – it fit perfectly. We had no complaints whatsoever. There was no noise or creaking of the frame, and dare we say that Eve Premium felt a bit better?
All in all – everything went buttery smooth.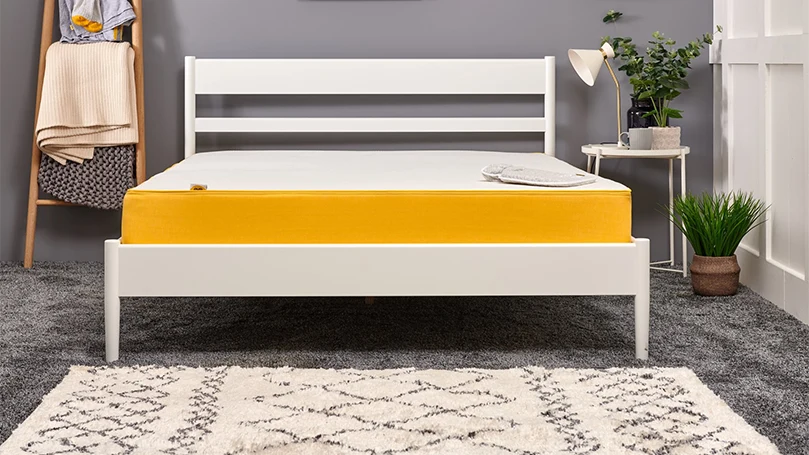 Since it has two different sides, the overnight test had to last for two nights. The first night we used 10.5 of that side, which is certainly significantly warmer compared to 4.5 of that side, but we weren't too hot which is great. The other night we used the 4.5th side which is a great choice for hot sleepers and for the summer months as it will not raise your body temperature at all.
Hollowfibre fill is light and comfortable, and also very easy to wash and dry because this duvet is machine washable and suitable for tumble dry. We also really liked the cotton casing, which is there to further improve breathability and to be in contact with our skin, because cotton is unrivaled the most comfortable material for skin.
FAQs about your Eve Minimal bed frames
In the end, let's wrap things up by answering a few frequently asked questions.
Is Eve Minimal bed frame available in other colours except the white one?
No. Eve Minimal comes only in white. If you don't care about the warranty - you can dye it any way you want, but we wouldn't suggest doing that.
How do I care for my Eve Minimal bed frame?
The only maintenance you need to do is wipe the frame with a dry, non-abrasive cleaning cloth.
Can I assemble Eve Minimal bed frame on my own?
Yes. You get all the necessary tools in the box, including the Phillips screwdriver, and you can easily assemble the bed on your own. Although, we would recommend getting a helping hand to speed things up.