Wooden Bed Frame 101 Guide With Top 3 Picks
Although there are so many different materials available, wood remained the most popular one for making all types of furniture, including the bed frame. There are various types of wood that differ in appearance, quality, durability and price.
Bed frame is one of the most important pieces of furniture in your home. It serves both as a place to rest and in many cases as the centerpiece of the bedroom, as many types have a lavish design. The importance of the bed frame is great because it provides support, evenly distributes the weight and gives stability to the mattress and you.
There are dozens of different types of bed frames, which differ in shape, size, headboard, footboard and many other features. Many wooden bed frames have integrated slats so you don't need additional foundation. 
Also, the wooden bed frame is durable and eco-friendly. In this guide you can find everything about wooden frames, including benefits, disadvantages and different types of wood. The Sleep Advisors singled out top 3 picks for you as well.
Add a header to begin generating the table of contents
What is a wooden bed frame?
A wooden bed frame is any bed frame that is made of wood or engineered wood. Wood is divided into hardwood and softwood. Hardwoods are for example maple and walnut, while softwood is mostly obtained from conifer. Engineered wood is a material acquired by processing wood fibers and adding synthetic materials and engineered wood is significantly cheaper. Wooden beds are the best sellers.
How long does a wooden bed frame last?
On average, the service life of a wooden bed frame is 10 years, while service life of metal bed is on average longer, about 15 years. But as the saying goes "Statistics are like bikinis. What they reveal is suggestive, but what they conceal is vital". 
The type of wood the bed is made of, workmanship and maintenance play a key role in how long your bed will last. Properly maintained premium wooden bed frame will last longer than a metal bed. On the other hand, low quality bed made of plywood probably won't be functional for a decade.
Do wooden frames come in all standard sizes?
Yes, you don't have to worry about that, because wooden frames come in all standard sizes. What you need to pay attention to is the size of your mattress. For example, if you have a Single mattress, it does not automatically mean that it is the same size as the Single bed frame. The size is certainly similar, but before you buy a bed frame, measure your mattress and make sure it fits perfectly.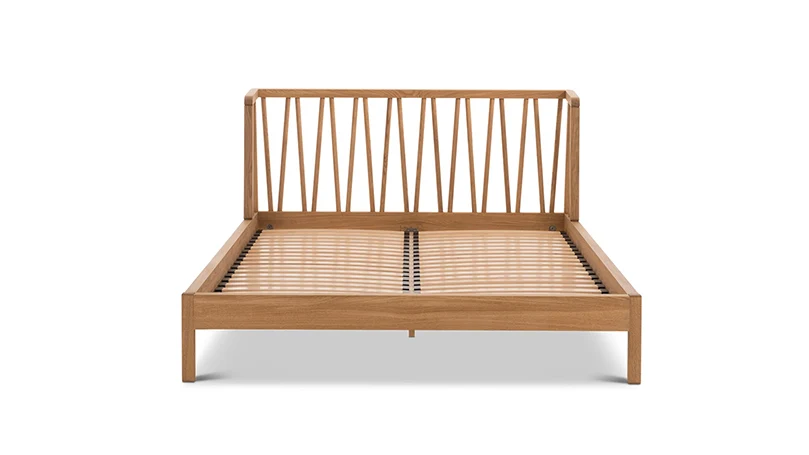 The most common sizes on the UK market are Single, Small Double, Double, King and Super King. However, you will find many others, such as Small Single. Also, there are differences in size names, especially between the UK, EU and US markets, so you will sometimes find Double size as Queen and Small Double as Twin. Keep in mind that there is a difference between those sizes, they are not identical, so measuring tape is your best ally when buying a bed frame and mattress.
Our top 3 wooden bed frames
There are so many wooden bed frames on the UK market that it took us a long time to test most of them and choose our three top picks. The following three proved to be the best of the best in these categories.
IMAGE
PRODUCT
DETAILS

KEY FEATURES:

Type:

Ottoman

Material:

Pine

Sizes:

Double, King

Assembly Service:

Self-assembly

View Latest Price

KEY FEATURES:

Type:

Slatted

Material:

MDF with pine slats

Sizes:

Single, Small Double, Double, King

Assembly Service:

Self-assembly

View Latest Price

KEY FEATURES:

Type:

Cabin

Material:

Particleboard

Sizes:

Single

Assembly Service:

Self-assembly

View Latest Price
1. BEST OTTOMAN - Madrid Natural Ottoman Bed
Timeless design and plenty of storage space led this pine bed frame to the best overall status.
GFW Madrid Natural Ottoman bed will surely attract your attention immediately because of its appearance. Although it looks quite simple, the colour and headboard make it very attractive. 
Since this is an ottoman bed, it means it hides a large storage under the base. It is very easy to lift up thanks to the hydraulic system with pistons, and most customers are surprised at how big the storage is. 
It has a sprung slatted base that gives great support and stability to the mattress. Maintenance is easy, you can wipe clean it with a soft cloth. The same goes for the process of assembling.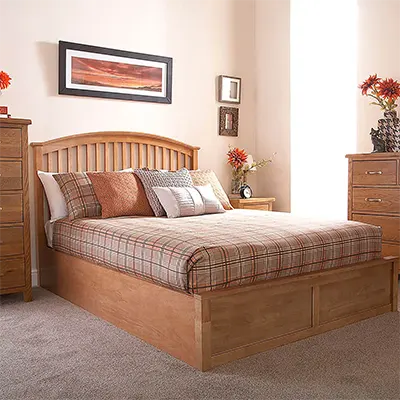 Storage space
Sprung slatted base
Headboard included.
No single size available.
2. BEST SLATTED - Monaco High Foot End Bed
Monaco High Foot End bed is a very simple bed that has all the necessary features at an affordable price.
Seconique Monaco White High Foot End bed frame may seem too simple at first glance, but it is very functional and when you take a closer look at it you will realize that the design is not that basic either. 
It has a slatted headboard and footboard, and the base is also slatted that gives support and breathability. 
It can fit equally well in a children's room and in a master bedroom that is modernly designed. The bed is made of MDF, which is a type of engineered wood and is therefore affordable. Slats are made of pine so durability is satisfactory.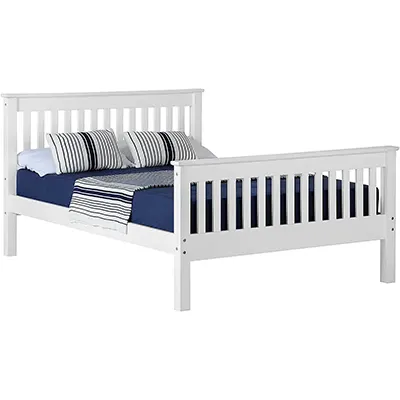 Easy to assemble
Simple design
Solid base.
Slight durability concerns.
3. BEST CABIN - Cookie White Cabin Bed
Your child will be delighted with this cabin bed.
Space saving furniture like cabin beds is ideal for kids room, but this bed is big enough for adults too, for example, young professionals living in a studio. It may be small for those with a bigger frame, but for the average adult it is suitable. 
It has 3 drawers, 1 cupboard, 1 shelf, and a desk which means you can use it as the only piece of furniture in the room in case you have enough space for a closet. 
It will be delivered in three boxes weighing between 30 and 40 kg, so you will need help to assemble it. Julian Bowen Cookie White and Gray cabin bed comes with 1-year warranty.
If you are interested in cabin beds, check our collection of top 5 cabin beds for small rooms.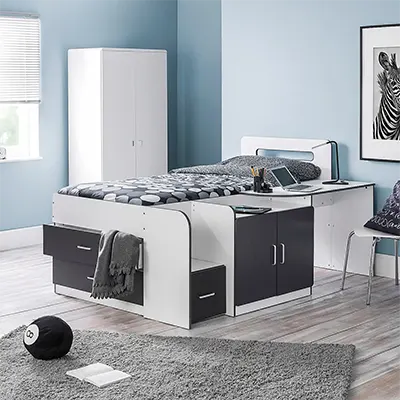 Multi-functional
Storage space
Sturdy construction
Excellent for small kid's rooms.
What are the benefits of wooden bed frames?
Wooden bed frames have so many benefits, otherwise they would not have been used for thousands of years, especially today when many other materials are available. We have selected some of the most important benefits to tell you a bit more about them.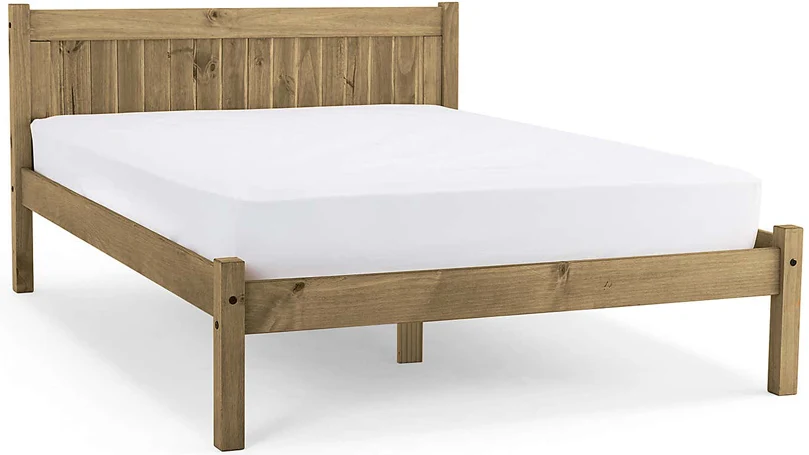 Many people mistakenly think that a wooden bed frame will make their bedroom look rustic. There are wooden beds that look old-fashioned and will be a great addition to such an interior, but you can also find many wooden frames that can be the focal point of a contemporary bedroom. So either way, wooden bed frame will make space more beautiful.
Today it is possible to paint wood in any color. Latex, acrylic, water-based and oil based paints are used depending on the type of wood, colour and other things that affect the choice of color type. A variety of colors are available to you, so the frame can look whatever you want.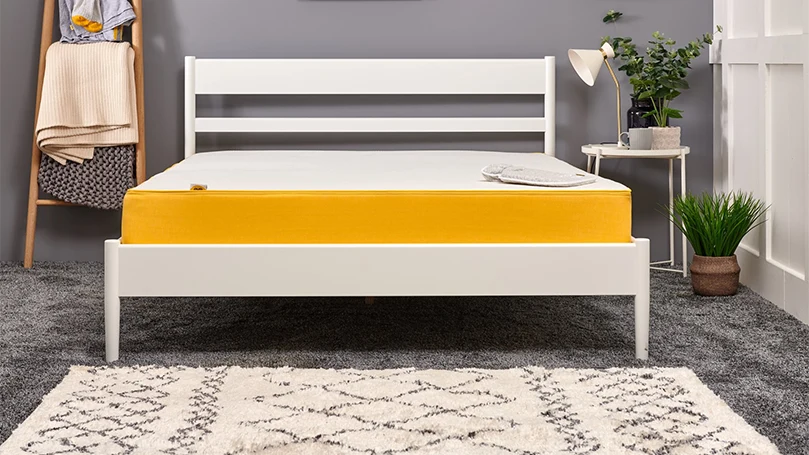 We have already talked about the average service life of wood bed frame and explained to you that high-quality wood is one of the most durable materials. But service life is not the only thing that matters. The bed frame has to withstand a pressure of several hundred kg every day and therefore must remain stable as on the first day, so a high level of durability wood offers is very important. Durability is even good enough for wooden bunk beds.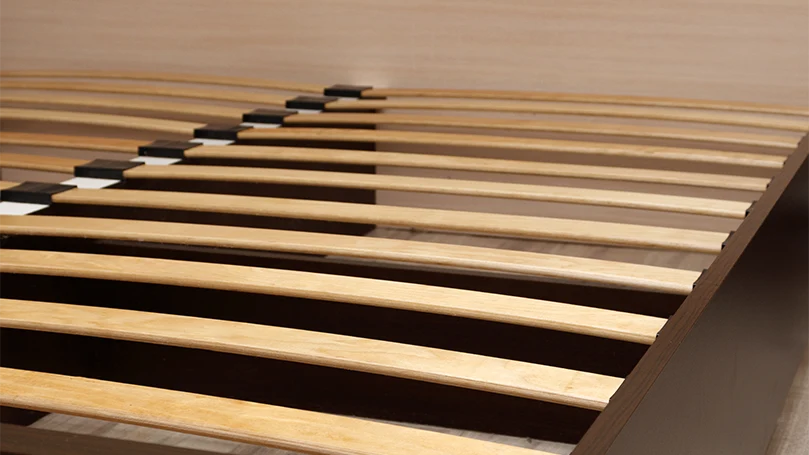 Don't require special maintenance
You certainly don't want to waste time maintaining your bed frame on a daily basis. The wooden bed does not require frequent maintenance and maintenance is very simple. All you need is a cloth to wipe it and sometimes you can clean it with a mixture of vinegar and water. It is important not to over-saturate it with water. There are protective paints and sprays that will extend the service life of the bed and you can apply them from time to time.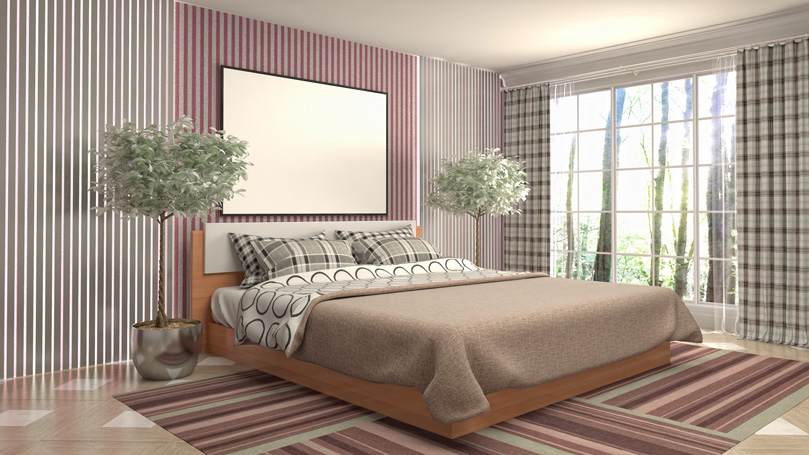 Keep in mind, you're shopping for a bed frame first, so don't get overwhelmed with storage capacity.
With that being said, if you're really pressed for space, and you really need some extra bedroom storage – go for it. It all comes down to your need and personal preference, so choose accordingly.
What are the disadvantages of wooden bed frames?
Nothing is perfect. What we want to emphasize is that there are only a few disadvantages of wooden bed frames compared to the numerous advantages. Also, the following disadvantages many won't even consider to be true disadvantages.
Beds made of hardwood are heavy. Such beds are more difficult to assemble and you will also not be able to easily move them when you want to clean or move them to another room. If you want a wooden bed that is not so heavy, then go with softwood or even better engineered wood but in that case you sacrifice durability.
Once again, this refers to a bed frame made of hardwood. They are much more expensive compared to metal frames, since wood is an expensive material whose processing takes a long time until you get the end product. On the other hand, engineered wood is one of the cheaper materials on the market.
Although with proper maintenance you can avoid damage caused by moisture and prevent the appearance of termites and other pests, a wooden bed is certainly easier to damage than a metal bed. For example, changes in temperature can cause cracks to appear.
What are the different types of wood used in wooden bed frames?
The basic division is – hardwood, softwood and engineered wood. We will now focus on specific types of wood, to help you choose the wood that suits you best. Because even though two types of wood belong to hardwood, that does not mean that their characteristics are the same. That is why we have singled out some of the most popular hardwoods and the most popular softwood.
Maple syrup is used mainly in Canada and the USA for pancakes and waffles, and all over the world furniture is made from maple. Maple is one of the most durable materials you can find in nature and is therefore an ideal choice for a bed. It is very difficult to carve maple, but if you really want a carved headboard then choose one of the softer types of maple, such as silver maple.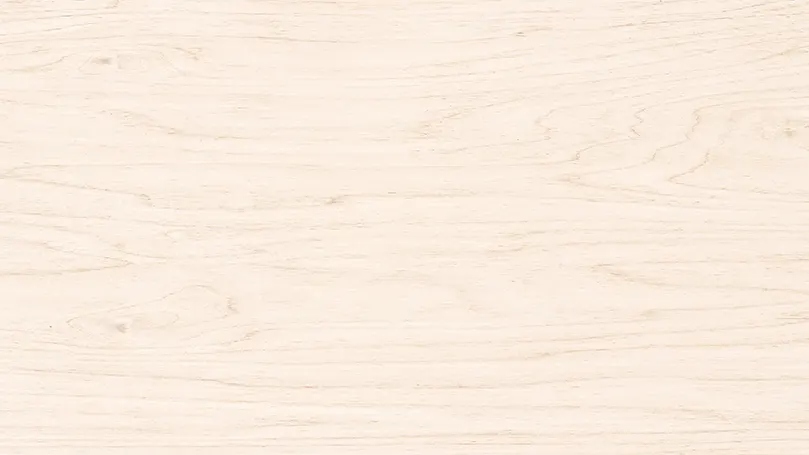 Cherry and pear are the most popular types of fruitwood for making bedroom furniture. Cherry belongs to hardwood and is very durable. It does not shrink nor swell so it will last you a long time. Unlike maple which is very difficult to carve, cherry is a much more suitable material for making carved headboards and footboards.
Mahogany is often taken as synonymous with luxury. This high-quality wood is indigenous to the Americas and has a distinctive red-brown color. Bed frame made of mahogany will have a very long service life, and over time it will darken a bit which will make it even more beautiful. It can be carved.
There are several types of oak, and all types are used to make furniture, such as oak bed. No other type of wood tolerates moisture as well as oak, so oak is often used for outdoor furniture. It is resistant to pests too. Oak is cheaper than many other types of hardwood, and durability is fine, although oak bed frames are not as durable as mahogany.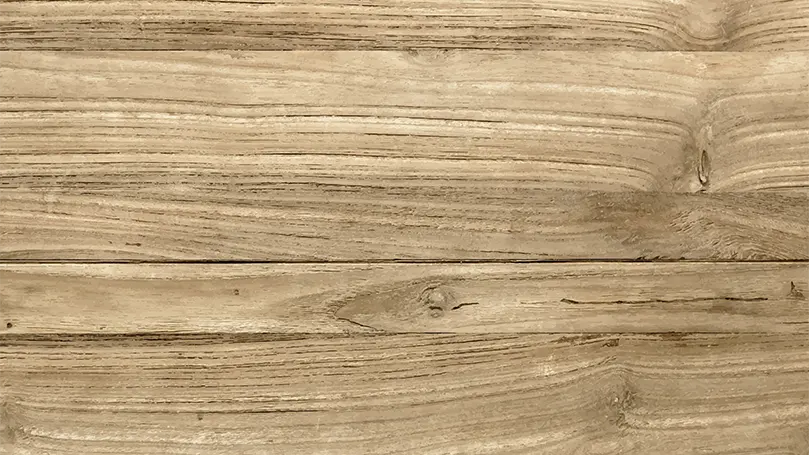 Walnut is one more premium type of hardwood so bed frame made of walnut can last for decades. It has nice brown colou if you want to leave it natural. We advise you not to keep it exposed to the sun as it may fade. Walnut does not shrink since it is very dense. It is usually cheaper than mahogany, but more expensive compared to oak.
Pine is the only type of soft wood that we will mention, because it is by far the most popular of all softwoods for making furniture. Although softwood, pine bed frames are very durable and stable if processed properly. It is resistant to rot. You can paint it in any colour you want.
Softwood vs hardwood - what is the best wood for bed frame?
Before we wrap this part up, we need to explain the difference between hardwood and softwood. Customers have a hard time deciding whether they want hardwood or softwood when buying a bed frame. Certainly both types of wood have their advantages and disadvantages. What's great is that both hardwood and softwood are versatile materials and that you will most likely be able to get what you want no matter which type you choose. We will break down some key pros and cons of hardwood and softwood.
Durability: When you choose hardwood, you get a most durable natural material from which a bed frame can be made
Appearance: Since it can be processed and finished in different ways, the hardwood bed frame will fit perfectly into any style you want
Stability: High quality hardwood bed frame is so stable that no matter how much you toss and turn during sleep, it will not move
Maintenance: It is easy to clean, and scratches and dents do not occur often and can even be fixed.
Price: Since it takes a long time to grow oak, for example, and also requires special machines to process hardwood, the price is significantly higher compared to other materials
Bulky: Hardwood bed frame is bulky and heavy.
Cost: Softwood is significantly cheaper, and you still get high quality natural material
Eco-friendly: Conifers grow much faster and that is why softwood is an eco-friendly option
Lighter: If you want to move the bed frame from one room to another or move to another house, it will be important to you that the bed is much lighter.
Service life: Although much longer than engineered wood, softwood still has a shorter service life than hardwood
Fire resistance: Poor fire resistance is noticeable so be careful.
Can I assemble a wooden bed frame on my own?
Yes, you can assemble a wooden bed frame on your own. In general, a wooden bed frame should not be more complicated to assemble than some other type of bed frame if you have the right tools and follow the instructions. What can be a problem is the weight of the bed, so it would be best if at least one person helps you, because you probably won't succeed on your own. If you don't have tools and have never assembled a piece of furniture before, then check if there is an option for the delivery team to assemble a bed for you at for additional fee.
Wood VS Metal bed frame - which one is for me?
We can't say if wood or metal bed frame is better for you before we talk to you about the many factors that influence your choice. Budget is definitely a limiting factor, so let's start with that. In most cases, metal bed frames are cheaper than wood bed frames, so this can significantly affect your decision. However, there are also cheaper wood options if you really want a wood bed without spending a fortune. Service life is generally similar, although metal usually wins by small margin.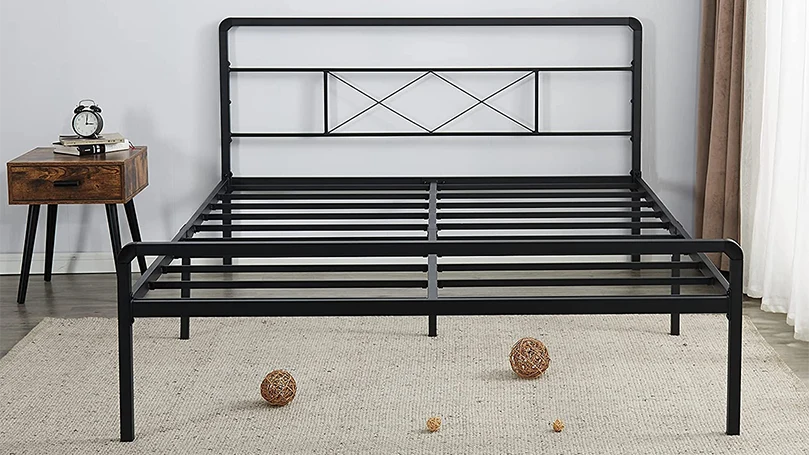 The next thing that is important to consider is the design. Both metal and wood bed frames are available in a variety of designs, but metal beds generally fit better into modern designs, while wood can in both modern and other types of bedroom designs. Metal bed frames are lighter so if you move the bed often, then this may be a better choice for you. When it comes to stability and support, wooden bed frames are superior.
All this leads us to the conclusion that the choice is personal, because both metal and wood beds have numerous benefits and few cons. You should make a comparison with existing furniture and that can give you answer.