Bensons For Beds - A Quick Overview & Top 3 Picks
Bensons for Beds – one of the UK's finest bed retailers! There i no need to say more about this brand!
Shopping for beds can be stressful. A bed is not an expense that you can just chuck to the side, so it's important to find a good retailer and shop from a reliable source.
When it comes to beds – Bensons for Beds is where it's at! They've sold beds, mattresses, and other bedroom furniture for well over 70 years at this point, and during that time – they've definitely made a name for themselves.
That is the reason we've decided to take a closer look at them.
Today, we're going to do a quick overview of Bensons for Beds, take a look at their history, what they're known for, and finally point you to three of their finest bed frames for a night of quality sleep.
Who are Bensons for Beds?
Benson for Beds is a British company specializing in manufacturing and reselling a range of beds, bed frames, bedroom furniture and mattresses. Customers can enjoy their services both online and in traditional stores – over 170 of them.
Launched in 1950 by Cyril Benson, Bensons for Beds have built a reputation as a reliable manufacturer and reseller, focusing on providing quality products and services to their customers.
Their headquarters are located in Accrington, while their manufacturing site resides in Huntington, with distribution centres and stores spread all over England, Scotland and Wales.
In addition to all of that, Bensons for Beds is a member of FIRA (Furniture Industry Research Association), providing them with knowledge, data, tools, and expertise to craft exceptional beds. That is one of the main reasons why their products are so well-thought-out and made, in addition to being sustainable and eco-friendly.
Our top 3 Bensons for Beds bed frames
If you read some of our reviews in the past, you know that our reviews are completely independent and that no one has an influence on our choice, or on what we will write about a particular product. For us, the only thing that matters is what we conclude during product testing. We singled out five models and the following are our impressions and conclusions about them.
IMAGE
PRODUCT
DETAILS

KEY FEATURES:

Type:

Platform bed

Sizes:

Single, Small Double, Double, King

Base:

Slatted base

Material:

Solid ash and ash veneer bed

View Latest Price

KEY FEATURES:

Type:

Platform bed

Sizes:

Double, King

Base:

Slatted base

Material:

Foil wrapped wood

View Latest Price

KEY FEATURES:

Type:

Ottoman bed

Sizes:

Double, King, Super King

Base:

Slatted base

Material:

Solid ash

View Latest Price
1. BEST OVERALL: Hip Hop Wooden Bed Frame
A mixture of traditional and contemporary rolled into one!
If you're wondering what's "hip-hop" about this one – we don't know. However, what we do know is that this platform bed made from quality ash will be a splendid match for pretty much any bedroom.
Designed in timeless Scandinavian fashion, the Hip Hop Wooden bed frame is sturdy and supportive – just like a bed should be. With flexible wooden slats with an upward-facing arch, this bed frame will be perfect for any sleeper struggling with back pain.
Furthermore, the fact that this one's available in every size from Single to King makes it universally compatible with just about any mattress you can get your hands on.
Learn more about it in our detailed review of Hip Hop Wooden Bed Frame.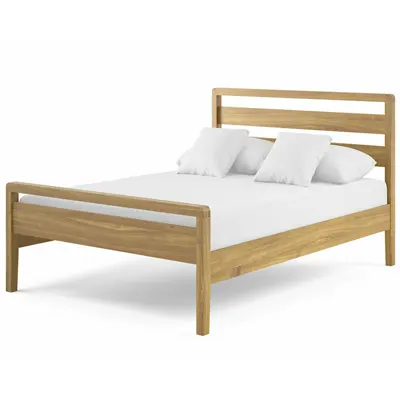 Scandinavian design
Upward-arching slats for better support
Sturdy and durable construction.
None at this price point.
2. BEST VALUE: Genoa Wooden Bed Frame
For furnishing your master bedroom on a budget!
It is not every day you see a platform bed with a prominent footboard, but this robust bed frame embraces the traditional look.
The Genoa wooden bed frame is pretty much all you could ask for in a budget-friendly bed. It's well made, it's sturdy and supportive, and since it's available in two different colours – there is a really, really good chance that it will fit your bedroom's decor.
Panel slatted base is better for hot sleepers in need of orthopaedic support, as this is as close you'll get to a consistent firm support base that's also breathable.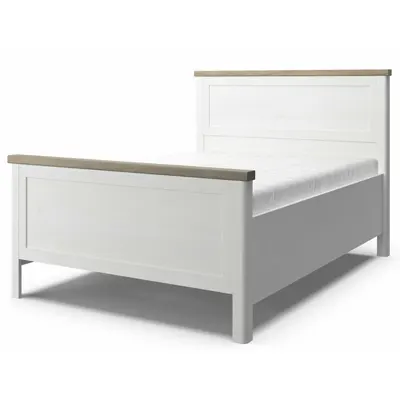 Sturdy and durable construction
Traditional design
Solid value for money.
Only available in two sizes.
3. UPGRADE PICK: Virage Ottoman Upholstered Bed Frame
Taking a day off work to spend a day in bed never felt so appealing!
If you're suffering from a tiny-bedroom-no-storage-space syndrome like many do today – an ottoman bed like Virage is all you need.
Available in two natural, calming colours, this massive space-saver will not only provide you with ample storage space for your beads and trinkets but also an extremely comfortable sleeping surface that'll fit any bedroom.
Supported by the upward arching wooden slats, Virage offers a nice resting place to pretty much any mattress you ought to get your hands on. Another nice resting place you get with this one is the generously padded headboard – perfect for lounging in bed, reading a book, and snacking on some cookies.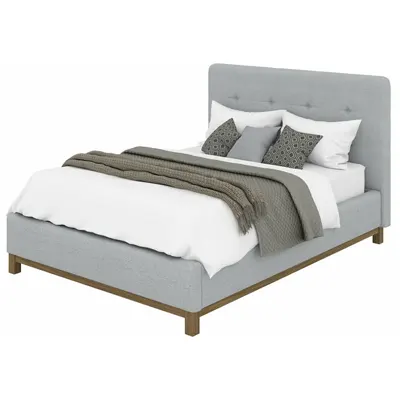 Solid ash base
Upward-arching slats for better support
Ample storage unit.
Might be out of some customers' price range.
Types of bed frames that Bensons for Beds sell
As we've said, Bensons for beds sells all kinds of bedroom furniture, but the products we're interested in today are their bed frames.
In order to make an informed decision and purchase a quality bed frame – you must first learn what the store has to offer you. On that account, let's see what Bensons for Beds has to offer.
A divan bed is a simple bed frame that's the same size as the mattress that sits on top of it, usually made from wood and upholstered in some kind of fabric. They're as compact as a full-sized bed can get, and when you factor in that they often come with storage drawers – you realize why these are some of the best-selling bed frames Bensons has to offer.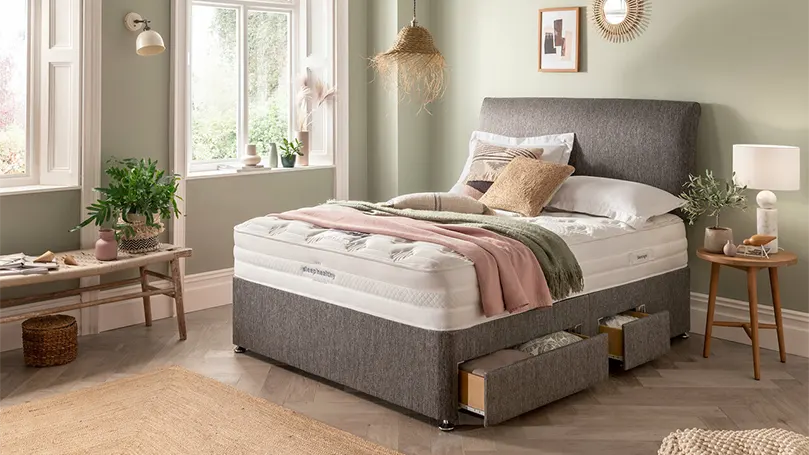 Ottoman beds are the most popular storage beds Bensons offers to their customers. An ottoman bed is characterized by easily accessible and ample storage space resting underneath the mattress. The storage unit of an ottoman bed is easily accessible thanks to the gas-piston mechanism.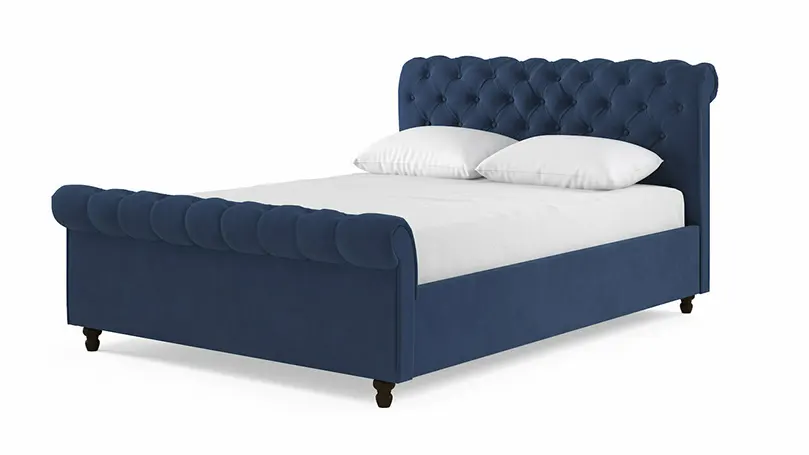 TV beds, as you can tell by the name, are beds that come with a TV stand embedded in the footboard. They resemble platform beds, although the foot of the bed is much bigger with these. It's spacious enough to accommodate a TV that's raised and lowered at a simple touch of a button.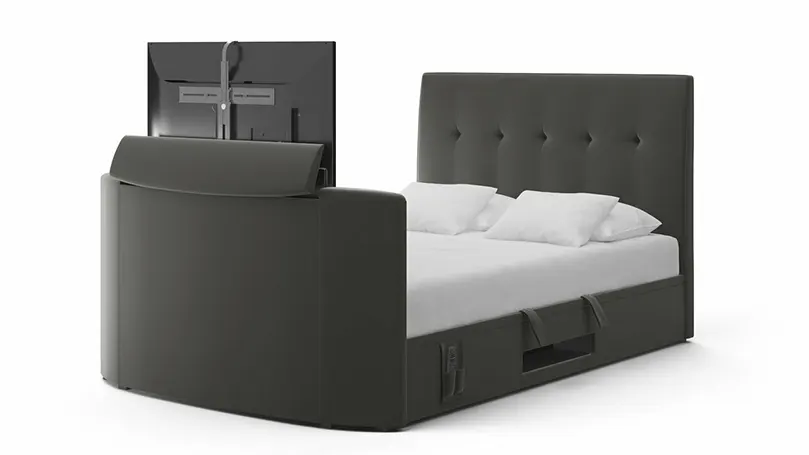 Adjustable beds are bed frames with an adjustable base. By adjustable, we mean that the parts of the bed base can be individually raised or lowered to accommodate your needs and provide tailored support. Most of the time, it's the upper half of the bed that's adjustable, allowing your upper body and head to rest at an angle, although the same can be done on the foot end.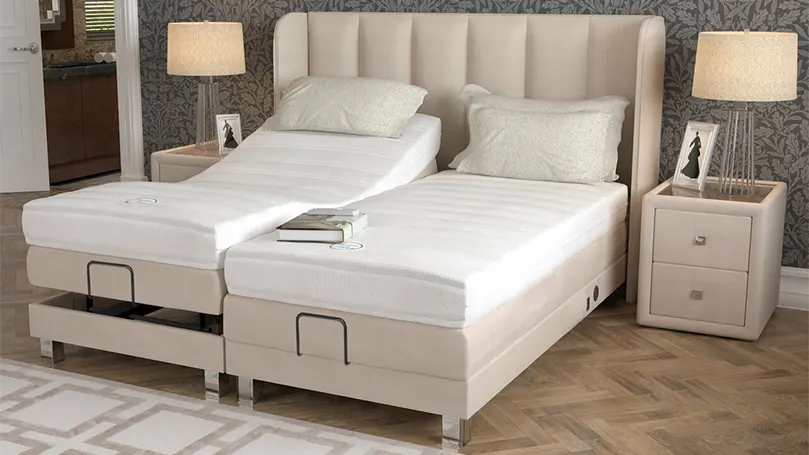 Apart from bedroom bed frames, you can also choose from a wide selection of sofas that Bensons offers. A sofa, as you know, is a daybed that can also double as a sleeping bed. They come in all shapes and sizes, from regular two-seater loveseats to sectional and modular sofas.
Recommended reading: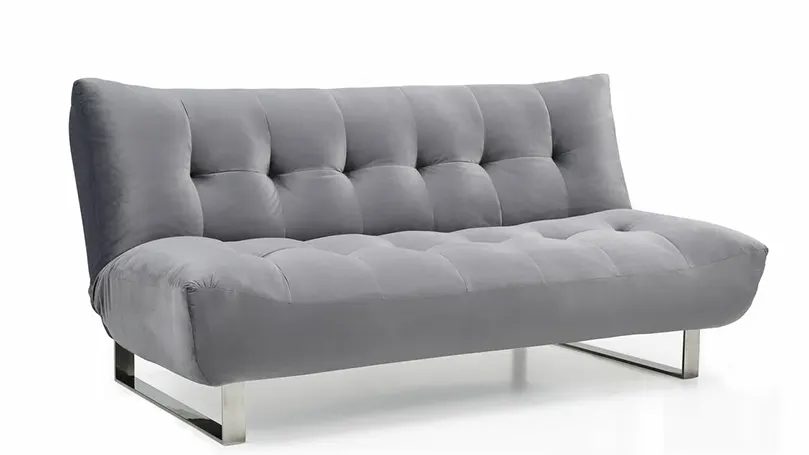 Finally, you can also get kids' beds from Bensons. The selection of kids' beds isn't as broad, but you can still choose between a regular kids' bed, a trundle bed, a bunk bed, and even a wigwam bed.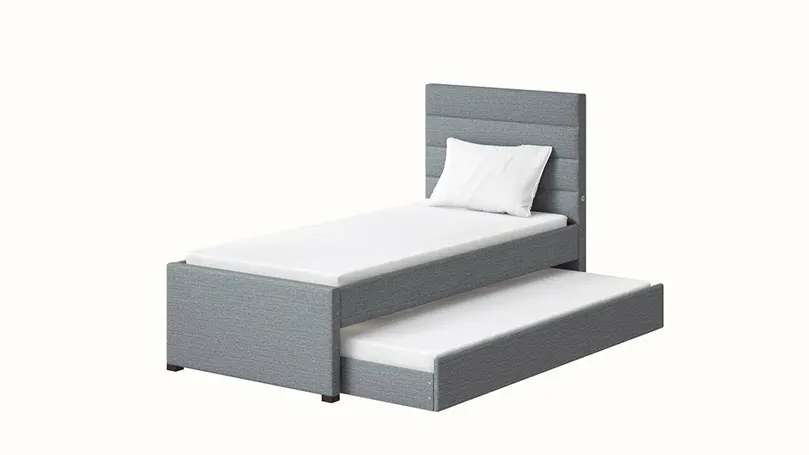 Why should you consider buying bed frames from Bensons for Beds?
Well, as far as we're concerned, forget about ads, sales pitches, and similar stuff, and focus on what's really important. In this case, the important things that make Bensons for Beds a spending destination for bed shopping are the following.
Bensons for Beds is one of the most reputable businesses in the UK, with a history spanning over 70 years. You should feel free to explore their history to your heart's content, but we're fairly certain you won't find anything bad about them.
Quality is synonymous with this brand. Pretty much all bed frames available on their website are high-quality bed frames – whether they're made by Bensons, Silentnight, Tempur or others.
All of them are supportive, made from quality materials, and will be more than enjoyable for both you and your sleeping partner for years to come.
0% interest free monthly payments
If you're over 18, have been a UK resident for at least three years, have a debit or credit card to your name, are legally employed, and have a bank account open – you can buy any product from Bensons with a 0% interest rate on your monthly fees without any deposit.
5 year warranty on all products
Every single bed frame that comes from Bensons for Beds comes with a 5-year warranty – just for good measure. As long as you don't do anything to break the bed out of negligence or misuse, Bensons will repair and replace any part of a defective product completely free of charge, even if the original manufacturer's guarantee has expired.
Free delivery on orders that are over 100 GBP
Bensons for Beds also offers all of their customers and members free delivery on orders over 100 pounds. Essentially, that means that if you're shopping for a bed frame at their store – you will get to enjoy free delivery.
For orders under 100 GBP, a small fee is charged.
Additionally, delivery to some remote parts of the UK is not possible.
Final thoughts on Bensons for Beds
Overall, there's not much we would change about this company. They're doing a great job. Bensons for Beds offers everything you'd want in a retailer – quality products, free delivery, warranty on all of their products, and more.  As far as we're concerned, there's nothing more you could ask for.