Nectar Headboard Bed Frame Review
Nectar Sleep is known for having a selection of high-quality products that can help you get a good night's sleep. One of those products is Nectar Headboard bed frame – a bed frame seemingly ideal for most bedrooms and most mattresses. However, is that really the case? Well, let's find out!
Who is Nectar Headboard bed frame for?
Nectar Headboard bed frame is for all the people in need of a modern, sleek-looking traditional/platform bed frame with a headboard that can support any mattress and help you fall asleep and wake up feeling good and rested. If that sounds like you – stick around with us for a few more moments.
What do we use Nectar bed frame for?
As is often the case with any other regular headboard bed frame, Nectar Headboard is used as a support for your mattress. With a strung-slatted base, Nectar bed frame promises to provide sound support for any kind of mattress, so you don't have to worry too much about it. It should work more than good with memory foam mattresses, as well as the pocket sprung ones. In general, Nectar headboard is great for:
All types of mattresses
Modern design
Sleepers who need a highly supportive bed frame.
Features you should know about Nectar Headboard bed frame
If you want to make sure you make a good purchase, you need to understand what makes a piece of bedroom furniture special, or at least different from all the others. In the case of Nectar bed frame – here are the bed frame features you should know more about!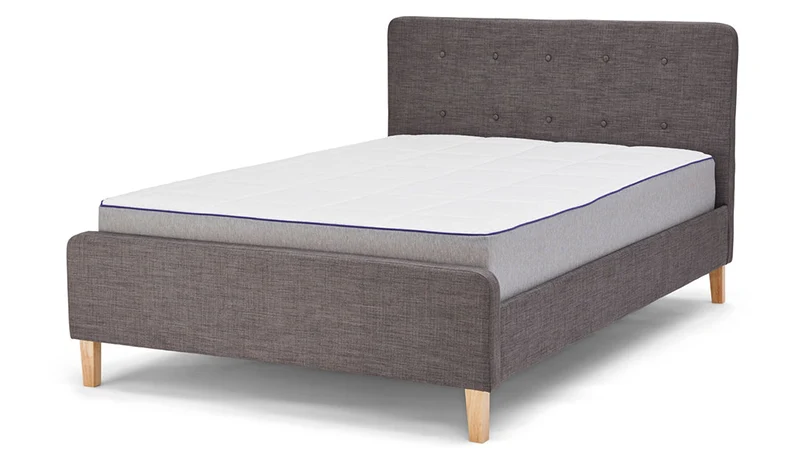 Buttoned & upholstered headboard
The entire body of Nectar Headboard bed frame, except for the wooden legs, is upholstered in hopsack fabric, which is basically a polyester.
As you might know, polyester is a very common option when it comes to upholstery because it is durable, resilient, doesn't' stain easily, and is also quite cost-effective. This information is not available on the Nectar website, but all signs point to it being polyester.
Be that as it may, the upholstery is there to cover the padding and the sharp edges of the bed, as well as the entire headboard. The buttoned, padded and upholstered button tufted headboard will be pleasant and soft to rest your head on, so you can just lounge in your bed, read a book or watch TV without any discomfort.
2 central support legs along with 4 natural wood feet
The base of Nectar bed frame is a frame with wooden slats to support your mattress. That means that the wooden slats are slightly curved, providing you with noticeably more support than if they were perfectly flat.
They're just under 7 cm apart, which is passable, although smaller clearance would be better. You will still feel as if your mattress is slightly softer when compared to a flat, sturdy base.
Finally, the wooden slats feel quite sturdy and resilient. The durable wooden slats easily revert back to their natural shape, they don't creak under pressure, and they're easily installed into place.
This pillow is comfortable and hypoallergenic not only because of the memory foam, but also because of the 100% cotton cover. As cotton is one of the most comfortable materials, it is a great choice to encase this pillow in a cotton cover and not in some polyester material.
Cotton is a hypoallergenic material and also promotes breathability and wicks moisture away from you. Zip off cotton cover is removable and machine washable. Since the cover is durable, and also easy to remove and later be returned on the pillow, we recommend that you wash it often to keep it always perfectly clean.
Review of Nectar Headboard bed frame
Now, for the crown jewel of our article – the review of Nectar Headboard bed frame.
All in all, there isn't much to say about this bed frame. It is a quality product, as you would expect from a company like Nectar Sleep. They have once again done their job right, and we compliment them on that.
They offer free and contactless delivery for all their products, including this one. Naturally, you do have to assemble Nectar bed frame all by yourself, but this shouldn't be an issue, as it is pretty easy to do. You'll get all the necessary tools and instructions in the package. All you'll need is a helping hand, and that's Bob's your uncle.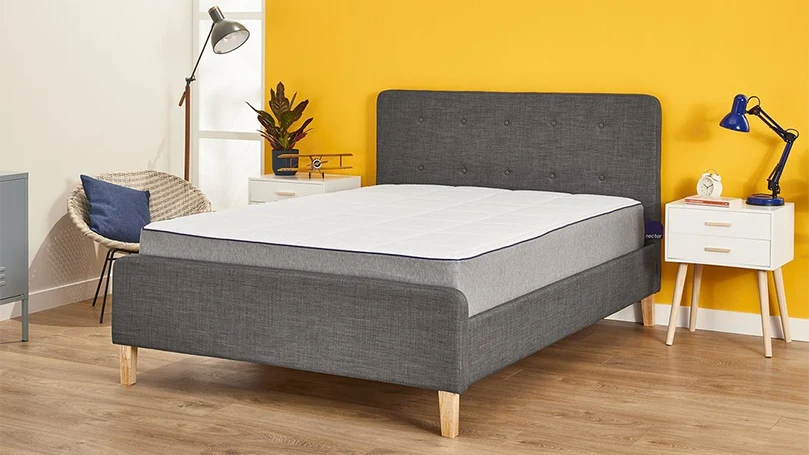 The design of Nectar bed frame is great. It is very subdued, mostly thanks to rounded edges and the cool, grey-ish colour. The upholstery is soft and pleasant to the touch, the padding on the headboard is nice and comfortable, and the bright-coloured legs offer a nice contrast.
As far as comfort, support and durability are concerned – we don't really have any major complaints. The slats feel good enough, they're not far apart, and they don't feel like rubbish. The only concern is that we don't really know what the slats are made of. According to Nectar, they're made from "wood", which is pretty vague, so we can't really be sure how long will they last.
Also, this bed frame only comes in two sizes, so keep in mind that it won't fit the majority of the mattresses on the market.
Material: Natural wood & hopsack (polyester) upholstery
Type: Headboard bed frame
Size: UK Double, UK King size.
Great design and easy assembly
Quite durable wooden slats, very supportive
High-quality sprung slats.
It only comes in two UK sizes
Legs are a sort of toe-stubbing hazard
Only a 2-year warranty.
What we like about Nectar Headboard frame
Simple, modern and elegant design
This seems to be a well-made, durable bed frame
The slats offer more than enough support for all types of mattresses.
What we didn't like about Nectar Headboard frame
It only comes in two UK sizes – Double and King, so finding a fitting mattress could be harder than expected
The legs are sort of protruding from underneath the bed frame, so watch out for your toes
A two-year warranty does not instil confidence in the longevity of the product.
What makes this product better than some other similar ones?
If we had to pinpoint exactly what made Nectar Headboard bed frame better than some of the others, we would have to say it is the additional two legs across the middle of the bed frame. Adding two legs for additional support at the most fragile part of the bed frame is an excellent feature.
How did we test the product?
Before we could even begin testing Nectar bed frame, we had to place an order to get it to our office. Fortunately for us, Nectar Sleep offers contactless and free shipping and delivery to all of their customers, which is greatly appreciated. Keep in mind – this only applies to the UK.
After a few days, the bed frame with headboard was in front of our office, ready to be assembled and put to the test. Luckily for us, we had all the necessary instructions and tools and parts for the assembly right in the box. The frame was easily put together, and we did it in less than half an hour. However, keep in mind that you will need a helping hand if you don't want to waste too much time. Additionally, the bed frame can also be disassembled quickly, if you need to move it eventually.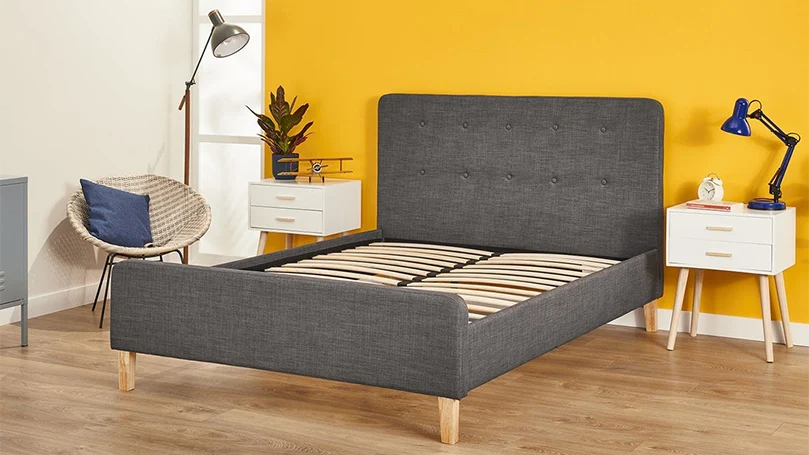 After we've assembled Nectar bed frame, we've decided to test it out on three different mattresses, including Nectar mattress. We've used memory foam, hybrid and pocket spring mattresses. Also, we've used an old and a new mattress. This allowed us to see just how the bed frame will behave in different conditions. We're chuffed to say that aside from the minor difference in firmness, this low profile foundation frame had proven to be a good foundation for your mattress.
The bed frame felt solid and sturdy all throughout. The legs weren't wobbly, the frame was firmly in place, and the slats felt just right. They weren't creaky, nor did they seem low-quality. They were just the right amount of elastic and firm, and they offered great center support. Apart from not knowing what they're made of, we haven't had any complaints.
FAQs about your Nectar Headboard bed frame
As you already know, we like to wrap things up by answering some of the most frequently asked questions about the product we've reviewed, and that's exactly what we're going to do now.
Can I combine any mattress with my Nectar Headboard bed frame?
Yes. As long as that mattress is the right size, you can use any mattress with the Nectar Headboard bed frame.
Is Nectar Headboard bed frame hard to assemble?
Not at all. All the instructions, wood slats and tools necessary for assembly come inside the box, and you should have no problems assembling the Nectar Headboard bed frame.
Can I attach a headboard to an adjustable base?
Most adjustable beds accommodate the use of a headboard. However, we wouldn't advise using any part of the Nectar Headboard with a separate bed frame.